On social media, photos and videos of pets are always getting many likes and views. Pet has been one of the most popular trends on social media since its birth. So who are the top pet influencers on Instagram, Facebook, Twitter, YouTube and TikTok? What makes each of these most-subscribed animal influencers outstanding? Which brands have they worked with? Let's figure it out!
1. Buddy and Boo: 16M Facebook Followers + 582k Instagram Followers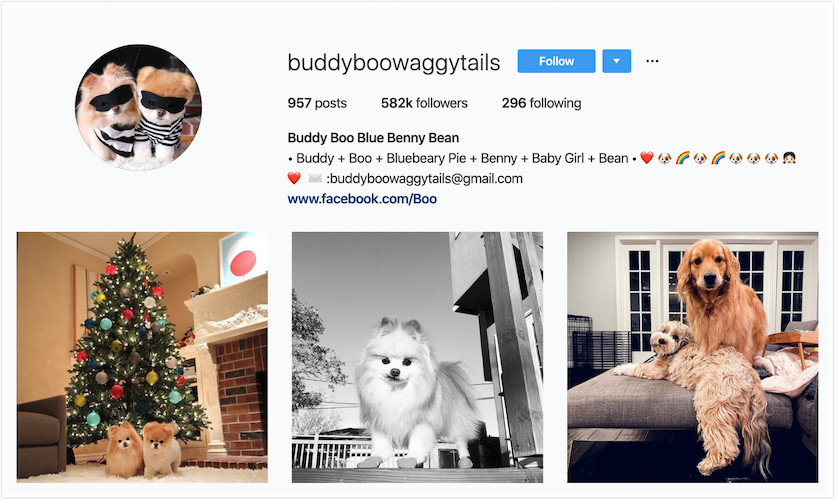 Everyone loves Boo! You may not have read the Boo: The Life of the World's Cutest Dog, but you definitely can recognize Boo the Pomeranian dog, whose "signature fluffy and teddy bear look" is so adorable. GUND, one of the top stuffed animal toy manufacturers, produced a series of World's Cutest Dog Boo plush figures. Sadly, Boo passed away at the age of 12 this year, two years after his best friend Buddy died at the age of 14. Buddy and Boo spent 11 years together, and Boo has signs of heart problems since the death of Buddy. The owners are keeping updating photos of Buddy and Boo to memorize these two cutest creatures. They are raising three more dogs, Bluebeary Pie, Benny, and Bean.
2. Grumpy Cat: 2.7m Instagram Followers + 1.6m Twitter Followers + 8.3m Facebook Followers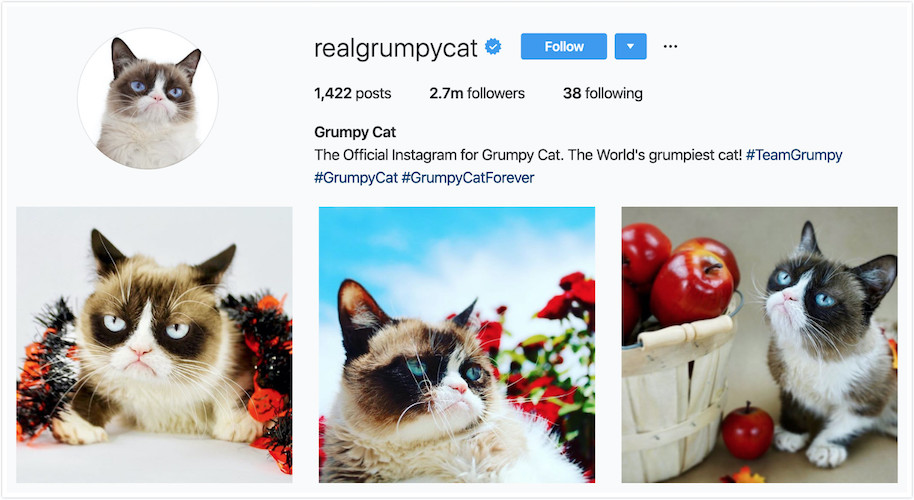 Grumpy Cat is famous for countless memes made of her "grumpiest" face. She died in 2019 at the age of 7. She was suffering from an underbite and feline dwarfism, which caused her permanent grumpy face. Grumpy Cat became viral from Reddit and had become a popular Internet meme. She has 8.2 million followers on Facebook, 2.7 million followers on Instagram, and 1.5 million followers on Twitter. She has collaborated with the pet food brand Chewy, launching the product Grumpy Cat Tartar Control Cat Treats.
3. Jiffpom: 9.6m Instagram Followers + 1.4m FB Followers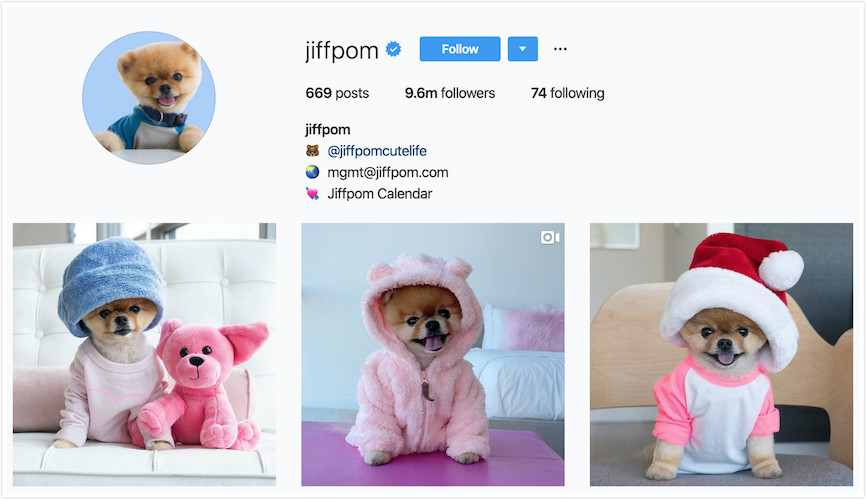 Jiffpom is the most followed pet on the Internet. He appeared in Katy Perry's "Dark Horse" music video in 2014, which has been watched over 2.7 billion times on YouTube. Before that, he became famous for holding two Guinness World Records. Jiffpom mystery boxes and plush toys are available in many online E-commerce stores, including Target, Amazon, and Walmart. His Instagram has plenty of dress-up photos, receiving likes from worldwide fans.
4. Nala Cat: 4.3m Instagram Followers + 2.6m Facebook Followers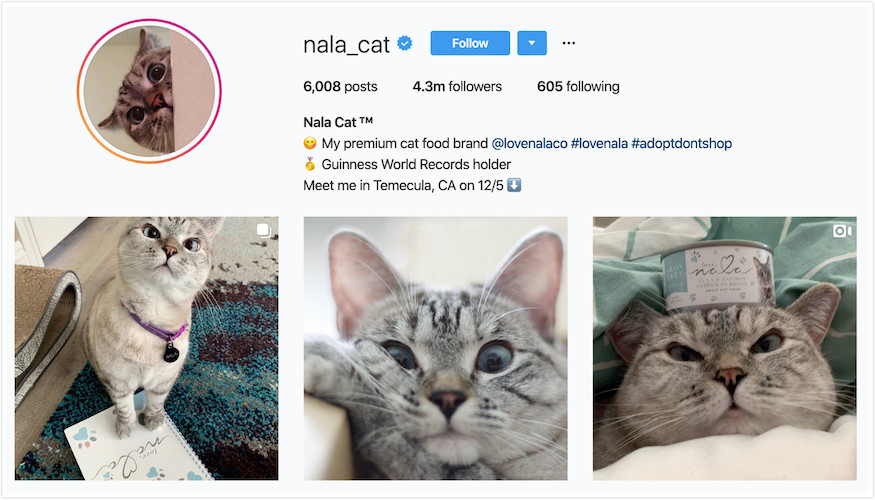 Nala Cat is a former shelter cat and was adopted when she was five months old in 2010. The Instagram account of Nala Cat was started in 2012, and her cute photos quickly went viral. Nala is the most-followed Cat on Instagram. She is named after Nala in Lion King. In 2019 September, the cat food brand "Love, Nala" was launched by her owners. The concept of the brand is to bring grain-free, natural cat food with premium ingredients to these cuties.
5. Doug The Pug: 3.8m Instagram Followers + 2.8m Twitter Followers  + 652k TikTok Followers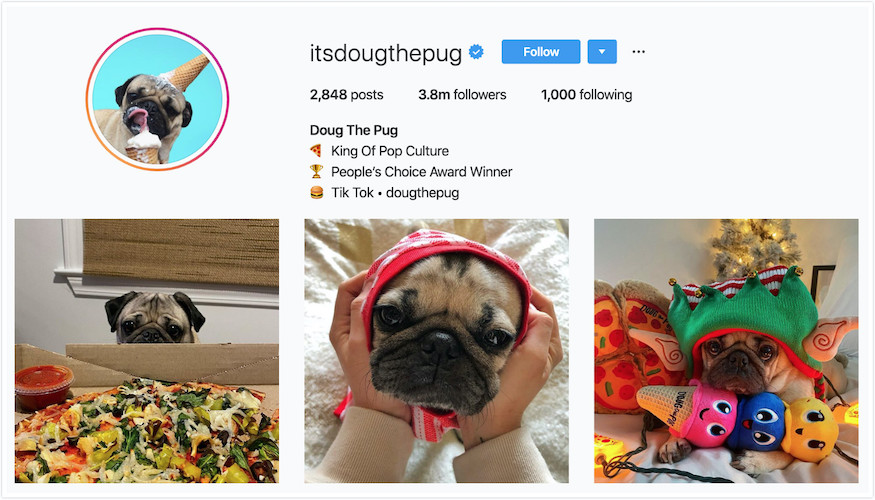 Doug is the most-followed pug on social media, with 3.8 million followers on Instagram, 6 million followers on Facebook, 2.8 million followers on Twitter, 263k subscribers on YouTube, and 557k followers on TikTok. Doug has wined many awards, including "The Animal Star of 2019" of People's Choice Awards 2019. Doug has collaborated with American Greetings for a line of greeting cards featuring him. These greeting cards can be found at Target and Walmart stores. And a line of plush toys manufactured by Outward Hound.
6. Lil BUB: 2.4m Instagram Followers + 3m Facebook Followers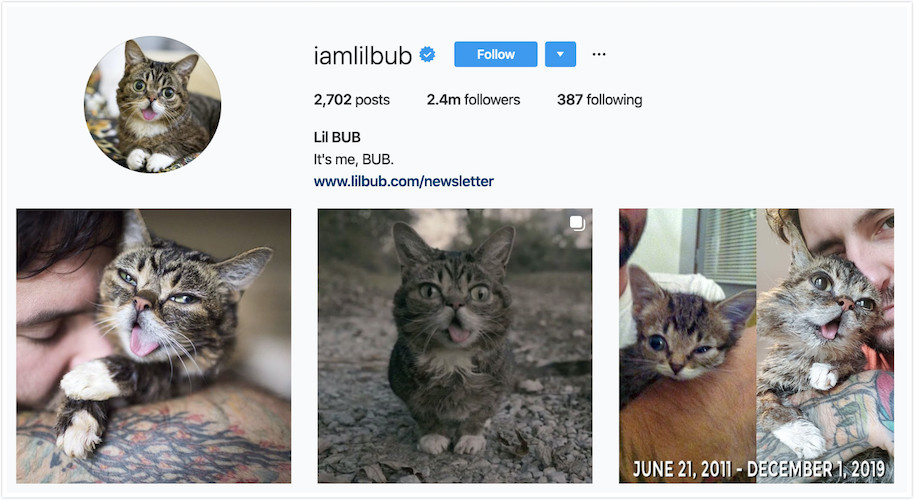 Instagram celebrity cat Lil BUB just passed away on December 1st, 2019. Her lower jaw is too small to retain her tongue within the mouth due to the feline dwarfism she has. And this makes her appearance unique to a lot of fans. She was featured on many TV shows, like Good Morning America, Today, and The View. The documentary Lil Bub & Friendz will help you to learn more about BUB and other cat celebrities. She appeared in several photos to promote Paw CBD's CBD oil for pets, which is to help "ease BUB's joint pain." The Instagram account also collaborated with HALO, the pet food brand, posting hashtags #goodjobbub, and #goodjobhalo.
7. Swaggy Wolfdog: 1.4m Instagram Followers + 3.1m TikTok Followers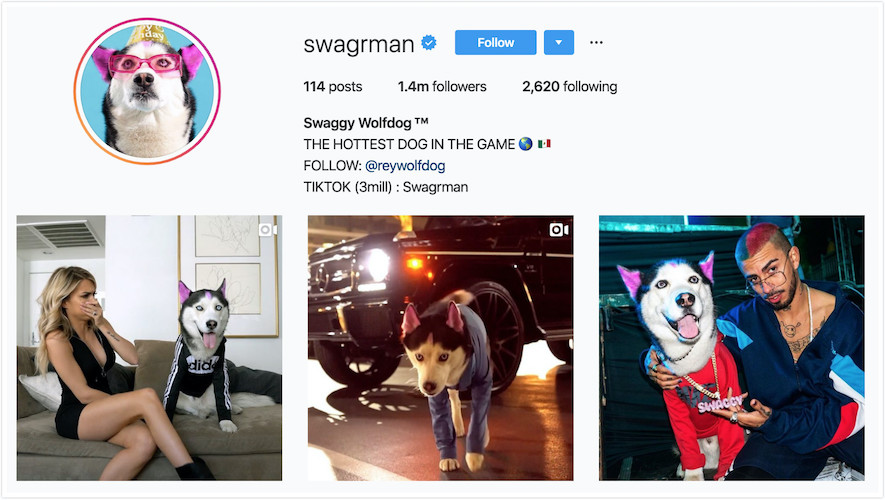 Swaggy is a blue-eyed male Husky living in California. Swaggy has 3.1 million followers on TikTok and 1.4 million followers on Instagram. Pink ears are his signature.
8. Juniper and Fig: 2.9m Instagram Followers + 1m Facebook Followers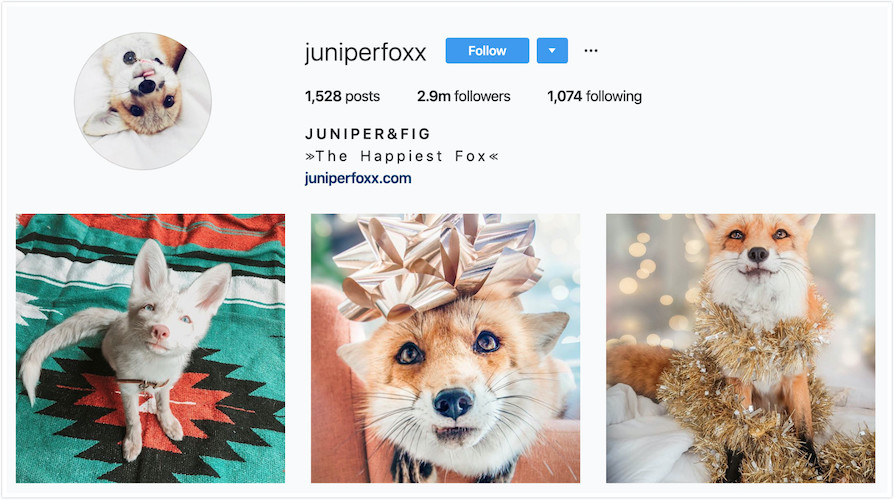 Juniper and Fig are two North American red foxes adopted by Jessika Coker from Florida Panhandle. Fig was rescued from a fur farm. Jessika also raised a Malamute mix dog named Moose, and two Suger Gliders Petunia and Peach. In 2018, Jessika published a book Juniper: The Happiest Fox. You can enjoy the adorable paw paintings of Juniper in this bestseller!
9. Maya the Samoyed: 1.9m Instagram Followers + 1.46m YouTube Followers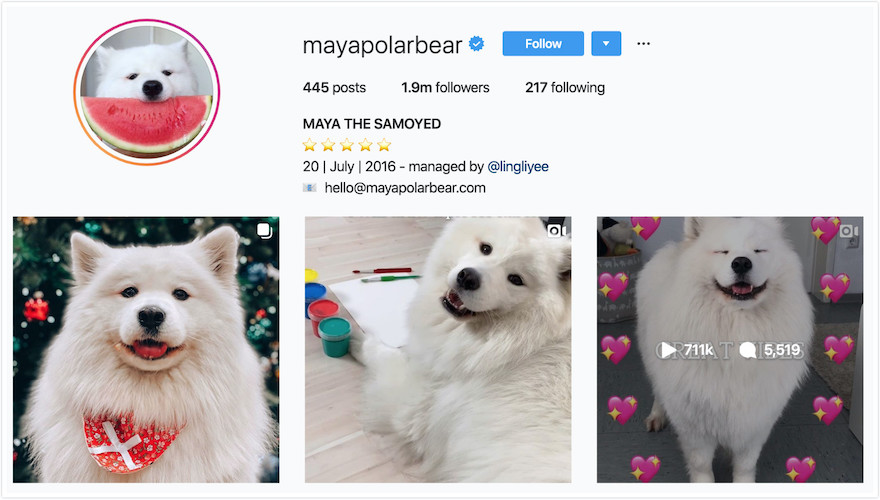 The furry Samoyed Maya started her Instagram 3 years ago, and already get 1.9 million followers on Instagram, 1.45 million subscribers on YouTube, and 1.14 followers on Facebook. Maya's smiley face is so adorable. The cloud-like fur shed of Maya makes her nickname polar bear. Maya has collaborated with brands like Furbo, the smart dog camera, and Pug Life Harness.
10. Manny The Frenchie: 1.1m Instagram Followers + 1.7m Facebook Followers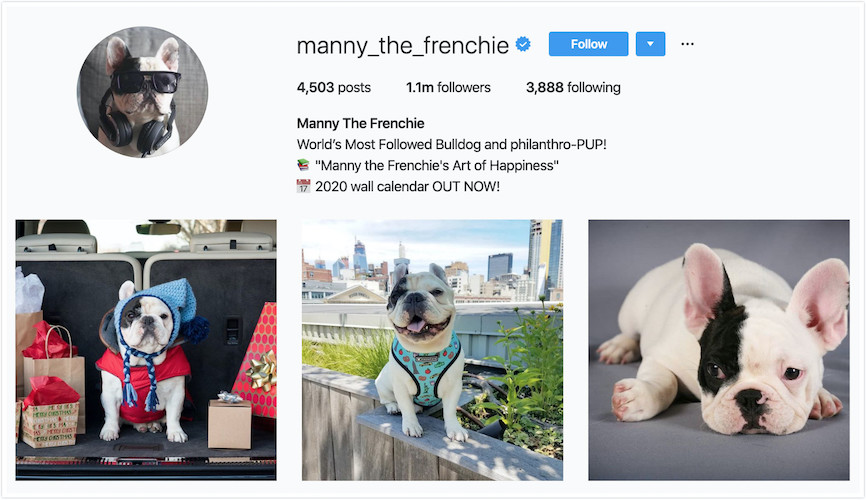 Manny is the world's most-followed French Bulldog. He has 1.1 million followers on Instagram and 1.7 million followers on Facebook. Manny was named after Filipino boxer Manny Pacquiao by his owner Amber and Jon. Manny is the brand ambassador of Petnet SmartFeeder.
11. Kler: 1.8m Instagram Followers + 707k Twitter Followers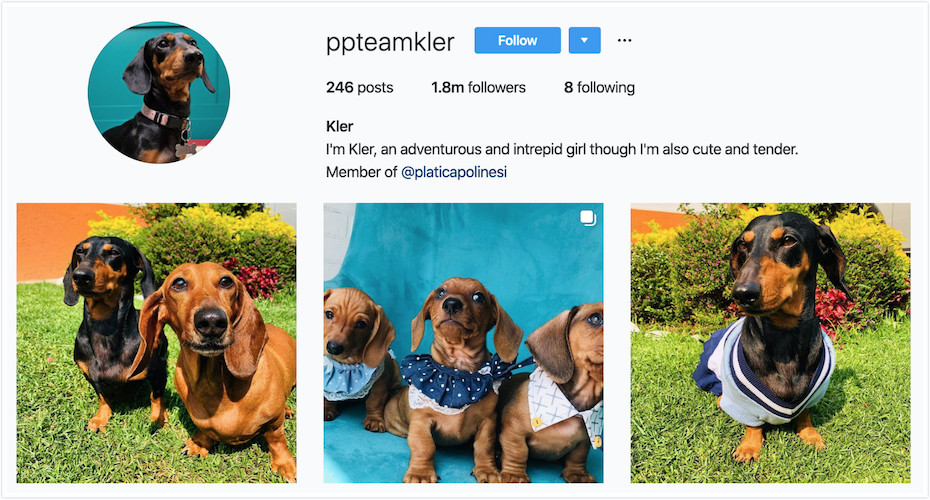 Kler is the dog raised by LosPolinesios, a musical group of three siblings of Mexican origin. Rafa, Karen, and Lesslie Espinoza now have five YouTube channels, each with different content and themes. Their largest channel has 21 million subscribers, and they appear on YouTube Rewind 2018. The Instagram account of Kler has 1.8 million followers. Kler just became a mother in 2019 and gave birth to three lovely puppies.
12. Marnie The Dog: 1.9m Instagram Followers + 106k Twitter Followers + 418k Facebook Followers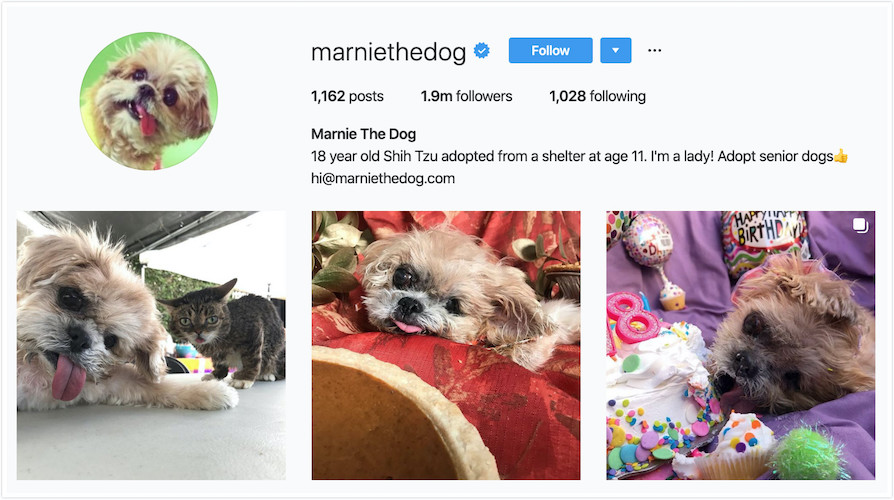 Marnie celebrated her 18-year-old birthday in October 2019. She was a street dog in Connecticut and moved to an animal shelter. Marnie got adopted by Shirley Braha via Petfinder in 2012 and moved to New York. Marnie is famous for her head tilt and tongue hanging out. Marnie's head tilt comes from Vestibular Syndrome. The Instagram of Marnie was created in 2014 and has 1.9 million followers by December 2019. Shirley wants to encourage more to adopt senior dogs by sharing photos of Marnie. The account collaborated ElleVet Sciences CBD oil, Swiffer and Febreze.
13. Marutaro: 2.5m Instagram Followers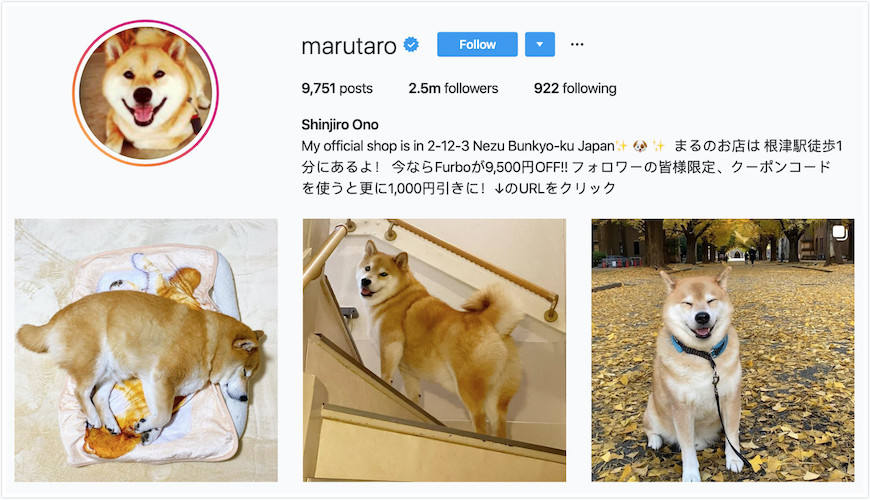 The Instagram account of Marutaro is one of the most popular ones in Japan. Maru is a 12-year-old Japanese Shiba living in Tokyo. Maru is a very photogenic and handsome dog that amassed him over 2.5 million fluffy-lovers. He posts a goodnight post every night to his fans, so lovely!
14. Smoothie the Cat: 2.1m Instagram Followers + 127k YouTube Followers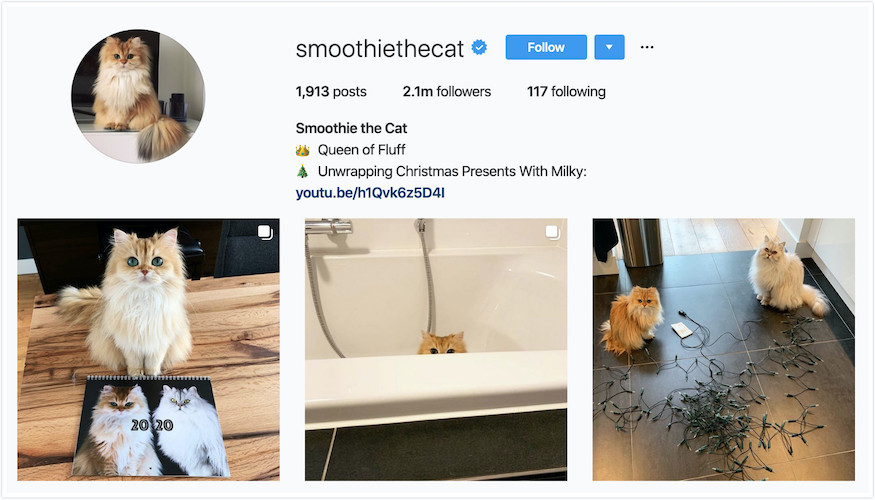 British longhair cats Smoothie and Milkshake are two adorable cats living in the Netherlands and have over 2.1 million followers on Instagram. Us Weekly called Smoothie "the world's most photogenic cat." And these two adorable cats have attracted humans to follow on Instagram since the account created in 2016. Smoothie and Milkshake have shared several sponsored posts of pet brand PeeWee.
15. Loki the Wolfdog: 2m Instagram Followers + 186k Facebook Followers
Kelly Lund started the Instagram account for his wolf hybrid malamute and husky Loki immediately after he took the puppy home. And the Instagram account reached the 50k follower milestone in its first year. The stunning pictures of Loki took by Kelly have inspired many others to take their pets outside. The pair has collaborated with many big brands, including Mercedes-Benz, GoPro, REI, and Google.
16. Tuna the Chiweenie: 2.1m Instagram Followers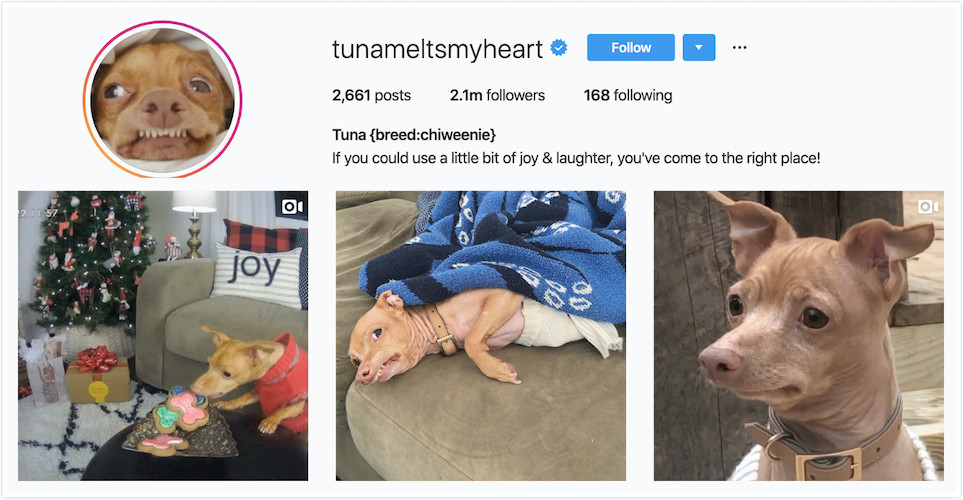 Tuna is a 9-year-old mixed breed dog suffering from overbite and shrivelneck. Courtney Dasher adopted Tuna from a rescue center in Los Angeles when he was 4-month-old. Tuna gains fame from the Phteven meme originated from Reddit. Tuna collaborated Furbo dog camera in 2019, and he has a separate Instagram account posting traveling themed photos.
17. Cole and Marmalade: 660k Instagram Followers + 1.26m YouTube Followers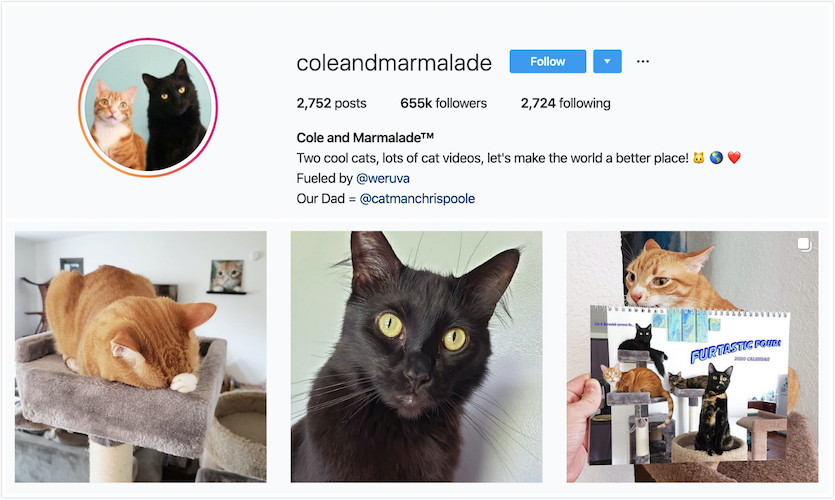 Cole and Marmalade are both adopted cats. And their human "servants" Chris and Jess want to educate more people that the solution to rescue cats is to adopt, spay, and neuter them. In 2015, Marmalade was featured on the cover of Modern Cat Magazine. On the website named after Cole and Marmalade, the couple Chris and Jess share a lot of information about cat behavior, shelters and organizations, and cat rescue stories. Cole and Marmalade Instagram has been collaborating with the pet food brand Weruva.
18. Crusoe the Dachshund: 772k Instagram Followers + 857k YouTube Followers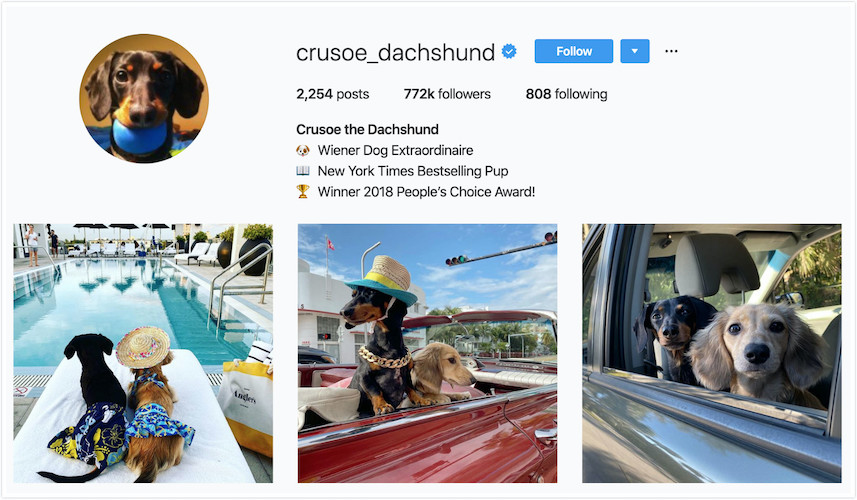 Crusoe is a mini black and tan Dachshund who wined the 2018 People's Choice Award. And the book Crusoe the Celebrity Dachshund: Adventures of the Wiener Dog Extraordinaire is a New York Times bestselling book in 2015. In 2019, Crusoe has got a new baby sister Daphne. You can also follow the YouTube channel of Crusoe the Dachshund, where you can find cute and fun videos of Crusoe and Daphne. Their YouTube channel has 850k subscribers by December 2019.
19. Pumpkin The Raccoon: 1.4m Instagram Followers + 135k Facebook Followers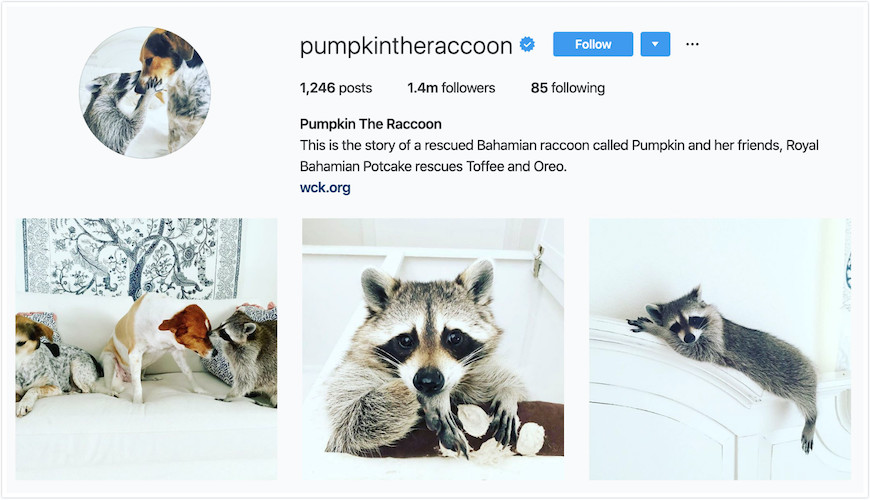 Pumpkin, the most-followed raccoon on Instagram passed away in October 2019. She dies at age 5, while most raccoons live only 2 to 3 years in the wild. She was rescued by Young, who also saved two potcake dogs Toffee and Oreo. It is legal to have a raccoon as a pet in Bahamas, so the family kept Pumpkin since she was 1-month-old. In 2016, the book Pumpkin: The Raccoon Who Thought She Was a Dog was published, telling the story of Pumpkin and her two best friends, Toffee and Oreo.
20. Diddy Kong & Yeti Kong: 987k Instagram Followers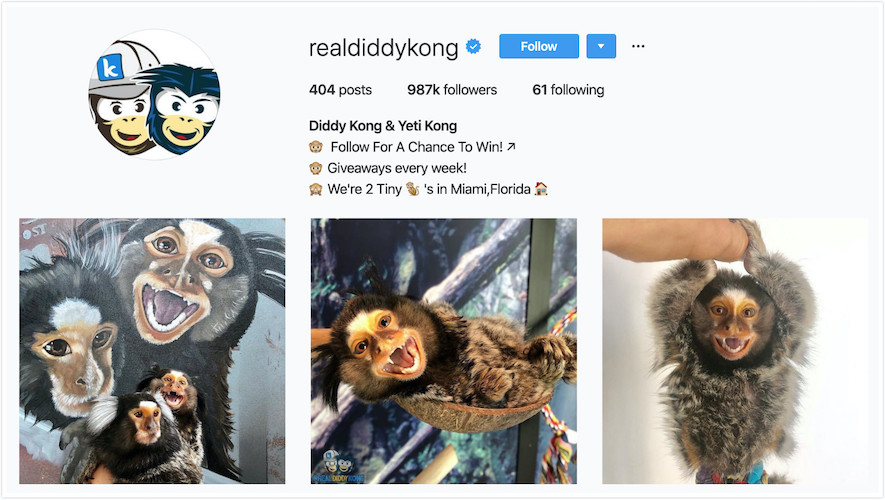 The video of him enjoying the bath with a toothbrush made Diddy King go viral on the Internet. Now the Instagram account of Diddy Kong has almost 1 million followers on Instagram. Celebrities are following him, including Snoop Dogg and Cara Delevingne. Gabriella Katia, a model lives in Miami, adopted Diddy Kong and his playmate Yeti Kong, then established the Instagram account for the two cute creatures. Diddy and Yeti Kong have a New York-based agent managing their events and campaigns.
21. Sunglass Cat: 722k Instagram Followers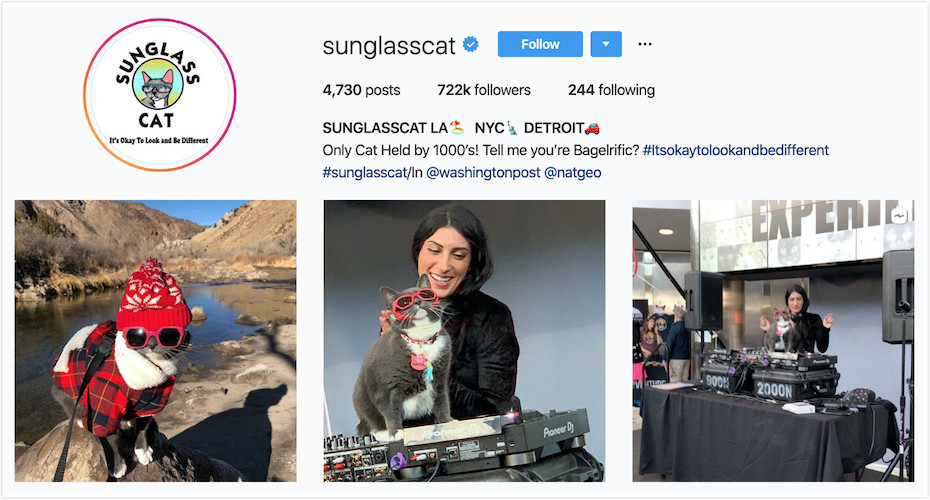 The real name of Sunglass Cat is Bagel, a 6-year-old rescue cat living in Los Angeles. Bagel was born without eyelids and have done three eye surgeries. She wears customized sunglasses to protect her eyes. And these cool sunglasses make her famous.
22. Bunnymama: 719k Instagram Followers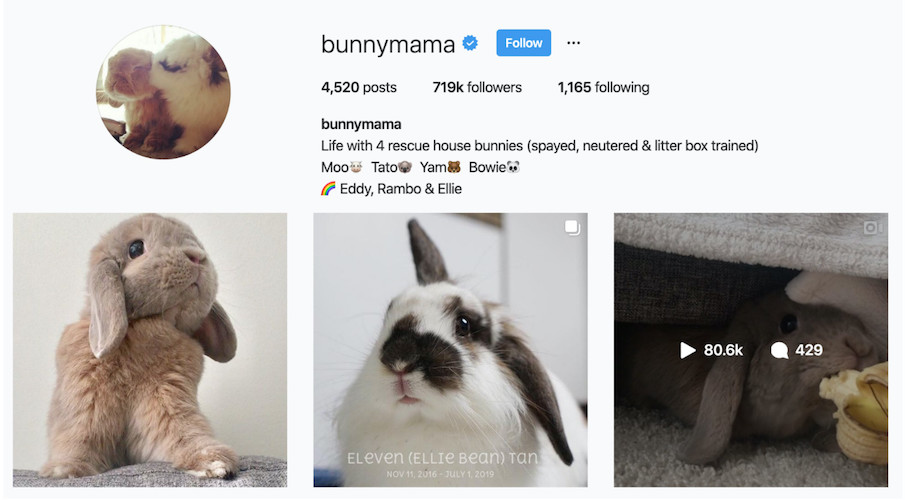 For all bunny lovers, the Bunnymama Instagram account is a must-to-follow. They started with two male bunnies Eddy and Rambo and posted on Instagram in 2012. Bunnymama shares everything about these two cute bunnies, their activities, wearing "costumes," and a lot of close-ups. And their website domain is named by Eddy and Rambo. Later the family has grown bigger with more bunnies, but the first two have left us forever, as well as Ellie, who passed away in July 2019. Now Bunnymama is taking care of 4 rescue bunnies: Moo, Tato, Yam, and Bowie.
23. Prissy and Pop: 704k Instagram Followers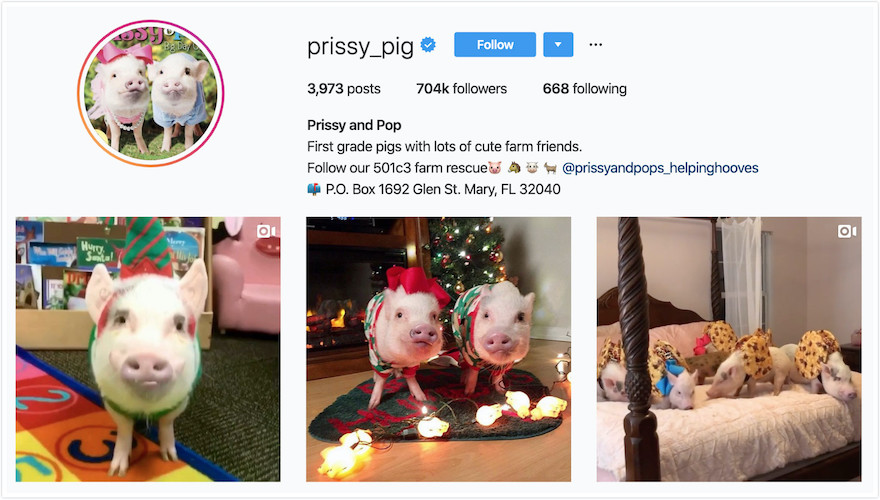 The piggy pair quickly become famous on Instagram. Prissy and Pop are first-grade pigs and live with many other cute farm friends. The owner Melissa Nicholson is an elementary school teacher, and she occasionally brings Prissy and Pop to the classroom. The cute sibling piglets are starred in two children's books: Prissy & Pop: Big Day Out and Prissy and Pop Deck the Halls. They have 704k followers on Instagram and 175k followers on Facebook.
24. Lilo the Husky: 498k Instagram Followers + 188k Facebook Followers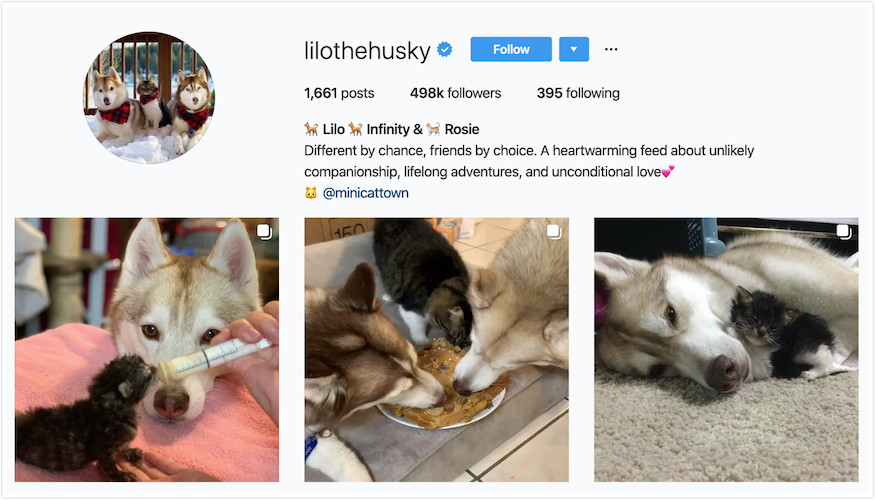 The story of Lilo the Husky and the rescue kitty Rosie shows how a mother's love is unconditional. Rosie was rescued when she was two weeks old. And Lilo took care of Rosie and helped her keep alive. When Rosie could not eat or drink anything, Lilo coaxed her into the warm fur, and Rosie started to cry out for food. The tight bond between Lilo and Rosie has shown us how love can break the boundary of species. Now Rosie is healthy and happy living with her husky family in California. The owner of Lilo and Rosie posts a lot for a local NGO Mini Cat Town Kitten Rescue.
25. Pudge: 671k Instagram Followers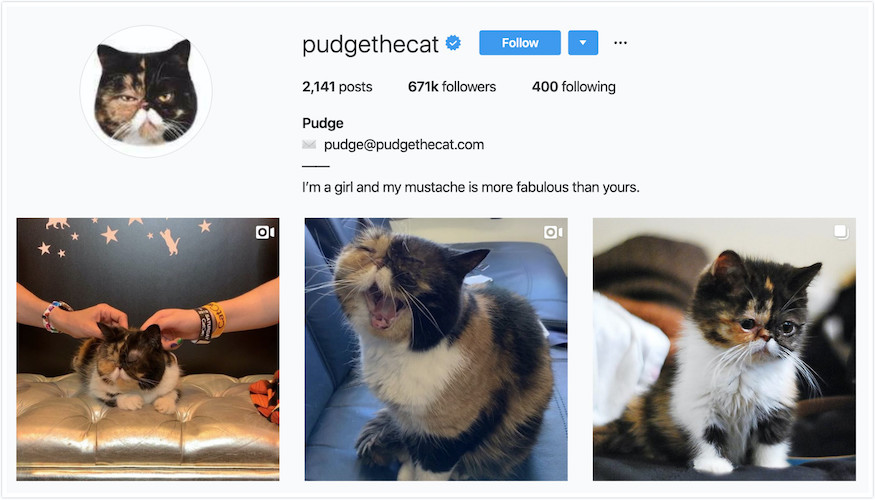 Pudge is a 9-year-old exotic shorthair based in Minneapolis. She started showing up on Instagram since 2011 and has got 671k followers. In 2012, Pudge and her owner Kady attended the first Internet Cat Video Film Festival. Being a graphic designer, Kady created some Pudge-It-Yourself (DIY) handcraft videos on YouTube and have received a lot of likes.
26. Minapple (Shibainu Marotan): 602k Instagram Followers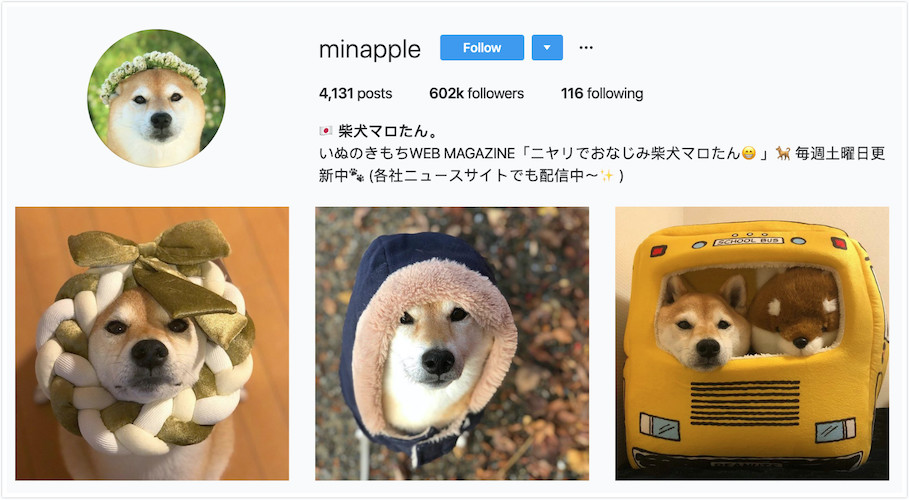 Marotan is an 8-year-old shiba inu living in Japan and has 602k followers on Instagram. In 2016, a photo book of Marotan was released in Japan and became a bestseller. She has been made to LINE stamps and available in the LINE store for users to download and use.
27. Albert Baby Cat: 532K Instagram Followers + Facebook 84k followers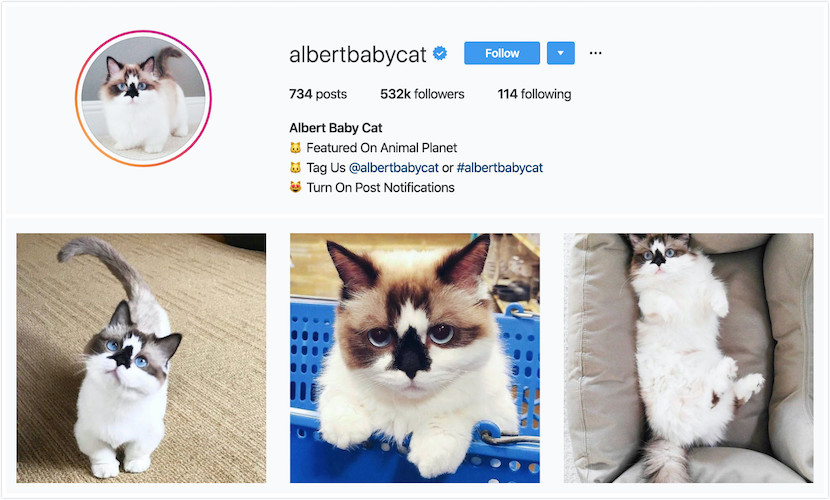 You will recognize Albert immediately with his signature "skull" nose. And his unique cute look has got him featured on Animal Planet. And now he has a new Munchkin buddy named goyanggy. Albert has worked with many pet brands, such as PrettyLitter and SurePetCare. Big brands like Tide and Dyson also collaborated with Albert to present their products to Munchkin cat lovers.
28. Loki: 465k Instagram Followers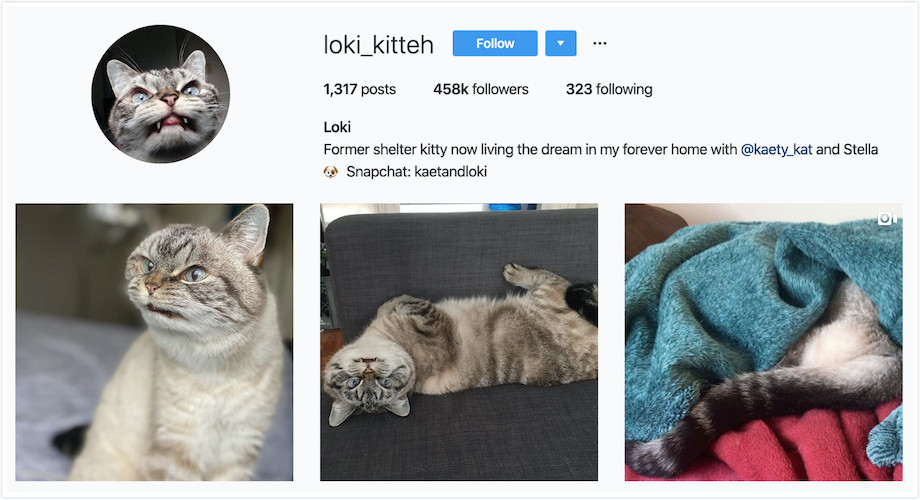 Loki is a former shelter kitty, and she was famous for her "vampire" look. At first, Loki is very shy, and now she and the owner Kaet are very close. Kaet shared toothy shots of Loki and wants to encourage more people to adopt shelter cats.
29. Chloe Mae: 450k Instagram Followers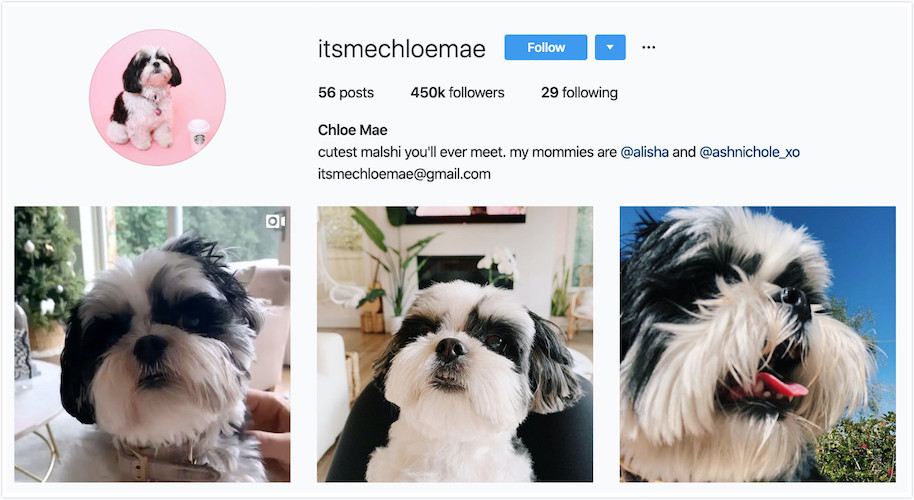 Chloe is a cute Malshi. She was adopted by YouTube influencers Alisha Marie and Ashley Nichole in 2014. Alisha posted a video of Chloe's morning routine in 2015, which has accumulated 3.8 million views, 205% higher than the channel average. Although Chloe only has 45 posts on her Instagram, She already got 450k followers liking her posts.
30. Kitty et Lola: 418k Instagram Followers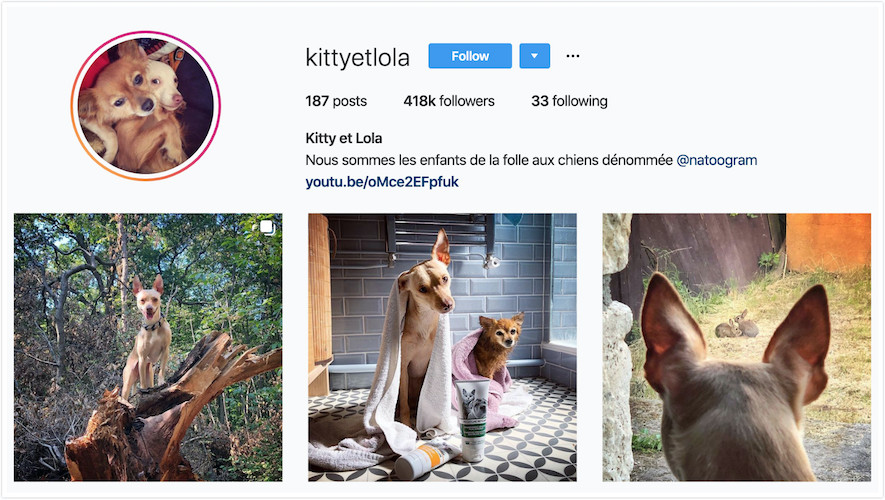 Kitty and Lola are the dogs raised by French YouTube influencer and actress Nathalie Odzierejko. Nathalie's YouTube channel Natoo has 4.94 million subscribers, and the Instagram account of Kitty and Lola has 418k followers by December 2019. They have done sponsored content for Hello Kitty, and the pet food brand Edgard & Cooper.
We've prepared other top social media top channels for you!
Top 10 Beauty YouTubers You Should Know in 2020
Top Health & Wellness YouTubers You Should Follow
---
If you want to collaborate with any of these top influencers, book a demo with SocialBook, the influencer marketing platform that find you the right influencers and deliver results.
---
---