YouTube is a very versatile platform. Not all videos on YouTube get the golden stars, some receive the black ones too. YouTube has more than 2 billion active users who all have different tastes in the videos of their preferences. YouTube also allows its viewers to openly express their consent on any YouTube video by either liking or disliking it. But there are certain moments when those diversities of viewers unite and collectively declare their dislike for any specific YouTube video. Of course, it's not all thorns or all flowers. But as the ancient words clearly state 'Majority is Authority', the majority of likes or dislikes on any YouTube video become responsible for defining the video in the eyes of a new viewer.
The dynamic year 2020 attracted a lot of social traffic on YouTube and hence also summoned a fresh batch of likes and dislikes by the newly joined viewers. Collectively, these viewers became the declarers of any YouTube video's fate. 2020 was a year full of disappointments and some YouTube videos gained their fair share in the list as well. So, what are the top 10 most disliked YouTube videos of the year 2020? Read on to find out!
1. Sadak 2 Official Trailer: 13m Dislikes
Sadak 2 is a Bollywood film which is the sequel of the hit horror movie of the 1990s, Sadak 1. When the filming of Sadak 2 was announced on the Indian media, it created tons of curiosity and anticipation among the fans to experience the similar thrill of their favorite blockbuster film 20 years after its release. But unfortunately, as soon as its trailer was launched on YouTube, the high hopes of fans were crushed.
The Indian fan community was outraged once they viewed the trailer of Sadak 2, which was released on 11th August 2020, and got more infuriated by the disappointing movie. The trailer itself received a total of more than 13 million dislikes! Although the movie highlights some amazing actors of their time like Sanjay Dutt and Alia Bhatt, the movie still serves to be one of the most disheartening movies of the Bollywood industry. Fans were enraged at the loopholed movie plot, disappointing acting, and at the overall screening of the film. Some even concluded that Sadak 2 was the worst mistake that Bollywood had ever made and it even ruined Sadak 1 for them. The big number of dislikes on its YouTube trailer clearly is proof that Sadak 2 was not loved by the YouTube community, gaining more than 13 million dislikes!
2. Morgenshtern - Pososi (OFFICIAL VIDEO 2020): 2.4m Dislikes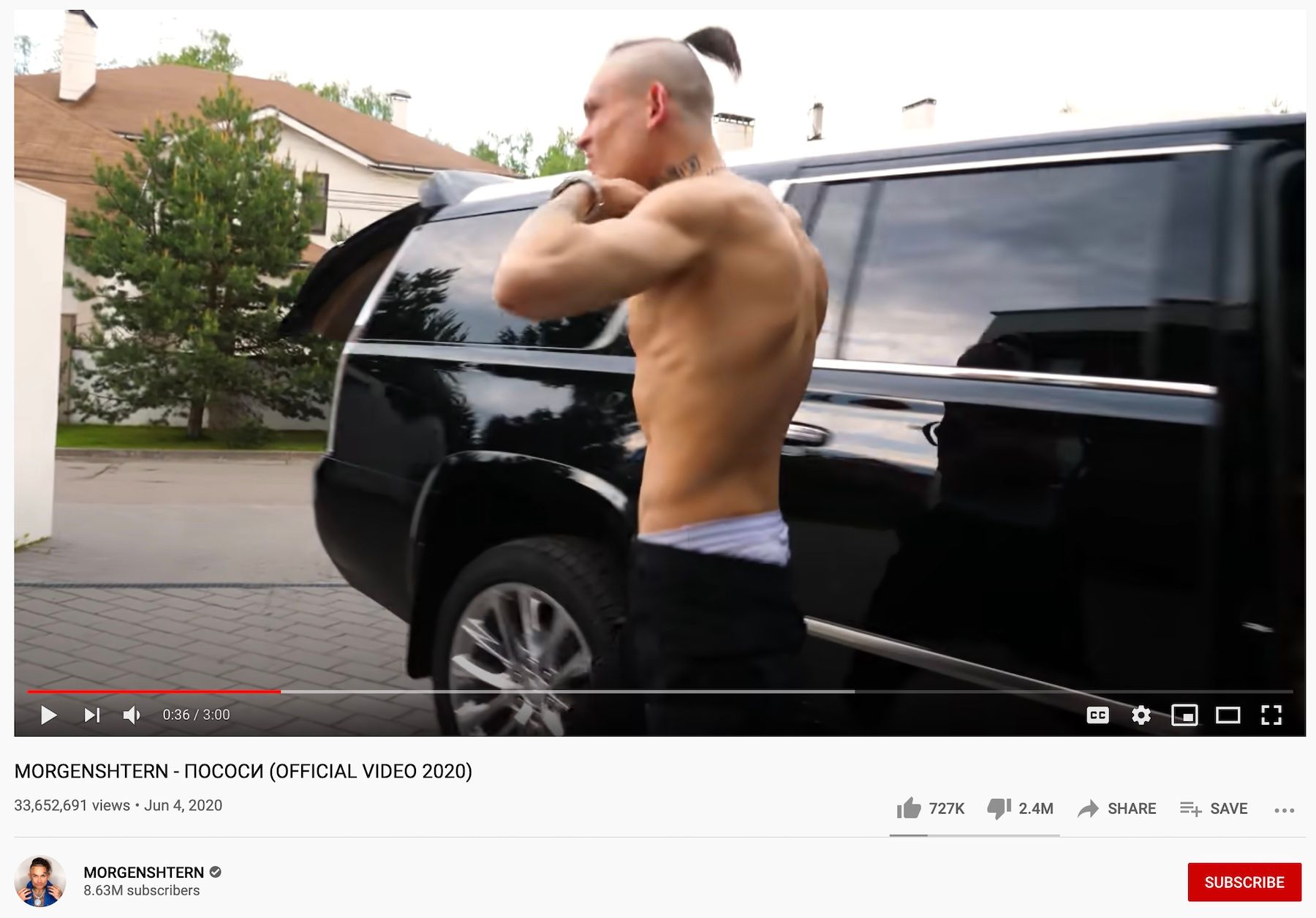 Morgenshtern is a Russian rapper who is very renowned in Russia due to his rock music and rapping. His music style mainly consists of street music which is loved by his loyal following. His recent release Cadillac has attained a spot on the list of the most-streamed songs worldwide.
On 4th June 2020, Morgenshtern released his song, Pososi, which acquired immense hatred from his fans. As soon as the music video of his song made its way to YouTube, it was immediately met by dislikes and hate comments by his fans. His music video on YouTube has gained more than 2.4 million dislikes and has earned the title of the most disliked YouTube video in Russian history.
The major reason why Morgenshtern received hatred on his music video of the song Pososi is because, in his song, he calls out the famous American rapper, DaBaby. Some fans even state that his song is actually a copy of DaBaby's rapping style which is why fans disliked it because of the lack of uniqueness and originality of the video. To make up for the massive amount of dislikes that Morgenshtern received, he soon released his song Cadillac which immediately won everyone's heart and became a TikTok sensation, making his fans forget about the horrid music video of Pososi which gained more than 2.4 million dislikes.
3. Kunal Kamra - Carry Minati Roast: 2.4m Dislikes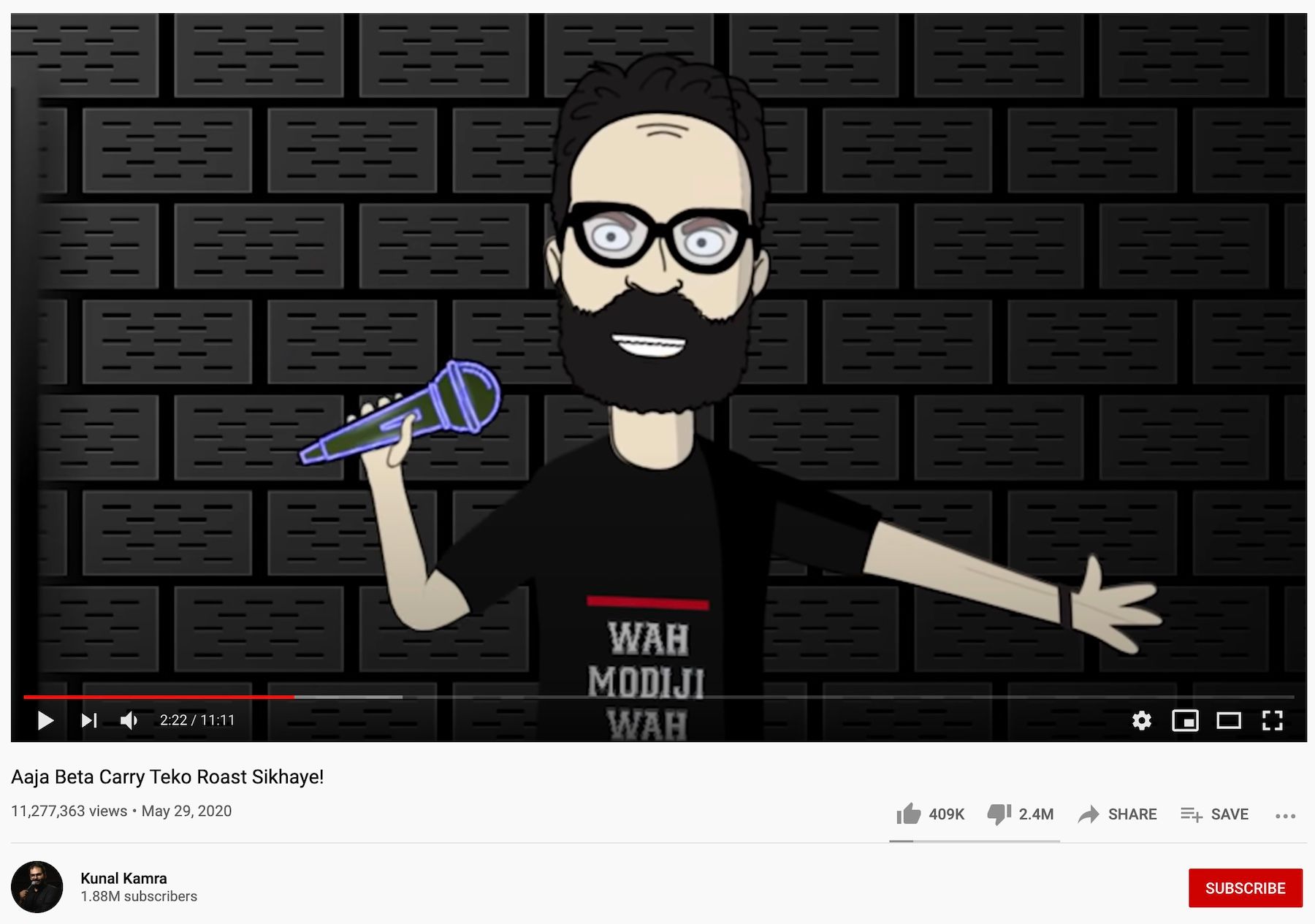 Kunal Kamra is an Indian comedian who is famous for his stand-up comedies and his jokes about politicians and the struggles of a common man. His YouTube videos are famous all over India for their relatable humor for Indians.
However, this year on 29th May, Kunal posted a YouTube video that was highly disapproved and criticized by his fans. His fans consider that specific video to be the worst in Kunal's career. In his most disliked video, Kunal roasted a fellow Indian YouTuber and comedian Carry Minati.
Fans and viewers admit that the roast was so dull and boring that it could not be categorized anywhere near 'funny'. The video was specifically criticized for the overuse of the expression 'OHHH'. The video received more than 2.4 million dislikes and a lot of hate comments! Some fans even stated they think this video might prove to be downhill for Kunal's career and may put an end to his comedy days. Kunal's attempt to roast Carry Minati is clearly a failed one and the big figure of 2.4 million dislikes is proof of that!
4. Netflix - Cuties Official Trailer: 2.2m Dislikes
Netflix has a very well-known and positive reputation for being the home of multiple entertaining series and movies and providing thousands of us with a source of entertainment during the lockdown period. Almost every series on Netflix has been a top hit during the never-ending quarantine.
But unfortunately, one of the most anticipated series on Netlfix turned out to be a massive flop when its trailer was released on YouTube on 18th August 2020. The series was specifically targeted for its controversy and the controversial issues of the series urged the authorities to put a halt on its screening.
The series is considered to be controversial due to the fact that it not only targets one of the most sacred religions of the world but also sexualizes little girls. These reasons turned out to be the main factor why the trailer itself received more than 2.2 million dislikes and is considered to be one of the most disliked series on Netflix. The series 'Cuties' was hence never released and this turned out to be a wise decision by Netflix as otherwise, the streaming network would have gained a lot of backlash from all over the world. Nonetheless, the fact that a Netflix series obtained more than 2.2 million dislikes certainly assures that Netflix would not be tipping their toes around a controversial topic again.
5. 6ix9ine - GOOBA: 1.6m Dislikes
6ix9ine is an American rapper who is known for his aggressive rapping style which mostly revolves around controversial issues. He gained massive popularity when he was convicted of certain legal issues. His rapping style is highly aggressive and controversial which is why some music lovers are not inclined towards his songs.
On 8th May 2020, 6ix9ine released a song called GOOBA. The song was another reminder of his aggressive rapping but fans found a hilarious turnaround of the music video of the song. Some people stated that the video was so hilarious and embarrassing that it looked more like a commercial for Skittles rather than a music video.
The clashing humor of the music video became the reason why it attained more than 1.6 million dislikes.  Another reason why fans disliked it is because of how it disrespects and sexualizes women. These reasons all piled up and the stats officially declared that 6ix9ine is the most hated rapper on YouTube. Well, the video clearly proves that if 6ix9ine is looking for a good reputation among fans, then he might reconsider creating songs like GOOBA if he wants to avoid another 1.6 million dislikes!
6. Chocolate - Tony Kakkar: 1.5m Dislikes
Tony Kakkar is an Indian singer and songwriter who has composed and performed multiple songs for the Bollywood industry. His songs have also attained the honor to be the title songs of several blockbusters films in India. However, the road to success is not smooth for anyone and the same happened with Tony Kakkar.
On 8th September 2020, Tony Kakkar released a song called Chocolate in which he even collaborated with other artists. Undoubtedly Tony had high hopes with his new song but the YouTube community proved otherwise. When Tony released his song, his fans were met with nothing but disappointment.
The video overall attained more than 1.5 million dislikes and is considered to be the most disliked Indian song in the history of the Indian music industry. Fans were not amused by his new song, they found it very bland and tasteless. Some fans even claimed that they hated the song so much that they were tempted to report it. The Indian music industry is definitely facing downhill and with songs like Chocolate which get 1.5 million dislikes, it seems that the Indian artists would have to work super hard to gain their reputable status back.
7. Tum Se Hi - Sadak 2: 1.4m Dislikes
After the horrendous flop of the trailer and the film of Sadak 2, the viewers quickly shifted their hate towards the first released song of the movie. It is no surprise that the Indian community and Bollywood lovers were highly disappointed at the film Sadak 2. But it seems like their disappointment and frustration were not only limited to the film.
When Sony Music India released the music video of the main song of Sadak 2, Tum Se Hi, on 15th August 2020, the viewers jumped right into a march on the dislike button. Fans were already discouraged by the film's trailer but the song only proved to be the tip of the iceberg.
The music video of the song gained no less than 1.4 million dislikes! Multiple fans also stated that not only Sadak 2 is the worst movie to date in the Bollywood industry, but the songs also contain a lot of copyright content. The directors and producers of Sadak 2 are definitely in tight shoes after observing the response of the YouTube community on the film's trailer and its title song. It certainly seems that the Bollywood industry is in deep waters when music videos get 1.4 million dislikes!
8. K-ICM - Can Mot ly Do: 1.4m Dislikes
K-ICM is a Vietnamese singer and songwriter. He is a very well known singer of Vietnam and also has a reputable status in the k-pop industry as well. He has conducted multiple collaborations with numerous artists and has performed songs in multiple languages. But not every song was welcomed with praise by his fans.
On 19th February 2020, K-ICM released a song that deeply disappointed his fans. The song damaged the embrace of fans so much that the music video of the song received more than 1.4 million dislikes. The major reason for the song attaining so much dislikes is because the fans thought that the music video and the song did not capture the true style and essence of K-ICM's music and talent. This infuriated the YouTube Vitanense community so much that they all hoped to press dislike. This song of K-ICM is proof that he needs to reconsider his future songs if he wants to avoid 1.4 million dislikes.
9. Justin Bieber - Yummy: 1.2m Dislikes
Justine Bieber is a Canadian singer who has been ruling everyone's heart ever since he made his debut in the music industry as a child with his hit song 'Baby'. The singer is pretty much loved and adored in all parts of the world due to his catchy flavorsome songs and meaningful lyrics.
On 4th January 2020, Justin released a song called 'Yummy' which was met with immediate backlash from the internet, including his fans. His fans declared his comeback song a huge disappointment due to the lack of meaning in the lyrics. Justin took a break of 4 years from music before releasing this song and fans believe that their expectations were not met by this song. This is the reason why the song attained more than 1.2 million dislikes.
Although the song is not entirely hated by everyone, the massive majority possess a negative opinion about it. Fans believe that if the great JB wants a bright future in the music industry, then he needs to stop making songs like this which get 1.2 million dislikes.
10. Shukriya: 1.2m Dislikes
Again on the list, we get another song from the disappointing Indian movie Sadak 2. This movie is considered to be the worst movie of Indian history with the worst playlist. The YouTube community certainly did not hold back from expressing their opinion about the songs of this movie.
On 27th August 2020, the second song of the movie 'Shukriya' was released. Although the producers of Sadak 2 were hoping for a different response from the fans after the epic fail of the title song Tum Se Hi, Shukriya met the same fate. This music video received more than 1.2 million dislikes from around the world, ensuring everyone that this movie is not worth watching. Indian music industry definitely needs to step up their game if they are going to release more songs like this which get 1.2 million dislikes!
Well, that's all from the list of the top 10 most disliked videos of 2020!
---
---