Today, we're talking about Instagram- a social media platform that has taken the world by storm in recent years. Created back in 2010 by entrepreneurs Kevin Systrom and Mike Krieger, the app was originally meant to be a copy of Foursquare. Good thing that idea got scratched, though, because otherwise, Instagram might not have been the sensation it is today. A platform that started off with just a million, its user database has expanded to include over a billion people today, adding it to the likes of the highest-ranked social media platforms currently in existence.
The app was created primarily as a space for users to share their pictures. Similar to other platforms, users could follow other people's accounts, and keep track of their friends' and family's' activities through the channel. Users were allowed to like, comment, and bookmark their posts, too. The real game-changer, however, came when celebrities were able to create official profiles, enabling fans to keep track of everything going on in their idol's life.
With this final thought in mind, let's get into the top 10 most liked Instagram posts.
1. Cristiano Ronaldo: 19.8 Million Likes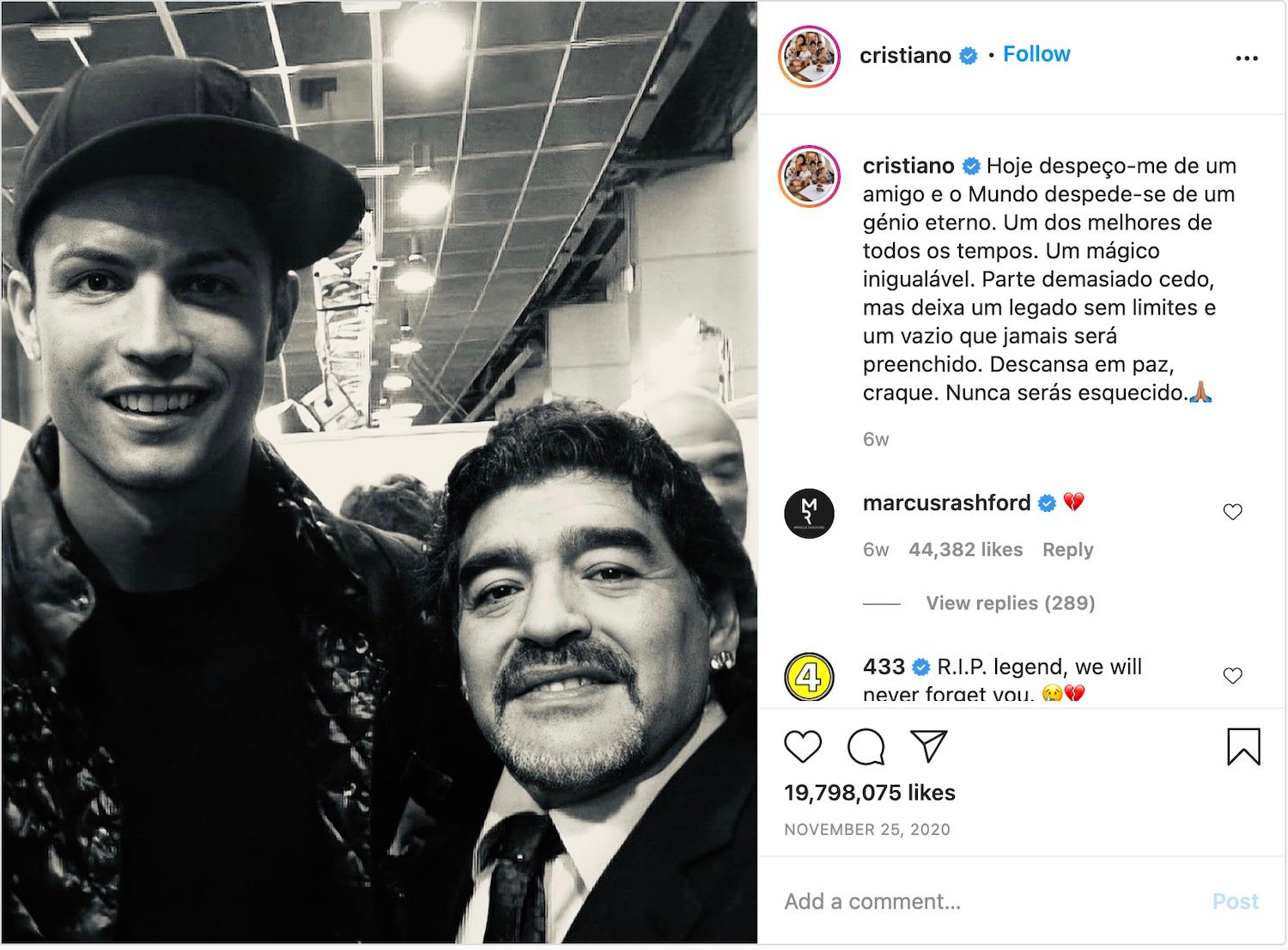 Cristiano Ronaldo holds the record of having the most liked top on Instagram- and for a good reason. The Instagram picture was posted on the 25th of November, 2020, following the death of legendary Argentinian footballer, Diego Maradona. It currently boasts 19.8 million likes. The idol, who led his country to a World Cup victory in 1986 after scoring the "Hand of God', bade farewell to this world at the age of 60. Following brain surgery, the legend succumbed to a heart attack. Through his two-decade-long career in one of the most beloved sports, Maradona amassed a gigantic fanbase. Though his addiction laid harm to his reputation, the footballer remains an icon in the world of football, thanks to his bewitching and unique style of play. To date, he is known as "Pibe de Oro" in Argentina, which means "Golden Boy."
It is quite touching seeing this post coming from another legend in the field. Ronaldo is celebrated as one of the greatest players of his generation. Winning the FIFA Player of the Year five times, his talents on the field are unmatchable. In the UEFA Champions League, Ronaldo also holds the record of a leading goal scorer. Seeing a living legend paying homage to one that left the world way before his time, football fans all over the world gathered on Cristiano's post to pay their respects to the icon.
2. Chadwick Boseman: 19.1 Million Likes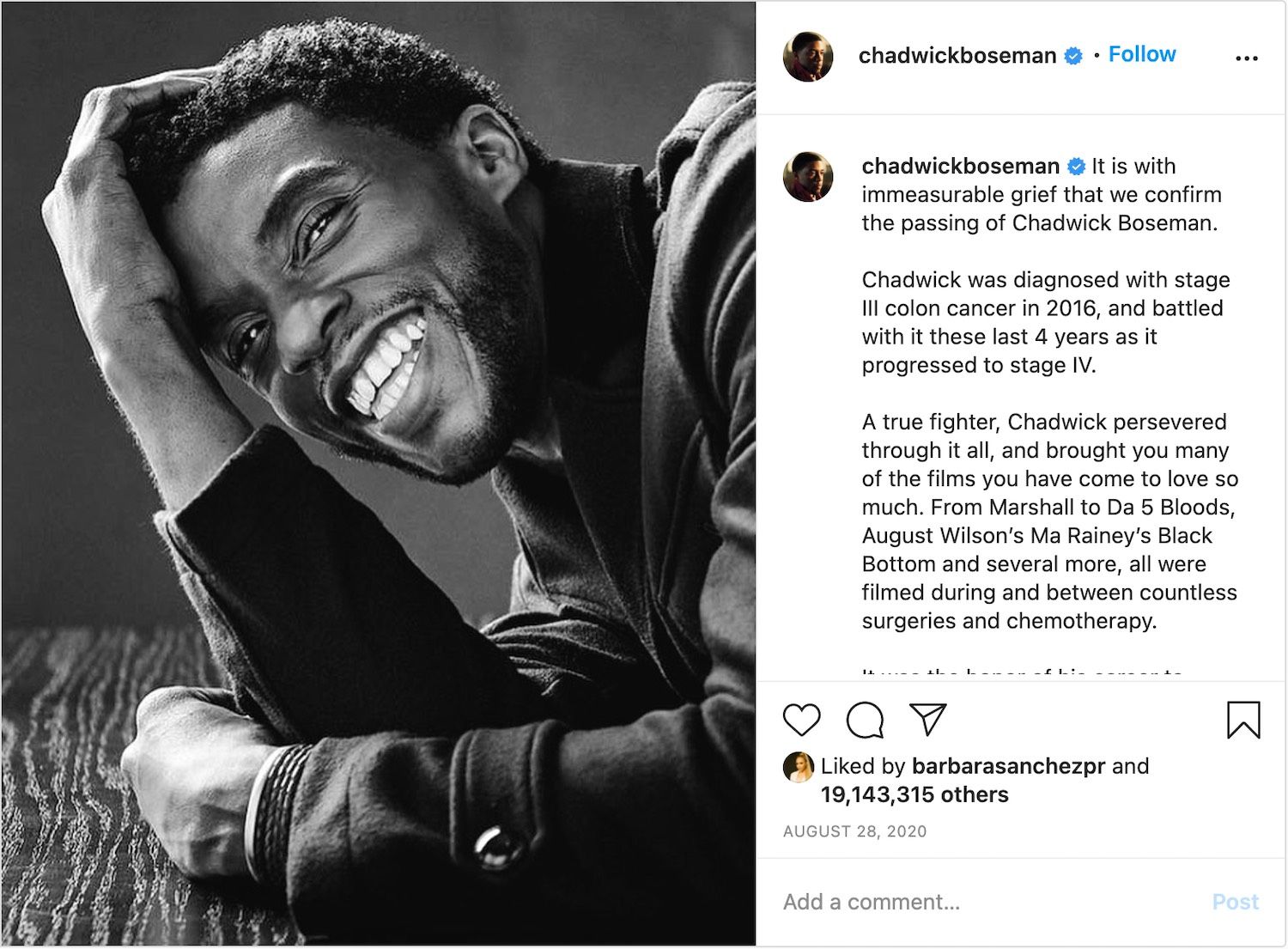 When the news proclaiming the death of Black Panther actor, Chadwick Boseman, showed up on screens globally, no one believed it. The actor waged a silent battle with colon cancer for four long years, with not so much as a peep to give his secret away. His diagnosis came the same year as his debut role at T'challa, King of Wakanda. Had he disclosed this information, we might not have held the same love for him in our hearts as we do today.
The Instagram post was updated on the 29th of August, 2020, confirming the death of the beloved actor. By whom it was written, it is unsure but, coming from his own Instagram profile, it is safe to assume that someone close to him wrote the homage. Standing at the second most-liked post on the platform, it currently has 19.1 million likes. The post also confirmed that Boseman died within the safe space of his home, with his family by his side- a way everyone wishes to leave the world. The magnetic actor continues to live in the hearts of his fans and will be forever remembered for his iconic roles.
3. Lionel Messi: 16.4 Million Likes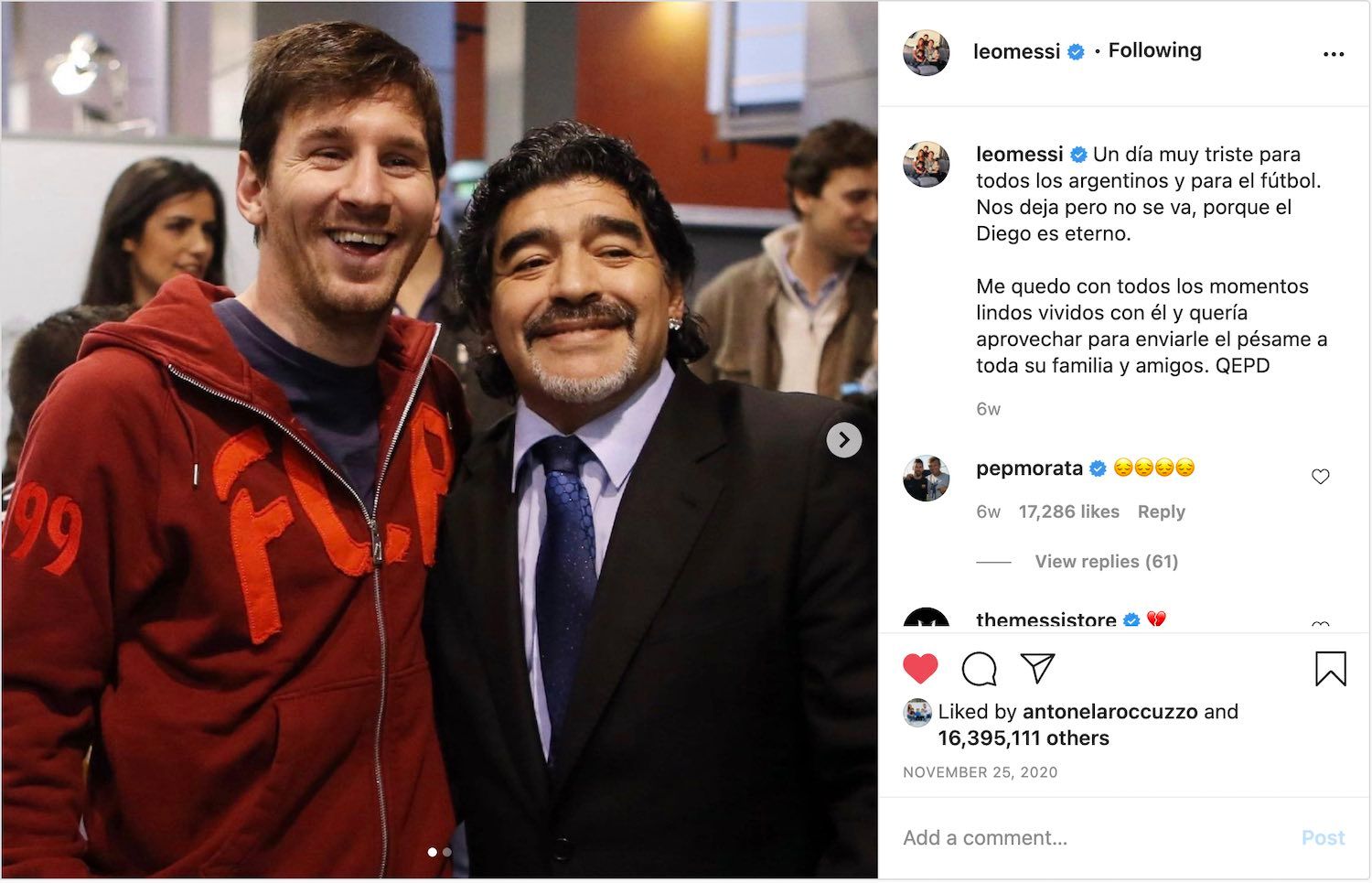 Paying another homage to the legendary Diego Maradona, Lionel Messi rightfully stated that even though Maradona has left us, he still hasn't, for he is eternal. The post was updated on the 25th of November and currently stands at 16.4 million likes.
Messi has received many accolades, such as his five FIFA Player of the Years Awards and records owned for goals scored. He proved his talents on the field by being the youngest footballer ever enrolled in Spanish La Liga and leading his team to victory multiple times. Moving forward from the field, he became an excellent product pitchman, working with one of the global athleisure hegemons, Adidas.
Messi's relationship with Maradona has always been strong, owing to the fact that Diego coached him for two years from 2008-2010. Maradona always supported Messi but, gave him criticism where it was due.
4. Kylie Jenner: 16 Million Likes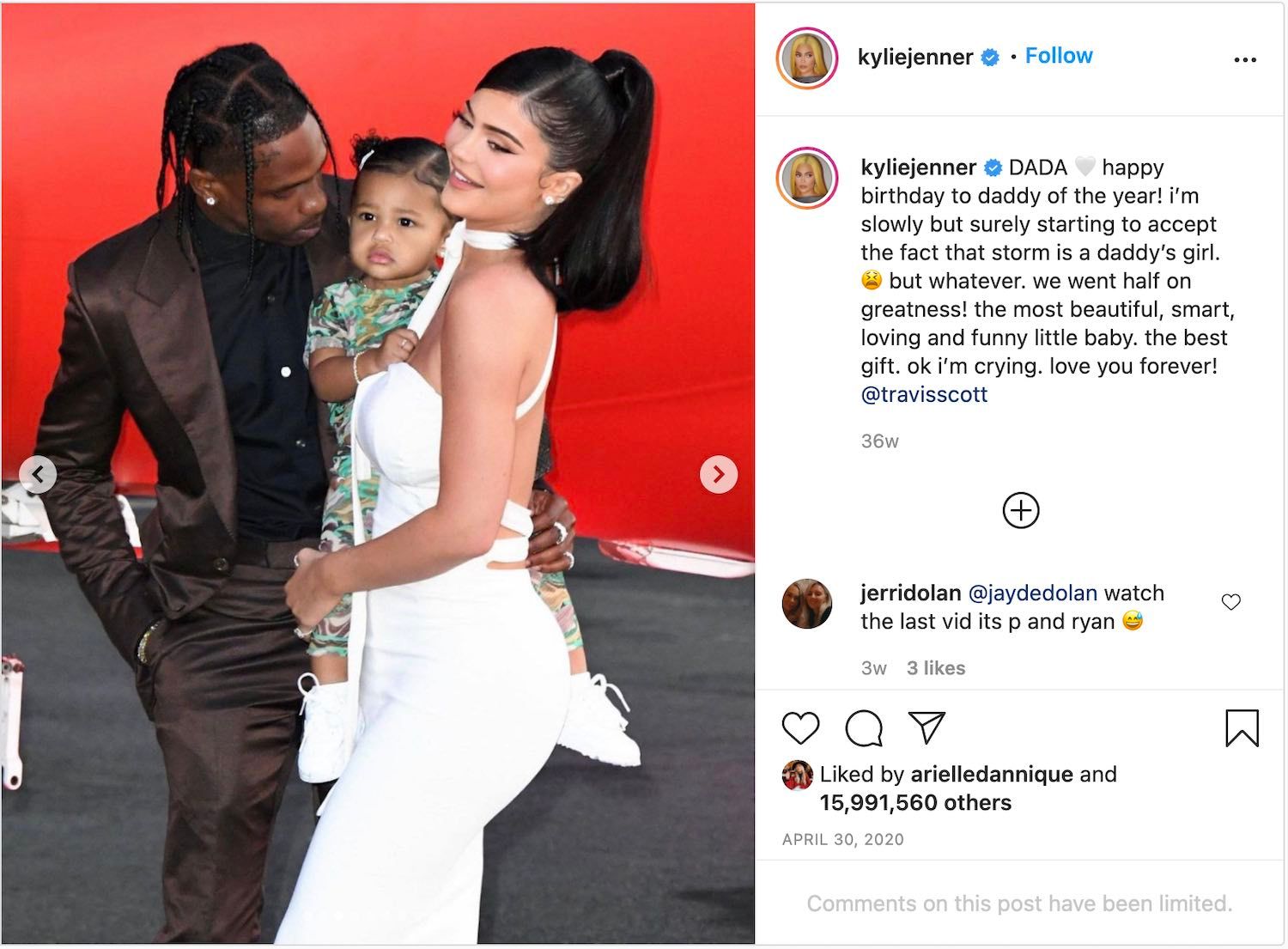 The youngest of the Kardashian-Jenner clan didn't come to the world of fame to play. Slowly but surely, she rose to be one of the most influential celebrities. Other than that, she's also celebrated as the youngest self-made billionaire in the world. With a billion-dollar empire and an upwards of 200 million fan-base across social media, seeing her name on this list won't come as a surprise to anymore.
The Instagram post itself features her partner, Travis Scott, with their two-year-old, Stormi Webster. It consists of 8 pictures and 2 videos of the father-daughter duo, save for one picture which also has Kylie in it. The post was uploaded on the 30th of April, 2020, and stands at 16 million likes. Kylie wrote the caption out as a birthday wish to the American rapper, jokingly mentioning how their daughter is "a daddy's girl". In the process, the influencer also thanked her other half for their daughter, calling her "the best gift".
5. LeBron James: 15.5 Million Likes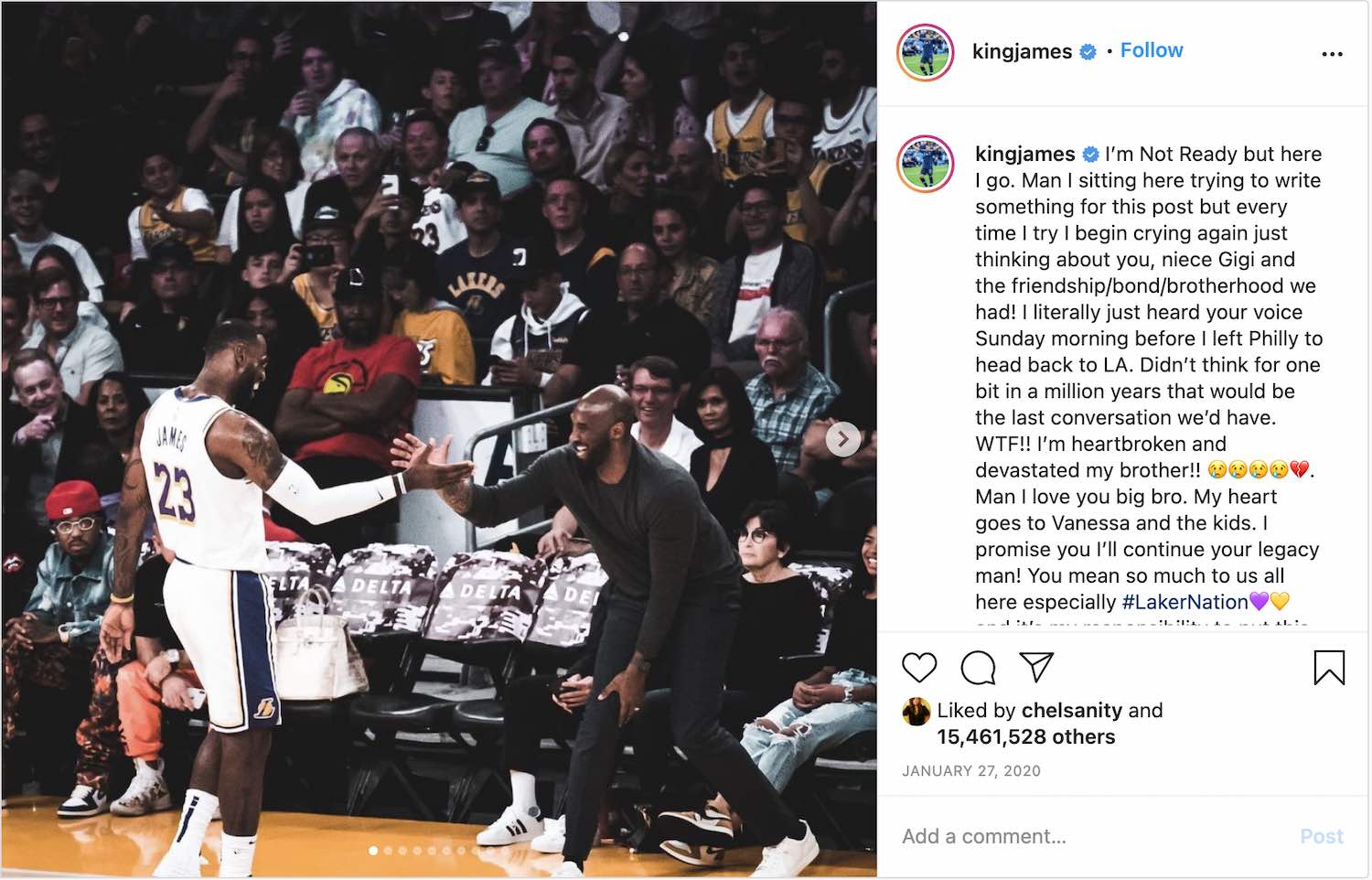 This post was uploaded by LeBron James on the 18th of January, 2020. Standing in the fifth position, it has 15,461,129 likes. In the caption, it seems as though King James was just trying to make sense of a situation that had left the entire world in shock. Another loss we just didn't see coming in 2020 was the death of Basketball superstar, Kobe Bryant and his daughter, Gianna Bryant. The duo was caught in the 2020 Calabasas helicopter crash, the cause of which still remains undetermined. Besides them, there were 8 people aboard the helicopter, who lost their lives as well.
Although the athletes weren't close before the crash, LeBron faced a deep impact from the loss. It was reported that he was unable to sleep the night after the crash, and remained devasted for the days that followed. This reaction from his end comes perhaps from the fact that Kobe and LeBron had only just started developing a stronger relationship- something that had seemed close to impossible in previous years. On LeBron's end, the regret remains for not making an effort with Kobe beforehand but, the post's caption ends on a positive note, with LeBron promising Kobe to do better when they meet again.
6. Kylie Jenner: 15.3 Million Likes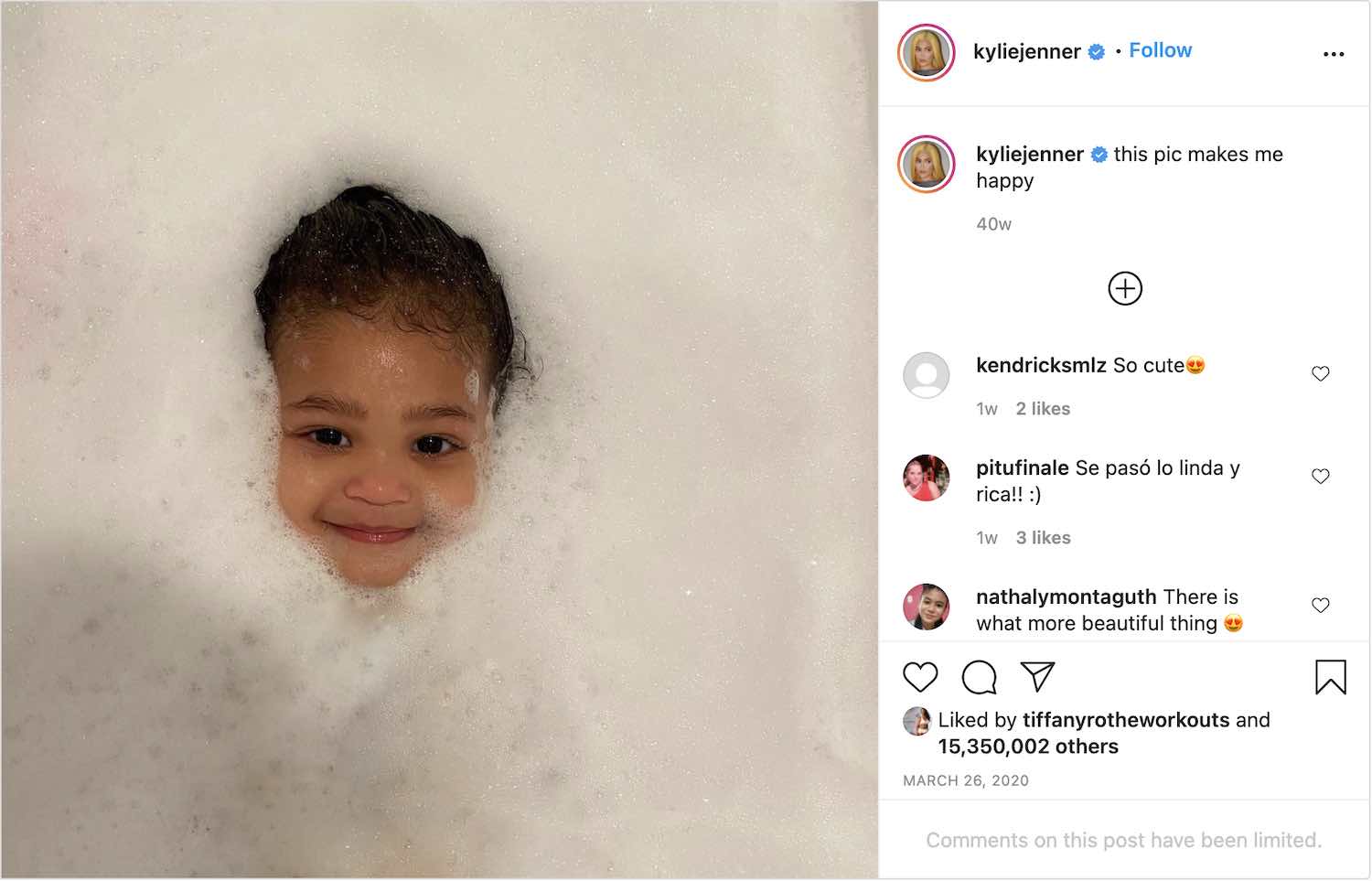 With 207 million followers on Instagram, it is not surprising to see Kylie Jenner on this list yet again. And with a baby as cute as Stormi, we get double the reason to see this many likes on the post. The picture features little Stormi, lying in a bathtub and surrounded by bubbles. Her little chubby face peeks out from between the white foam.
The post currently boasts 15.3 million likes and was uploaded on the 27th of March, 2020. With only two years in, Stormi has already done way more than most babies- or people for that matter- do in their entire lives. Alongside her mom, she has already featured on Vogue and Harper's Bazaar cover. Besides that, she has her own self-named make-up line, which was launched on her birthday last year. The line is butterfly-themed and consists of an eyeshadow palette, blush, a lip kit, and miniature lipgloss. You can see the little one's obsession with make-up on her YouTube channel, too. There's another make-up entrepreneur in the making!
7. Kylie Jenner: 14.5 Million Likes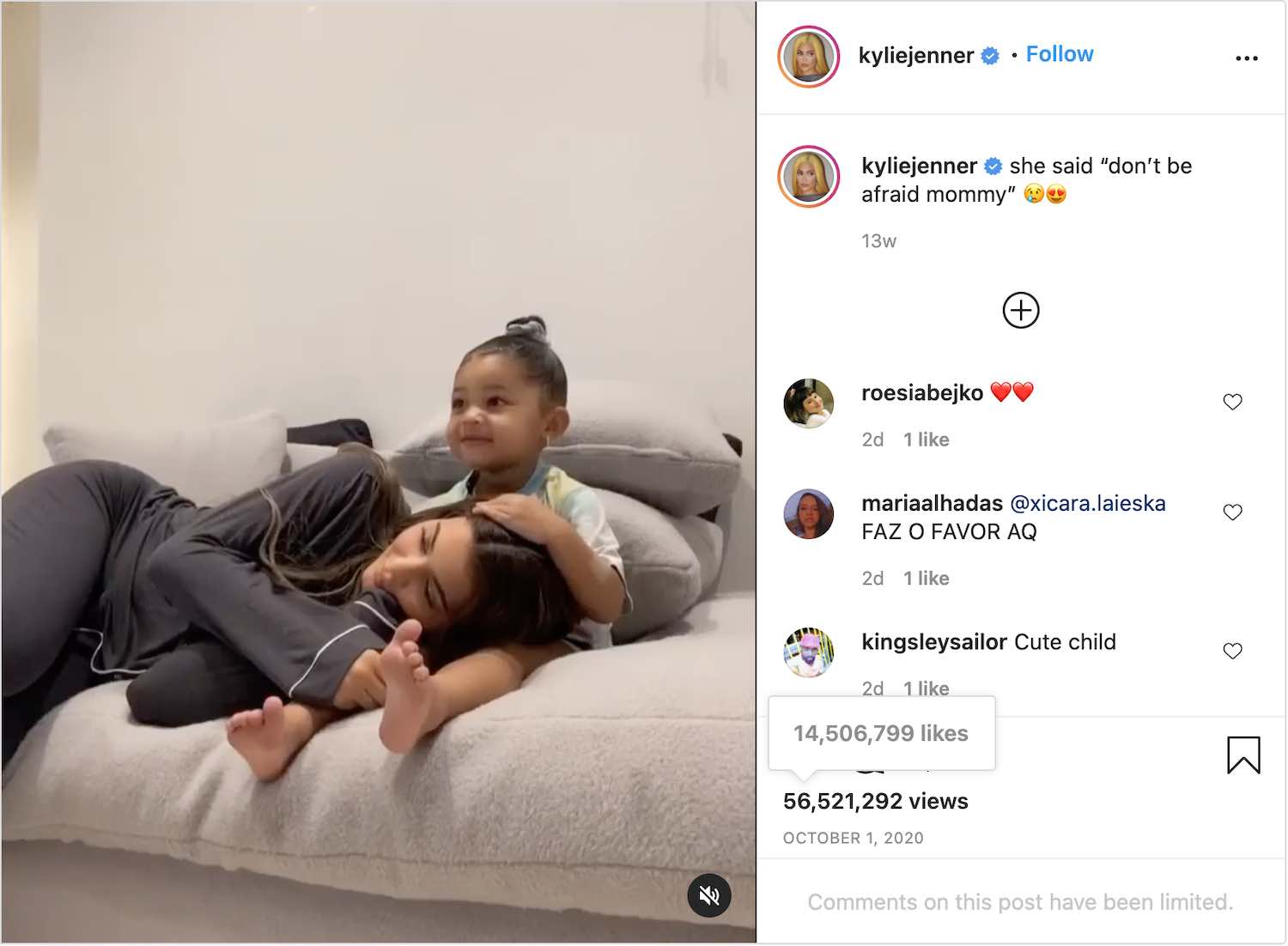 Yet again, the seventh on the list is another post by the ingenious entrepreneur, Kylie Jenner. This one showed the influencer jumping on the TikTok challenge train with her daughter, Stormi. The challenge is called "Lay On Your Toddler". Basically, while children are watching their favorite TV show, parents calmly cuddle up to them and put their heads in their lap to see their reaction. The challenge was started by Kat Kamalani, a TikToker who was looking for something new to update her profile with. She expected her toddler to be annoyed, and that it would make for funny content, but the reaction she got was heart-melting.
As expected, Stormi had the most adorable reaction, too. As Kylie lay her head on her toddler's lap, she started stroking her hair lightly and whispered "don't be afraid mommy". Unsurprisingly, the heart-warming post earned 14.5 million likes and 56.5 million video views. It was uploaded only recently, on the 2nd of October, 2020.
8. Cristiano Ronaldo: 14.3 Million Likes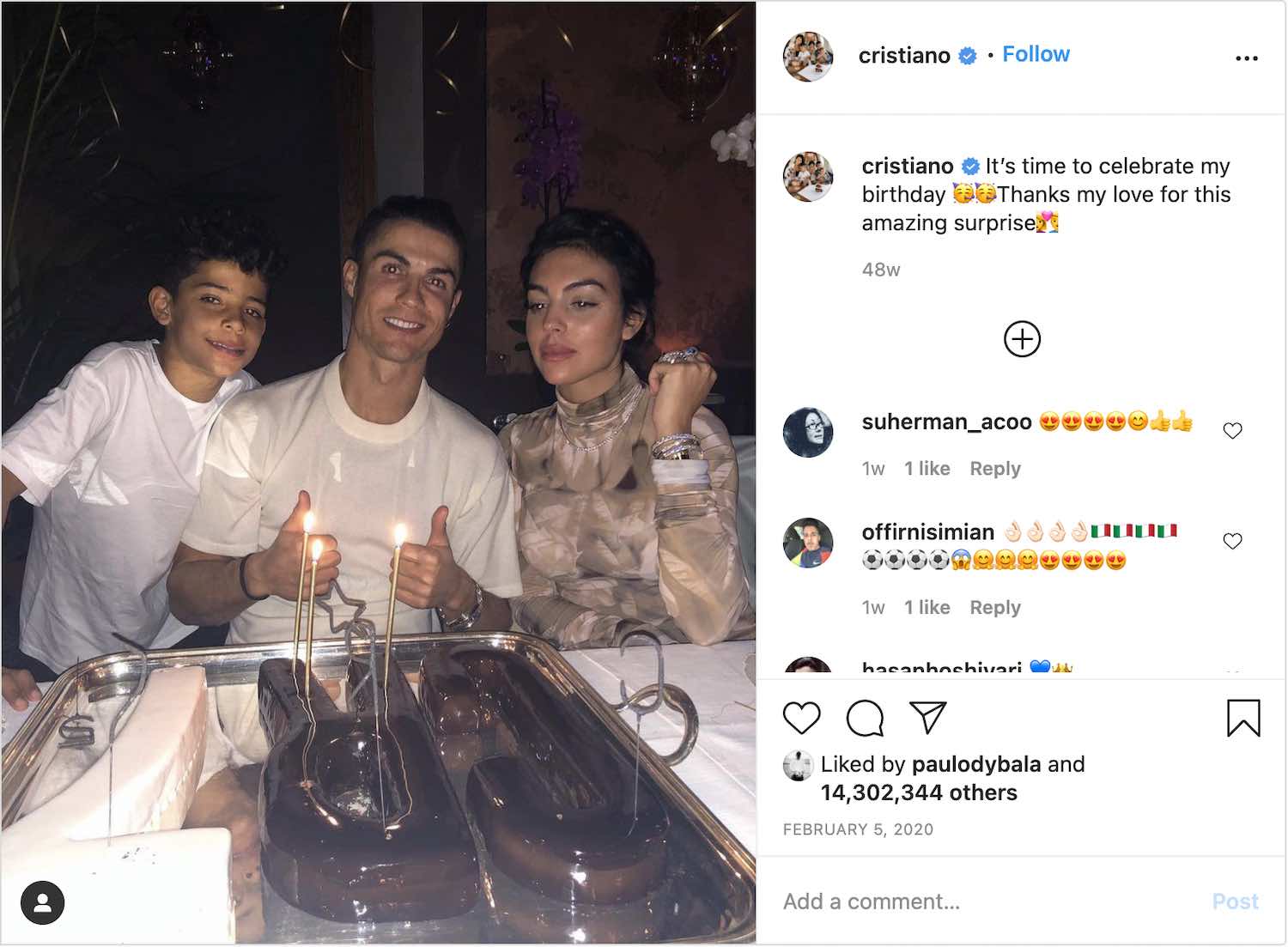 Ronaldo's 251 million followers just can't allow for the footballer to not be featured on the list once more. On the occasion of the celebrity's birthday, all his fans rallied to his post to wish him a happy birthday. On this day, the footballer got a luxury car as a gift. The post was uploaded approximately a year ago, on the 6th of February, 2020, when he turned 35 years old. The picture features Ronaldo's girlfriend, Georgina Rodriguez, and his eldest son, Ronaldo Jr., sitting in front of a three-part CR7 cake. This Instagram Post currently has 14.3 million likes.
Even after proceeding to the latter half of his 30s, the legend shows no signs of slowing down. In 2020, he was the best league scorer, with 33 goals under his belt. Being the first influencer to cross well over 200 million, his social media platform keeps growing, too.
9. Kobe Bryant: 14.2 Million Likes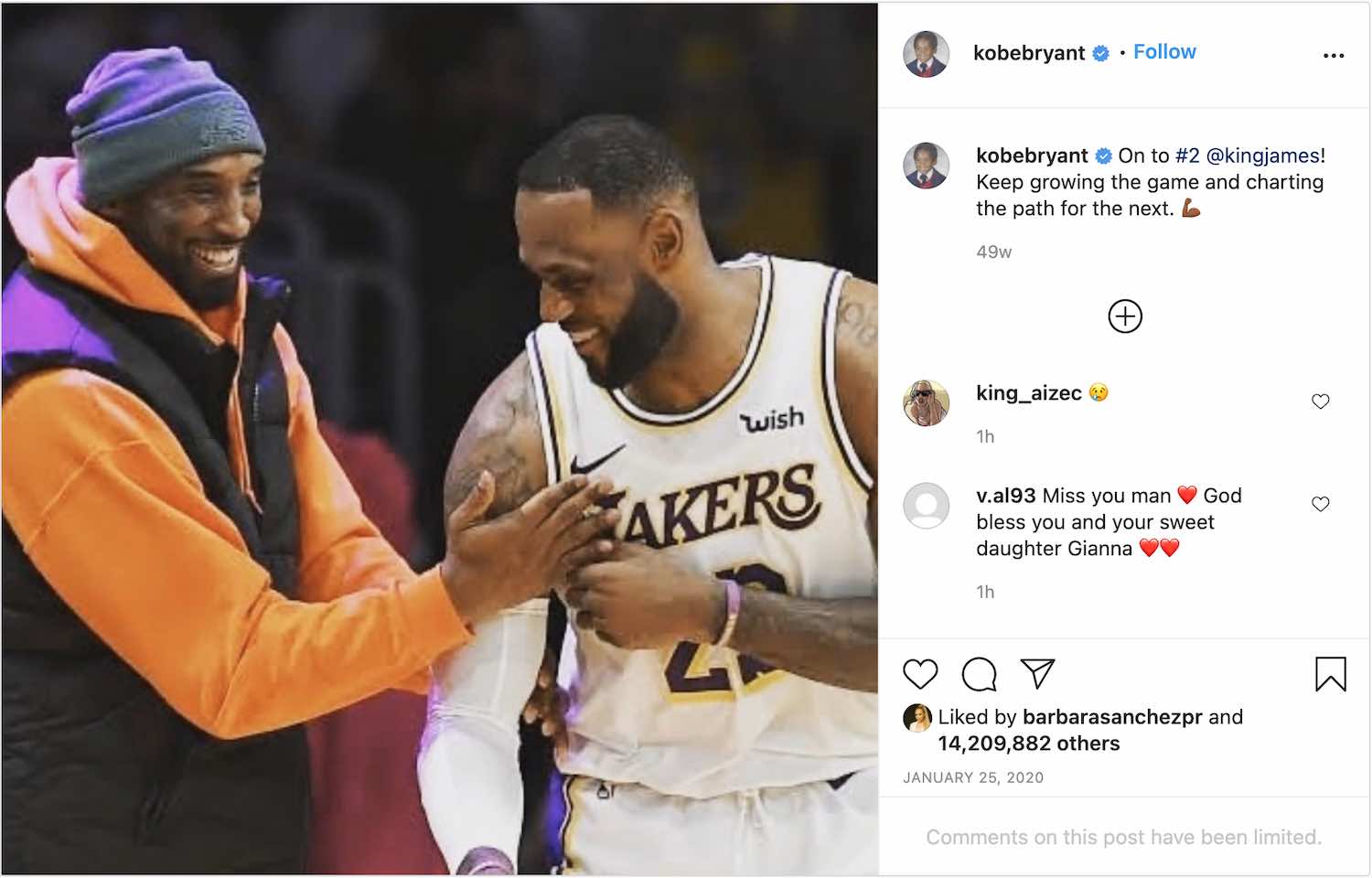 It's crazy thinking that Kobe uploaded this post on the day that he left this world forever. The picture features him with LeBron James, which just stands as proof of the developing relationship between the two athletes. Even though it has been almost a year since his death, fans pop up on the post on the daily to leave lovely comments and mention that they miss him. Currently, the post stands at 14.2 million likes.
Kobe left behind his wife of 18 years, as well as their 3 daughters, Natalia (17), Bianka (7), and Capri (1). It's unfortunate how true legends aren't appreciated as much during their life as they are after their death. Following the devastating plane crash, sales of his sneaker line and his autobiography soared phenomenally. All for the better as the proceeds now go to the family he left behind.
10. Cristiano Ronaldo: 14.2 Million Likes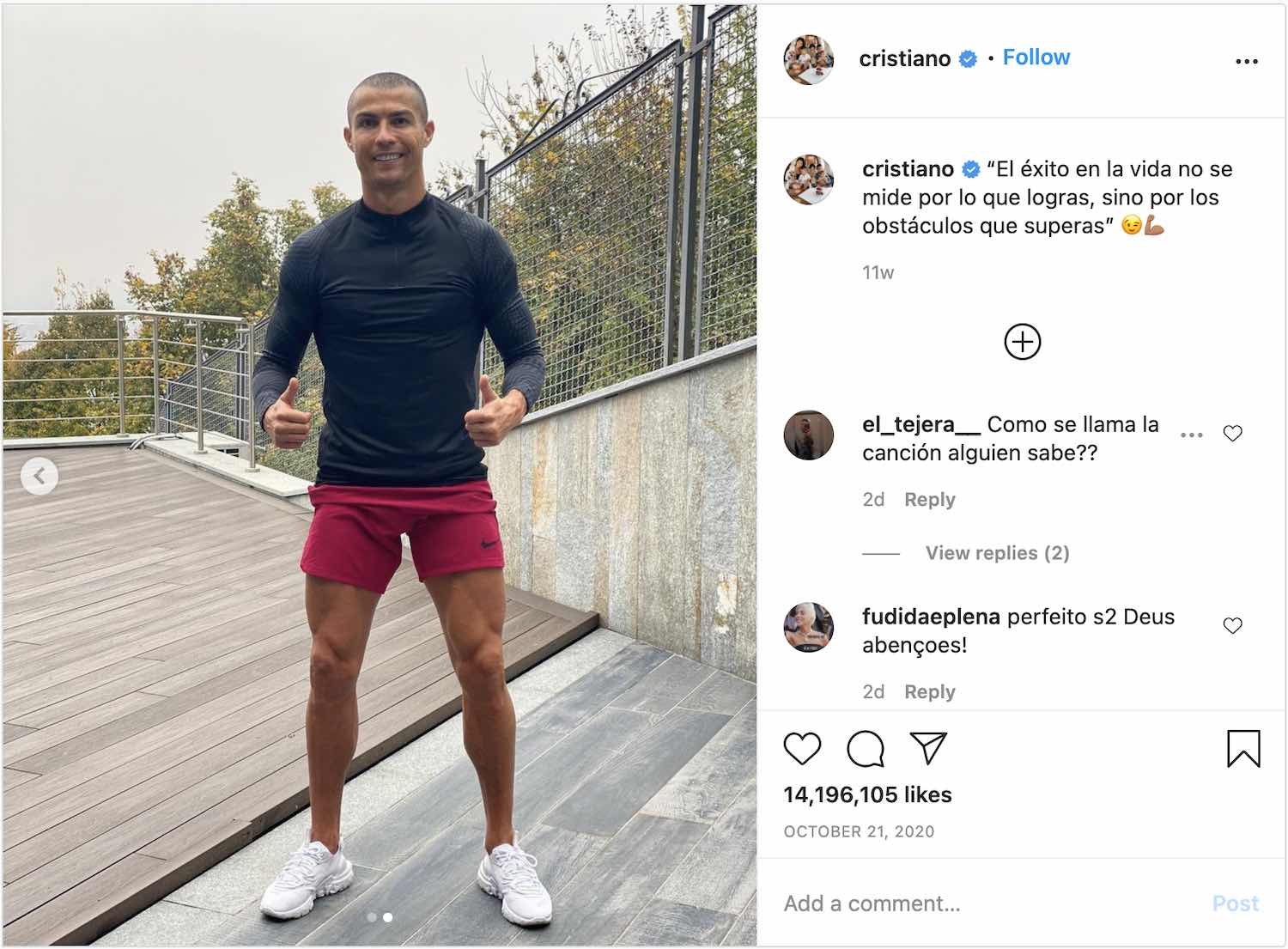 Winding up the list, we have another feature by the legendary footballer, Cristiano Ronaldo. The post states, "Success in life is not measured by what you achieve, but by the obstacles you overcome" in Spanish. It features the athlete peddling away on his exercise cycle while jamming along to a Spanish song. A brief reflection shows that it was filmed by his Spanish girlfriend, Georgina Rodriguez, who also made sure to include the weather in the video. The Instagram post boasts 14.2 million likes.
True to his caption, Ronaldo's success story screams in the face of his haters. Born in a poor household, with a cook and a gardener as parents, he always had his eyes on the price. It is said that the footballer had to put his studies on the back seat in order to pursue his dreams. Success didn't come easy to him, and neither did it come overnight. He had to keep at it for years before he could rise in ranks to be cast as one of the best in the world.
---
We've created the following "2020 Top 10" series for you to wrap up this special year.
And here are more Top Instagram Influencer List for you:
---
---