The beauty industry is not just run by big companies nowadays, YouTube and Instagram beauty influencers are creating their brands and boosting brands their own social media channels.
For this list, we've selected some of the top beauty brands created by celebrities, makeup artists, and influencers. Check it out!
---
In the age of social media, everyone can be a fashionista if you want.
"You can't find a beauty influencer who doesn't imagine to have his/her own brand," said Benny, a Chinese Beauty Influencer who launched his beauty brand last year.
Making tutorial or review videos for beauty brands is only the first step. Creating their own brands, turning their influence to a valuable brand, is the ultimate goal for many beauty influencers.
Influencer marketing doesn't just limit itself to influencers promoting, different brands corporations, and influencer brands succeeding anymore. So, let's take a look at seven of the most successful beauty influencers (celebrities) who have fulfilled both their personal and market value through their own brands.
1. Fenty Beauty by Rihanna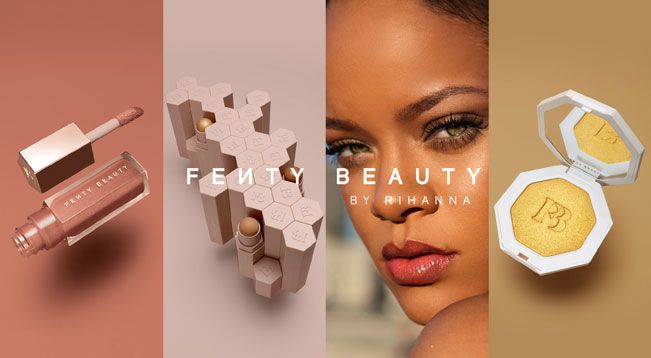 Let's start with RiRi's Fenty Beauty!
In September 2017, Fenty Beauty was launched. They have a variety of products such as foundation, concealers, highlighters, lipgloss, and many more. The prices are also not on the expensive side, usually ranging from $9- $50. Gen Z can afford the same makeup as Rihanna.
The brand new 40 shades matte foundation is a hit. Since not a lot of brands have more than 30 foundation shades. Even THE professional MAC took so many years to launch its 42 shades foundation. Big moves are coming!
40 shades made for women of all colors. The diversity campaign has won this brand a lot of popularity.
One month later, Fenty Beauty launched its Galaxy collection in October. The flashy and trendy style is suitable for every beauty lover, people are loving this collection.
Behind Fenty Beauty, other than RiRi herself, there's LVMH's 10 million dollar support team.
With huge financial support and RiRi's popularity, Fenty Beauty rose to fame is no surprising thing. The brand brought LVMH 500 million Euros in revenue after just 1 year of launching. And its success raised numerous discussions around the accessibility of the beauty/makeup market. You can find Fenty Beauty products in Sephora stores all over the world.
2. Kylie Cosmetics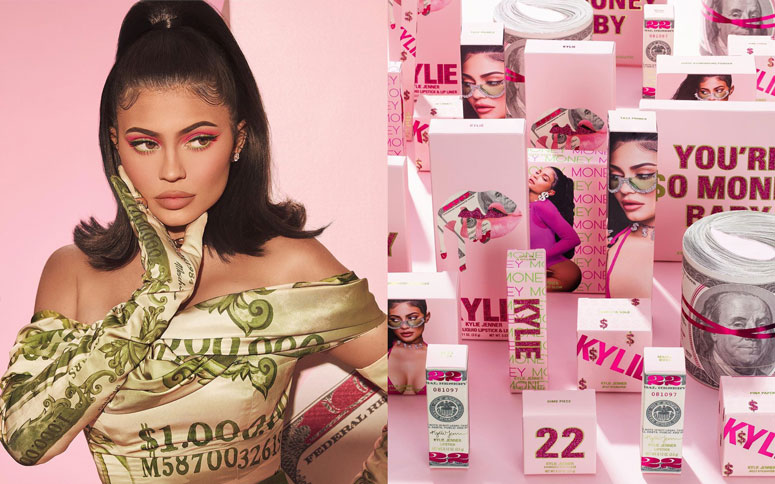 Who is next? Kylie Jenner, Of course.
Kylie Cosmetics helped Kylie's net worth boost to around 900 million dollars, securing her spot of the 27th on the Forbes ranking, surpassed her sister Kim Kardashian(estimated to be 350 million).
Kylie became the youngest and richest female entrepreneur on Forbes.
And she is only 22-year-old!
Kylie started her beauty business at the age of 19, she used her well-known luscious lips as the logo for the brand. Kylie Cosmetics represents her image — hot, sexy, and young.
In the beginning, Kylie Cosmetics only has lip kits, with lip liners and matte liquid lipsticks. After the big hit of its lip kits, Kylie Cosmetics also launched their eyeshadow palettes and other beauty products.
What makes Kylie Cosmetics pop out is the Internet and social media, unlike other traditional beauty companies. Kylie Cosmetics is a product of successful social media and influencer marketing. Founder Kylie combines her social fame, with Seed Beauty, which is the parent company of ColourPop. Each product will be ready in a very short period, from a concept to an actual product. With the smooth flow of communication and Kylie's influential social media accounts, this brand becomes a social media legend.
In comparison, the advertisement fee was around 5 million dollars for a 30s commercial in Super Bowl. Internet marketing has provided the most cost-efficient marketing ways. Also, WWD reported Kylie Cosmetics has become a billion-dollar empire.
3. KKW Beauty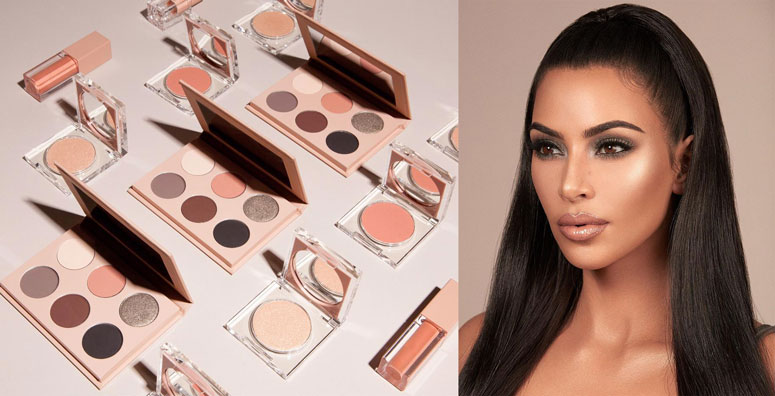 Speaking of the Kardashians, let's talk about Kim Kardashian's brand KKW.
Kim's brand launched after Kylie's.
Kylie's specialty is in lip kits, Kim's the go-to for contouring. The first line of products was the contouring kit. The packaging has a beautiful warm color style.
In June 2017, Kim Kardashian officially launched her own cosmetics brand KKW Beauty in Los Angeles. The leading product was the $48 contour kit, included are the 3 types of products, 4 different shades to choose from. The product was sold out after a few hours for 1.4 million dollars in total. Then they launched a perfume, which also sold out in less than a week.
Besides, KKW Beauty also ditched the traditional marketing ways like television and paper advertisement. Kim and her brand's direct communication with the consumers not only reached their goal of promoting the brand but also gained timely feedback on the products from the consumers.
Kim posted the "Get Ready With Me" makeup tutorial with YouTube beauty guru Jaclyn Hill. In videos, Kim seemed approachable and down to earth, which adds additional charm to the brand.
Other than makeup products, KKW has also released their own fragrance products — KKW Fragrance. One of the bottles is modeled after Kim's famous curves.
4. IT Cosmetics
The founder of IT is not necessarily a star, Jamie Kern Lima is a news reporter, because of too much stress at work which caused her rosacea to occur. Nothing on the market can cover her skin problems, in addition to making her skin worse. This is the beginning of the brand story of IT Cosmetics.
In 2008, Jamie and her husband gathered some plastic surgeons and dermatologists to start the brand. They specialize in repair, anti-aging, anti-inflammatory products, with advanced technology. IT is short for Innovative Technology.
Through tv shopping, Jamie has touched the hearts of many television audiences, the company's revenue raised from 1 million dollars of around 5 staff in 2012 to 182 million dollars. ( This one will probably go into the successful example of television marketing.)
In 2016, L'Oréal had decided to acquire IT for 1.2 billion dollars. This is L'Oréal's most significant acquisition in 8 years. The leadership and chief personnel had been kept. Because of this, Jamie became the first female CEO in L'Oréal's hundred-year history.
5. HUDA Beauty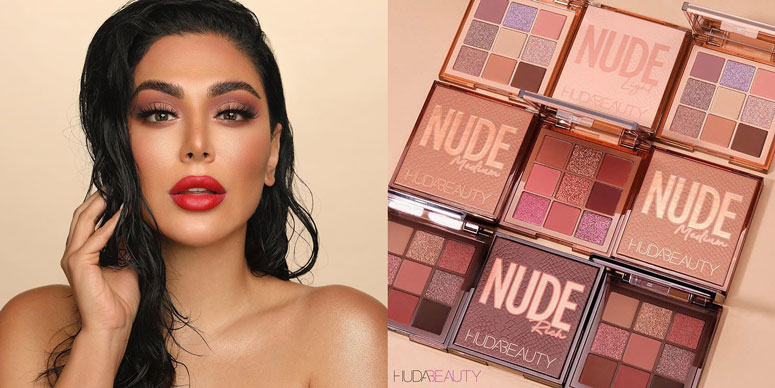 If you ask which eyeshadow palette was most popular in 2018, many would mention Huda Beauty's New Nude.
Founder Huda Kattan is an Iraqi-American. She is a professional makeup artist who lives in LA. Huda started posting her own makeup videos on YouTube a while back. She has since accumulated a loyal fan base. In 2011, she launched her own eyelash extensions and successfully broke into the makeup world as an entrepreneur.
Right now, Huda Beauty has become one of the most successful makeup brands in the world. The brand worths over 1 billion dollars. You can find Huda Beauty in all major retail stores around the globe, including Sephora, Harrods, Selfridges, Brown Thomas, Arnotts, Net-a-Porter, and Feel Unique.
Huda Kattan herself has an Instagram account with 39 million followers. She is one of the most influential makeup bloggers ever. Huda and her sisters Mona and Alya run the company together. They also have a reality TV show — Huda Boss, which talks about how they manage this whole business and their daily struggles. This show allowed fans and followers to get to know the family in depth from behind the scenes.
After the success of eyelash extension products, Huda broadened her product line. She started to sell eyeliners, eyeshadows, lip kits, and other makeup products. All received a lot of support and popularity.
6. Wayne Goss Makeup Brushes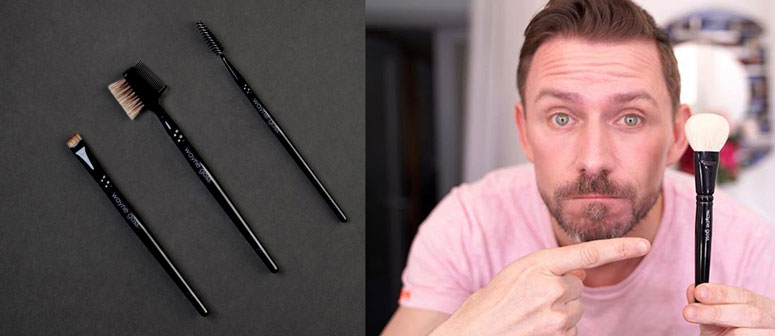 Wayne Goss is a famous makeup artist and influencer from England. Wayne started his makeup YouTube channel around 10 years ago, and has become one of the top beauty influencers around the world. His YouTube channel has 3.67M subscribers by October, 2019.  Wayne shares his makeup techniques, such as how to keep the makeup on all day, how to do eyeliners. The baking makeup technique popular these two years, Wayne actually started to do it several years ago.
In 2013, he launched his own brand of makeup brushes with the same name. The brushes are made from the craftsmen in Kumano Town, Japan (where they make the absolute best brushes). The brushes are made from the best animal fur, Wayne had succeeded half already with these ingredients.
7. Jeffree Star Cosmetics
Jeffree Star is one of the most talked-about people on YouTube, and it is not hard to see why. The queen of drama, drama queen. He has beef with almost every popular YouTuber you can think of.
Jeffree is very skilled in doing makeup, even though some techniques are not for everyone, but the color he chooses can inspire you a lot. Three of the most popular online makeup brands in the US are Kylie Cosmetics, Huda Beauty, and Jeffree Star Cosmetics.
---
Would like to hire some top beauty influencers for your brands? Get Started with SocialBook.
---
---