The beauty industry is one of the top industries benefit from social media and influencers.
We've collected a top 10 list of US makeup and beauty influencers, who are active on YouTube, Instagram and creating content easily gathering millions of views. The top beauty influencers are collaborating all top beauty brands you can think about, and most of them have their own beauty brands or product line.
We'll explain who are these beauty gurus, how they started to become an Internet celebrity, what makes their YouTube channel outstanding, how they gain social fame and the most recent discussions around them.
Jeffree Star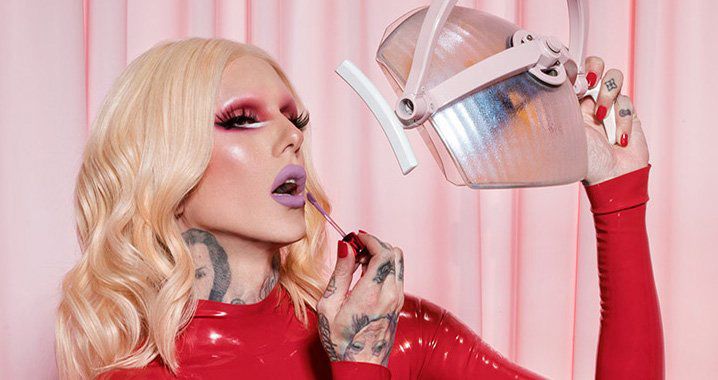 Jeffrey Lynn Steininger Jr. has been a prominent part of the beauty industry for over a decade now. Gaining his popularity from MySpace and being one of the OG YouTubers, the star has only seen a steady rise in his fame. Jeffree, now 33, is an entrepreneur with his own beauty line named Jeffree Star Cosmetics. He is also a make-up artist, model and was also briefly a music artist from the years 2009–2013. According to Wealthy Gorilla, as of 2019, Jeffree Star's net worth is $50 million. In 2018, $18 million of his net worth was extracted from the creator's YouTube channel alone.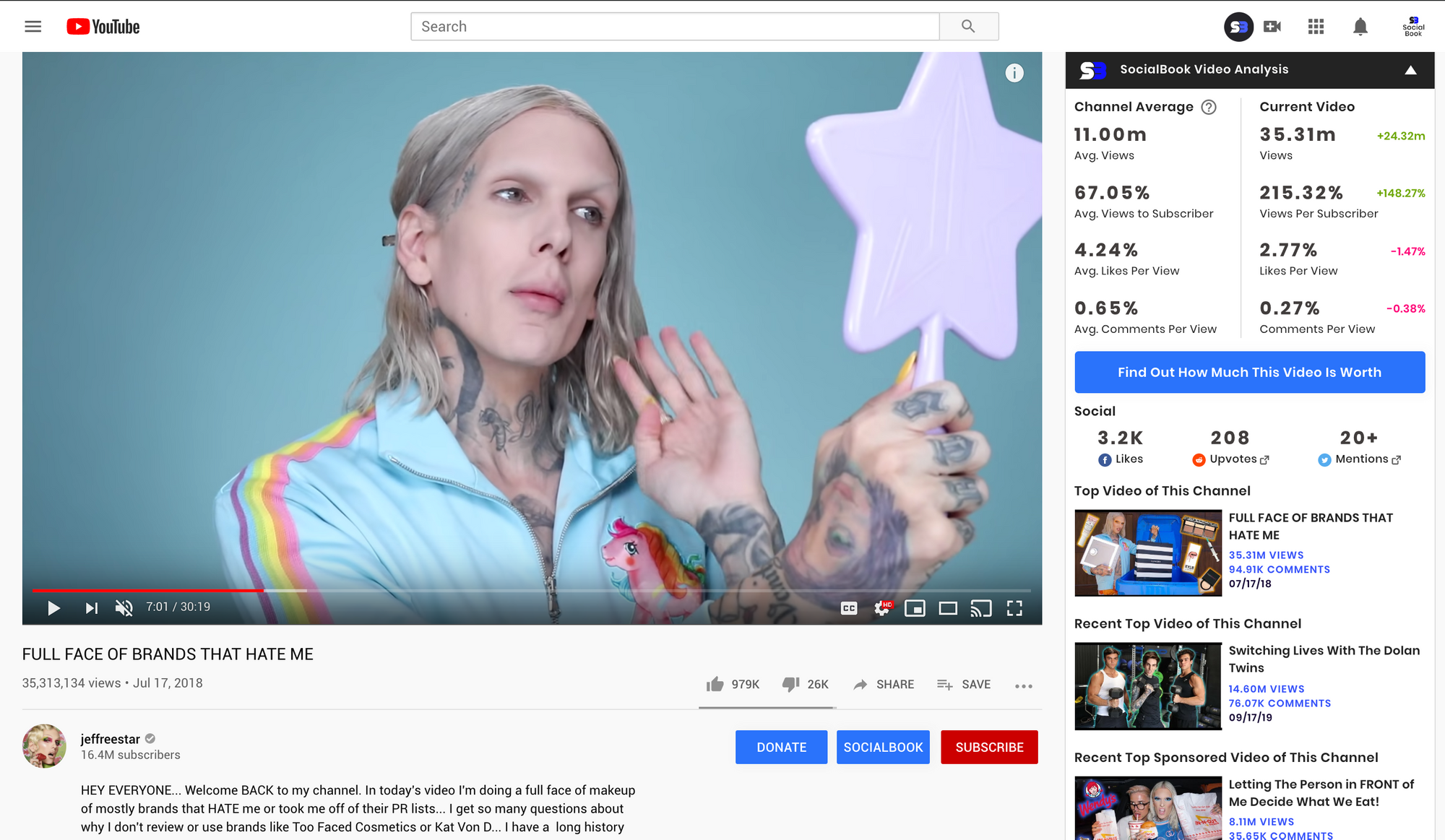 The most-viewed video in Jeffree Star's YouTube channel is the one he described as "a full face of makeup of brands that HATE me or took me or took me off of their PR lists." This video has gained 35 million views since it was published in July 2018, which is 221% higher than the channel average. According to the SocialBook YouTube Builder Chrome plugin, Jeffree Star's channel average view to subscriber ratio is 67%, being one of the top channels on YouTube.
If you want to learn more about how Jeffree Star gains his fame and how his life as a YouTube celebrity looks like, you can watch the documentary "The Secret World of Jeffree Star" on YouTube. The documentary series was created by YouTuber Shane Dawson. The first episode "The Secret World of Jeffree Star" was on air on August 1st, 2018, with accumulated 46 million views. The 5-episode documentary series has been watched over 151 million. Viewers are shown the luxurious life of Jeffree Star in his mansion in Calabasas. Shane interviewed Jeffree and talked about Jeffree's earlier music career and the experience with MySpace. Since Jeffree has already started his own beauty brand Jeffree Star Cosmetics, they visited the warehouse and talked about the cost of this business. By sharing the dark past of Jeffree, viewers and Shane himself finally get a better understanding of who Jeffree Star is.
Due to the success of this documentary series, Shane created the second series "The Beautiful World of Jeffree Star", which was published to Shane Dawson's YouTube channel in September 2019. The trailer of the documentary has gained over 10 million views in the first week. This series is more focused on how Jeffree grows his beauty brand Jeffree Star Cosmetics, as the CEO and founder. The series also reveals more secrets about the social feud between Jeffree with James Charles, Tati Westbrook.
The documentary also reveals some shocking things about Jeffree:
He has a pink coffin.
He owns over 100 arcade machines and … a mountain.
He (thinks he) has the most Sephora points.
He ownes 10 businesses, besides Jeffree Star Cosmetics. His businesses include property investment, marijuana, a shipment and fulfilment center, and a merchandise business.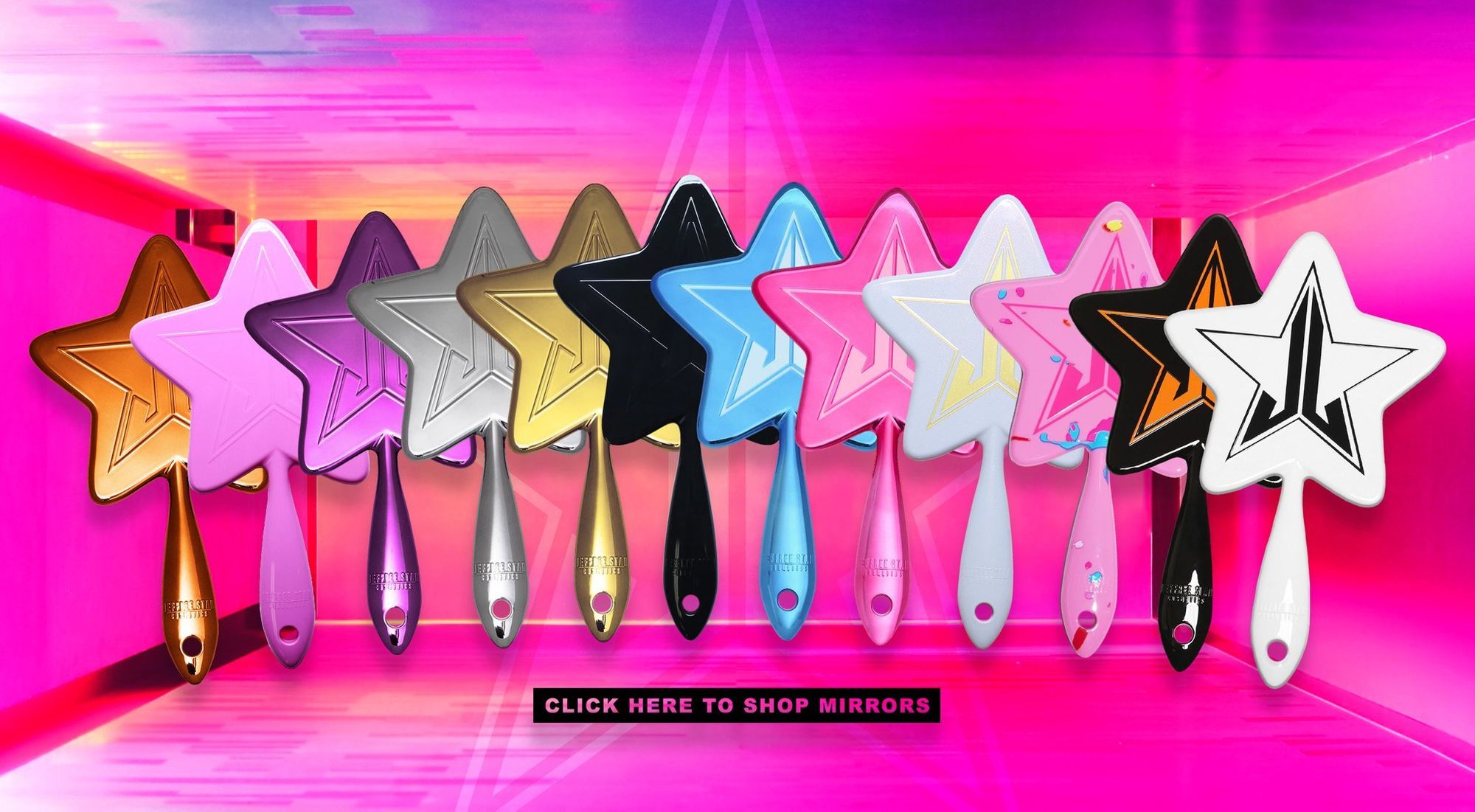 Michelle Phan
Another OG Beauty YouTuber Michelle Phan just officially got back to YouTube in September 2019 after her 3-year break. On June 1, 2017, she published a video "Why I Left" explaining why she temporarily stops posting on YouTube.
In the video, Michelle said, "I became imprinoned by my own vanity, and never satisfied by the way I looked." After Michelle's huge success on YouTube, getting 9 million subscribers, some issues also made her feel depressed. One of the big issues was the lawsuit between Ultra Records for music copyright infrigement.
Michelle moved to Switzerland and quit her YouTube career for 3 years. She came back with the YouTube video "Hello :)," published on September 15, 2019, which has gained 1.77 million views, 159k likes, and 15k comments. In this video, Michelle visited the filming studio MS. ROBOT in Los Angeles and filmed the marketing footage for her own beauty brand EM Cosmetics.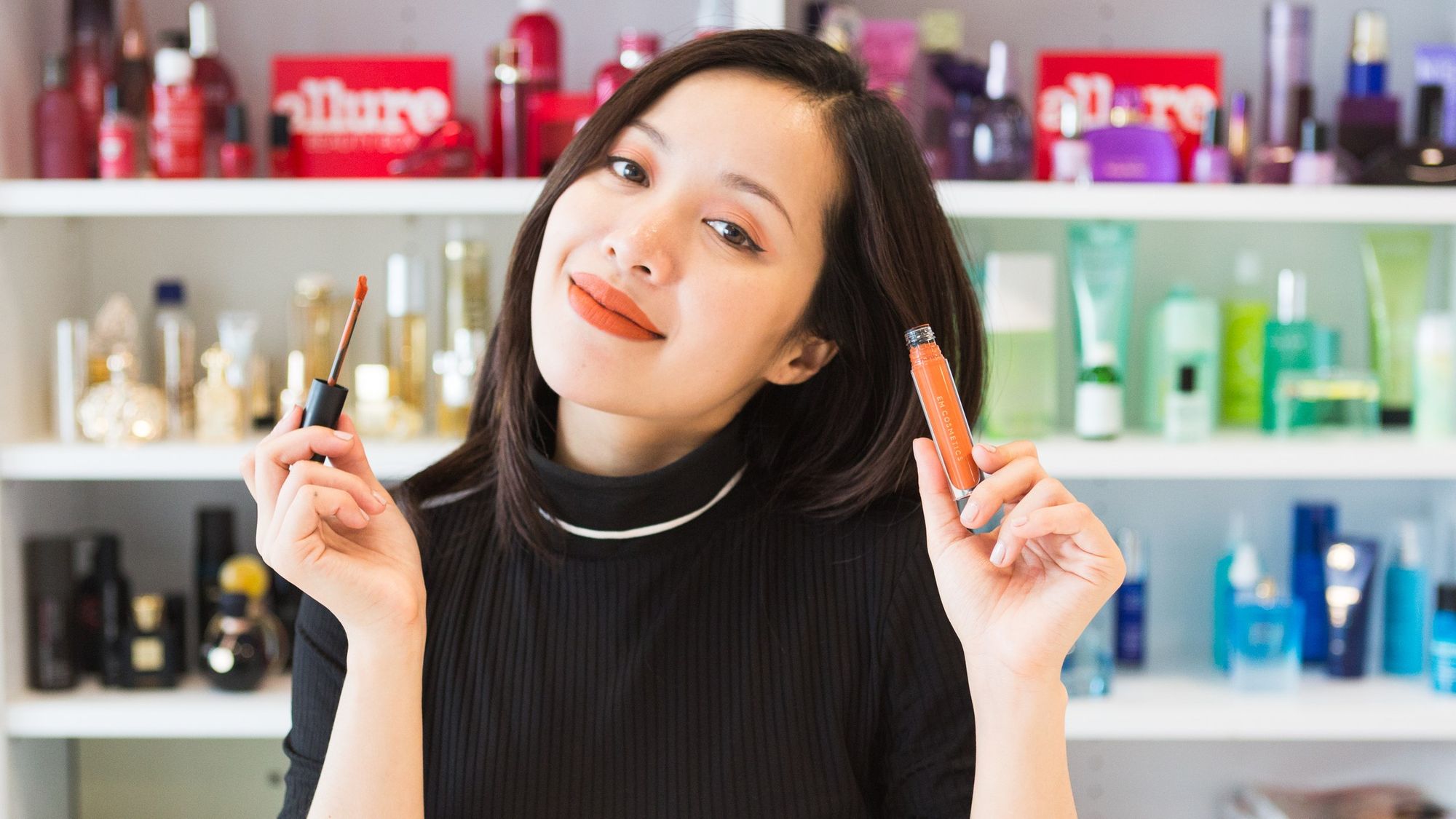 Michelle Phan who started her YouTube career in 2006. Before this, Phan ran a blog on which she gave make-up tutorials and also briefly joined a vlogging website called Xanga. However, the star's career fast-tracked as soon as she graced the platform with her tips and tricks. Knowing that in order to be truly successful, she would have to make some sacrifices, all Phan did was work work work, which did pay off. By 2010, she partnered with Lancôme and created her own make-up company called Ipsy, which today values at $500 million. In 2015, she also partnered up with L'Oréal to launch a cosmetics line called 'Em'. Em Cosmetics could not be considered as a success for its 1st launce, but Michelle is back again with more potentials.
Carli Bybel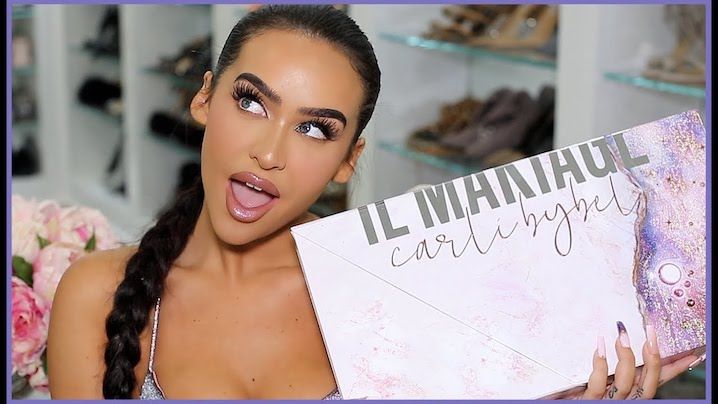 Carli Bybel is an American makekup and beauty YouTuber who joined the platform in 2011 after discovering her love for make-up. With a newfound interest in beauty, Carli started charging $25 for a full face of make-up to earn some money while also doing something she was fond of.
Carli created her YouTube channel to gain more recognition on social media which had gained 100,000 by 2012. Embracing her newfound role as an influencer, Carli dedicated her channel to teaching people how to look better in order to feel better. As of 2017, she has been named the CEO of cosmetics company Pranava Beauty. But the official Instagram channel of Pranava Beauty hasn't been updated since 2017.
The average view-to-subscriber engagement rate is 7.86% of Carli's YouTube channel, which is higher than the YouTube average, a bit low compared with other top beauty influencers who have millions of subscribers.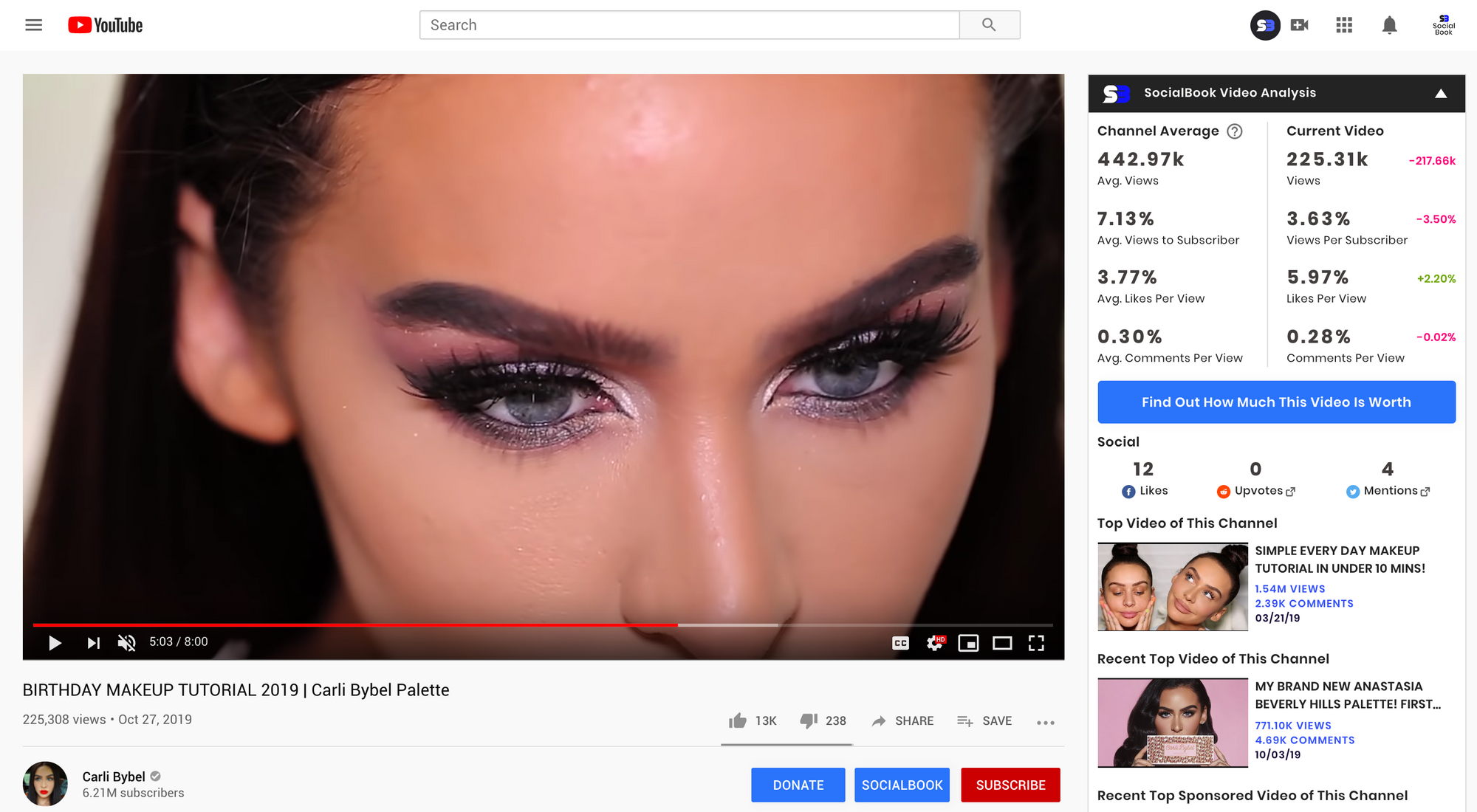 Dope2111
Promise Phan, the creator, and owner of the dope2111 YouTube channel gained widespread popularity by using the power of make-up to transform herself into various celebrities. She joined the platform in 2010 with her transformation tutorial on how to look like an Avatar after receiving positive feedback on a couple of pictures she had posted on Facebook. She is currently married to Steve Phan and is the sister-in-law of Michelle Phan. Her current net worth is about $2.5 million.
Most of her top YouTube videos are makeup tutorials of Walter Disney animation characters, such as Elsa in Frozen, 'INSIDE OUT', Cinderella, and a few characters from Tim Burton's animation films: Emily from 'Corpse Bride', and 'Queen of Hearts'.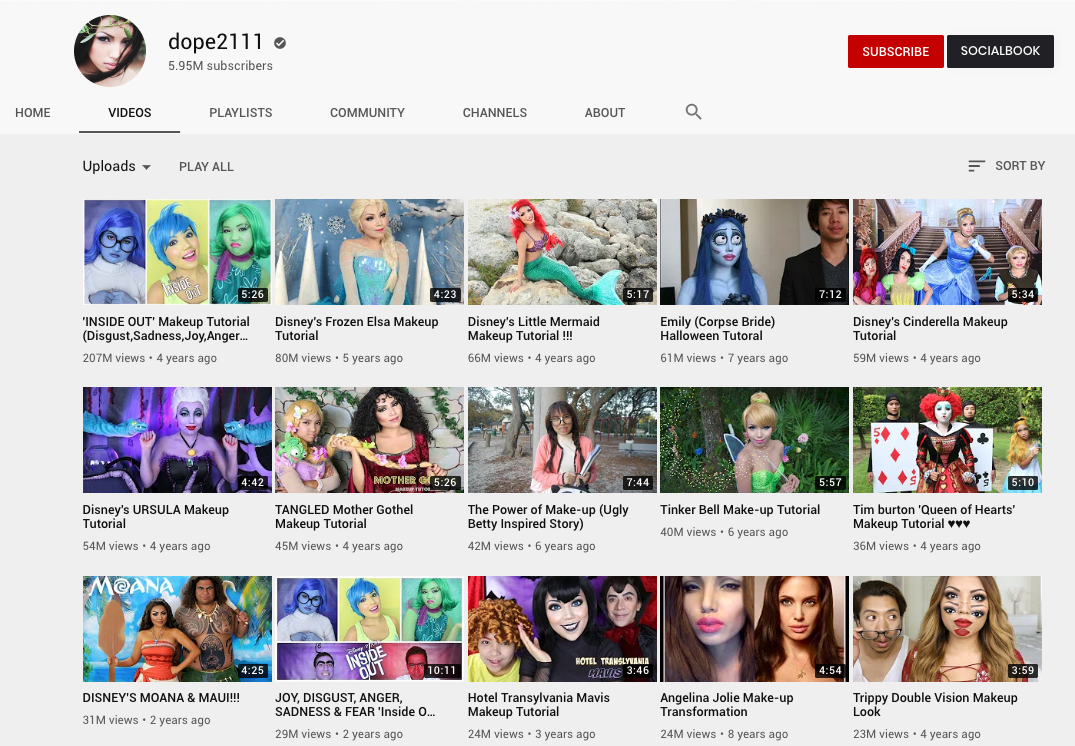 Promise Phan has a second YouTube account with her name as the channel name. Unlike dope2111 focusing on makeup tutorial videos, Promise Phan is the channel posting various topics, including the behind the scenes of her major channel videos.
Jaclyn Hill
Jaclyn Roxanne Hill has been an active part of the Beauty community on YouTube since the creation of her channel in 2011. Like Promise Phan, she gained recognition from her transformation tutorials in which she made herself look like celebrities. Soon enough, the beauty guru became prominent enough to start collaborating with different brands like Morphe and BECCA. In 2019, she also announced the creation of her own self-named brand, which as of recent has become the reason for many controversies as several complaints of allergic reactions have been received from the public, leading the YouTuber to delete her Instagram and Twitter accounts. Regardless of this issue, Jaclyn has earned a net worth of $1.5 million.
Jaclyn recently posted her costume for this Halloween, which is a message to her haters, and raised many discussions on the Internet.
Jaclyn responded to now call "cancel culture" with her 2019 Halloween costume and message:
I wanted to create a look showing the glam side of this industry & the ugly💀So here is it. You want me canceled? You got it baby. And I know my "haters" are going to HATE this costume."
Manny Mua
Manny Mua is one of the top new stars in the beauty influencer community. Manuel Gutierrez has been on YouTube only since 2014 and has achieved more than most people are able to in decades.
Manny was named as the first male to star in a Maybelline campaign in 2017. By CoverGirl, he was named as the brand's second male spokesperson. In 2017, he was also the only male to be featured in People's Magazine's 'Most Beautiful' list. In 2018, he was featured in Forbes' '30 under 30' list. He is also the creator and owner of a cosmetics brand called Lunar Beauty.
Manny's most popular video is the one he testes "the world's first foam foundation" by Elizabeth Arden. This video was posted in March 2017 and has been watched 7 million times.
RosyMcMichael
Rosy McMichael is a beauty YouTuber from Texas, the USA who opted to give her beauty tutorials in Spanish to cater to Spanish speaking audiences. In 2012, she was amongst the semifinalists and in 2015, among the finalists of NYX Cosmetics' Face Awards. She is also the winner of Jessica Simpson's 'Price of Beauty' contest.
Rosy has been posting content on her channel since 2010 and has created a substantial audience base for herself through her tips and tricks. Although her net worth is still under review, it wouldn't be far fetched to say that it can't be less than at least $1 million.

Since Rosy's makeup tutorial videos are all in Spanish, subscribers from Latin America take the majority part.
Christen Dominique
Christen Dominique is a professional make-up artist and beauty guru who has been testing and reviewing make-up products on her YouTube channel since 2009. She has recently also launched her own beauty line named Dominique Cosmetics, the first palette named Latte Palette after her love for coffee.
Christen's popularity has helped in earning her partnerships with brands like Urban Decay, YSL and L'Oréal. A brand endorsement alone on Instagram by the YouTuber costs over $2,500. Her combined endeavors have earned the YouTube star a net worth of $1.5 million.
KathleenLights
Kathleen Fuentes joined YouTube in 2013 with the notion of sharing affordable make-up with her followers. Her channel also features hauls, tutorials, and various unboxings. The YouTuber has collaborated with many famous brands including ColourPop, Morphe, OFRA Cosmetics, and Make-up Geek.
In 2016, Kathleen also released her own nail polish line called KL Polish. She also has a secondary channel named 'DaysOfOurLights' on which she posts vlogs and updates about her personal life. Her net worth, as of 2019, is estimated at $1.1 million.
Kathleen's most popular videos are the ones using products sold in drugstores and doing makeup to her husband. Her "Drugstore Affordable Products" playlist has 69 videos including tutorials, hauls, first impressions of drugstore makeup products. So it's not surprising that Kathleen has a pretty young audience community. Based on the YouTube channel analytics data calculated by SocialBook, 1/3 of her subscribers are between the age of 18 and 24.

Huda Beauty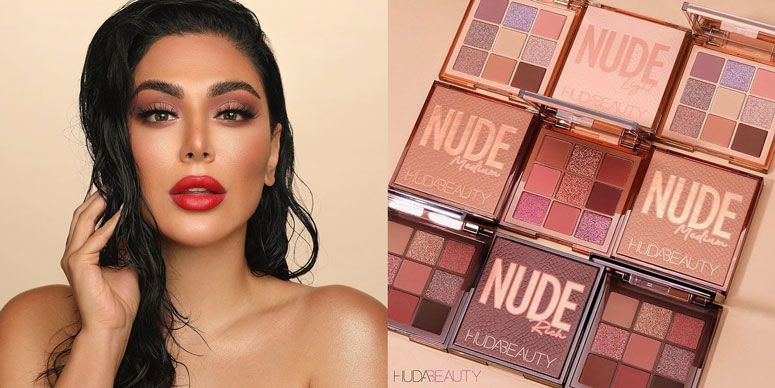 This is the official YouTube channel of Iraqi-American make-up artist Huda Kattan, also the founder and creator of the Huda Beauty cosmetics company. She found her start when her sister motivated her to make a blog on all things beauty related. In 2013, she established her company and achieved instant fame and recognition for her false eyelashes which were also worn and loved by Kim Kardashian. Since then, Huda Beauty has been a consequential name in the beauty industry. Huda has a net worth of $610 million, according to Forbes, only through her cosmetics company.
Huda Beauty's New Nude is one of the most popular eyeshadow palettes in 2018. And Huda Beauty has become one of the most successful makeup brands in the world. The makeup products of Huda Beauty are available in Sephora, Macy's, JCPenny and Cult Beauty stores.
---
Do you want to become a makeup and beauty influencer like the beauty gurus above? We have prepared a beginner's guide for you to become a famous beauty influencer.
---
More Top Influencer Lists:
And:
---
This article was originally posted on our medium: https://medium.com/socialbook/top-10-us-beauty-influencers-how-they-started-and-how-much-they-worth-48ba24c09f81
---
---