2020 was a skyrocketing year for many, but the two social bees who got the spotlight of 2020 are TikTok and the viral sensational game Among Us! The success of TikTok is no secret. The musical app which became the home of many viral trends became the only escape for the stay-at-home community during the lockdown period. Many influencers inhabited this app during 2020 and became worldwide dazzling personalities. This is the reason why TikTok currently has more than 800 million active users, and this number keeps on increasing every day!
Another occupant of the startling limelight of the internet goes to the worldwide famous game 'Among Us'. This viral game not only provides entertainment to its users but also binds them all in a murder-mystery scenario. This game features some cheeky animated astronaut figures who are stuck on a spaceship and in order to survive, they have to conduct different tasks while simultaneously hiding and searching for the imposter among them. This game connects users from across the world to ponder their head and solve the murder mystery. The intimate connection and the adrenaline rush which the game develops is the reason why many TikTok influencers have become a fan of it!
Looking for the perfect combination of your favorite TikTok influencers and your favorite game Among Us? Then this list will win your hearts! Below is the list of the top 10 TikTok influencers who played Among Us in 2020. So let's dive right in!
1. Jason Coffee: 20.8 Million Followers
Jason Coffee is an American TikTok user who has more than 20.8 million followers on TikTok. The reason for his fame is because he often posts simple everyday videos of his wife and kids doing different challenges and trends and hence gaining popularity. He has 3 lovely children who make frequent appearances in his TikToks along with his beautiful wife. Before joining TikTok, Jason was a sensation on Vine and had about a million followers there. But after Vine got shut down, he moved towards TikTok and built an empire there.
Jason is among the many TikTok influencers who play this dynamic game Among Us. Jason also often mentions this game in his TikTok and makes TikTok themed on Among Us. He also features his children on his TikTok account playing Among Us. Jason has set his social media name as 'Coffee' because he formerly used to work in Starbucks. With the eyes of more than 20 million followers on his TikTok, Jason sure is bringing a whole lot of new gamers on Among Us!
2. Mati Spano: 9.4 Million Followers
Mati Spano is a Spanish content creator on this sensational social musical app TikTok. He currently has more than 9.4 million followers on his TikTok account. He often creates comical videos featuring himself doing entertaining stunts. Mati also makes a ton of lip-syncing videos on TikTik. His creative and entertaining content is the reason why Mati has acquired such a high following on all his social platforms at just the age of 18.
Mati is also a very frequent player of the viral game Among Us. His YouTube channel is full of videos of himself playing Among Us and reviewing various games that he plays there with the world. He also features this iconic game in his TikToks as well, posting reactions and hilarious TikTok videos about this game. Due to his consistent hard work, Mati has gained a following of more than 9.4 million followers on TikTok in just the course of one year! Whoever follows Mati on TikTok and YouTube is bound to be directed towards Among Us!
3. Among Us The Crew: 6.6 Million Followers
Among Us The Crew is an account on TikTok that has gained immense popularity along with the uprising fame of the amazing game TikTok. This account is a pretty hilarious one which has bagged more than 6.6 million followers over just the course of one year.
This account features 6 anonymous people dressed up as characters from the game Among Us. These 6 anonymous characters never reveal their identity and perform different tasks and trends. Some of their videos also feature miniature Among Us characters which are actually kids dressed up as Among Us characters. All their videos are equally hilarious and entertaining.
Among Us The Crew TikTok account has had a wild ride towards success ever since the release of the game Among Us. their creative content based on Among Us is the reason why they have lured such a massive following in such a short time span. With the current progress that the Among Us The Crew is making, very soon they would even surpass the popularity of the game!
4. Guava Juice: 5.4 Million Followers
Guava Juice is an American-Fillipano YouTuber who has been creating content since 2006. His real name is Roi Fabiot but is well known in the online world for his YouTube and gaming name which is Guava Juice. Recently, he joined the sensational app TikTok and immediately gained an enormous following of more than 5.4 million followers. His TikTok account is full of creative content involving trends, challenges, and even funny videos of him lip-syncing to various audios.
Guava Juice is also a gamer which is why he religiously started to follow Among Us as soon as it was released. His YouTube channel is full of videos based on this video game and himself playing this murder mystery game. Even on his TikTok account, he often posts videos of himself involving Among Us characters which always seem to be a big catch for all those young gamers out there. His content is surely unique, even his content based on the famous videogame Among Us stands out from the rest in the Among Us community. With the passion that Guava Juive is playing Among Us, he is bound to bring more and more attention towards this legendary game!
5. King Kai: 5.4 Million Followers
King Kai is another TikTok influencer who is an Among Us enthusiast. This TikToker has never revealed his identity to date. His TikTok account is entirely based on Among Us. All the funny and viral trends that take TikTok by storm and gain popularity among users, actually this influncer implies those trends on the characters from Among Us. The animation skills of King Kai are admirable as they have a very realistic touch to them. Due to his creative Among Us content and realistic animations, King Kai has acquired more than 5.4 million followers on TikTok. What is shocking is the fact that this TikToker joined TikTok after the release of the world-renowned game Among Us, but in a course of less than a year, this TikTok influencer has become a sensation in the online gaming world, specifically in the Among Us community. If King Kai continues his superb and worth applauding work, he is certain to bring a whole new million users alongside him into the realm of Among Us!
6. Ale Galvan: 5.2 Million Followers
Ale Galvan is a Mexican TikTok influencer who is famous on the TikTok platform due to her cute and funny couple videos. Besides being a TikTok influencer, she is also working hard to become a rising Instagram model. Ale is famous for her creative couple content.
Most of her TikTok videos showcase her lip-syncing some funny couple dialogues. She also features her boyfriend and close friends and family in her TikToks as well to make them even more entertaining. Another fun fact about Ale is that she is also obsessed with the game Among Us. She has mentioned it in plenty of her TikToks that how much she is in love with this game. She and her boyfriend often make Among Us themed TikToks wearing shirts with characters from Among Us on them. Her creative content has bagged her with more than 5.2 million followers on TikTok. If Ale continues to make Among Us themed content in the future as well, she is bound to make those followers number soar!
7. Sushi Bae: 4.7 Million Followers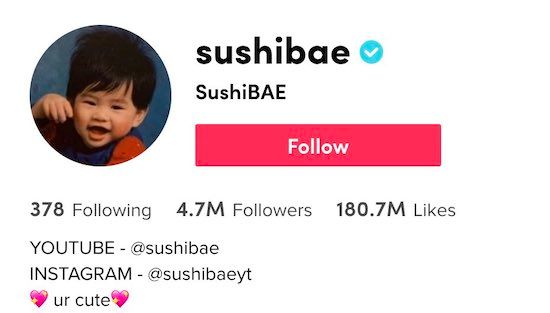 Sushi Bae is an American TikToker who also happens to be a YouTuber. His major genre to create his content on every social platform is basically gaming. Sushi Bae is obsessed with gaming which is why all his social handles are named after his gaming name. Sushi Bae's TikTok account is full of TikToks of different games, including some world-famous games such as Fortnite and Among Us.
Sushi Bae is in love with the murder mystery game that has taken the world by storm. He has created multiple TikToks on his account based on the game Among Us and has made several videos on his YouTube channel as well which circle around Among Us. Moreover, he has also conducted some live streams of himself playing this game on Twitch. Sushi Bae's TikTok account has more than 4.7 million followers due to his unique amalgam of gaming videos with TikTok's trendy music audios. With the current progress that Sushi Bae is making, he is bound to bring some new gamers into the murder mystery world of Among Us!
8. Peet Montzingo: 4.3 Million Followers
Peet Montzingo is an American TikTok influencer who has maintained a steady repute of himself in the world of social media. Not only is Peet a sensational TikTok influencer, but he is also trying his best to become a renowned singer across the world. Most of Peet's content on his TikToks are comedy based. He loves messing around with his friends and family by doing different challenges and trends and showcases it all on his TikToks.
Peet is also one of the TikTok influencers who are absolutely obsessed with the addicting game Among Us. Most of Peet's TikToks are based on this viral online game where he dresses up an Among Us character and either act like an imposter or a crewmate. His following of more than 4.3 million followers all love and admire his content, specifically those based on the murder mystery game Among Us. If Peet Montzingo continues to amaze his viewers with his creative and exciting content and if he continues to interest gamers by his Among Us TikToks, then very soon a huge population from Among Us will march their way towards Peet's TikTok!
9. The Melo Moon: 3.9 Million Followers
The Melo Moon is an American TikToker who has acquired a massive following on TikTok due to his highly unique and different content. He did not gain popularity in the convection way, which most TikTok influencers did by lip-syncing, but his relatively unique and mind-blowing content paved way for this success.
On his TikTok account, the Melo Moon posts TikToks sharing strange facts about strange events, most of them involving mystery. This TikTok influencer also has a passion for the viral game Among Us, which is why he created several mysteries infused TikToks about Among Us as well. These Among Us themed TikToks reveal strange facts about this online murder mystery game and generate interest in the viewers to play this game. His distinguished content is the reason why he has gained more than 3.9 million followers on his TikTok account. If Melo Moon continues to make more interesting and intriguing TikTok videos based on Among Us, then he is bound to attract massives from the Among Us community onto his channel!
10. Cosmo The Prism: 3.8 Million Followers
Cosmo The Prism is a TikTok influencer whose major genre is gaming and his TikTok account is entirely based on Among Us. Literally, almost all the TikToks on his TikTok profile have something to do with Among Us. He often makes TikToks from live footage of himself playing the game which has cast a never-ending spell on the world.
Cosmo The Prism is also a gaming YouTuber and his love for the viral murder mystery game Among Us is quite evident on his YouTube channel as well. His TikToks are proof that an insane amount of hard work goes into his Among Us themed TikToks. His Among Us themed content is the reason why Cosmo The Prism currently has more than 3.8 million followers. If he continues to create such amazing and wholesome Among Us TikToks, then very soon his follower's number will go skyrocketing!
That is all from our exciting TikTokers who played Among Us list! Stay tuned for more!
---
We've created the following "2020 Top 10" series for you to wrap up this special year.
---
---