March 2020… instead of welcoming spring into our lives, it opened arms for a deadly virus. We are pretty sure everybody is fed up from seeing the Coronavirus take over the internet, but we have got some March YouTube blossoms for you. Wondering what's trending on YouTube this month? Calm down folks it's not the pandemic…It's your favorite song!
YouTube for the month of March was again flooded by the sensational Korean industry. But K-Pop is not the only silver lining for March, Eminem gave us all a surprise and NCT 127 of SM family sure made a spectacular comeback. Want to know what else was trending on YouTube this month? SocialBook has you covered! Here's the list of the top 10 videos that conquered YouTube for the month of March.
1. BTS — 'BLACK SWAN' Official Music Video: 5.2 Million Likes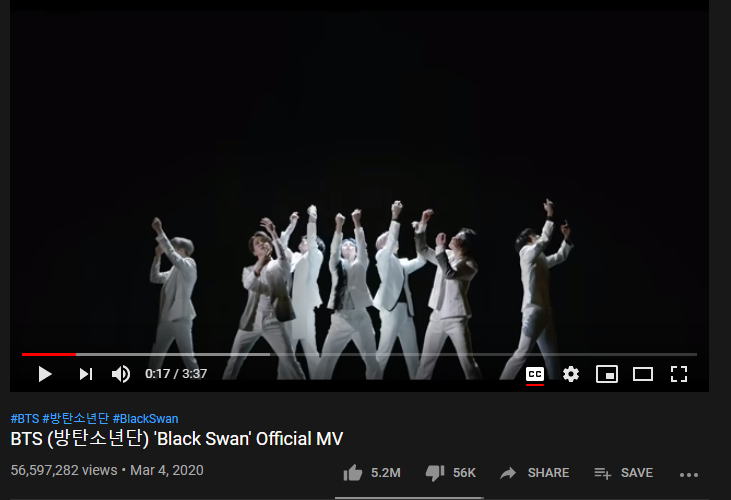 The spotlight on the list goes to everyone's beloved Korean boy band BTS! The inspiring success story of these 7 golden boys is no secret and undoubtedly their MV sets YouTube charts and our hearts on fire. This month, BTS released its music video of Black Swan which made our jaws drop! The video instantly received more than 55 million views and over 5.2 million likes. We can't emphasize this much, but these boys sure know how to drop a bombshell!
The MV was shot at the Los Angeles Theatre and a wide set of lenses and angles were used to capture the divine and ancient theatre. The venue was not the only highlight of the MV, the dance moves by the boys had us out of our skins! The theme behind the MV was very soul-stirring. The boys depicted the theme through their insane dance moves that how they overcame their fear of acceptance and became the top trending hot topic. 'Black Swan' is taken as a metaphor for something that is very unexpected but has great consequences. So BTS exhibits through their MV and their black and white transitions that how all their hard work paid off, from being just a nobody to the top Billboard winners. In a nutshell, from the beginning to the end, this MV is a piece of art!

At the present stage, their company's YouTube channel Big Hit Labels has around 34.5 million subscribers and an average view of 45.5 million over 60 days. The engagement rate on their channel has snowballed from 58.36% to 138.98%. Definitely the hottest channel on YouTube!
2. EMINEM — GODZILLA Ft. JUICE WRLD: 4 Million Likes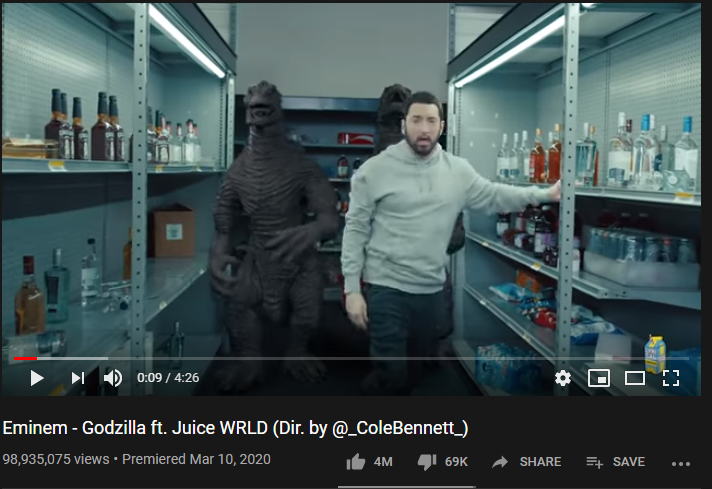 The runner-up spot on the list goes to the Raping god Eminem. At the beginning of the year, Eminem had promised us all with an album but the early release of this song Godzilla shook everyone! It was indeed a pleasant surprise for the Eminem stans and the music video immediately got the internet's attention, getting up to 96 million views and 4 million likes.
The release of this dynamic song Godzilla was a slap to all the Eminem haters who claimed that Eminem has gained some kgs so he's not the fastest rapper on the Earth. But once again, Eminem sealed them all up and proved himself to be the fastest rapper on the planet by making a record of uttering 11.3 syllables per second! Now that is lightning speed!
The video also pays a tribute to the death of the young rapper, with whom Eminem had hoped a bright future, Juice WRLD. Juice WRLD's shocking death had us rooted to the spot! The young rapper showcased immense love and respect to his inspirational icon Eminem but unfortunately didn't live long enough to witness his dynamic-duo performance with Eminem.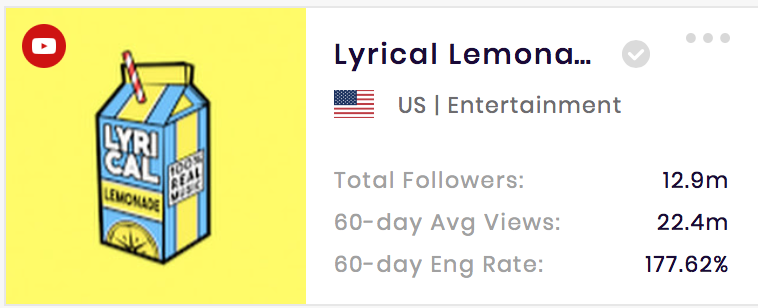 Currently, the production agency Lyrical Lemonade has 13.1 million subscribers on YouTube and have an engagement rate of 177.62%
3. Yo Yo Honey Singh — LOCA (Official Video): 2 Million Likes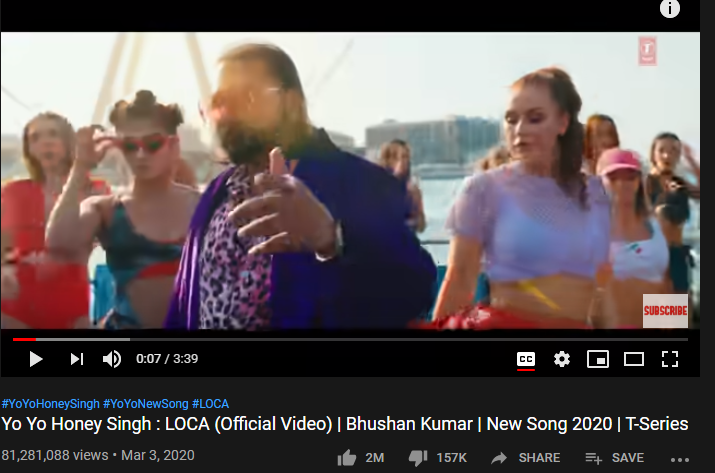 The 3rd place on the list goes to India's famous rapper's new hot single 'LOCA'. Honey Singh is one of the most popular rappers of India who sure knows how to mix the American hip hop music culture with the Indian beats. The video bagged a total of 80 million views and 1.9 million likes.
When we talk about Indian music, many people automatically link it up to the Bollywood classics. But the Indian music industry has shown quite some revolution by intermixing hip hop culture to their songs. The first Indian rappers used raping to portray the problems of India, but soon Honey Singh took over with his catchy songs circling around girls, parties and drinking, thus instantly becoming the young Indian generation's favorite.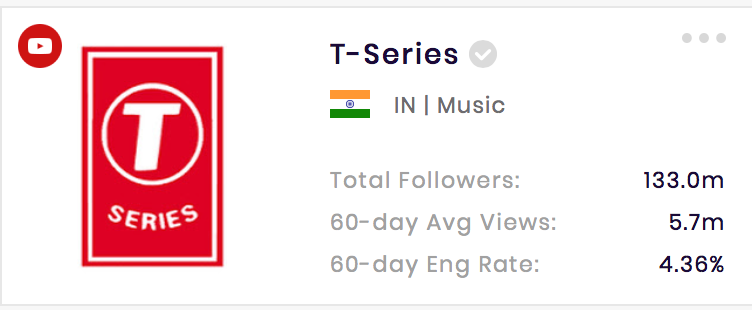 LOCA is produced by India's hottest channel T-Series. At the present period, the channel has a total of 133 million subscribers with average views amounting up to 5.7 million and an engagement rate of 4.36%
4. ITZY — WANNABE: 2 Million Likes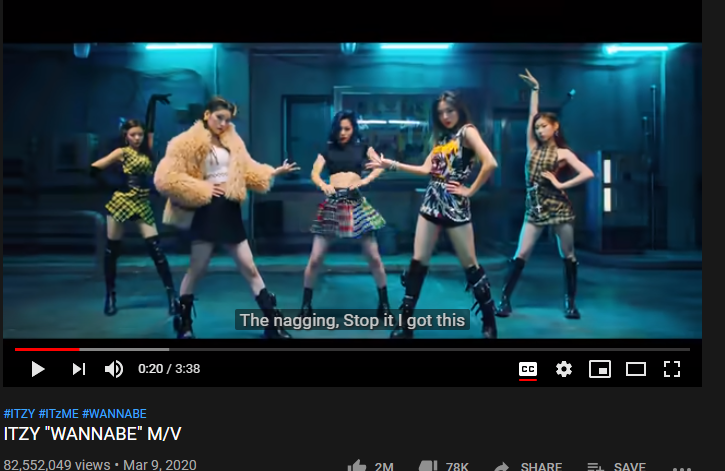 ITZY is the chicest and trending Korean Girls band and the occupants of the 4th position on our list. Their comeback song 'Wannabe' has certainly rocked the charts and our hearts with their self-love theme. The voguish music video and the girls' exceptional dance moves have earned Wannabe more than 81 million views and 1.9 million likes. Although ITZY is a new Korean girls group, these 5 girls have won the throne of the K-Pop girls empire from their debut song 'Dalla Dalla'. Their comeback song Wannabe is centered on the theme of 2020 which is self-love. The song inspires people to eradicate the fear of judgments from their lives and live it to the fullest, embracing their true selves. The song certainly tells its viewers to go YOLO (You only live once). ITZY has undoubtedly charmed everyone with their charismatic personalities and electrifying dance energy.

ITZY is launched by JYP Entertainment who have a total of 15.2 million subscribers and an engagement rate of 21.26%
5. LITTLE BIG — UNO: 1.9 Million Likes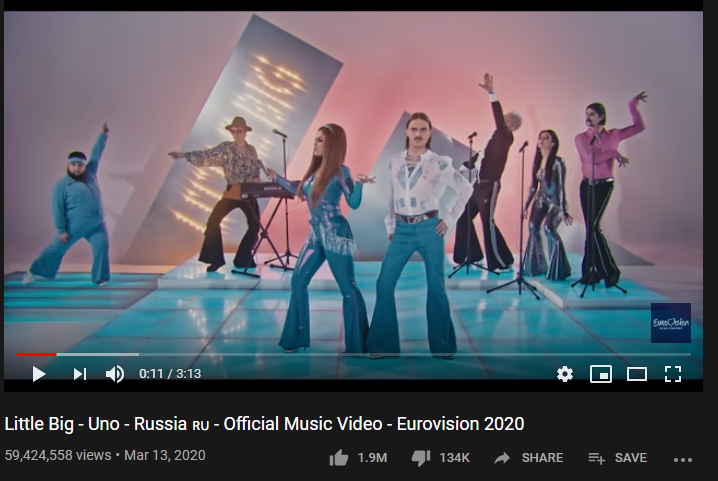 The 5th place on our list goes to this classy Russian band Little Big. The band made its debut in 2013 and ever since then, they have never failed to create tasteful music and riveting music videos. The song 'UNO' is their latest hit bagging more than 58 million views and 1.9 million likes.
This song is also rooting for the Russian entry at the 2020 European 'Singing Contest'. The MV is a mix of hip hop culture and 70's flare. The melodic beats coupled with the hilarious music video really appeals to the audience and sets a unique value to their MV.

At the present, the European Singing Contest has around 3.2 million subscribers and an average of 1.1 million views with an engagement rate of 34.74%
6. Ashish Chanchlani— FINAL EXAMS: 1.8 Million Likes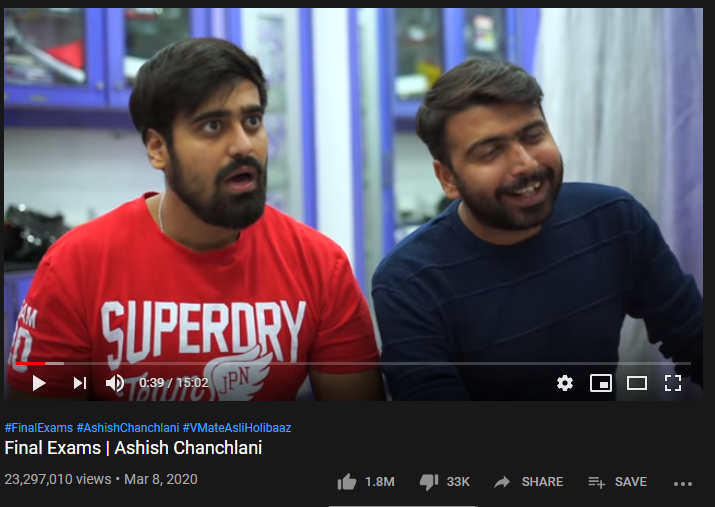 The 6th spot on the list goes to this comical Indian blogger Ashish Chanchiani. He is a very renowned blogger in India, known for creating hilarious relatable content for the Indian community. His video was focusing on Indian students and how they prepare for final exams. The video showcased the different flavors of students who appear for examinations, their attitudes, and their routines.
Although the video was in Hindi and had no subtitles to lure a massive audience, the video still managed to earn more than 23 million views and 1.8 million likes. The video perfectly illustrates the Indian education system and how a variety of students come up with their own weird schemes to thrive through the haunting examination period.

Ashish Chanchiani creates humorous content for his viewers, specifically the Indian community. His channel on YouTube has more than 16.9 subscribers and an average view of 15.8 million, along with an engagement rate of 101.87%, making him the hottest trending blogger all over India!
7. AKSHAY KUMAR — Sooryavanshi: 1.6 Million Likes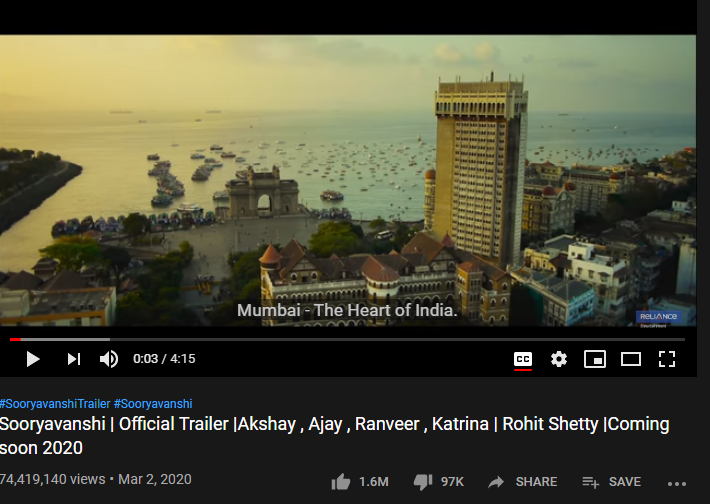 The 7th spot on our list goes yet again to another Indian blockbuster. It's the trailer for another epic police series Bollywood movie, starring the very celebrated Indian actor Akshay Kumar. The trailer was released on 2nd March, 2020 and ever since its release, it has bagged more than 74 million views and 1.6 million likes. Akshay Kumar is one of the most lionized personalities of India.
Before beginning his acting career in Bollywood, Akshay went to Hong Kong to master in martial arts and Kung Fu. His notable works are usually in the comedy and romantic genre in the Bollywood industry. His handsome face, brawny body, passion for Kung Fu and electrifying dance moves are the reason why he is one of the most praised actors in the Bollywood industry. Akshay was also ranked on number 33 by Forbes for the list of highest-earning global actors and actresses in 2019. Apart from being the hero in more than 125 Bollywood movies, he also owns a film production company.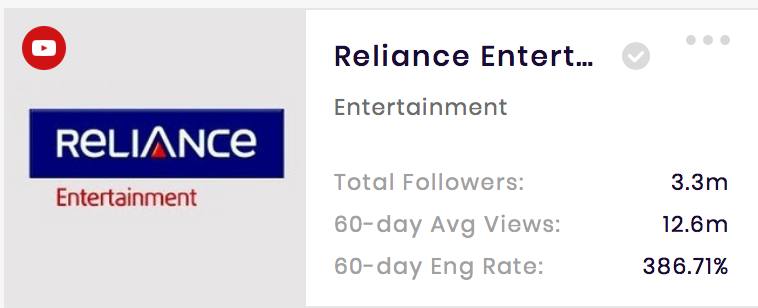 Sooryavanishi a the product of the production house Reliance, currently owning more than 3.3 million subscribers with an average view of 12.6 million and an engagement rate of 386.71% It is for sure that the tickets for this blockbuster are going to sell like hotcakes!
8. Bad Bunny — Si Veo a Tu Mama: 1.6 Million Likes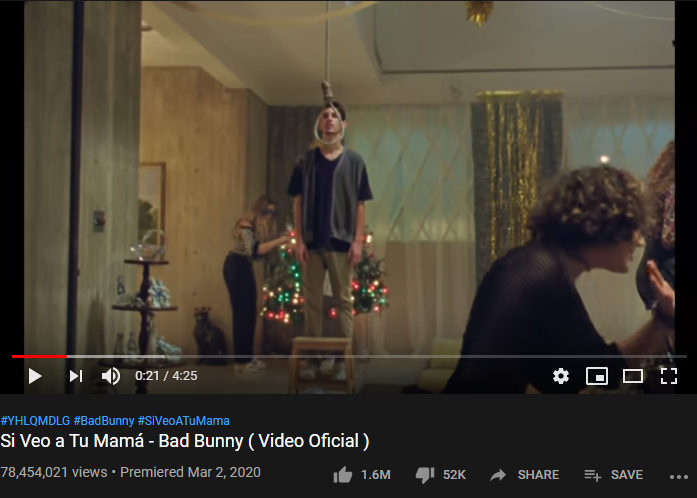 Honestly, it wouldn't be called the top trending list without the inclusion of a Spanish song. The 8th place on our list goes to Bad Bunny and his smashing new single 'Si Veo Tu Mama'. The MV revolves around a very emotional topic depicting the importance of mental health. The video earned more than 78 million views and 1.6 million likes. The video starts showing a man about to commit suicide in the middle of a wholesome party, but nobody except a young boy notices the man and approaches for help. The MV emphasizes on the shared pain of the boy and the depressed man. Bad Bunny never disappoints his fans with his insightful videos and hit albums. The rhythmic humming, dazzling atmosphere and toe tapping beats are just some of the highlights of his MV.

Currently, Bad Bunny has more than 23.1 million subscribers on YouTube with an average view count of 20.2 million and an engagement rate of 91.14%
9. NCT 127 — KICK IT: 1.6 Million Likes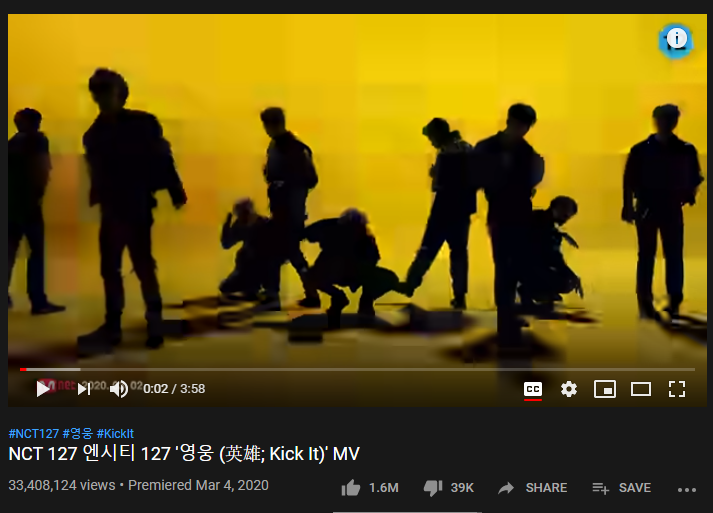 The 9th position on our list goes to the very energetic Chinese Band NCT 127 and their hit single Kick It. The MV was released on 4th March 2020. NCT 127 always spends a great deal of cash in making their MVs extravagant. But this time, they totally knocked it off! The flashy costumes, exquisite dance moves and the soothing videography all summed up to create a masterpiece MV.
The video bagged more than 34 million views and 1.6 million likes. The retro display by the band, paired with their charismatic dance personalities really creates a wondrous music video. The iconic MV is not the only distinguishing feature of NCT 127's released album. The album, soon after its release, occupied the first place in the charts of more than 32 countries including Canada, Australia, and China. This limelight really makes this MV one of the biggest successes of NCT 127!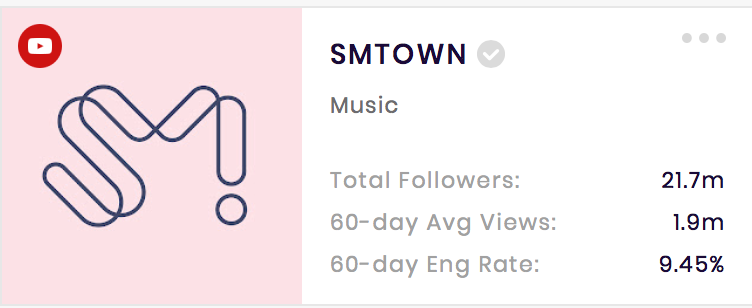 Their production agency, SM Town, has a total of 21.7 million subscribers with an average view count of 1.9 million and an engagement rate of 9.45%
10. MR BEAST — COME AGAIN TO SEND BENEFITS: 1.5 Million Likes
And finally, the last spot on our list goes to our favorite spoiled brat Mr. Beast! Mr. Beast is one of the wealthiest YouTubers who has had his channel active since 2013. He is famous for throwing money at his extreme bizarre challenges. His wide fan following are always eager to know what his creative rich mind would come up with next.
From extreme giveaways to circle challenges, Mr. Beast sure knows how to spend his money innovatively. He recently uploaded a video conducting a very fun 'Red Circle Challenge' in which Mr. Beast has to pay for everything that fits within the boundary of the Red Circle. The amusing video bagged more than 32 million views and 1.5 million likes. The video bewilders its viewers with the wealth of this pampered boy Mr. Beast. His videos definitely make our jaws drop!
At the present stage, Mr. Beast has more than 33.2 million subscribers with an average view count of 20 million and an engagement rate of 62.35%.
---
More Top Influencer List:
And:
---
This article was originally posted on SocialBook Medium blog: https://medium.com/socialbook/top-10-most-liked-youtube-videos-of-march-2020-e47aaf6df0b6
---
---