Influencer marketing can connect you with different influencers who can boost your brand's awareness and your sales. 92% of people believe influencer marketing is an effective form of marketing which is why it is consistently growing. If you are already reaping the benefits of this marketing strategy, you might decide to work with more influencers. Finding new influencers can be much harder if you don't apply analysis, data collection, and sorting of collected data.
As 63% of marketers and business owners plan to increase their influencer marketing budget, it is evident that you need to take it seriously. Sorting social media influencers will make your approach more analytical and therefore, more prone to success. Here is what you need to know about this process.
How Will Sorting Social Media Influencers Help You
To grow your business you first need to spread your reach. That's when influencers step in. Their ability to resonate with the audience can have a powerful impact on your business's growth.
You might have already established a collaboration or this can be your first show at influencer marketing. Either way, sorting social media influencers can help you out.
With numerous social media platforms that have millions and billions of users, finding influencers is challenging. You can spend days, weeks, or even months browsing through their profiles to find the right ones. What can speed up the process is sorting.
Sorting helps you with finding influencers by filtering the search based on your criteria. It limits the results by only providing you with relevant influencers. This can make a huge difference in the recruitment process. Not only will it speed it up but it will also ensure that you don't miss out on good opportunities.
By sorting potential influences, you'll narrow down your search to the best options. If you don't use sorting, you can overlook influencers that can be the perfect fit for your brand.
You can sort the results according to criteria that matter the most to you. Some brands' main concern is to find influencers with great engagement, others want popular influencers, while some may aim for influencers that are actively publishing posts. The only way you can acquire results that you want is to sort them.
Sorting isn't just useful for finding influencers. It also comes in handy during the collaboration. Keep your marketing strategy organized by sorting your plans. For example, you can have some finished collabs, influencers you are currently working with, and influences you plan to work with. Sort them all based on certain specifics such as engagement, number of followers, effectiveness, and whatever matters to you. This will give you a better overlook of how your influencer marketing strategy is progressing.
If you already have some recommended influencers and you aren't sure who you should contact, first you should sort them. Don't waste time reaching out to each and every influencer when you can make data-driven decisions. Sort them based on what you are looking for in influencer and first contact the top few choices.
Tools that Allow Sorting of Social Media Influencers
The process of finding and sorting influencers can be carried out with the help of tools. There are different tools that can help you with different tasks. For maximum productivity, you need to identify the tool that fits your needs and use it accordingly.
Since influencer marketing started growing, many tools have entered the market. Innovative companies are introducing new ways to help brands with influencer marketing.
The vast number of tools can be both helpful and distracting because it is hard to pick just one. For that reason, here is a list of useful sorting tools that can come in handy. You can review each one of them and pick the one that will serve you best. So, let's get started.
1. NodeXL
NodeXL is The Network Overview Discovery and Exploration add-in for the well-known Excel spreadsheet. Excel is one of the basic tools for sorting data and with this add-in you can refine the process even more.
What you can accomplish with NodeXL is an automatic collection, analysis, visualization, and reporting. This can be applied to collections of connections and content within different channels like Facebook Fan Pages and Groups, streams of Tweets, email, Flickr, Wikis, Blogs, and so on.
With this social network and content analysis, you can collect relevant data, sort it out, and single out the relevant findings. NodeXL can, therefore, serve the purpose of identifying key influencers.
There are two available versions:
NodeXL Basic is the free version that you can get from NodeXL: Network Overview, Discovery, and Exploration for Excel. Options that are available with the basic version are:
Visualizing your own network graph
Choosing from various layout algorithms
Calculating overall network metrics (density/modularity/etc.)
Calculating basic vertex metrics
Grouping vertices by attributes
NodeXl Pro offers some more features and capacity. As they claim on their website, "NodeXL Pro is the simplest, easiest way to get an insight into connected structures like networks and social media. You can make the NodeXL Pro network chart that highlights key features of collections of connections in just a few clicks."
With the pro version, you'll get some additional options such as:
Insight into advanced network metrics
Content analysis
Automating tasks
Importing data (GraphML, Pajek, UCINet, and matrix formats)
Exporting data (export GraphML, Pajek, UCINet, matrix formats, NodeXL maps and reports to NodeXL Graph Gallery or MS Office Powerpoint)
The reports can be created automatically according to the most important features of each network. That is, this tool will do the sorting on its own.
The reports you create can show you the overall structure of the network, help you spot the important influencers, hashtags, topics, and keywords, and sort the results. You'll have a research, analysis, and sorting tools all in one.
The popularity of this tool is proven by many published academic papers whose results are generated with the help of NodeXL. The usefulness of NodeXL is undeniable.
2. FullContact
Microsoft Excel is still one of the most popular software for organizing and sorting so it has another useful add-on that can help you with that process. That add-on is FullContact.
The FullContact for Microsoft Excel enables you to use a list of emails, Facebook IDs, or Twitter usernames to find more information about those influencers.
The information will come in the form of a report that displays demographic information, networks, and rough location data. The created report can be exported to a CVS where you can sort the findings based on the criteria you choose.
This platform will assist you in collecting all the data that is necessary for further actions. When you have all the information that you need, you can easily sort it and choose influencers that meet the requirements. Data collecting and sorting will help you tailor the future decisions in influencer marketing base on real data.
FullContact also believes in data-driven decisions that empower better relationships. They clearly explained this on their website, "We exist to provide trust and transparency that empower smarter, more personalized connections between people and brands. At FullContact, we believe that if you own your relationships, you own your future."
3. SocialBook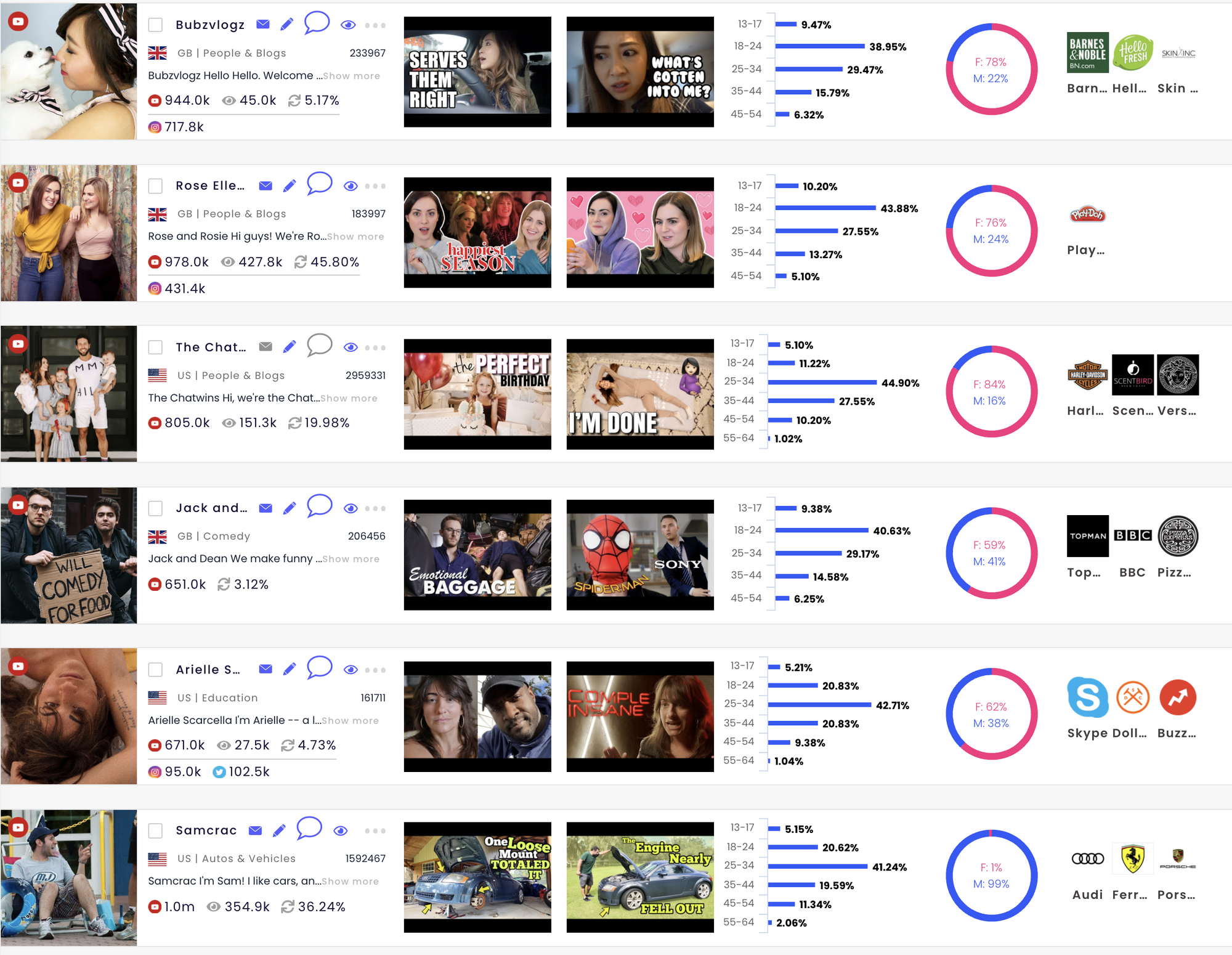 This tool is solely designed for influencer marketing. Or to be more specific, for improving brands' and influencer's effectiveness in influencer marketing.
SocialBook offers many useful features that can make your influencer marketing campaign better, less time-consuming, and more successful. One of those features is filtering and sorting the search per your liking.
The feature that can help you out the most in the sorting process is their search option. They offer an advanced search that allows you to filter and sort influencers that fit your criteria. You can enter the data about influencer such as:
Type of content (influencer's niche)
Country of region
Language
Number of subscribers
Price range (the budget you are willing to invest)
The last time influencer was active
60-day average views
Influencers that have email/Instagram/Facebook/Twitter/Twitch/Verified influencers/Active influencers
The platform will filter the results based on the information you choose and sort the results based on what you need the most.
The sorting options are:
By influence score
By followers
By relevance
By average views
By 60-day engagement rate
By most active influencers
By newest influencers
By price (low-high, high-low)
You can also filter and sort the results based on your audience. If you are new in the social media marketing world you might not know what you need to be looking for an influencer. SocialBook has got you covered in that case as well. The audience can be filtered by age, gender, country, and 60-day engagement rate. For best results, enter the preferences for both influencer and audience.
4. UnamoSocial
UnamoSocial will allow you to sort influencers based on keywords. The number of influencers that can be sorted is unlimited.
All you need to do is to use keyword query you enter from one of these social media networks:
Facebook
Twitter
Instagram
YouTube
This tool will be perfect for those who don't have specific criteria for the search but do have some keywords in mind.
The results can be sorted by the following metrics:
Popularity
Mentions volume
Reach
UnamoSocial can also help you find influencers who are talking about your products, brand, or industry on all social media platforms and sort them by the above-mentioned metrics. In this way, you can connect with an influencer that is already familiar with your brand.
Another sorting option is by social media network. You can break down results by YouTube, Facebook, Instagram, and Twitter. The results will show you which social media platform has the most influencers, mentions, sentiment, and popularity related to your topic/keyword.
5. BuzzSumo
BuzzSumo adapted its software so that it shows a more detailed influencer search. The way they did that is by implementing a new "classifiers" feature that sort results and assists you in finding relevant individuals.
You can find key influencers that are mentioned in their posts or influencers that are relevant for a specific topic.
The results can be sorted by SEO metrics (page authority or page rank) or by social media metrics (for example, retweet frequency).
This tool is easy to use but it shows useful information that can help you connect with influential people. It has a different approach to searching and sorting as it also focuses on publications about the influencers. From their articles, you can learn more about influencers and gather valuable insights.
6. Asana
A management platform such as Asana can work wonders for brands who have consistent influencer collaborations. Organize your projects, goals, and influencers to keep track of the progress and grow your business.
You can have a clear overview of your marketing campaign at all times. Sort your current projects based on due date, priority, stage, and similar.
Use Asana with Yoho Social and track your goals with influencers. Additionally, you can assign team members who will keep up with them.
Create a project that will keep this information organized. You can sort influencers by people you want to connect with, influencers you have already contacted, influencers you are currently working with, and influencers you worked with. All information about influencers can be organized and sorted within this platform.
Final Thoughts
How you approach the search for influencers will determine the future development of your influencer marketing campaign. By sorting the search and keeping the results organized, you can make the right choice concerning your collaboration with the influencer.
Each of the above-mentioned tools has a purpose in the sorting process. Depending on your search preferences, pick the tool that suits you the most and surface the perfect influencer for your campaign.
---
---