To give you an idea of what it takes to be a top influencer with a loyal and engaged audience, we've assembled a list of the most popular influencers in eight categories.
Something these phenoms have in common is that they are all doing the one thing that no one else on earth can do—they are being themselves.
If you gain nothing else from this list, try to come away with a true understanding of the importance of reflecting your own unique appeal, and this will give you a tremendous advantage in your own career as an influencer.
What else makes these heavy-hitters stand out amongst the multitudes? For more qualities of successful influencers that you should emulate, read on.
1) FITNESS: Michelle Lewin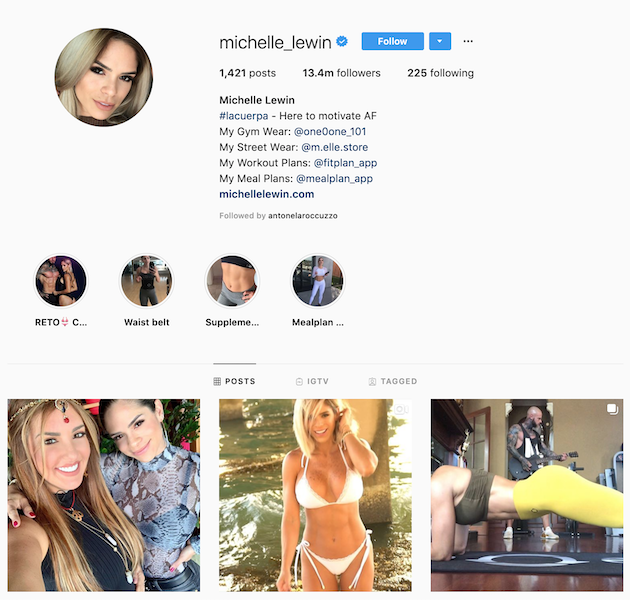 Michelle Lewin aka "La Cuerpa" has the most fans of the top fitness gurus on Instagram with an impressive 13.4 million followers. The engagement rate on her last 10 posts is a very 'healthy' 4.3%, and that's without interacting with her audience at all.
What makes her special: Much ofMichelle's appeal lies in her humble origins and her down-to-earth personality. The Venezuela native's story is one of transformation—and she openly shares relatable photos and videos of herself pre-transformation to inspire her fans.
Today she is a bodybuilder with an eight-pack and a powerful physique who boasts her own line of supplements and has also created two apps, Mealplan and Fitplan. Her willingness to be transparent about her own fitness journey as well as her ability to make her followers feel that they too can transform is the basis of her immense popularity.
The takeaway: Be brave and vulnerable in your posts. Share some less-than-perfect selfies or old photos so that your followers can learn more about you and your journey and relate to you on a more human level.
A special shout out: To Joe Wicks, thebodycoach who, with 2.6 million followers, impressed us with an outstanding 7.3% engagement rate on his last ten posts.
Joe is a proponent of clean eating with a loyal following who shares recipes, body transformations and adorable pics taken with his daughter. Does he respond to comments? Yes, he does!
2) BEAUTY: Huda Kattan
With 37.1 million followers on Instagram, a reality TV show on Facebook Watch and 3.2 million subscribers to her Huda Beauty channel on YouTube, Huda Kattan may just be the most influential beauty blogger in the world (to answer a question posed by the New York Times in this 2017 article).
The Dubai-based, Iraqi-American makeup artist turned beauty magnate has a love of false eyelashes, and prefers to showcase her videos—which feature tutorials and beauty hacks—on Instagram instead of on YouTube like most of her beauty-influencer contemporaries.
Huda's popular makeup line Huda Beauty includes lip liners, liquid matte lipsticks and, of course, false eyelashes, which are all big hits with her massive online following of fans.
Huda's most liked Instagram photo is the one she dressed up with Princess Jasmine costume, posted on May 05, 2019 (data from SocialBook.io):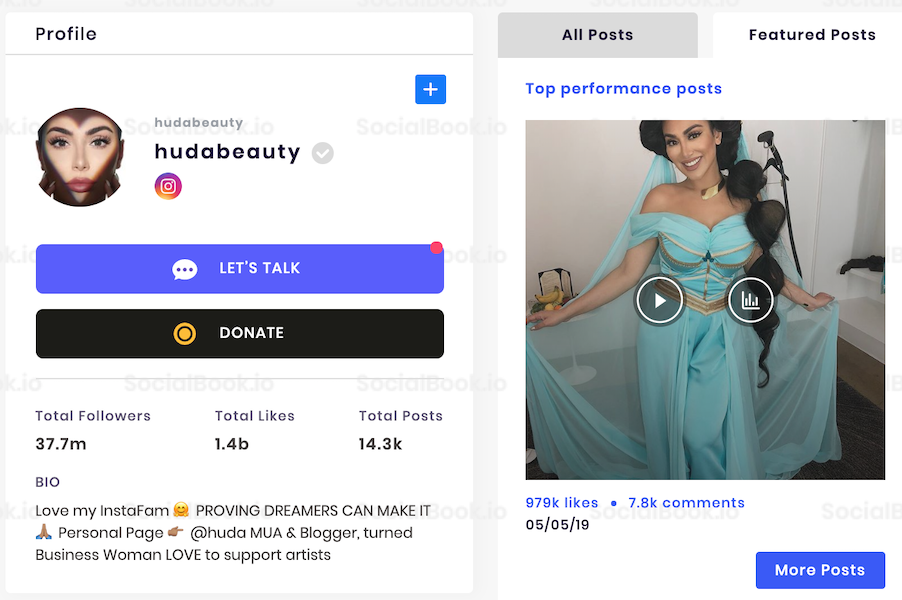 What makes her special: With her immense popularity and demanding schedule, we were amazed to find that Huda still takes the time to respond to and appreciate her friends and fans. Even just a kissy face emoji and a quick "Love you" can make someone's day, keep them loyal and inspire them to tell their friends to check out your Instagram feed.
The takeaway: Follow Huda's example by making sure to take time out to like and respond to a certain number of comments on your posts each day, and your followers will be sure to appreciate you right back.
3) FASHION: Chiara Ferragni
Founder of the fashion blog, The Blonde Salad, Ferragni is at the top of the fashion-influencer heap with her own clothing line and a hard-to-beat 16.5 million followers on Instagram.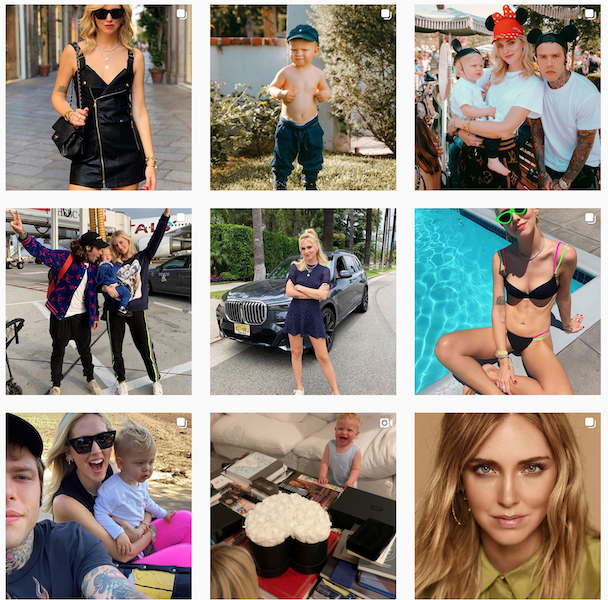 What makes her special: Courageousness and authenticity.With a style all her own, Ferragni has boldly and unapologetically held her own in the man's world of Italian fashion.
Also known for her candid posts, being genuine is key for Ferragni—she follows her heart and listens to her instincts, She says, "If I feel I want to do something, I do it. This is a strength in this world where to be authentic wins."
Ferragni is also another appealingly authentic and extremely busy influencer who gets extra points for replying to comments on her feed.
The takeaway: Be brave.Ferragni has succeeded admirably against all odds and made her way to the top of her field while gracefully enduring criticism. In the words of one fashion insider in Milan, "I doubt she has real substance," he says. "I don't think anyone sees her as cool. She is mainstream." Well, ouch! Like Chiara, you too must sometimes carry on in the face of other people's unsupportive opinions.
4) GAMING: PewDiePie
The 30 top gamers in the world have over 340 million collective subscribers across the most popular gaming platforms but when it comes to gaming, King PewDiePie reigns supreme.
With 95 million subscribers on YouTube as well as17 million followers on Instagram, the commentator and gaming sensation otherwise known as Felix Arvid Ulf Kjellberg, otherwise known as the biggest star on YouTube, (despite he was just defeated by T-Series, YouTube channel of the largest Indian music label), has received over 20 billion video views on his YouTube channel and has 1 million subscribers on his Twitch account.
PewDiePie has gained around 7 billion YouTube views over the last two years. (data from SocialBook.io)

What makes him special: One of the things that sets Kjellberg apart—his edgy and irreverent sense of humor that has sometimes involved racial slurs and Nazi salutes—is also the very thing that has landed him in hot water more than once.
With all of the controversy, PewDiePie soldiers on without making many apologies or substantially altering his public persona. Whether or not fans admire his integrity in this is up for review, but the numbers seem to be saying that they do.
The takeaway: Be confident. If you aren't confident,fake it 'til you are. It's not unusual as an influencer and would-be public figure to wonder: Will people 'get' me?
If you are not naturally gifted with a devil-may-care attitude and PewDiePie levels of self-confidence, work on cultivating that authenticity. Take a chance and just make that weird joke that you're not sure anyone outside your inner circle will understand. I guarantee you that a statistically significant number of people will enjoy your joke. Those are your people.
5) TOYS: Ryan Kaji
At just seven years old Ryan Kaji boasts many more subscribers to his engaging YouTube channel, Ryan ToysReview than most adults. His channel features vlogs about toys, unboxings and challenges, with his top video, "Huge Eggs Surprise Toys Challenge" garnering more than 1.8 billion views as of May 2019.
He currently has 19.4 million subscribers on YouTube, and shares the spotlight with mom Loann, dad Shion and twin sisters Emma and Kate.
67% of Ryan's audience age from 25 to 44, most of them are parents and are willing to buy toys for their kids. (data from SocialBook.io)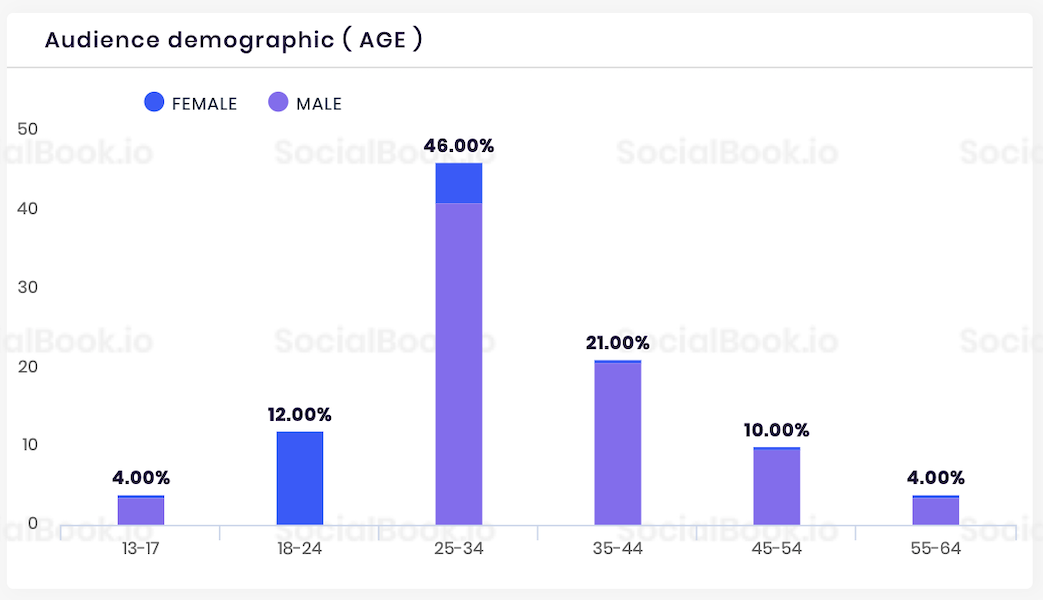 What makes him special: Aside from being exceptionally prolific—his channel usually posts one video per day—Ryan is adorable and undeniably enthusiastic about his chosen topic, toys. Here is a kid who has taken very much to heart the age-old advice to do what you love.
In Ryan's case, doing what you love pays. In 2016 and 2017, he raked in a reported 11 million in revenue from his YouTube channel.
The takeaway: Please follow Ryan's example and choose a niche that you love so much, you'd vlog about it even if you never had to work another day in your life.
6) TECH: Lewis Hilsenteger
Lewis boasts 14.5 million subscribers on hisengagement-heavy tech product-review channel, Unbox Therapy and 2 million followers on Instagram.
Here are the top 5 most-viewed videos in Unbox Therapy's YouTube channel: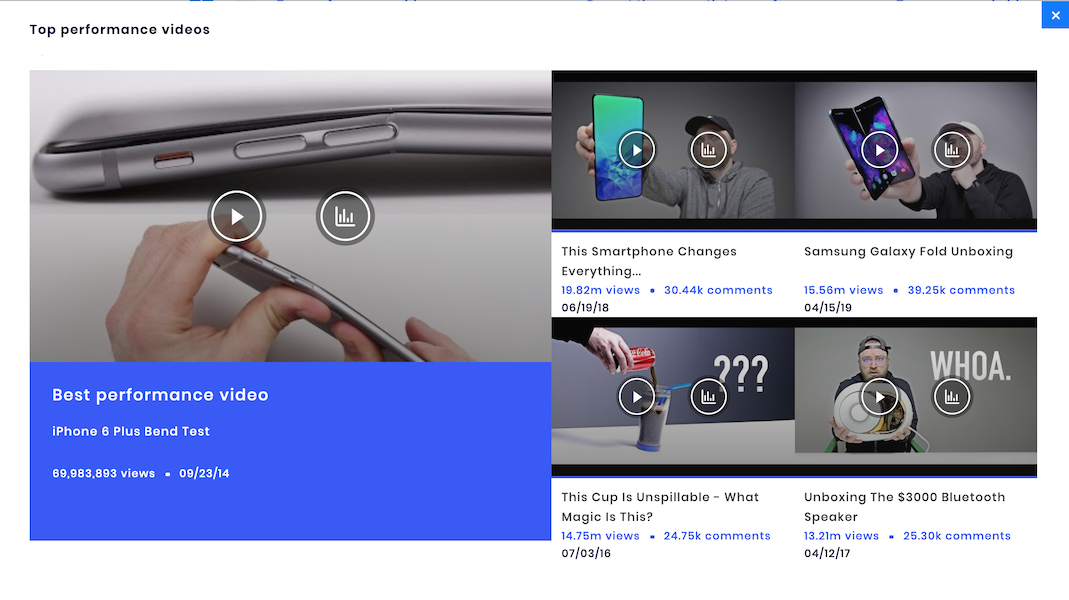 Hilsenteger's videos, which feature unboxings and reviews of popular gadgets like laptops and phones—as well as opinion segments where he expounds on topics like keyboard quality—get an impressive number of views. His last ten posted videos were viewed by 19.3 % of his audience.
What makes him special: His relatable regular-guy-with-a-tech-obsession persona makes him appealing to gadget girls and boys of all stripes and levels of knowledge.
The takeaway: Lew's example is just another reminder to follow your heart and indulge your interests. Pre-internet fame Hilsenteger started a company called iUpgrade which upgraded Apple products, finding fame with a viral video in which he demonstrated that the iPhone 6 Plus might bend in people's pockets.
7) TRAVEL: Louis Cole
Socially conscious adventurer and travel vlogger Louis Cole has 1.3 million followers on hisfunforlouis Instagram and 2 million subscribers on YouTube.
His inspirational vlog chronicles him enjoying adventures like navigating the more than 200 miles of the Thames in a kayak to raise money for charity and enjoying yoga with kids at a school in India.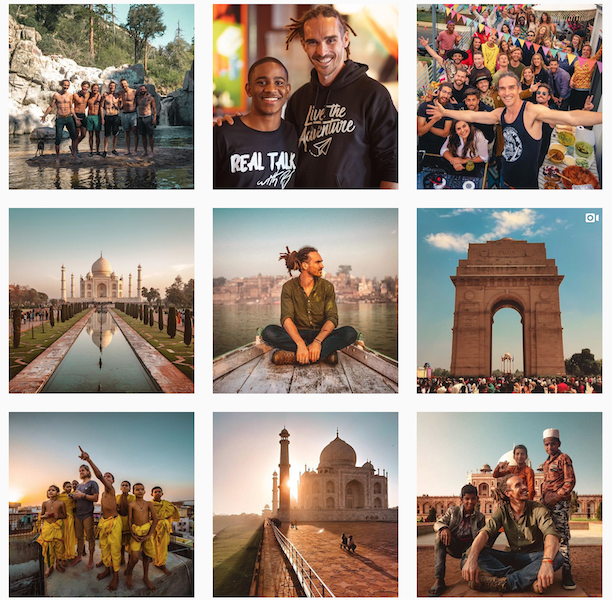 What makes him special: His knack for finding ways to channel his love of travel and fun into activities and events that drive social change.
The takeaway: If you are an influencer with a socially-conscious bent, do not be afraid to incorporate your charitable work into your online life. The idea that travel could be adapted in this way is counterintuitive, but Louis Cole has managed to make it work.
8) FOOD AND BEVERAGE: Jamie Oliver
A celebrity before he hit it big as an Instagram influencer, Oliver has 7.2 million followers on Instagram, beating out some of his nearest competition like celeb chef Gordon Ramseyby almost a million followers.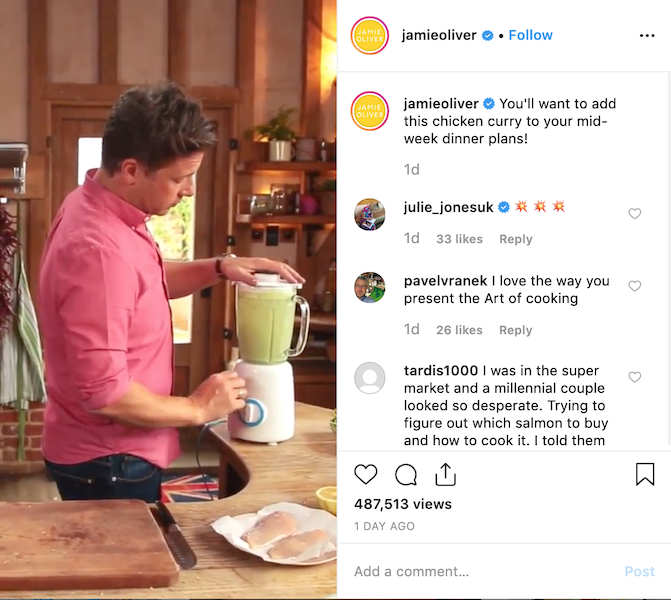 What makes him special: Oliver is a likeable dad who cooks beautiful dishes that feel accessible to home chefs, and also—notably—favors healthy, fresh, seasonal ingredients. Check out this South Park episode where he is targeted by Colonel Sanders to get an idea of what we mean.
He is also another generous influencer who gives his fans some occasional love by responding to and liking comments.
The takeaway: Speaking up about what matters most to you—in this case, healthy, less processed food—even if you don't have a universally popular point-of-view will bring your tribe to you in droves.
A special shout out: To foodgod Jonathan Cheban, formerly best known as Kim Kardashian's BFF. Kudos to Jonathan for his ability to reinvent himself. He has 3.1 million Instagram followers and his feed features, among many other offerings, a family-sized cinnamon roll, a soup dumpling the size of his friend's head and a taste test of chicken and waffle cereal, to name just a few favorites.
Cheban is pretty much down to try anything edible and you will be down to watch him do it. He is infinitely entertaining while doing you the favor of tasting—and usually approving—eats from around the country.
So there you have it! Reduced to its essence, our advice is to a) love, love, love your topic, b) be unabashedly yourself and c) honestly and openly share that self with your lucky followers.
This kind of earnestness in a would-be influencer is the best ever driver of engagement, and once you achieve high engagement levels with your followers, the brands are sure to come calling.
If you are a mega-influencer hopeful who'd like to effortlessly keep an eye on how you are performing versus the competition, check out influencer platforms like SocialBook where you can keep track of how you're stacking up by comparing your metrics to those of other influencers in your niche.
---
---
---