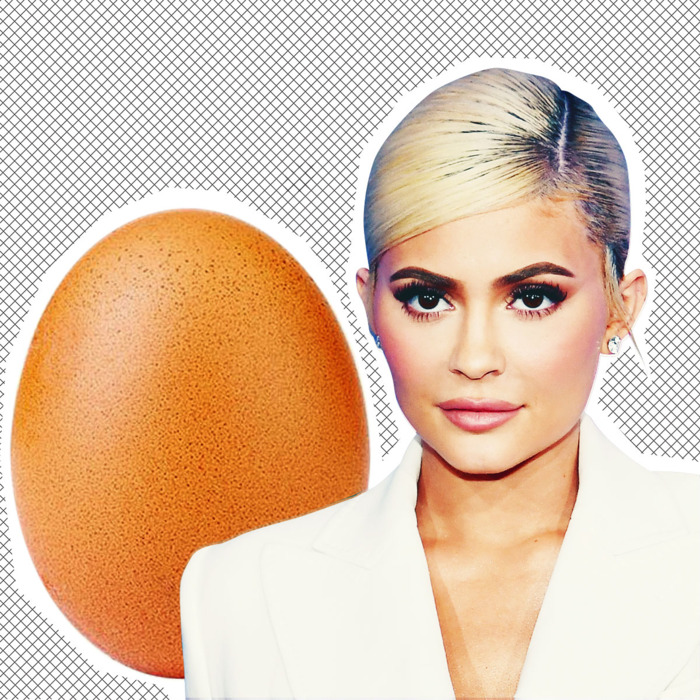 Update 2021 April 11th: We launched a tool allowing you to view the most liked post of any Instagrammer/YouTuber here.
Recently, an egg, a regular egg just won a Guinness World Record as the Most liked image on Instagram and became the winner of Instagram. What makes this egg so popular? Let's take a look at the most liked Instagram post on Instagram before the "egg" came out.  The winner used to be a post from Kyle Jenner showing her baby stormi webster 👼🏽.
See the original post here. This post has received more than 18 million likes, and 2 million comments once was the most liked post on Instagram for a while.But, on January 4th, when the egg came out, it quickly received more than 43 million likes and 2.2 million comments.We looked at the egg post audience carefully: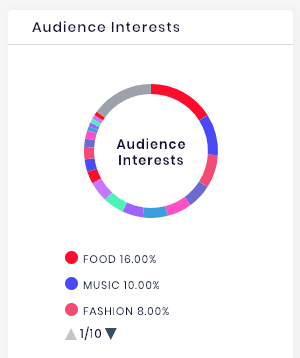 It seems not everyone is interested in food, which explains that people liked this post not because they really like "egg" but because they want to be part of the "egg" move to get this post to the most liked post on Instagram.
Enough about the gossip. Now you know what's the world's most liked photos,  let's see how you can find your most liked post on Instagram in just a few steps.
Within just a few simple steps, you'll discover your most liked photos and top commenters on the most active social media platform: Instagram.
You might be surprised by how easy it is to access this information. Have you ever wondered: What are your most liked photos on Instagram? What's your recent three-month performance? How much do your posts worth? What is your total and average like of all time? What's your engagement rate? Who commented you the most?  Who is your most engaged user?
We know you care!
Below you'll find how easy it is to discover how great people really think you are.
The following influencer marketing data are provided by SocialBook : the world's first AI-powered influencer marketing database, it allows you to find your most liked Instagram posts, top performed Instagram posts, or your top commenters and get sponsorships from brands.
Connect Your Instagram to View the Full Channel Report FREE!
Go to the homepage of SocialBook, and click "I'm an Influencer" to start.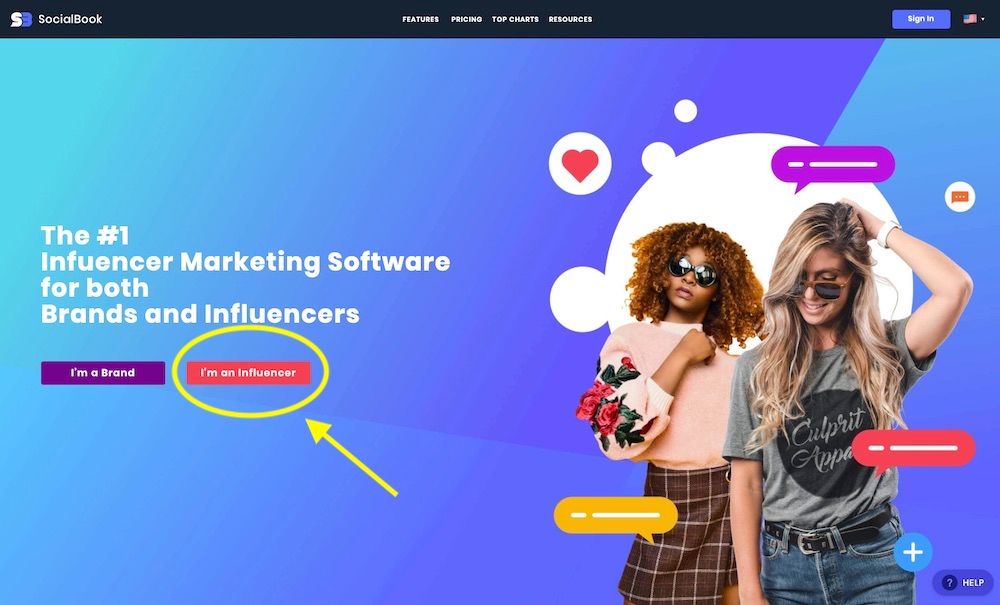 But, now you will find that people have to pay to view the profile because most of the SocialBook users are influencer marketing campaign managers who need to find the best influencers for their influencer marketing campaigns out there.
However, for content creators like you, this profile information is FREE. To view your free profile, simply click the check icon on your profile page where will lead you to claim your profile and allows you to see all information related to your profile. Plus, letting influencer marketing managers find you and provide you with influencer marketing collaboration opportunities.
Once you click the icon, you will be lead to a sign-up page on SocialBook,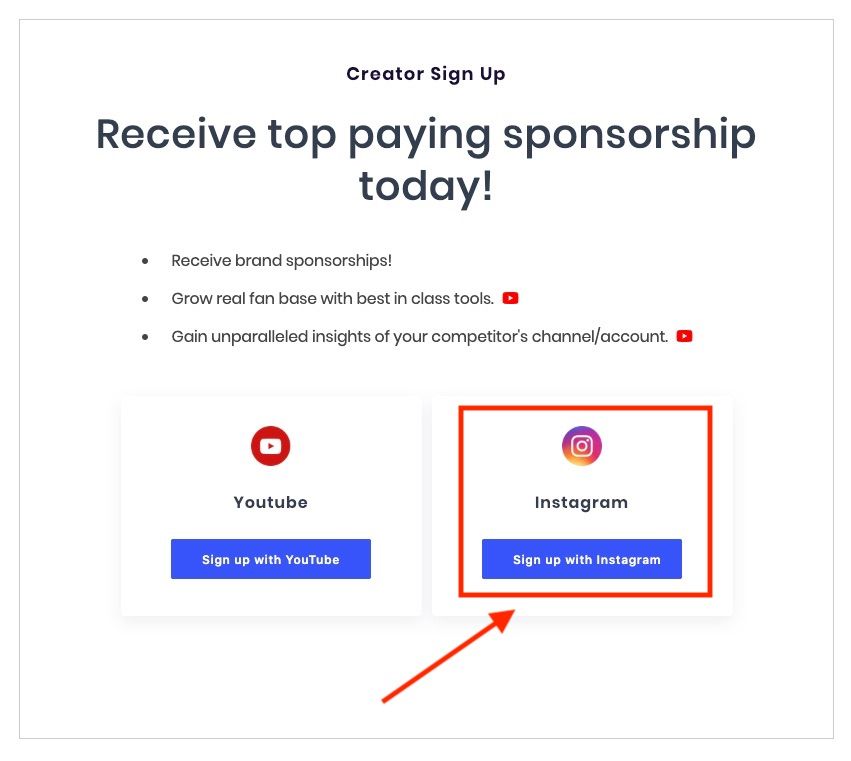 On the pop-up window, click "Authorize" to connect your Instagram account with SocialBook. (You may be asked to log into your Instagram account first.)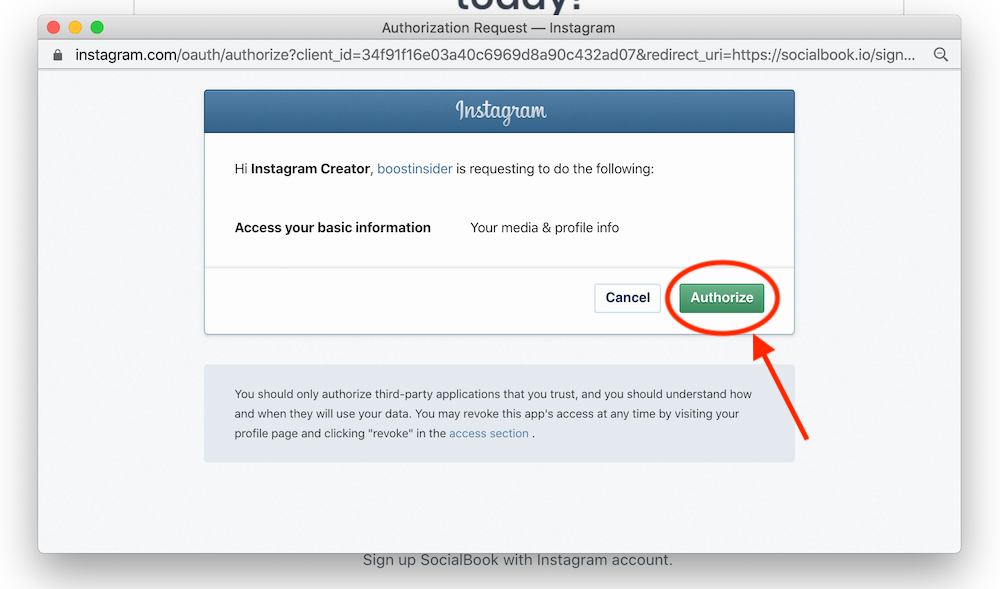 After successfully connecting your Instagram, the next step is to set up a SocialBook account. Enter the email address (for receiving verification email later), and setup the password.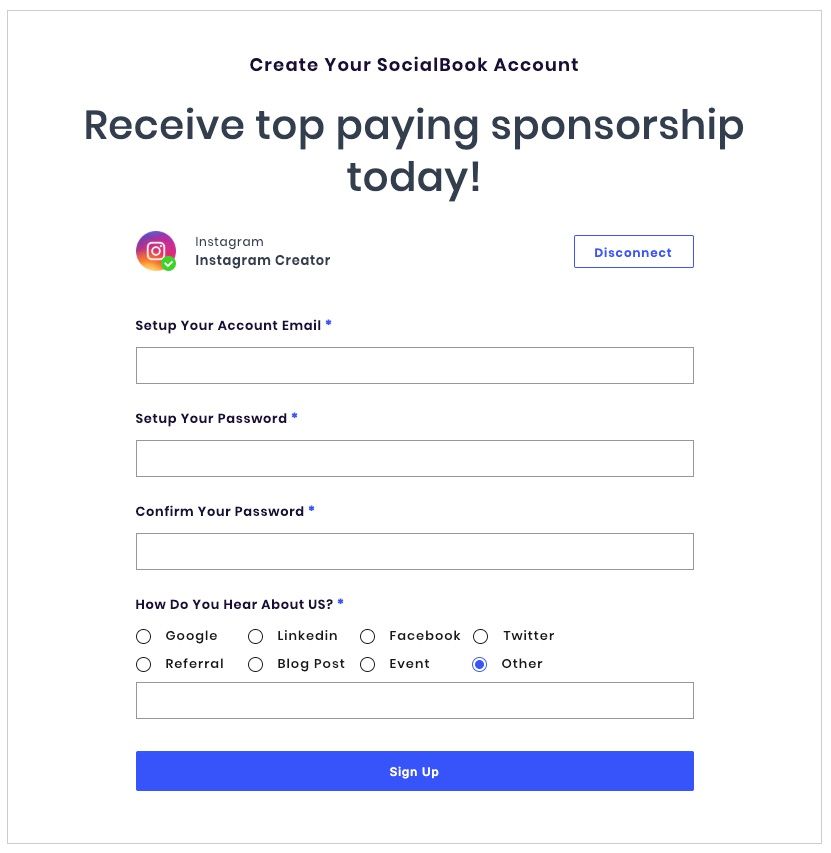 When you finish signing up, you will receive an e-mail to activate your account which will link you to your claim profile page. You can always disconnect your profile if you find the information not useful or you simply do not want to be connected anymore.
Once your account is activated, you can connect your Instagram account with SocialBook.io for your own SocialBook profile. [BTW, you can also connect your YouTube account to see your detailed YouTube channel data]
1. What are my most liked pictures on Instagram?
So how to find your most liked Instagram post? Here it is (Take the Instagram account of @SelenaGomez as an example):
Once you are logged in to your SocialBook account, you can go to your Instagram channel report, and scroll down to the "Top Performance Posts" section, and the first post you see in this section is the one liked the most.
You will be able to see 5 of your top performance posts, and 5 recent 3 months top performance posts and recent 3 months top performance posts:

Let's find out what's Selena Gomez's most liked Instagram post or top performed post here: on the left-hand side, under top performance posts. Her most liked Instagram post is about her kidney transplant, this is really personal, and we can tell that her followers really care about her, which also means, her followers like to see her posting her personal stuffs. What is your top performance post? Is it also about your personal life style?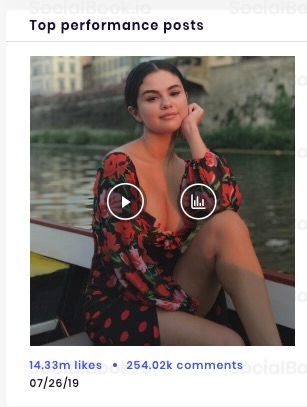 2. How to Get Brand Sponsorship as an Instagram Influencer?
We all know that in the influencer marketing industry, influencers charge for sponsored posts, so how much are influencers charging influencer marketing campaign managers? Or how much you should charge your influencer marketing campaign managers for collaborations? SocialBook calculates your posts price range based on your channel's historical performance & subscriber behavior. According to SocialBook's calculation, Selena Gomez may charge $187,937 to $304,409 per post or per shout out.

What's your estimate price range of an Instagram sponsored post? You can always edit that in your SocialBook influencer Account. Go to "My Account" -> "Connect", and you will find the Brand Collaboration Form, where you can update the price and other information brands want to know when sponsor an influencer.
SocialBook offers a FREE channel analysis report for who connects their YouTube or Instagram account. Wondering what information SocialBook is presenting in the FREE report? Here's the details:
3. How is my channel performance?
What's my highest likes? What's my lowest likes? How many comments per post do I get? What's my average likes in 24 hours, in 3 days, in 1 week and 1 month? Figuring this out by calculating each post will be a headache. But with big data and AI, you will no longer need to calculate this information by yourself.  The channel performance section allows you to see everything you want to see.It will not only show you your highest likes, lowest likes, latest likes, likes per post, and comments per post. You will also be able to compare your recent post performances with your average performance.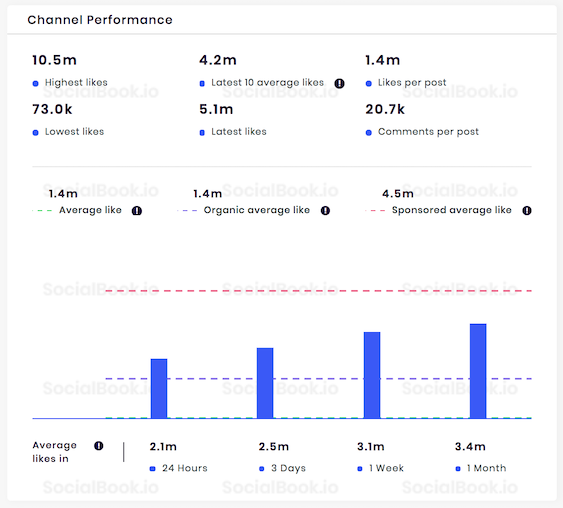 4. What is my engagement rate?
Today, everyone knows that follower number does not really mean a lot, because there is a lot of zombie followers! We can see that for @Selenagomez with 136.2 million followers she has only 1.03% likes per subscriber and only 0.02% comments per subscriber. Which means, there could be lots of zombie followers hiding in her follower counts!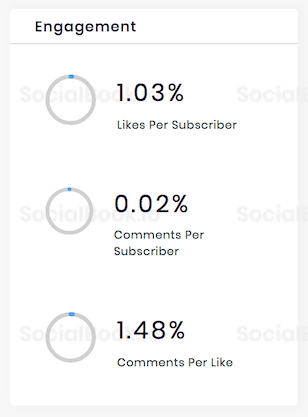 5. Who Did I Mention The Most?
Most of the times, your top mentions are either friends or brands.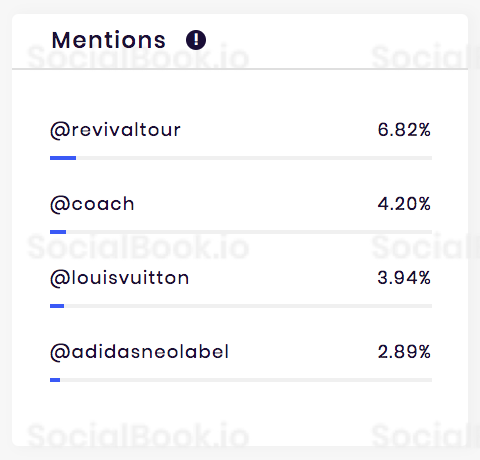 Now let's move on to your channel progress report to see if you are constantly increasing followers and which of the posts brings you more followers. But here is a post on how to increase your followers in 2019 to help you increase followers on Instagram.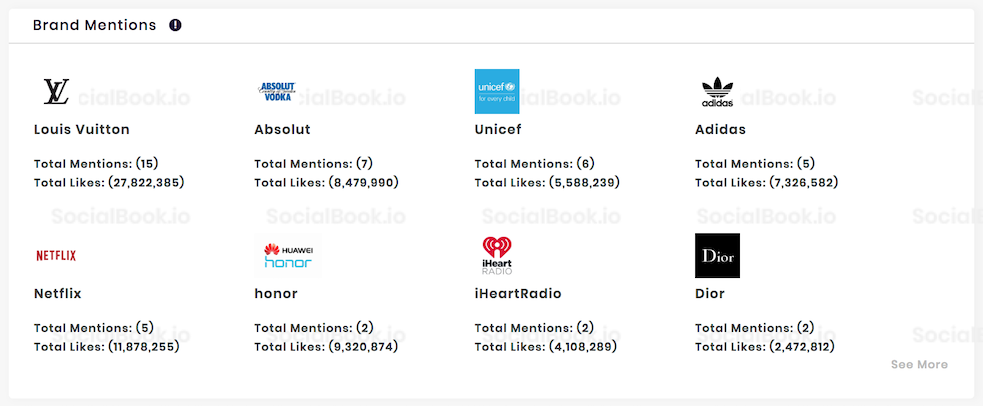 6. How is my branded post performed? Which brands my followers like the most?
You know that branded contents sometimes may hurt your follower counts if your followers do not like the brand, but sometimes when putting out the right branded content, fans love them, too. If you see below, Selena Gomez's Louis Vuitton Ads are well performed and better than all of the other brands.
We can tell clearly that Selena Gomez loves to collaborate with Louis Vuitton and the collaboration receives a good amount of likes!
7. Who comments me the most?
These are the people who support you the most! Take some time to appreciate them. Here is an example of @SelenaGomez's top commenters.

We hope this post helps you understand how brand influencer marketing campaign managers view influencers performance and gives you a hint on how influencers data are valuable to both influencers and influencer marketing managers. Read more about SocialBook influencer marketing Statistics. We have also generated an article about most subscribed YouTuber article if you are interested.This tool is intentionally built for influencer marketing, and for influencer marketing campaigns to reach their target audiences. However, we found that everyday users could also use our tool to grow followers for their Instagram channel by finding out which posts performs the best and build on that.
---
👉 Come to claim your YouTube or Instagram account and get a FREE complete channel analysis report to your channels! 👈
---
---