Although there was a burst of influencer marketing statistics made available in 2017, there were fewer new figures released last year. This may have contributed to predictions of doom and gloom for the industry. Yet, recently released statistics provide a better indication of the industry's performance. In early 2019, it is clear that influencer marketing is healthier than ever.
Here are 15 newest facts about influencers, brands, and influencer marketing industry ALL should pay attention to.
Instagram's Monthly Active Users Have Multiplied over the Last Five Years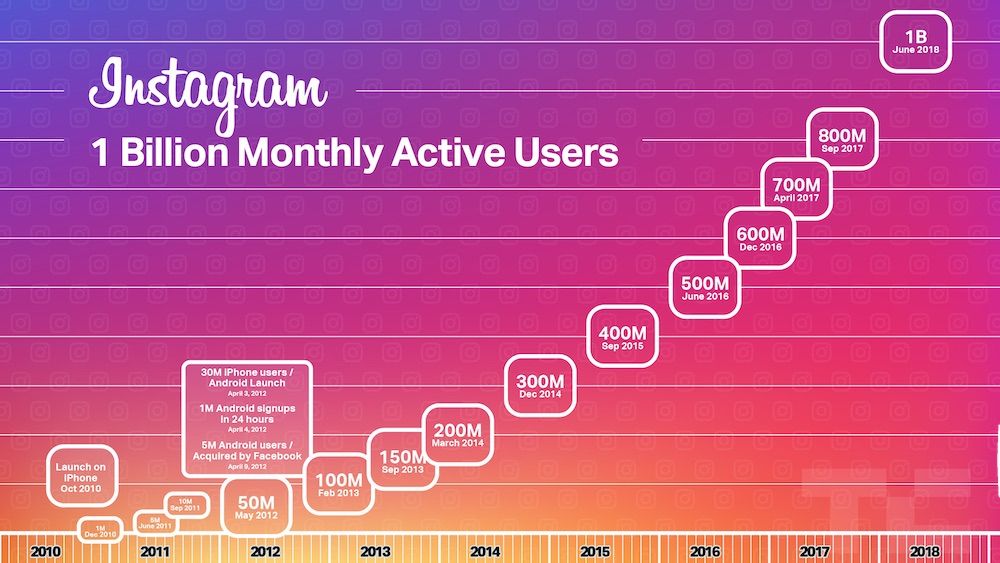 Instagram was launched on October 6, 2010. It took three months to gain its first million users. It reached the 10 million milestones in September 2011.
By March 2012, it had reached 27 million users. This was enough to gain Mark Zuckerberg's attention, and one month later Facebook made an offer to acquire Instagram, which it did on April 9, 2012.
Less than a year later, February 2013, Instagram was able to claim 100 million monthly active users.
From that milestone, Instagram's growth continued, reaching 200 million in March 2014 and 300 million in December that year. As a comparison, that figure is approximately Snapchat's following today.
Instagram passed the 500 million milestones in June 2016, 700 million in April 2017, and finally broke the 1 billion level in June 2018. Although Instagram doesn't appear to issue figures for each 100,000 increase anymore, it is clear that Instagram is still incredibly popular today.
63% of Businesses who use Influencer Marketing Intend to Increase Their Budget Next Year
According to The State of Influencer Marketing 2018 by Linqia, A total of 830 marketing agencies, brands and other relevant professionals took the time to answer the recent Influencer Marketing Hub survey. Unsurprisingly, 92% believed influencer marketing to be effective. 86% intended to dedicate a portion of their budget to influencer marketing this year.
63% of the respondents currently budgeting for influencer marketing intend to increase their spending over the next year. A mere 5% stated that they would decrease their influencer budgeting.
It is clear that once businesses begin utilizing influencer marketing, they are generally inspired to continue more in the future.
$7.65 is the Average Earned Media Value per $1 Spent on Influencer Marketing
2018 research by NeoReach suggests that the average Earned Media Value for brands participating in influencer marketing is $7.65 for every dollar they spend.
Some businesses report an Average Earned Media Value return of greater than $20 per dollar spent. Of course, some brands report less success – about 25% of firms receive no return on their influencer marketing spend. Yet, note that often times you will need a good influencer marketing strategy to yield a better ROI just like any other marketing campaigns. Lots of companies even have their own influencer marketing department.
We posit that the "loser" firms are probably those businesses trying out influencer marketing for the first time, without first educating themselves on the best ways to succeed. They often won't have used a platform like SocialBook to find their influencers, and so are likely to have tried influencers whose fans don't match the target market for their product or service.
The Biggest Challenge in Managing Influencer Campaigns is seen to be Finding Suitable Influencers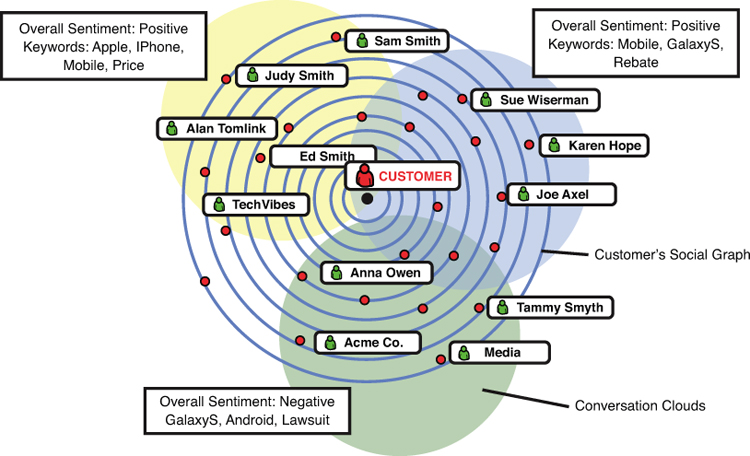 Despite significant support for influencer marketing, and visible success for the majority of participating brands, the Influencer Marketing Hub respondents did share some concerns. Their greatest worry (36%) was finding influencers.
Other concerns included managing the contracts or deadlines of the campaign (24%), bandwidth/time constraints (15%), and processing payments to influencers (15%).
Finding influencers the old organic way can be hard, slow work – particularly as once you find suitable partners, you gradually need to build up a relationship with them. They may have no interest in working with you.
Being in the influencer marketing for years, and having hundreds of successful influencer marketing campaigns, SocialBook tried the best to solve this biggest challenge for all brands. The in-depth and accurate of each influencer is the key for brands to find the right influencers.
Especially the audience demographics data of each influencer channel,  makes it possible for brands to find the influencers who can reach their exact target customers.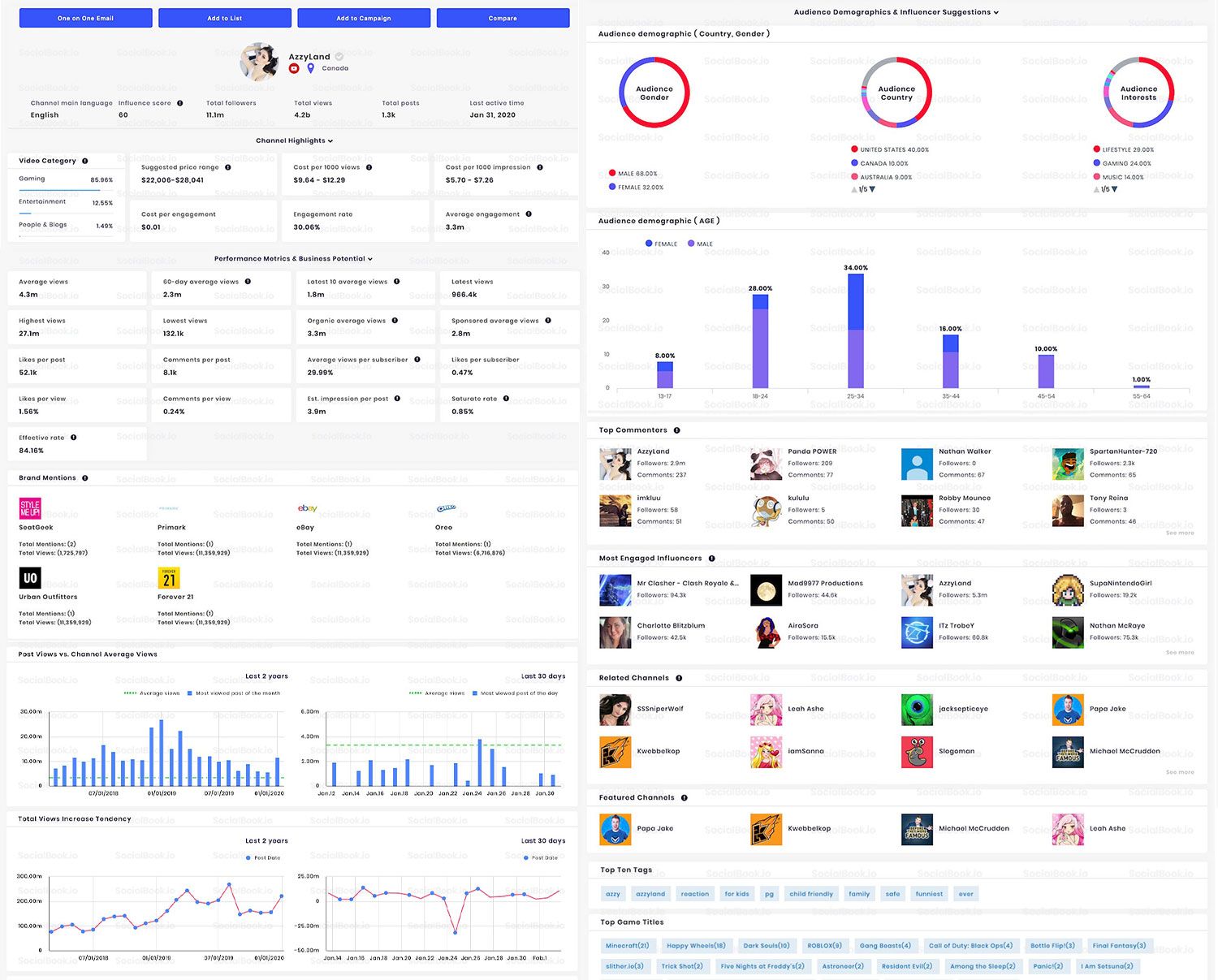 The Larger an Influencer's Following, the Smaller Their Engagement Rate
The SocialPublic 2018 Global Micro-Influencer Survey questioned micro-influencers from 22 countries. The survey provided clear evidence that smaller influencers are often more useful to a brand that mega-stars are – and they usually charge considerably less, too.
According to their figures:
Nano-influencers (<1,000 followers) have 10.1% average engagement rate
Micro-influencers (1,001 – 10,000 followers) have 7.6% average engagement rate
Mid-influencers (10,001 – 100,000 followers) have 5.3% average engagement rate
Macro-influencers (100,001 – 1 Million followers) have 0.04% average engagement rate
Mega-influencers (>1 Million followers) have 0.03% average engagement rate
Those figures suggest a massive drop in engagement once influencers become social superstars.
Micro-influencers Spend a Considerable Amount of Time Online
According to the SocialPublic survey, 47% of the micro-influencers surveyed spend more than five hours per day on social media. Many of these people must treat their online activity as a full-time job. A further 33% spent three to five hours per day on their social accounts.
Clearly, you don't become an influencer by accident. You need to devote sufficient time and energy to build your following, engage with your fans, establish expertise in a niche, and develop the types of content they value and enjoy.
Instagram is by far the Favorite Social Network for Influencers
When the micro-influencers were asked to name their favorite social network, the most popular by far was Instagram. The survey respondents named their preferred social sites as:
Instagram – 60.8%
Facebook – 17.4%
Twitter – 12.4%
YouTube – 7.3
All other social networks – 2.1%
It is notable that support for Instagram by influencers dwarfs that of Facebook, despite Facebook having 2.3 billion monthly active users (compared to Instagram's 1 billion).
It is also noticeable that despite Generation Z traditionally loving SnapChat insufficient influencers opted for that social network to show separately in the influencer marketing statistics.
Generations Z and Millennial Spend Much of Their Daily Video Time on Social Apps
In 2018, Vidmob studied the state of social video. Although they collected data covering a range of countries, these influencer marketing statistics all relate to the USA.
According to their data, Generation Z spends 24 minutes of each hour of "digital time" watching videos. Millennials spend 20 minutes per digital hour video watching. This excludes time spent on devices for school or work purposes.
Millennials spend 54% of that video time on social apps, such as YouTube and the other social platforms that support video. That is five times more than Generation Z devotes to watching traditional television and double the time they spend on streaming devices, such as Netflix and Hulu.
Both Generation Z and Millennials Increased Their Time on YouTube and Instagram Last Year
Compared to 2017, Generation Z increased their YouTube watching by 59% in 2018. Millennials weren't far behind, with a 46% year-on-year increase.
Instagram usage showed similar trends. Generation Z increased their Instagram usage by 55% in during the year, with Millennials increasing their Instagramming by 50%.
Instagram Stories are Now Highly Popular
70% of the Vidmob's Generation Z respondents admitted to watching Instagram Stories. Although a smaller popularity percentage, 59%, it is clear that many Millennials have also taken to Instagram Stories. Surprisingly (considering Snapchat has not shown up noticeably elsewhere) over 70% of surveyed Instagram and Snapchat users watch Stories on both platforms daily. 46% say that they particularly like Instagram Stories that include humor.
How-tos, Tutorials, and Hacks are the Most Popular Type of Videos Watched on Smartphones
Vidmob's respondents were asked about the types of videos they preferred watching on their smartphones.
46% of Generation Z respondents claimed to prefer how-tos, tutorials, and hacks, with 42% loving vlogs. This was followed by pranks (37%) and unboxing (27%).
1 in 8 Influencers in the UK Indicated They Had Bought Fake Followers in the Last 6 Months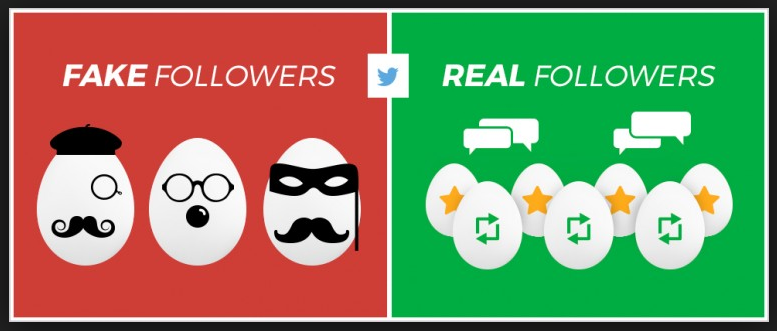 Campaigndeus released their Influencer Index report in July 2018. They analyzed 700,000 Instagram influencer posts over the first half of 2018.
Disturbingly, 12% of the British influencers covered by the report showed indications of having bought fake followers.
This must be a big concern – particularly as it is not that difficult to discover when an account uses fake influencers. According to the Influencer Marketing Hub study, 63% of their survey respondents have personal experience of influencer fraud.
Major brands, including Unilever, Samsung, and Audi, have declared war on people who buy fake influencers. Influencers need to take heed of this. You do not need fake followers to build real influence.
UK Marketers Invested Over 1.5x More Money in Fashion and Style than in Beauty
Another Campaigndeus finding from 2018 was that in the UK at least, Fashion is by far the most popular sector for influencer marketing.
34% of posts sponsored by brands were in Fashion and Style, with 21% of influencer posts being in the Beauty sector. The third most popular niche is Food and Drink, at 16%. No other industry catered for more than 5% of influencer marketing posts.
The Top Performing Type of Influencer Post Features a Competition or Giveaway
It will probably come as no surprise that the most successful influencer posts were those that featured competitions or giveaways. Across all of the influencers analyzed by Campaigndeus (of varying sizes), competitions/giveaways averaged 3.78% engagement.
Other engaging post types included:
Brand ambassador posts – 3.36%
Product promotions – 3.22%
Discount codes – 3.2%
Posts that feature a link to purchase are far less liked, only leading to 1.07% engagement.
2/3 of Influencers Believe That Their Job is Properly Recognized
We clearly believe in the importance of influencers to the entire influencer marketing process. SocialPublic asked their influencer respondents whether they felt that the job of being an influencer is properly recognized. 7.6% answered affirmatively. It is good to see that most influencers think that they are valued for their activity.
As we saw in Here is What the Fyre Festival Did For Influencer Marketing, influencers can have tremendous power. On that occasion, sixty-three influencers simultaneously posted the mysterious orange Fyre graphic on Instagram. Twenty-four hours later those posts had garnered 300 million impressions. If the marketing team had spent the same marketing budget on micro-influencers, the reach would probably have been higher still. Nobody can doubt the power of influencers as they carry out their job.
---
Want help finding the perfect influencers for your social marketing campaign? Head on over to sociabook.io for a free demo and find out how.
---
---