The funny thing about the world of the internet is that it evolves every day, opening doors to new trends and styles. First, it was Facebook which had all the spotlight, then came Instagram and other social media platforms, and then the trend shifted towards music and dancing and we all enthusiastically welcomed TikTok. But the trend of today is a little out of this world - it's all about cartoonizing!

From awesome avatars to cool Snapchat bitmojis, cartooning yourself has all the hype these days. Cartooning refers to giving yourself an animated look and creating a cartoon or animated version of yourself. You can edit it however you like! Let's be honest, we all became a little too obsessed with animated movies like Frozen and Brave and it was mostly because of the adorable characters. Secretly, we all wanted to look like Queen Elsa or Kristoff at some point. But with the ability to cartoon yourself, you can live that dream! You can create cartoon avatars and play around with your friends in your self-created dream world.

Diving more into the concept of cartooning, by now you must be wondering, how exactly to cartoon yourself? Well, the first option is of course hiring an illustrator but illustrators and animators can be very pricy and require a lot of budget. You don't want to spend hundreds of dollars for having a little animated party with your friends. In the world of today, there are different apps and platforms that you can use to create a cartoon version of yourself, and they are absolutely free!

SocailBook is the most efficient and easiest platform that you can use to create a cartoon version of yourself. By now you must be aware of the wondrous features that SocialBook has to offer, and the list of these features just got longer with the cartoonizer. In this blog post, we will dive into the Cartoonizer of SocialBook and will also see a simple step-by-step tutorial that provides the guidelines for using the cartoonizer. For more convincing results, we will also compare the SocialBook cartoonzier with the cartooning app Voila ai Artist so you can choose the best for yourself. So let's dig right in!
SocialBook Photo Cartoonizer:
SociaBook is a platform that likes to keep up with the trends. The biggest trend of 2021 is cartooning yourself and to enable you to jump on the bandwagon, SocialBook has just the right tool for you - the SocialBook Photo Cartoonizer.

As the name itself suggests, the SocialBook Photo Cartoonizer allows you to create an animated version of your photo. The process to do so is extremely simple and only requires a few clicks. You can try out different designs and different styles and choose the animated version that suits your personality the best! You can spice up your photos and surprise your friends and family by creating your own animated world for a cartoon you!

Follow the steps mentioned below to animate your photos:
Step # 1: Sign up on SocialBook
The first thing you need to do for using the SocialBook Photo Cartoonizer is signing up on SocialBook. If you already have an account on SocialBook then you can proceed to the next step. If not, then no need to worry. It will hardly take you 2-3 minutes to set up an account on SocialBook. All you need to do is enter your email and other necessities and you're good to go!
Step # 2: Open SocialBook Photo Cartoonizer
Next up, once you have opened your SocialBook account, head over to the menu present on the left of the screen. Scroll down and you will see the option of 'Growth Tools'. Click on this option. A series of YouTube, Instagram, and other tools will open up. Keep scrolling down these tools list and you will see the option of 'Cartoonizer' as shown in the image below. Click on it.
Step # 3: Upload Photo
Upon clicking on the Cartoonizer tool, the following interface will open up. You will see multiple options and windows here. You will also notice a small rectangle box that will allow you to upload your image. The maximum size of the image to be uploaded should be 20MB. Moreover, make sure that you upload a front face photo for best results.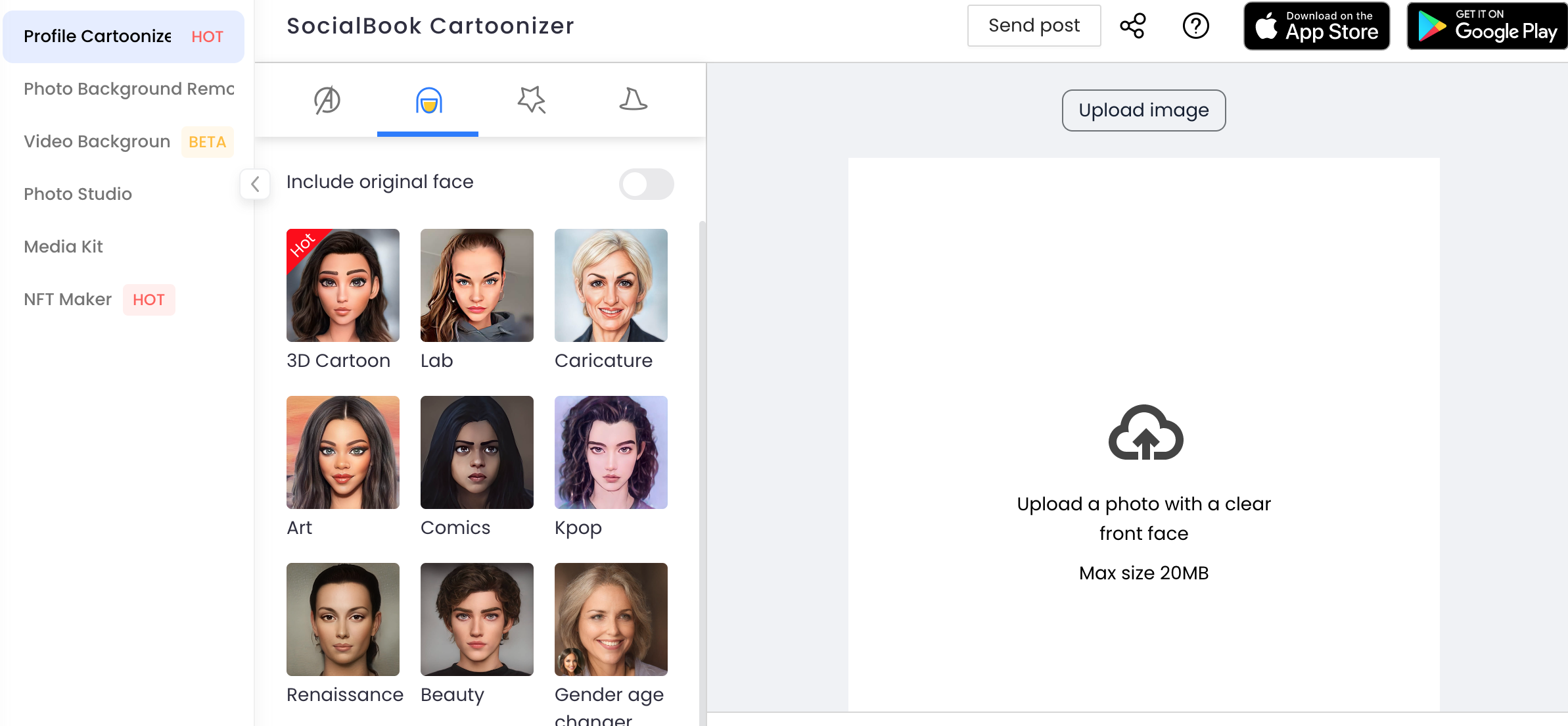 Step # 4: Choose a Style
Another thing that you will notice in the SocialBook Photo Cartoonizer interface is that besides the rectangular box for uploading images, there are also some styles. You will see these styles on the right side of the rectangular box. There are multiple options present over there and multiple styles. You can choose the one which appeals to you the most. The following image shows this interface: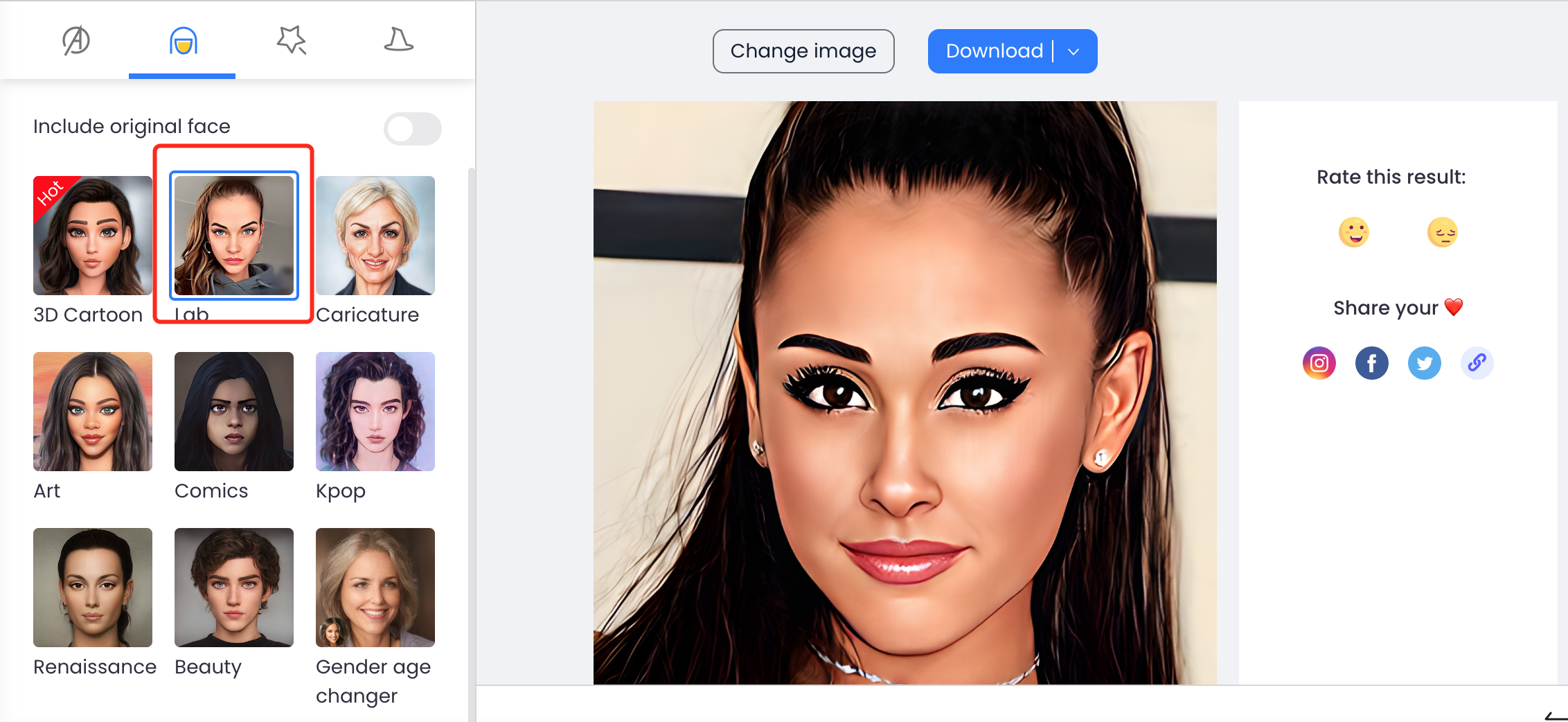 You can also choose "Effects" filter, where you are able to upload a full body picture to cartoonize your entire body. The layout for this looks something like the below: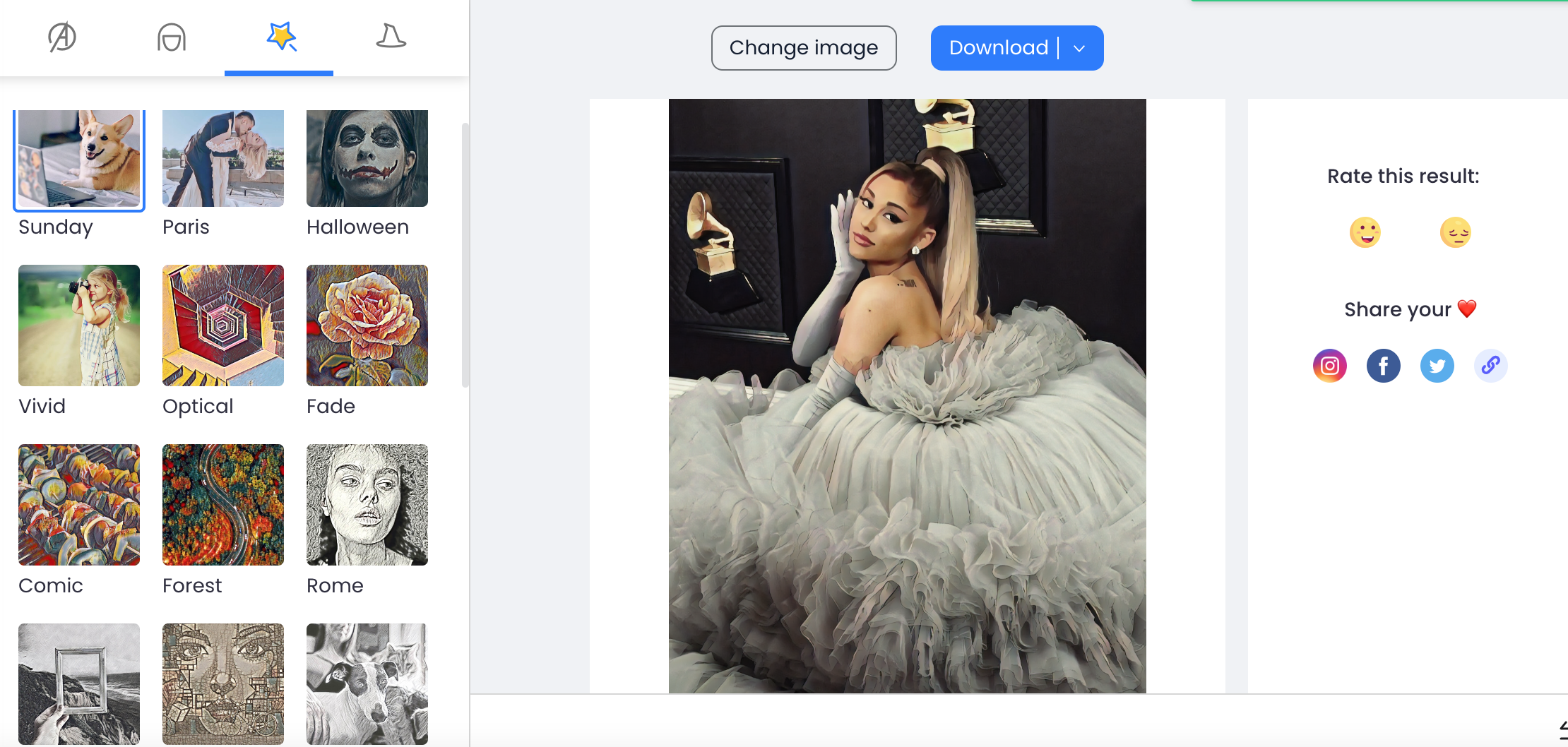 Step # 5: Cartoonize
Now that you have chosen your desired style, simply click on it. Your uploaded photo will be cartoonized according to the style that you have selected. Next up, you can simply proceed towards cartoonizing your image after your image has been uploaded. Just click on the blue button that says 'Cartoonize'. As soon as you click it, a small window will open up into which you will have to enter the captcha. This is just a formality to prove that you are not a robot. It looks something like shown below: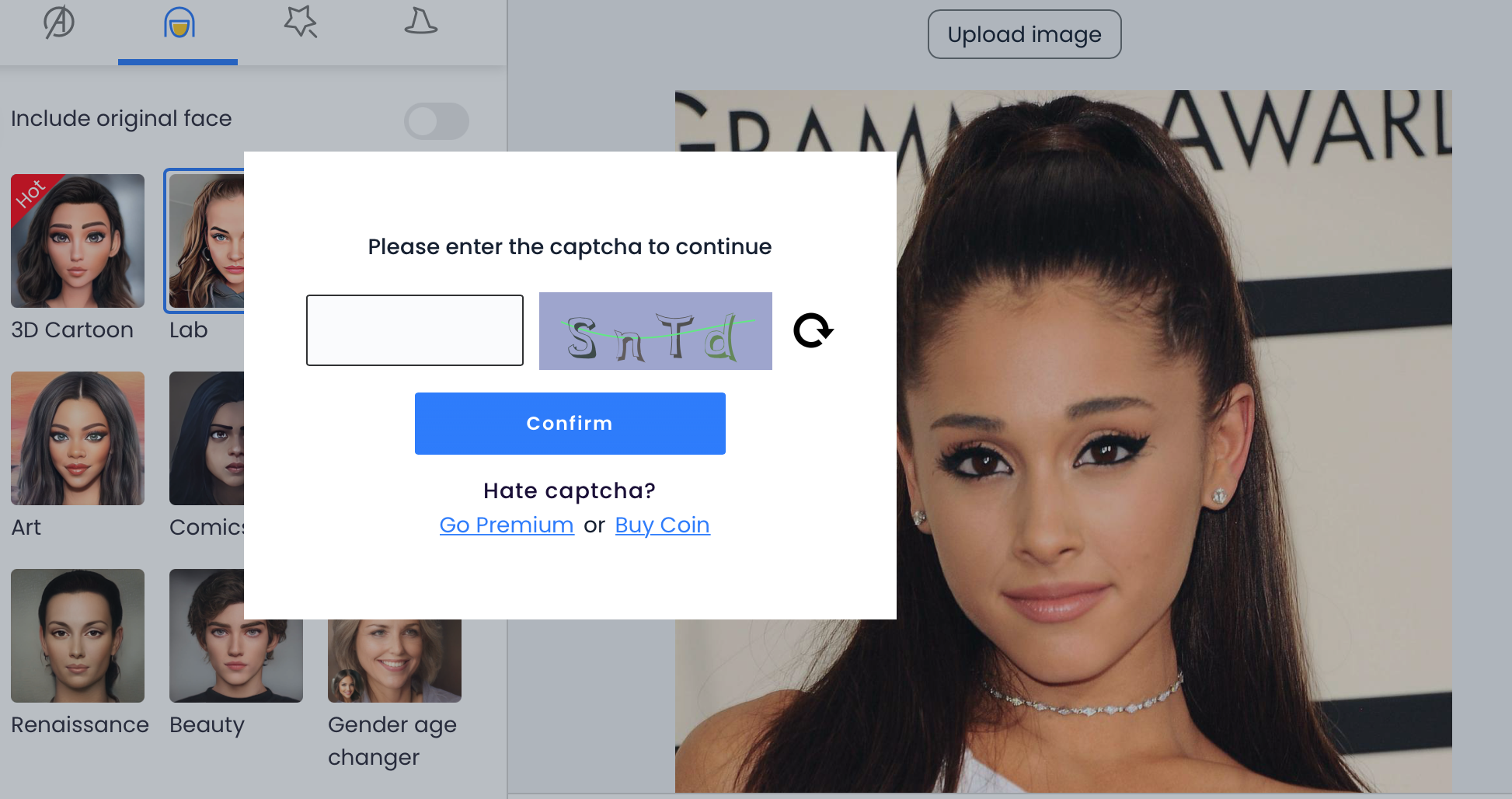 Step # 6: Download the Image
Lastly, all there is left to do is to simply download the image. It will hardly take a few seconds for the cartoonized image to appear. Below the image, you will see the option of 'Free Download'. Click on it and your image will be downloaded without any cost!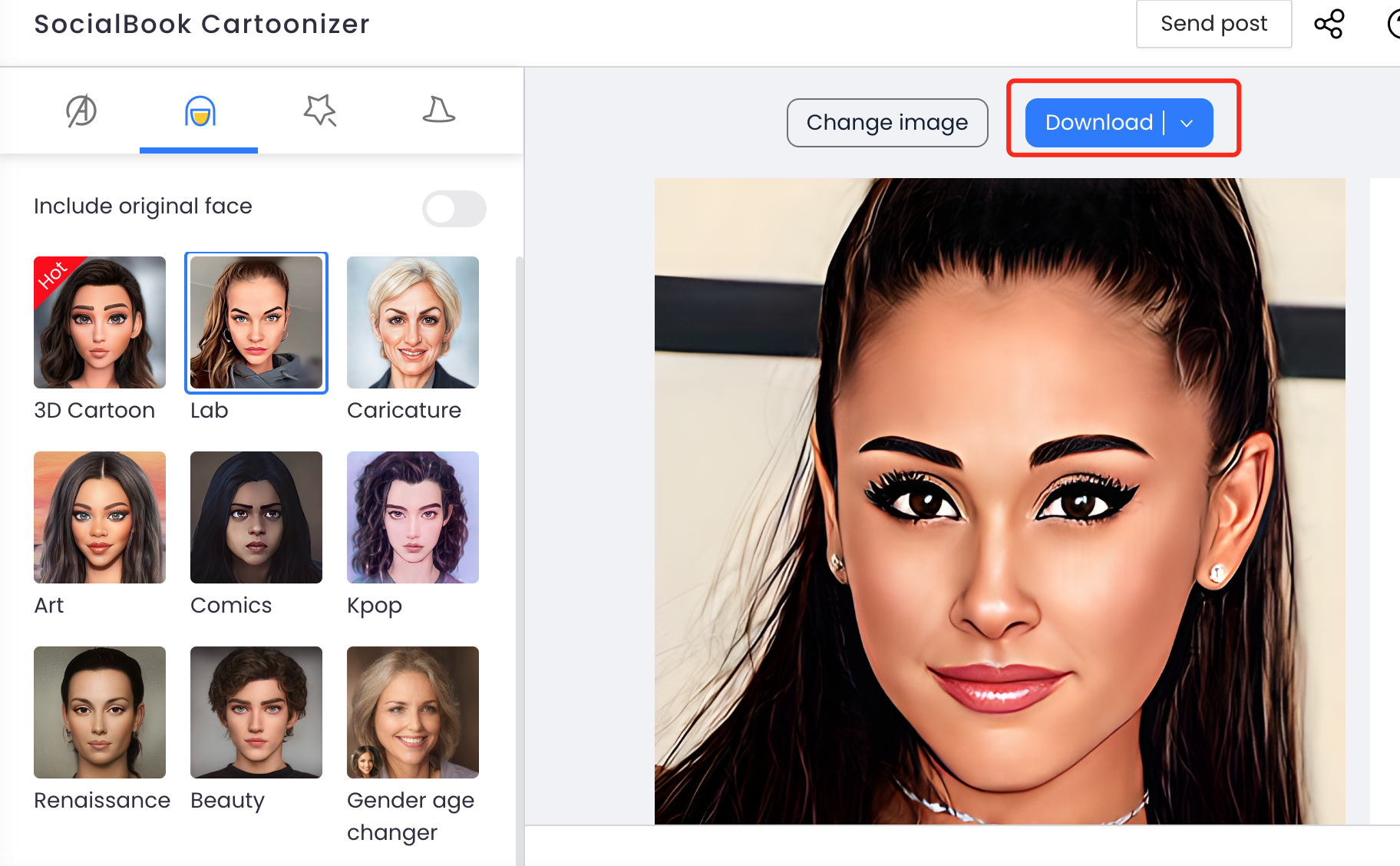 And that's it! This is how the SocialBook Photo Cartoonizer works. And the results are remarkable.

Let's compare the SocialBook tool with another cartooning app to compare the results.
SocialBook Vs. Viola ai Artist:
SocialBook is not the only cartooning tool available out there. Since cartooning images is the new trend these days so multiple apps are also launched recently which perform the same purpose. One of these apps is the Viola ai Artist app. You can download this app on your mobile and cartoonize your images on your phone. Just like SocialBook, multiple styling options are also available in this app as well from which you can choose.

The drawback of this cartooning app is that it does not allow you to cartoonize a full body image, unlike SocialBook. You can only cartoonize face front images on this app. Another factor which this app lacks is that you can not edit your cartoonized image. This feature however is available on SocialBook. SocialBook Photo Cartoonizer allows you to edit your photo as well, all free of cost.

So that was all about the SocialBook Photo Cartoonizer. We hope you found this article helpful. Have fun cartooning your images!
For a breakdown in video form, check out this Cartoonizer tutorial from one of our top influencers Wes

---
---