Influencer marketing is undeniably one of the predominant aspects of social media marketing. It simply can't pass unnoticed considering that 93% of marketers are exploiting the benefits of influencer marketing. The influencer craze has quickly resulted in business ventures, and now this type of promotion is what most of the brands opt for.
Brands and influencers have proved that a simple post by a beloved influencer can make a bigger outreach than any commercial. No promotional effort can measure up to the power of an idolized and relatable influencer.
What any marketer needs to be aware of is the ever-changing nature of social media. If you want to drive some notable results from influencer marketing, you need to follow the updates. For that purpose, check out the following influencer marketing trends that are predicted to stand out in 2020.
1. Brands are Searching for the Perfect Match
With so many influencers to choose from, brands don't have to rush to the first influencer they come across. The variety gives them an opportunity to pick their influencer intelligently.
The choice will fall on an influencer who is the best match for the brand's image. That means that the brands will be more dedicated to doing thorough research on the type of influencer that will work best for their brand.
Doing market research and conducting case studies will become a priority. Instead of choosing the influencer based on preference, brands will rely on credible results.
Identifying the influencers who are the best fit for their niche and their target audience is crucial for relevant collaborations.
Additionally, brands will invest more time in measuring ROI and optimizing the campaigns. The outcomes will determine their future path.
Considering that the influencers' payments are getting higher, it comes as no surprise that brands will carefully research who is the best match for influencer marketing.
2. Genuine Collaborations With Brands
Brands won't be the only ones who will be in the search for a good match. Influencers are also predicted to step up their game and work with brands they truly love.
Users have gotten used to influencer-brand connections. However, the number of ads on social media and promoted products can be overwhelming.
If influencers truly wish to keep their followers' interest and trust, they'll need to promote brands they really support and appreciate.
Being constantly exposed to influencers, followers are getting better at recognizing irrelevant collaborations. Influencers who are just trying to score some extra money by working with any brand will have to change their approach if they wish to keep their followers.
Besides looking for a brand that they respect, influencers also want the respect to be reciprocated.
According to Influencer Marketing Hub, 54% of influencers claim they will work with companies that show them the same respect as they would to any other publisher.
3. Micro-Influencers Will Take the Lead
Large brands are usually leaning towards macro-influencers (500 thousand to 1 million followers) or mega-influencers (over 1 million followers).
However, due to the decreasing engagement rate of those influencers and increased costs, the big corporations are turning to micro-influencers.
Micro-influencers (10 thousand to 50 thousand followers) are expected to become the leading force. Unlike macro-influencers, they actually interact with their followers. In that way, they are building a stronger relationship with their audience.
While micro-influencers have an average engagement rate of 6.1%, larger influencers' engagement rate has dropped to 2.4%.
Since brands are looking for brand ambassadors who can connect with their followers and really get through them, micro-influencers are a better fit for that role.
Not to mention that micro-influencers are more relatable to an average millennial. Therefore, they have a better chance to convince the audience to buy the sponsored product.
As the brands realize that it is better to cooperate with multiple micro-influencers who will communicate with their followers and make a real impact on them, the collaborations with macro-influencers are decreasing.
4. CGI Influencers Are Growing
One of the most notable innovations in the influencer community is CGI (computer-generated imagery) influencers.
Would you ever guess that the new wave of influencers won't even be human?
With progress in technology, came an interesting idea — creating computer-generated influencers. Their profiles feature the type of images you would find on any other influencer's profile.
The most fascinating part is that CGI influencers have a massive base of followers and have closed deals with impressive brands.
Lil Miquela is one example. She is a CGI influencer with a unique look and style who currently has 1.9 million. Prada, UGG, Diesel, and Samsung are some of the brands that she has already worked with. That is more than some influencers have achieved.
How far this trend will go is yet to be seen. In any case, CGI influencers have taken influencer marketing to a whole new level.
5. Brand Storytelling by More Influencers
The role of the storyteller will be transferred from brands to influencers.
Storytelling has become an effective marketing technique. Its power to hook the users and build a strong bond has been cleverly put to use by marketers.
What makes storytelling impactful is that it drives emotional engagement. Now, instead of brands telling their own stories, it will be up to influencers to spread the message.
Hearing stories from influencers and not directly from the brand seems more genuine. If influencer supports the brand's purpose, goals, and beliefs, the effect will be even stronger.
The influencers can use the storytelling method to introduce the brand to their followers and humanize the company. People are more likely to identify with the story when it's told from the viewpoint of influencers.
Influencers can simply share their personal stories about how the brand's product helped them out, or talk about how their beliefs match with the brand's beliefs.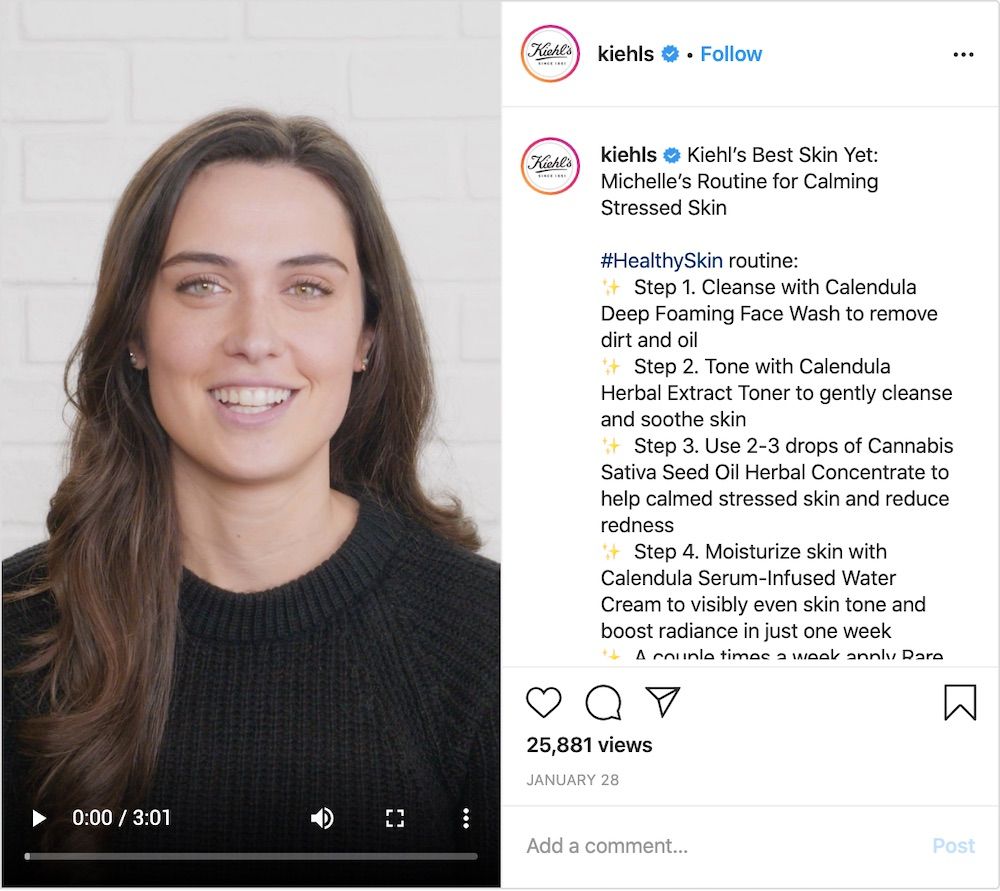 It is crucial that influencers also preserve their usual way of communicating with the followers. They have to tell the stories in the same language and style as they usually use.
"When working with influencers, brands have to let go and allow influencers control of the narrative to preserve the authenticity of what is being communicated," explained Priyanka Dayal, the content marketing manager at Centaur Media PLC.
6. Product Collaborations
The days when brands would only collaborate with actors, musicians, and other popular artists are gone. Influencers have become just as relevant as any other celebrity.
Because of influencers' army of followers and already established style, product collaborations with influencers are getting more frequent.
Take as an example Claudia Sulewski, a popular influencer with 1.5 million followers on Instagram and over 2 million followers on YouTube. Claudia partnered up with Nordstrom for a new clothing collection that incorporates Claudia's style. The clothing line has been very successful and Nordstrom's investment certainly paid off.
It is common that people follow influencers because of their style and outfit posts. Brands are taking advantage of the influencer's reputation as a style icon. They are relying on the fact that followers will rush to buy clothing that their favorite influencer wears.
The psychology behind this influencer-centric strategy is easily explicable and it works wonders. Consequently, the mutually-beneficial collaborations are yet to take a toll.
7. Events Dedicated to Influencers
What is better for creating enormous buzz around the brand than influencer-oriented events?
If one influencer can affect thousands of followers, imagine the exposure coming from a bunch of influencers talking about the same brand at once.
Companies organize extravagant trips to exotic locations for their influencers. All expenses are paid, and the influencer's only job is to enjoy and promote the brand along the way.
A brand that has been applying this methodology for some time is Revolve. Their efforts reached a whole new level when they started hosting their own festival-like event within Coachella.
Revolve Festival is now a famous event among influencers, and its exclusivity is supported by invite-only attendance. Since all the guests are wearing their clothing, the event brings huge attention to their brand and their products.
Hosted events dedicated to influencers can seem attention-grabbing to some, but followers are loving the idea of seeing all their favorite influencers in one place.
The only downside is that the financial aspect of this method makes it most accessible for larger brands with big budgets.
However, smaller brands shouldn't be disregarded just yet. With consistent innovations and original ideas, they can also find a way to organize less costly events that will be packed with influencers.
8. Alternation Between Platforms
Instagram may be the most popular channel for influencer marketing, but the attention is about to be spread across other channels as well.
To take some of the pressure off the popular Instagram, brands are taking over other platforms.
Platforms that brands use are:
Twitter
Facebook
YouTube
Twitch
Blogs
Pinterest has seen growth in use, with the number of monthly active users reaching over 335 million. The platform is based on beautiful imagery just like Instagram, and it is fitting for ecommerce businesses.
The platform that is currently rapidly growing is TikTok. Videos are a highly popular content form and this platform is all about that. TikTok is perfect for brands that want to target Gen Z and younger target audiences.
The bite-size content is entertaining and easily shareable. Even the number of followers on this platform is skyrocketing. Some influencers have reached millions of loyal followers.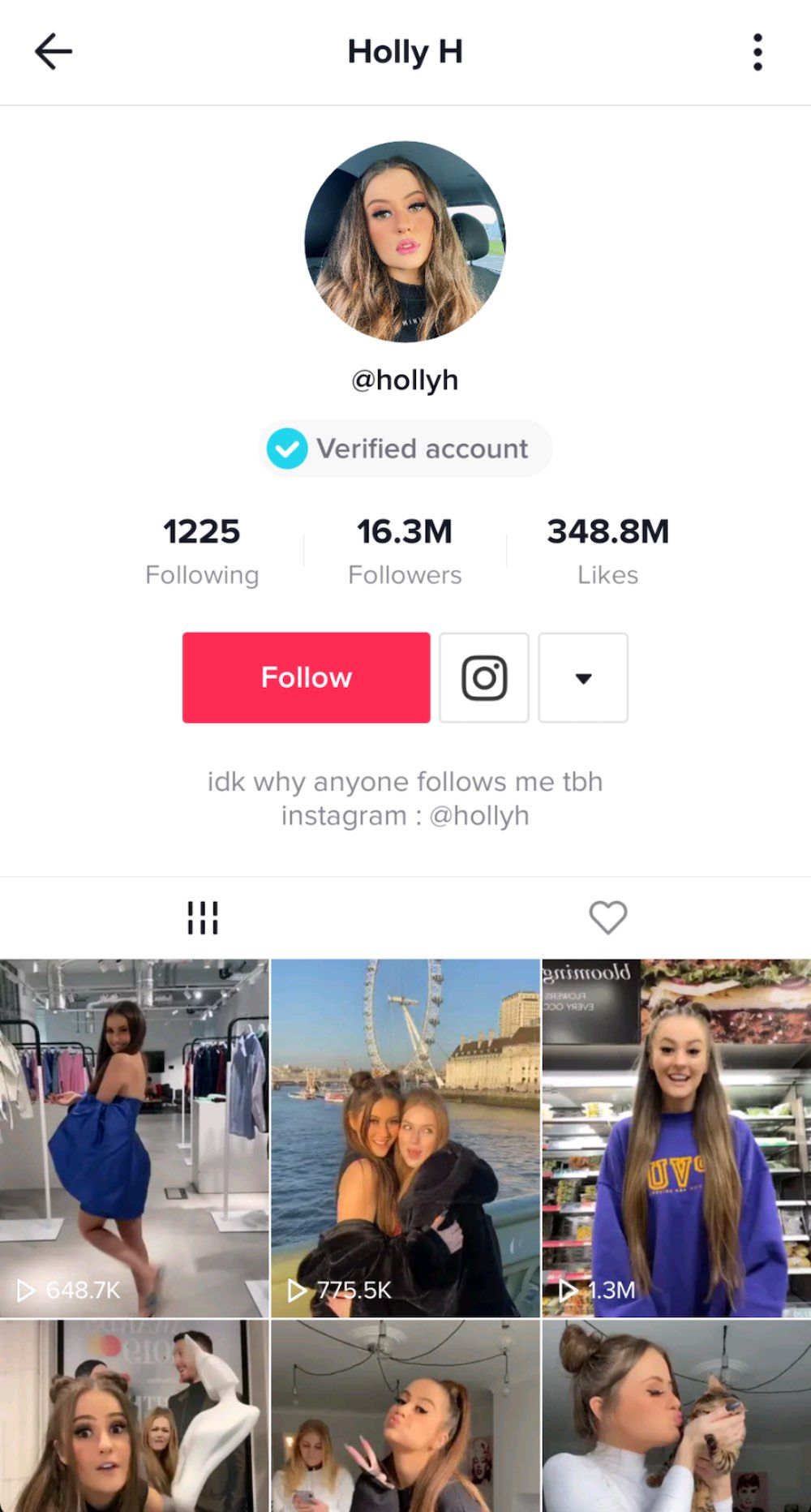 9. Long-Term Partnerships Are Preferable
A single-post approach is being overshadowed by long-term partnerships. Brands are seeking influencers who are ready to commit to their brand.
The loyalty that influencer shows towards the brand is the bridge that connects brands and customers.
There are several reasons why long-term partnerships are beneficial for brands.
For starters, brands can express their expectations and requirements before they hand the power over to influencers. They can analyze the type of posts that resonate best with the influencer's audience and determine the form of posts that influencer has to create.
Additionally, with long-term partnerships, influencers can prove their honesty and true respect for the brand. This is achieved by showing the followers that they have been using that product for a longer period of time.
The natural loyalty that an influencer expresses towards the brand will be easily transferred to their followers. Maybe the followers won't purchase the product after one post. But after the second or the third one, they'll start to believe that the product is worthy of their attention.
Long-term cooperation can also be motivational for the influencer. When they know that the brand trusts them and respects them enough to enter in a long-term partnership, they will invest more effort into product promotion.
10. Gaming Influencers' Popularity Keeps Growing
Not noticing gamers' following base is becoming impossible to do. YouTube and Facebook are the platforms that are generating gamers' popularity.
The expectations are that the global gaming market will exceed $180 billion in revenue by 2021. If this is realized, that will present a 30.6% increase compared to $137.9 billion in 2018.
To showcase the influence of gamers, here are the most popular gaming influencers currently:
The numbers are speaking for the gaming community. Their influence is rapidly growing, which means that they are evoking interest in brands.
With such an evolving number of followers, gamers' influence has moved passed just video games. Brands are turning to Twitch gaming influencers for product promotions.
The new wave of gaming influencers is adding some variety. Brands whose target audience is compatible with gamers' target audience will see this as a solution for their influencer marketing efforts.
Some Final Thoughts
Brands are consistently working on new ways to improve influencer marketing. Their efforts to exploit this type of marketing to the fullest results in new trends each year. This year, we can expect anything from entertaining influencer-oriented events to new CGI influencers.
However, the most valuable aspect of influencer marketing remains the same. Brand's personality has to align with the influencer's personality if they want to achieve satisfying results. If you plan to take a leap into influencer marketing and adopt some of the newest trends, remember to stay true to your brand's beliefs and goals.
---
Want help finding the perfect influencers for your social marketing campaign? Head on over to sociabook.io for a free demo and find out how.
---
---