The short answer is, Yes.
In fact, in the world of influencers, the hierarchy exists. There are bloggers in specific niche segment, as well as the most popular public stars that influence many in a snap.
When choosing influencers, mature brands will not blindly pick from the top influencers and get whoever has the most followers. For instance, L'Oreal Paris partnered with 5 UK beauty bloggers in September 2016. These 5 beauty bloggers do not have million of fans like PONY Syndrome, but they have a combined reach of more than 5 million viewers.
From the cooperation between the brand and influencers in the last two years, we can see that the brand tends to establish long-term relationships rather than "disposable" short-term contracts. In addition, during the influencer selection, some influencers that were not seriously valued before start to get attentions.
Why do brands switch to smaller influencers?
1. Micro influencers are closer to their fans
More and more experienced brands are no longer choose to use celebrities and public stars that is located at the top of the influencer pyramid. Rather, they start to dig the value from "Micro Influencer" that only have tens, even a few, thousands of followers. Although the micro influencers has a small number of fans, due to their focus on a specific niche segment, they are closer to the followers, and better at interacting with followers.
According to the research conducted by SocialBook for all the micro influencers in the database, the average engagement rate of micro influencers is around 6.1% for the year 2019. Higher than the average of the platform.
Samantha Helt only has 10.4k followers, but the engagement rate of her Instagram is around 5.5%.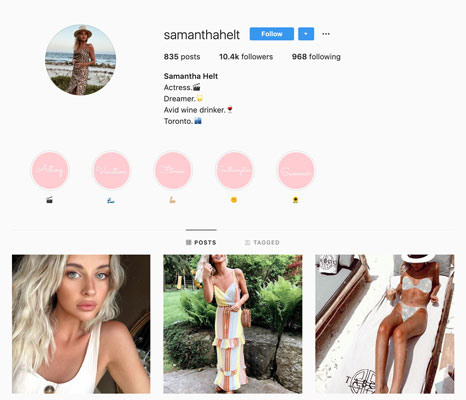 Based on this theory, many brands began to give up cooperating with the first-class influencers. Instead, they are switching to micro influencer, who are in the lower middle of the pyramid.
In 2016, a UK food brand called Iceland Foods changed its long-held strategy of cooperating with TV stars, and chose to work with a group of mommy bloggers for a series of TV commercials. These TV commercials showcase the surprise brought by the products of Iceland Foods from the perspective of ordinary people. This is not just a temporary initiative of Iceland Foods, but a long-term strategy. Behind this strategy is an internal survey by Iceland Foods that shows that 63% of mothers are more susceptible to influence from other moms around them.
The micro influencers are especially suitable for some location-based marketing campaigns. Usually, the brand's target is a specific group of people, such as young mothers, pediatricians, and so on. There have been many cases that prove that the participation rate of micro influencer is much higher than that of big influencers.
2. Do not ignore the power of "Dark Social"
Some brands start to turn their attention to another area – the dark social influencer.
An example of this is the wine brand called Diageo, which finds influencers in these "dark social" areas, the DJs, the artists, the spoken-word poets, the up-and-coming fashion directors.
"The way people are [having conversations] is through dark social – WhatsApp, Facebook Messenger, Snapchat, Instagram stories," said Fataar. "People don't want that permanency, they don't want everything to be seen and they want to avoid social media as it becomes more and more like an advertising platform.
They use these opinion leaders in the dark social domain to influence potential consumers. Diageo's first – and now former  – head of culture and entertainment for Europe, Leila Fataar suggests that the reputation among consumers is a really strong influence. Diageo hopes to exert the influence of dark social influencer by using the authenticity of the communication between people in the dark social field.
Adidas also have a network of micro influencers to promote on dark social platforms in 2015. The episodes they boosted have racked up 41 million views across YouTube, Instagram and other major social media platforms, and 100 million minutes video views.
If you would like to start collaborating with micro influencers, check out SocialBook.io.
---
---