When you think about planning your next influencer campaign, streaming platform Twitch may not be the first to come to mind.
You may have a murky awareness of Twitch as a somewhat alternative platform inhabited mostly by gamers. To you, the word streamer — the name for Twitch influencers — usually means paper party decorations.
Or maybe you're in-the-know and have been following streamers since Twitch first appeared on the scene in 2011.
Whichever camp you fall into, you may not fully appreciate this emerging platform as the advantageous space it is for influencer campaigns. If this describes your point-of-view, let us enlighten you.
Major Brands Are Already Advertising on Twitch
Companies like Proctor & Gamble, ExxonMobil, and Yum! Brands are already promoting their products on Twitch. How can you decide if your brand should follow suit? Here are our top seven reasons why this platform is a stellar choice for your next influencer campaign.
Reason #1: Twitch fans are seriously devoted compared to users of other social media.
On average Twitch users spend 95 minutes daily watching their favorite streamers. That's almost an hour longer than the 41 minutes the average daily user spends on Facebook, and over 90 minutes longer than users spend on Twitter.
Reason #2: Twitch isn't just for gaming anymore.
Although the platform used to be exclusively for gaming since its 2014 acquisition by Amazon it's been opened up to influencers who stream a variety of content. The creative section of Twitch is home to creatives of all kinds — artists, programmers, animators, designers, cosplayers and more.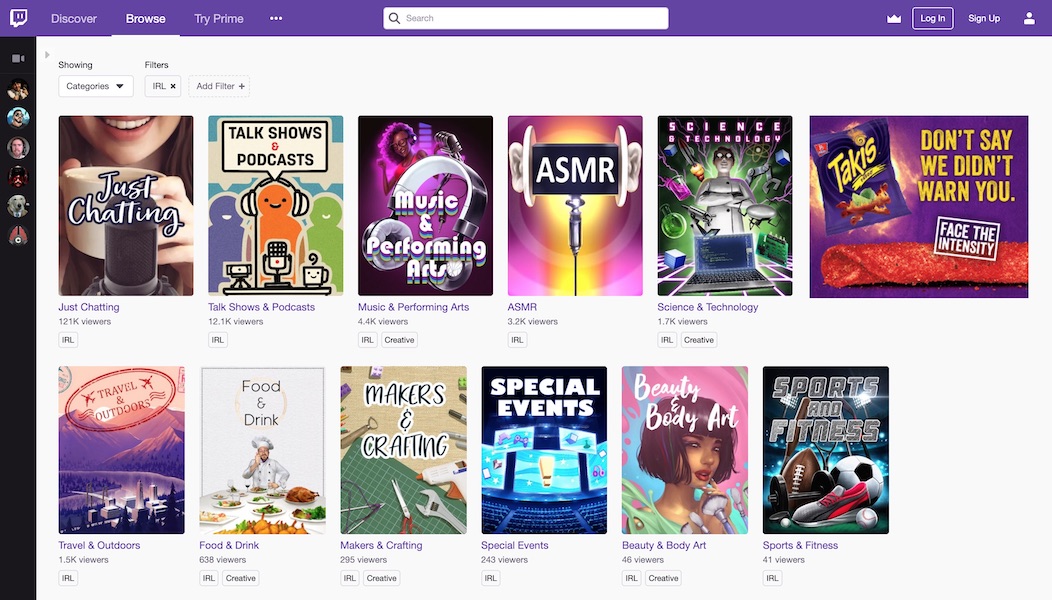 Reason #3: Twitch is a great way to market to people who hate marketing.
Streamers tend to have unusually loyal fans that react negatively to advertising on more popular platforms, so marketing on Twitch is a smart way to reach these resistant audiences.
Reason #4: Many streamers are also popular on YouTube.
Influencer marketing on Twitch is new and untested compared to marketing on other social media, but this doesn't have to be a problem.
Many popular streamers like CinnamonToastKen, AliA, and JackSepticEye also have YouTube channels with large audiences. This means advertisers can look at that streamer's influencer marketing history on YouTube to see how they've performed working with brands in the past.
SocialBook's influencer platform is an easy way to find YouTube influencers that have worked with similar brands and have audiences within demographic groups your brand is targeting.
Information about previous brand partnerships is invaluable. This is especially true when you're working on a newer space like Twitch where streamers don't have as many past partnerships for marketers to review when choosing influencers.
Reason #5: Live interactive promotions are effective.
On Twitch, interaction is key. Live-streams provide an immersive experience for both streamers and their fans. Fans are watching your marketing promotion as it's happening and can ask questions about your product via live chat.
Not only are these live interactions completely centered around your brand, but live streaming creates a feeling of real connection between streamers and their followers that is often missing on other influencer platforms.
As we already know, genuine connections increase trust, which makes consumers much more likely to take purchasing advice from influencers. Since increasing sales is the ultimate marketing goal, enough said.
Reason #6: Twitch's reach is truly impressive.
Launching campaigns on Twitch is a great strategy if your goal is to increase exposure for your brand. Especially if your target demographic aligns with Twitch's demographic.
Twitch users tend to be male (82%) and between the ages of 18 and 34 (55%). If your brand appeals to this group, it presents an amazing opportunity to reach more of your audience.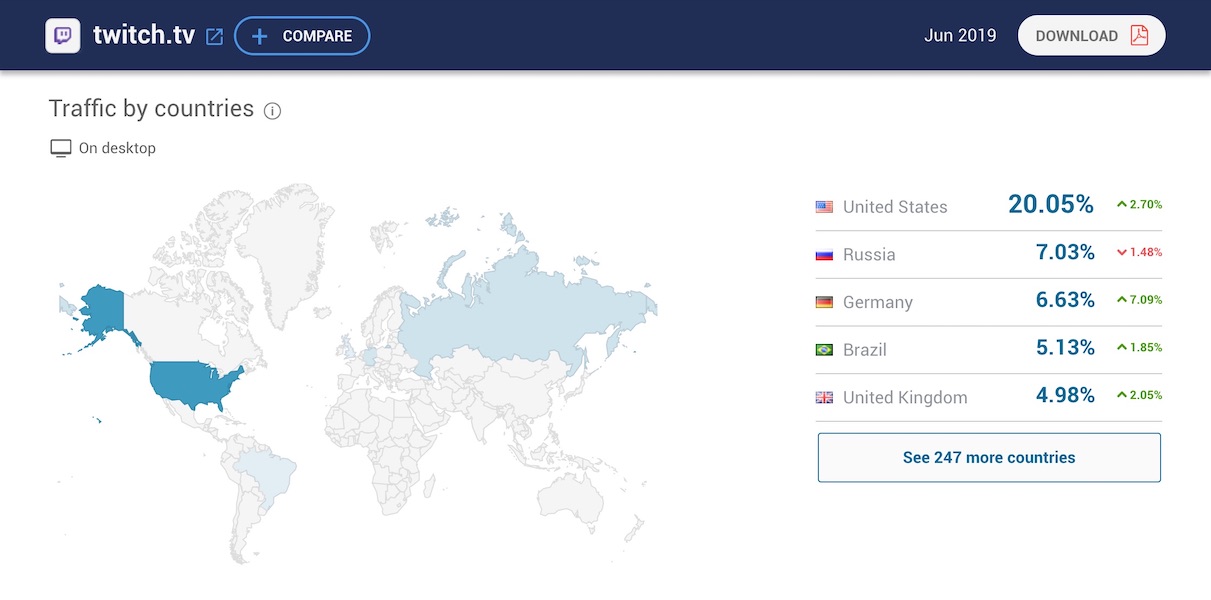 According to Gartner L2's Digital IQ Index: Consumer Electronics, from Q2 2017 through Q1 2018 Twitch drove desktop site traffic for an impressive 25% of brands analyzed.
If yours is a tech or gaming product, the advantage of advertising on Twitch is clear, if it's a makeup brand, not so much. But stay tuned, because this will change as this space opens up to other users and different kinds of streams become more popular.
Reason #7: It's tough to fake influence on Twitch.
On many platforms, fake "influence" is a serious issue but on Twitch, not so much. Fans on Twitch spend hours watching live-streams. Watching and interacting with streamers in real-time requires a devotion that cannot be faked. On other platforms, followers can be easily bought, and an emoji from a bot can look like engagement.
Twitch is one platform where followers are so engaged that when your product appears in a live stream, it automatically becomes a topic of conversation — with family, friends and other fans who missed the stream.
When influencers have an audience that is made up of actual humans, your brand will receive greater exposure. Meanwhile, bots are as unlikely to tell their friends how much they love your product as they are to purchase it.
Twitch's Audience is On-Track for Growth
Twitch is a relatively new kid on the influencer marketing block. Its newness presents a real opportunity for marketers to develop relationships with popular influencers on the platform now, before this space becomes overcrowded.
At the rate that Twitch is growing this won't take long. It has more than doubled its number of users since 2016 and today has over 1.2K daily concurrent users. And the number of new users on the platform promises to continue growing exponentially as Twitch expands more into streaming new types of content.
With 4.1 million monthly broadcasters and 359 billion minutes watched so far this year, Twitch can be a unique opportunity for brands looking to boost their visibility and expand their reach.
SocialBook just released the data for brands to find the RIGHT Twitch streamers. Visit socialbook.io for a free demo to find out how!
---
---