Welcome back to the LinkOne series! As promised earlier, your journey with LinkOne is going to get more exciting with every blog! In our previous blogs, we have discussed the setup of LinkOne. We talked about preparing its interface, giving a little intro of yourself, and we also covered styling your LinkOne website with different themes and images that are available. Moreover, we also covered connecting the LinkOne profile with all your social media accounts so everything gets super organized for you. Now let's talk about the featured post.
Influencers today are on the lookout for hosting platforms that can help them set up their website and have all their data organized and collected in one single forum. This collection of links, images, and other necessary information not only makes things easier for the influencers, but also for the brands. It gives a professional outlook and gives the impression that you know your stakes, which is highly appreciated in a competitive market. The world of the internet is limitless and hence contains thousands of hosting platforms. With so many options available out there, it gets quite tricky to choose the right one, the perfect one that contains all the features and attributes, which is why we recommend LinkOne.
One of the features which distinguish LinkOne from other hosting platforms is the Featured Post feature. The Featured Post feature allows you to take up any post from your Instagram and feature it on your LinkOne page. This is specifically helpful when you want to give the brands a glimpse of your Instagram so they can get a better idea of your services as an influencer. You can choose any image from your Instagram account and hook it up with LinkOne. You can also choose the image from your popular post as that will reflect your reach and traffic, the stats which every brand needs. Not only will the image from your popular post help you shine in the brands' eyes, but it would also garner you more traffic and ultimately more followers!
So without further ado, let's dive right into the step-by-step procedure that will enable you to use this featured post feature. Let's get started!

You can find LinkOne HERE and try it yourself!
Step # 1: Open SocialBook.io
The first step is always the same; you need to log into SocialBook. For that purpose, simply head onto your web browser and type in SocialBook.io and click on the first link that appears. This will take you to a window that will ask you about your log in credentials. Enter in your credentials and you are good to go! If you do not already have an account on SocialBook, then click on Sign Up and get your account set up in a matter of minutes!
Step # 2: Open LinkOne
Once you have logged into SocialBook, the next thing you need to do is to open up LinkOne. For this purpose, click on the menu that appears on the left of the screen. This menu contains multiple options such as Growth Tools, Resources, Analytics, etc. Amongst these options, navigate for the options of LinkOne and click on it and shown below:
Step # 3: Select Featured Post
The moment you click on the LinkOne option, a window opens up that contains all the options and features that are present in LinkOne. We have already covered a few of these options on which you can get information in our previous blogs. Simply navigate through these and click on the Featured Post option as shown below:
Step # 4: Add Featured Post
Once you click on the Featured Post option, you will see a display of the interface of your LinkOne on the right side and the + Feature Post option at the top of the screen, enclosed in a blue button. Click on this button. This will allow you to add any image from your Instagram. But before doing so, make sure your official Instagram account has been linked with SocialBook. If your account is not linked, then head over to the 'My Account' option in the main menu and link your official Instagram. Click on the + Feature Post to add any image from your Instagram that you want to feature on LinkOne. You can upgrade your SocialBook plan to accommodate as many featured posts on your LinkOne as possible.
Step # 5: Save Featured Post
Once you have selected the Featured Post and have added it, click on Save. This will add your featured post to your LinkOne page. You can edit this photo any time and you can also remove it by making use of the edit and delete options present below the image you selected. Once again, you can add as many featured posts as much as your plan on SocialBook allows. At the same time, a preview of the interface along with your featured post will be displayed on the mobile layout shown at the right of the screen. If you do not want to delete your featured post, but want it removed for some time, then you can simply click on the green tab to activate or deactivate it.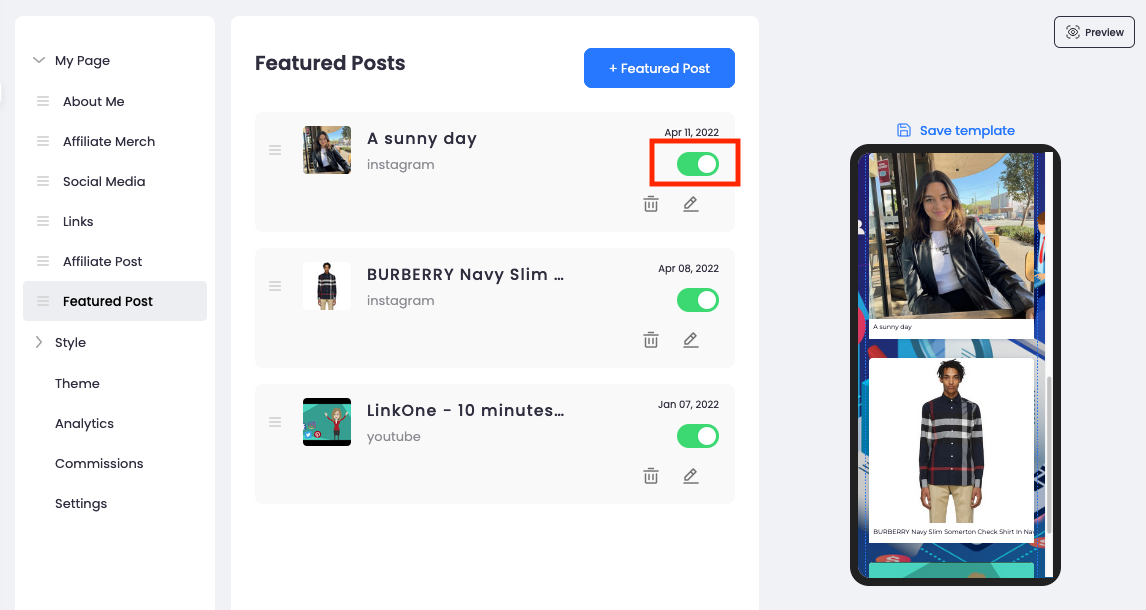 And that's all folks! We hope you enjoyed this blog! Stay tuned for more because very soon we will be offering featured posts from YouTube, TikTok, Pinterest, and many more!
---
We proudly created more FREE tools for you:
---
---