Luxurious apartments, expensive clothes, exotic travels, and gifts from world-famous brands – this is what characterizes the lifestyle of YouTubers. That got us thinking: how much do they earn and is that well-deserved money? Most people would have to work intensively to get at least some part of that extravaganza, but there we have YouTubers whose video content has gained them the status and the earnings of a star.
What makes the question of YouTube income so indefinite is its variability. Different factors influence the influencer's earnings. The lack of information and certainty makes many people skeptical about earning money from YouTube. To clarify the mystery of YouTubers' entrepreneurship, we have surfaced the answers to some burning questions. Let's find out how YouTubers manage to make a career out of YouTube and how does it all works in this unique community.
Top 6 Ways YouTubers Can Make Money
As mentioned, YouTubers' income can come from different sources. With 2 billion active monthly users, YouTubers don't have to worry about the lack of audience. However, their six-figure bank accounts didn't become that solely because of views.
When it comes to the path to success, here are the steps that can take YouTubers to it:
1. Patreon
This platform recently had seen a notable growth in use when more and more influencers turned to it for extra income. Patreon serves somewhat as a tip jar or monetary support group for YouTubers. Viewers who are satisfied with the content that a YouTubers produce and wish to encourage them to keep up the good work can donate money. Those donations go through Patreon.
To explain better what Patreon is all about, we can take the example of Comedy Button. Their YouTube channel currently has 23.1K subscribers, and they have 2,203 patrons (donators). The beauty of the Patreon is that you don't have to have a widely popular channel to earn money.
On the Comedy Button's Patreon account, you can see that there are three membership levels to choose from: for $1 per month, $5 per month, and $100 per month. Users can choose the membership option and pay that amount of money monthly to their favorite YouTuber. Each membership program comes with some benefits for users, but overall what being a Patreon unlocks for users is exclusive content, contacting the YouTuber via private message, and consistent availability to all that content.
While the Patreon platform is good for getting a little push to create regular and engaging content and interact with the audience, it will hardly provide YouTubers with millions.
2. Affiliate Programs
Affiliate marketing is another popular method of earnings for YouTubers. It combines promoting products that they love and use with making a few bucks. Nothing wrong about that. The way it works is that YouTubers talk about a product in their video and encourage users to click on the link in the description box if they wish to buy it. Brands pay YouTubers for each customer; they bring them through that link
There isn't much risk for brands or YouTubers with affiliate marketing, which is why it is profitable. YouTuber only has to add a link to the product, and they would do that anyway, so why not make some money along the way.
Amazon is the leader in the affiliate marketing, and they created the Amazon Influencer Program after seeing the success of their affiliate program and influencer marketing. All Amazon influencers will get their own storefront on Amazon and highly customized products.
3. YouTube Ad Revenue
To earn money directly from YouTube is possible with ad revenue. What YouTubers first have to do to get this running is to enable AdSense for their account by accepting YouTube's advertising guidelines and connecting to an AdSense account for the payment. With this move, they give YouTube the green light for their collaboration and enable ads on their account.
This partnership is profitable for both YouTube and YouTuber. The generated revenue is split between two parties in 45/55 ration. That is, YouTube takes 45% of profits while YouTuber leaves with 55% of earnings as their commission.
YouTube ad revenue depends on the number of subscribers, views, and engagement. That's why there is no specific amount of money that YouTubers can count on.
4. Sponsored Posts
The moment when companies have realized the power of YouTubers, a new form of marketing has emerged – influencer marketing. One of how brands attract attention to their product is through sponsored posts. These collaborations can bring YouTubers a good amount of rightly. Of course, the pay rate depends on the brand and what type of arrangement they make.
In sponsored posts, YouTubers have to incorporate the brand that's sponsoring them in the video. The tricky part is not to seem too sales-like as that can be a huge turn off for viewers. What eliminates the risk of this happening is collaborating with brands that YouTubers usually support and whose products they often use.
The downside of this monetization is that brands aim for YouTubers with high viewership. Since they'll be paying someone to promote their product, they want to reach a broad audience. To qualify for sponsorships, YouTubers should have at least 10,000 user engagements.
5. Brand Collaborations: Online and Offline Events
YouTubers' cooperation with brands can go beyond sponsored ads and can transfer to online and offline events. Again, this type of partnership is mostly reserved for YouTubers with a good amount of subscribers. Considering that income from brands can be the highest form of payment for YouTuber, online, and offline events by brands is what most YouTubers will happily accept.
Brands and creatives can exploit their partnership in different ways. For example, brands can create videos for their own YouTube channel that feature YouTubers. YouTubers then mention that video on their social media profile or in some of their future videos and therefore lead their viewers to the brand's content. For example, Tess Christine, a beauty and fashion YouTuber with 2.39 million subscribers, has a years-long partnership with Revlon. Consequently, she regularly takes part in their online content.
Offline events are a more exclusive choice that not every brand can afford. However, those that can are a dream of any YouTuber. What makes these offline events, so tempting is that YouTubers get paid to simply enjoy hanging out with other YouTubers and post about having fun at brands' activities.
One of the most popular offline events is Revolve Festival. Revolve has created a festival within a festival. When Coachella comes around the corner, and all YouTubers rush to this trending event, Revolve sets up a smaller festival within Coachella and invites famous influencers to have fun and promote their clothes along the way. It is unknown how much YouTubers earn from going to these types of events, but one is certain – they surely get to enjoy themselves for free.
6. Influencers' Own Brands
Some influencers manage to turn their name into a brand. Now, this is the top level in the YouTube community. Instead of being codependent with brands and counting on YouTube AdSense or Patreon platform for income, YouTubers create their merchandise to sell.
Having their brand is what leads YouTubers to become millionaires. Let's take a look at the top 10 highest-paid YouTubers in 2019:
Ryan Kaji (Ryan's World): $26 million
Dude Perfect: $20 million
Anastasia Radzinskaya (Like Nastya):$18 million
Rhett and Link: $17.5 million
Preston: $14 million
DanTDM (Daniel Middleton): $12 million
VanossGaming (Evan Fong): $11.5 million  
What all of them have in common is that they have their personal brands. Jeffree Star, one of the internet's most controversial figures, has undoubtedly managed to turn his YouTube career into something more. Back in 2014, Jeffree launched his makeup range Jeffree Star Cosmetics.
Jeffree's relationship with makeup is seemingly ever-lasting since he had shown interest in it when he was only 13. He worked as a makeup artist for celebrities, music videos, and fashion editorials (to name a few). While he could have stopped at that or focused his efforts on YouTube, Star took it one step further and established a beauty brand that carries his name. According to the beauty guru, this independent cosmetics line is earning him around $150 million a year—way more than he could get from Patreon or affiliate links.
How Much do YouTubers Make?
Since we have already started talking about numbers, we don't want to stray from that path. The millions that are often mentioned alongside the names of world-famous YouTubers can seem like a made-up story. However, it is as true as your salary.
The misconception that often comes hand in hand when talking about YouTube income is that YouTube pays that money to YouTubers. As it was already established, that is not the case. YouTubers have to work for that money and develop their business through different collaborations and earning methods.
How to Calculate YouTuber's Income
To find out how much you can make out of YouTube, you have to take all the possibilities into account. For starters, to be able to earn money from videos, YouTubers must have 1,000 subscribers, and their content must have been viewed for 4,000 hours to be eligible over the previous year.
YouTubers can earn as little as $0.35 per 1,000 views or as much as $5. According to research, creators who break into the top 3% of YouTube's most popular videos (meaning that they attract about 1 million to 2 million views a month) will typically earn only $16,800 a year from ad revenue.
How Much Should a Brand Pay YouTuber for a Sponsored Video?
A recent survey got YouTubers to open up about how many brands pay them for sponsored content. The numbers ranged from $100 to almost $4,000 per video.
What should be accounted for when arranging sponsored video are the following aspects:
The brand's niche
The median views that YouTuber's new videos are receiving
An average click-through-rate (usually 4% to 7% for sponsored videos)
Past experiences of the brand with affiliates (YouTubers can do a search on an affiliate network like CJ Affiliates for that information)
YouTuber's engagement on videos
The type of video that will be created (a full video about the brand's products or only a mention)
These factors can give both brands and YouTubers an idea of how much they can offer or ask for.
To know how much a YouTube can get from a brand sponsored video, go ahead to SocialBook influencer profile to get an estimated price calculated based on his or her performance metrics, audience demographics, and content quality.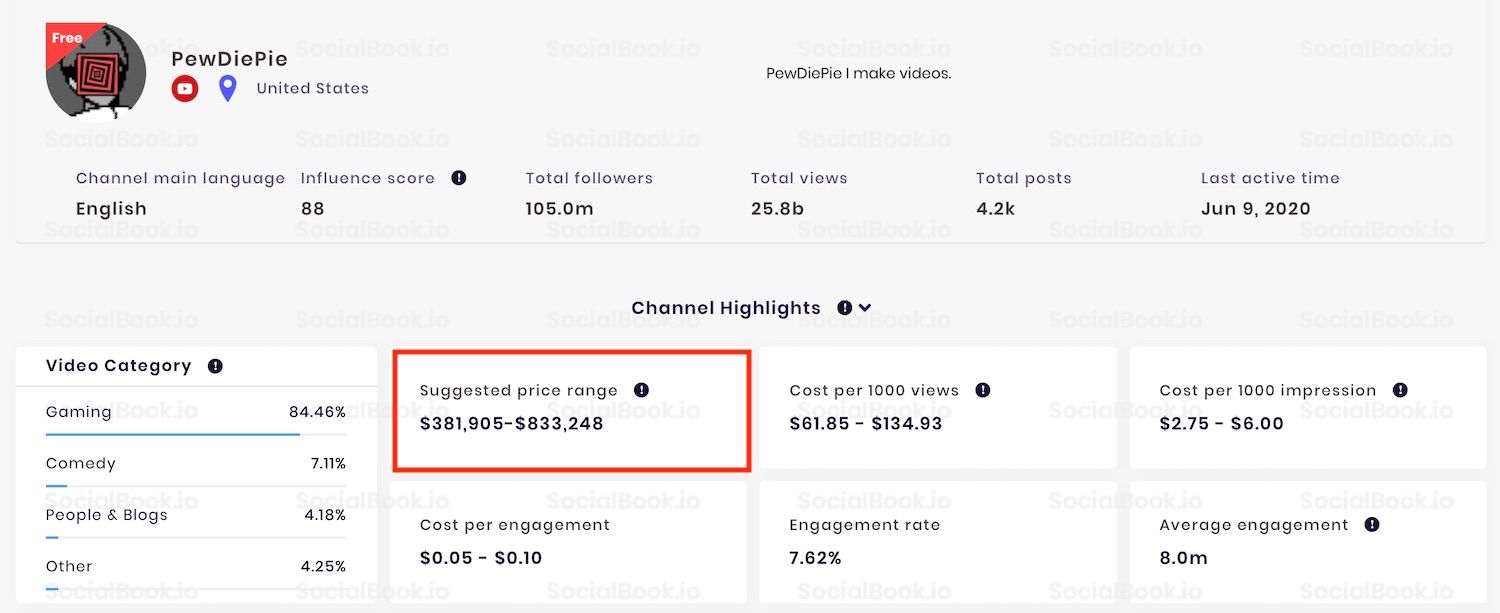 Overprice Problems
The numbers that surface in the YouTube industry are often almost too high to be believable. Who would have guessed that a YouTuber could get $4,000 for a single video about a brand?
The growing popularity of influencers has reached the point when overprice problems occurred. A few years back, a social media executive anonymously spoke about issues in the industry. "We threw too much money at them and did it too quickly. So in 2014, they were making $500 to show up and take some photos. Then it became $1,500. Now it's hundreds of thousands of dollars. They no longer value their art," is what the executive said in an interview for DigiDay.
Another issue is the cost of agencies. Some agencies take too much from influencers, but influencers stay in the mix because they are speared from the process of finding sponsors. However, an agency that is willing to take more than it deserves from the person who earns them that money is also most likely to overprice the brands as well.
The main problem with the YouTube business is that it is not a regulated industry. The speed with which it appeared as a paying industry didn't leave much time for figuring out the regulations and stating them.
What proves that YouTube is still figuring out its business aspect is the closing of Famebit self-service.
On June 1st, 2020 they shared an announcement:
You will no longer be able to submit new proposals on the FameBit.com website, and the FameBit mobile app will be disabled.
That was followed with a second announcement on July 31st, 2020:
All campaigns will be closed, and any unfinished campaigns will be refunded.
While creators with millions of subscribers won't be affected, small, micro, and nano creators who have previously been able to get deals starting at $50 or more will no longer have that opportunity.
Some brands will also suffer the consequences. Campaigns that have budgets of a few hundred to a few thousand dollars will be cut out of the Famebit full-service program.
Famebit is a real example of how unreliable YouTube industry is.
Final Thoughts
The complex question of YouTubers' income can't be solved with a simple answer. The factors that affect it are just as indefinite as the income alone. From ad revenue to brand collaborations, YouTubers collect drops of money until they get a full glass.
Anyone interested in the business that is making YouTube videos should be prepared for the uncertainty of the industry. Only after you get into 1,000,000+ subscribers club can you be somewhat at ease. Until then, you have to work hard and entertain hard to progress towards the status of a YouTuber with a steady income.
---
---