Who is PewDiePie?
PewDiePie is a world-famous YouTuber, whose real name is Felix Arvid Ulf Kjellberg. On October 24, 1989, PewDiePie was born in Gothenburg, Sweden. Felix celebrated his 30th birthday in 2019. In the same year, Felix and his wife Marzia hosted their wedding ceremony at the Kew Gardens in New York.
PewDiePie's YouTube channel was the most-subscribed channel from 2013 for five years and bypassed by T-Series in 2019. PewDiePie has 103 million followers on YouTube as of March 2020.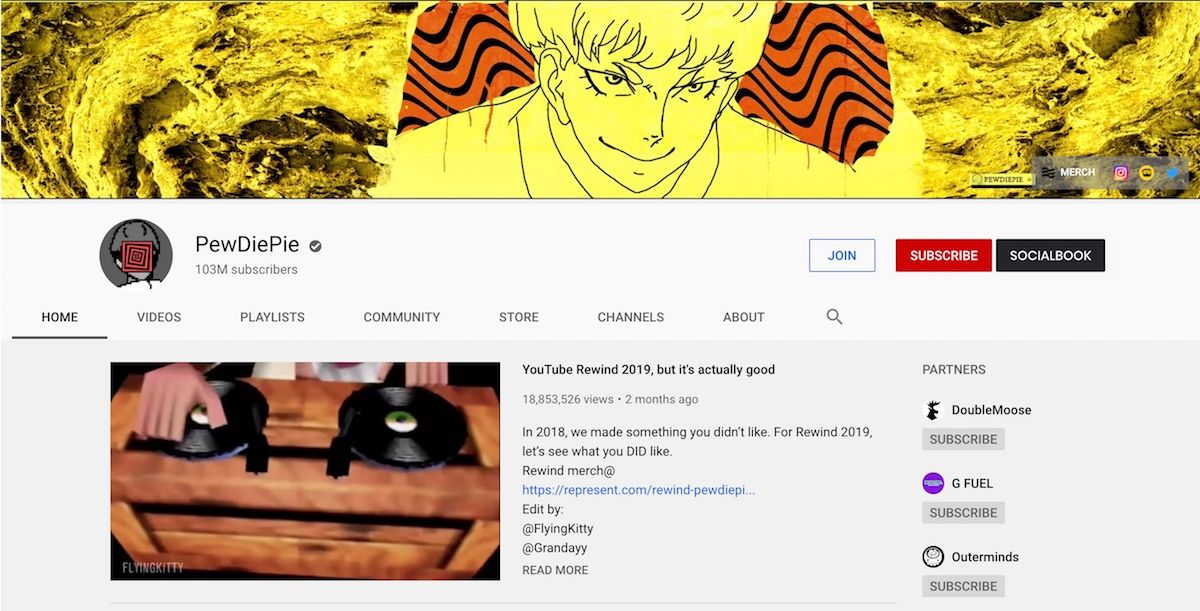 PewDiePie created his YouTube channel in 2010 and started to gain popularity for his Let's Play and walkthrough game videos. One of his most-viewed series is the Minecraft Series. He began with Minecraft zombie playthrough and still creates Minecraft Let's Play videos till 2020 now. Most of PewDiePie's game-related videos are horror-themed ones. He plays various scale of games, indie games, flash games, and console games like Call of Duty. He uses the webcam to record his reactions and voice while playing the games. Some of the games he played include GTA 5, Call of Duty, Amnesia, Don't Starve, Roblox, Just Dance, Outlast, Silent Hill, Slender, Super Smash Bros, and The Sims. He also made a lot Let's Play VR game videos with HTC Vive and Oculus devices.
Besides Let's Play and Walkthrough game videos, PewDiePie has been creating vlog videos consistently, reacting to things he found one Internet. His Reddit review videos, LWIAY (Last Week I Asked You), Meme Review, YLYL (You Laugh You Lose) videos all fall in this category.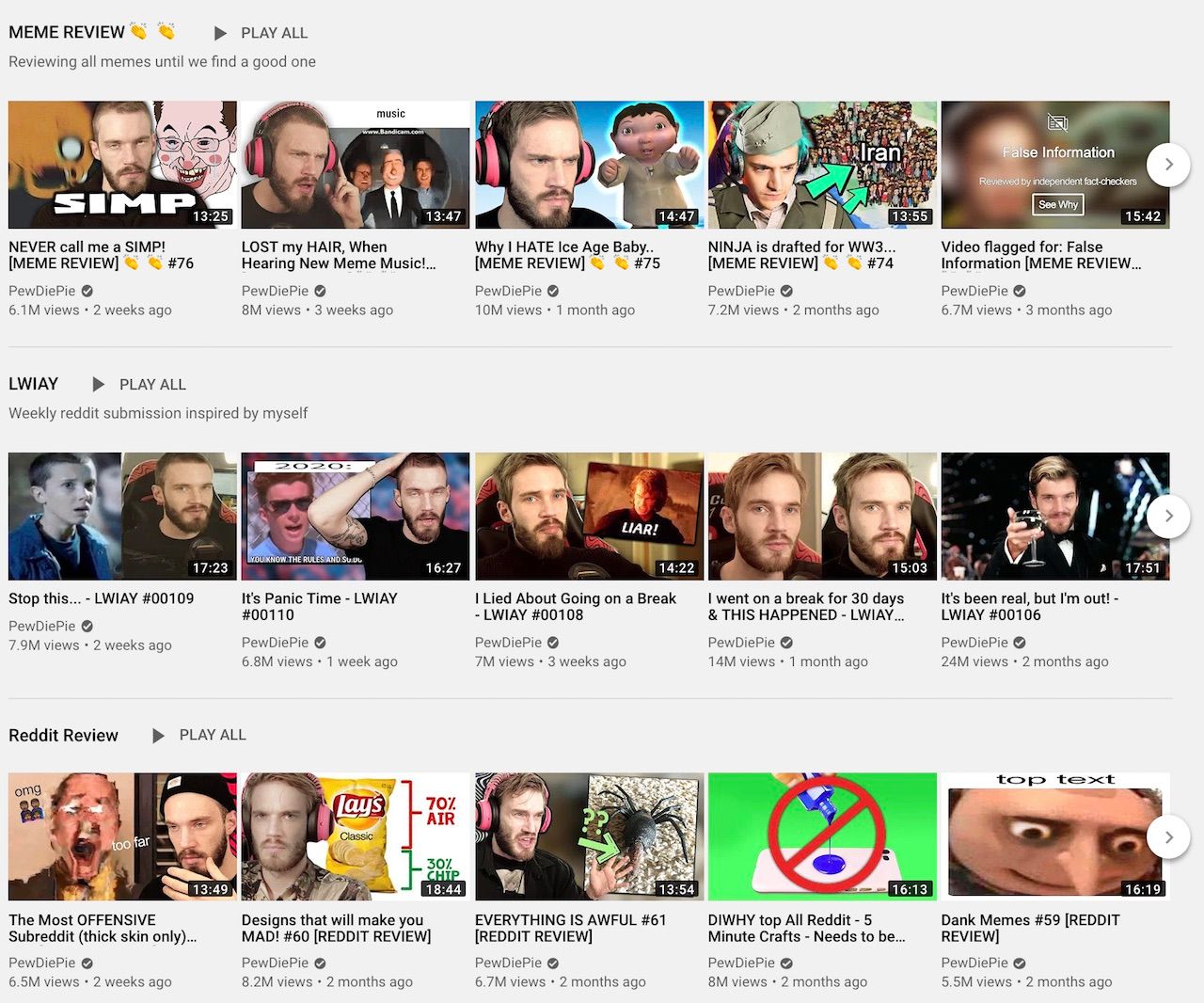 Besides YouTube, PewDiePie also has large follower bases on other social media platforms:
PewDiePie's Twitter: 139.1k followers
Although PewDiePie is not using his Twitter account, here registered @pewdiepie to prevent fake accounts of him. He used to manage a Twitter account but quit it.
PewDiePie's Instagram: 21 million followers
Felix is active on Instagram and has shared more than 700 posts since 2011. Most of the photos he posted are his selfies, pictures with his wife Marzia, and his pets.

The most liked Instagram photo of PewDiePie is the one he shared a happy moment of his wedding ceremony. The post has 10.7 million likes and 382 thousand comments. His wedding pictures all have more likes than average of his Instagram channel, which is 1.7 million likes.
According to the SocialBook channel analytics of PewDiePie's Instagram channel, the engagement rate of his channel is 8.35%, much higher than the average Instagram engagement rate (3%). And 98% of his followers are real accounts, which means the bot rate of PewDiePie's Instagram is 2%.

PewDiePie's Facebook: 7.3 million followers and 7.3 million likes
PewDiePie joined Facebook in 2011 but has not shared new posts since 2017.
PewDiePie's Twitch: 1 million followers
Although Felix has over 1 million fans on this largest Livestream platform, he has stopped live streaming there. PewDiePie announced he's moving to DLive at the end of March 2019.
PewDiePie's DLive channel: 794k followers
In 2019 April, PewDiePie switched from Twitch to DLive, a blockchain livestream platform. Many news press were released to cover this, but PewDiePie hasn't been lives-streaming on DLive for months. His DLive channel keeps looping previous recording videos.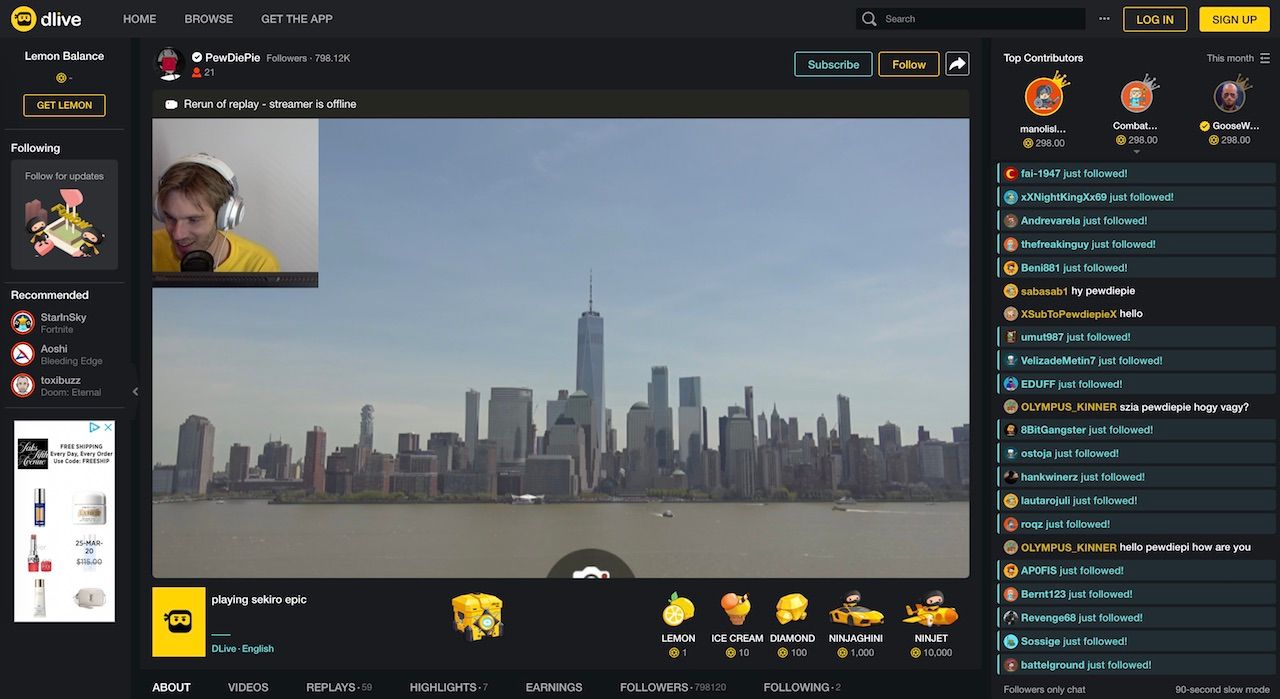 Unofficial PewDiePie SubReddit: 287k followers
PewDiePie is one of the most popular online celebrities on Reddit.
PewDiePie YouTube Channel Subscriber Count and Analytics
From 2013 to 2019, PewDiePie was the most-subscribed YouTuber around the world. Currently, PewDiePie's YouTube channel has 103 million subscribers.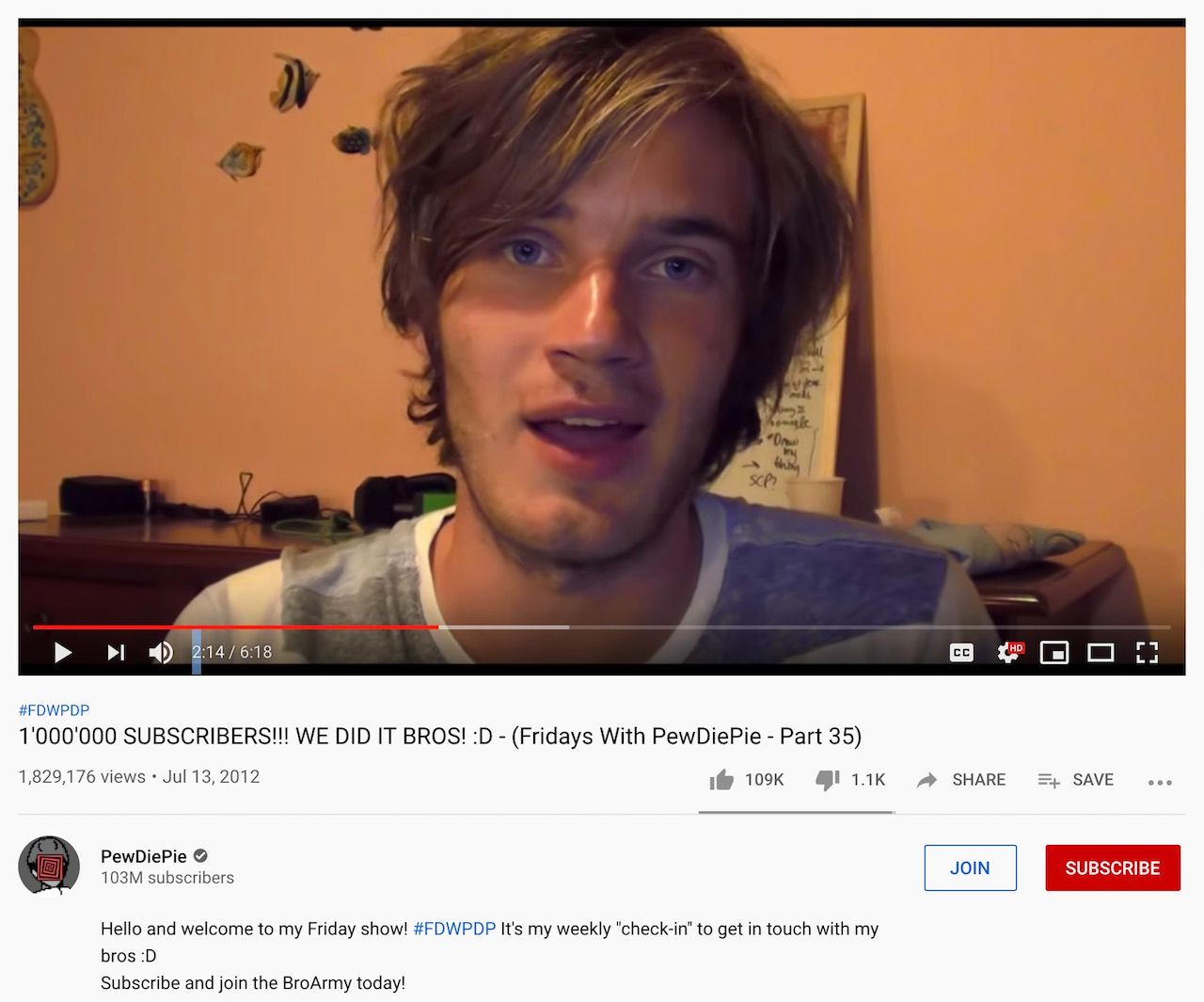 In July 2012, PewDiePie reached his first 1-million-subscriber milestone, and he made this video "1'000'000 SUBSCRIBERS!!! WE DID IT BROS! :D - (Fridays With PewDiePie - Part 35)". 2012 was the year the Canadian singer Carly Rae Jepsen released THE "Call Me Maybe" song, and the most trending YouTube was Korean singer PSY's GANDNAM STYLE music video.
PewDiePie's follower base dramatically grew in the next year. In less than a year, he reached his 8-million-subscriber milestone. Later in 2013, he became the most-followed YouTube star. He showed his Guinness World Records certificate to his fans in the video "A WORLD RECORD!."
YouTube rewarded PewDiePie the 50 million subscriber ruby play button in 2016 and 100 million Subscriber Award in 2019. Felix created unboxing videos for both of them.

The most viewed video of PewDiePie is the song "Bitch Lasagna" he collaborated with Dutch music producer Party In Backyard. The song was originally named "T-Series Diss Track" and self-released as the response to the statements that the Indian music label T-Series would beat PewDiePie and become the most-subscribed YouTube channel. The video of "Bitch Lasagna" was published on Oct 5, 2018, and has been watched over 243 million times.

The engagement rate of PewDiePie's YouTube channel is 7.84%, 96% higher than the platform average. The average view count of PewDiePie's videos is 8.7 million.

More than half of PewDiePie's followers are from these five countries: the United States, the United Kingdom, Canada, Sweden, and Germany. Nearly 70% of his audience is male. And almost three-quarters of PewDiePie's followers are from 18 to 34 years old.
SocialBook provides a full YouTube channel analytics of PewDiePie, and it's FREE! Check it now to get more inspiring insights.
How much does PewDiePie make?
As the most-subscriber YouTuber for five years, PewDiePie has collaborated with many brands and created merchants of his IP.
During the battle between PewDiePie and T-Series, Jimmy "MrBeast" Donaldson, a YouTuber creator with 32.9 million subscribers, showed his support to PewDiePie at the Super Bowl live. MrBeast wears the T-shirts "Subscribe to PewDiePie" with his friends. There is no real PewDiePie Super Bowl Ad, but an "ad" promotion created by MrBeast.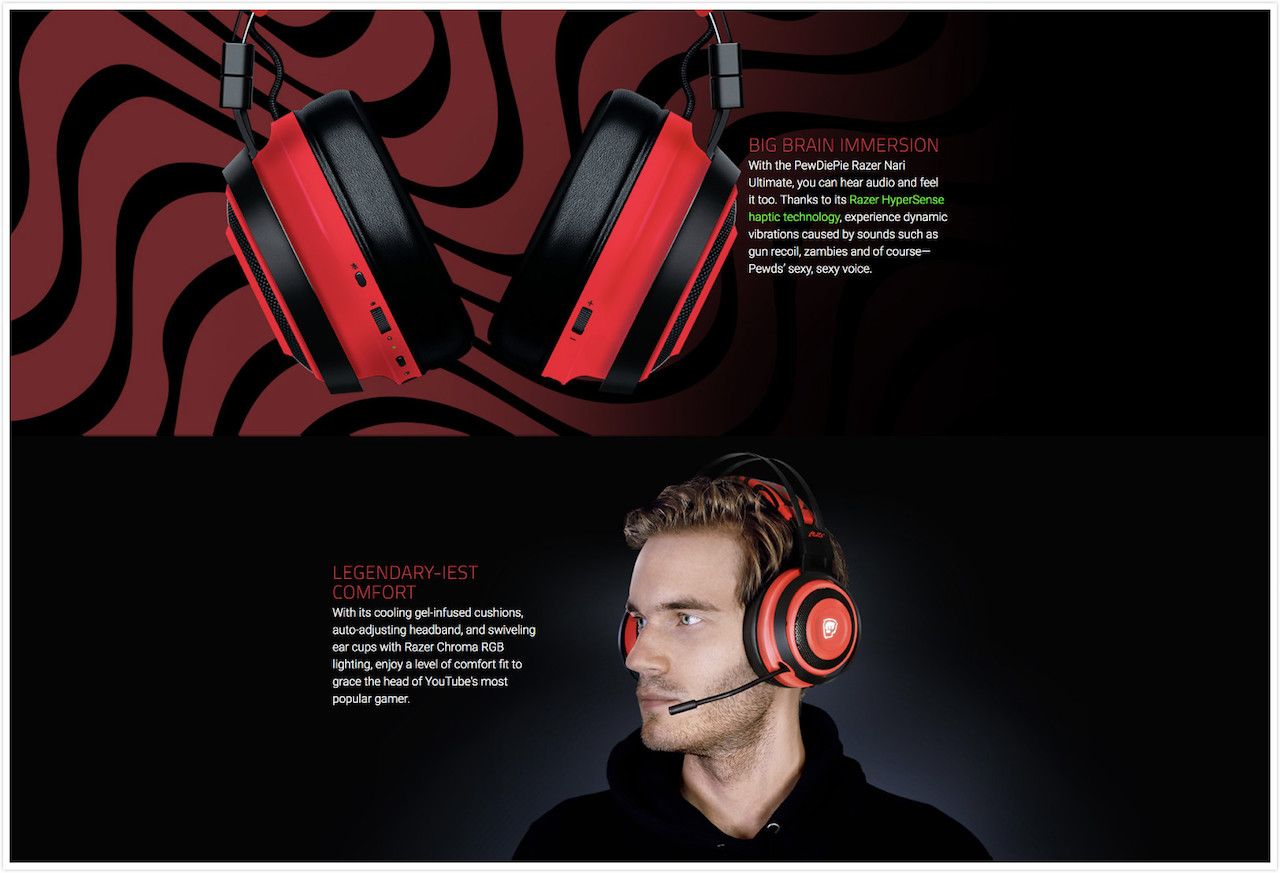 If you are a fan of PewDiePie, you can buy various merchants from his store. In 2018, PewDiePie collaborated with Razer and released the PewDiePie Razer Nari Ultimate gaming headset. The original price of this headset is $199.99 US Dollars. This headset is a fully customized version of the existing Razer Kraken Pro V2 headset.
As a world-famous gaming influencer, PewDiePie collaborated with Clutch Chairz and released a 'PewDiePie Edition' Throttle Series chair. The chair was designed by PewDiePie himself and shown in most of his videos.
Unofficial collaborations include many PewDiePie Minecraft texture packages created by fans.
The net worth of PewDiePie as of 2020 is around $30 million dollars. And he is YouTube's highest earner at $8 million dollars a month according to a study by PR Week. And more than $6.8 million of them are from selling merchandise. According to The New York Times, PewDiePie earned $15.5 million in 2018.
The Biggest YouTube Competition: PewDiePie vs. T-Series
The online competition between PewDiePie and T-Series is one of the biggest competitions in YouTube history. T-Series is a YouTube channel managed by an Indian music record company. Before this competition, PewDiePie has held the title of the most-subscribed YouTube channel for five years.
The live subscriber count competition between PewDiePie and T-Series starts in 2018. Many YouTube influencers were involved and showed their support to PewDiePie, including top YouTubers like MrBeast, Markiplier, and Logan Paul.
In August 2018, PewDiePie published a "this channel will overtake PewDiePie" video in his channel, mentioning the KSI vs. Logan Paul YouTube match. In October, PewDiePie released a diss track named initially "T-Series Diss Track" against T-Series. PewDiePie changed the video title to "Bitch Lasagna" later.
Although PewDiePie stated he doesn't "really care about T-Series," but he hosted several live streams on YouTube trying to stop T-Series surpassing him. He live-streamed his Fortnite and Roblox gameplay.
T-Series surpassed PewDiePie and become the most-subscribed YouTube channel on March 27, 2019. PewDiePie self-released a second diss track "Congratulations" collaboration with YouTubers Roomie and MrBeast. This song gained about half a million new subscribers to PewDiePie's channel in the first 2 days of publishing. It helped PewDiePie temporarily surpass T-Series but got surpassed again in April. "Congratulations" got the No.1 peak position at Billboard US Comedy Digital Track Sales chart.
Controversy of PewDiePie
In 2017, PewDiePie was in the center of a series of controversies, he used "Fiverr" to pay two men to hold up a sign "Deaths to All Jews." PewDiePie apologized for this, claiming his intention is not to hurt the Jewish community and be racist.
After this Nazi scandal, PewDiePie became the target of massive backlashes again that he used the n-word in his live stream.
PewDiePie Memes
One of the broadest spread memes of PewDiePie is the "subscribe to PewDiePie" meme, which he called to be over after his subscriber count has reached over 95 million.
---
Interested in channel analytics of other top YouTubers, online personalities and celebrities? Free channel analytics data is available in SocialBook's top 100 YouTube and Instagram chart.
---
---