Social media influencer marketing has become one of the favorite options among marketers. It has grown from being a $1.7 billion industry in 2016 to an $8 billion industry in 2019. By 2022, it is expected that it reaches the amount of $15 billion.
According to research, 65% of influencer marketing budgets will increase in 2020. As more businesses decide to try out this popular marketing approach, one question keeps coming up – how much does it cost?
At first, you may think that influencers like to keep that information behind a veil of secrecy, but that is not the case. The fact is that there is no definite answer. There is no magic formula that will instantly give you the right answer.
Expressing an interest in the cost of such an endeavor is completely reasonable. You want to know whether your budget allows you to work with an influencer or not. The costs will also guide you towards the influencer you can afford.
Even though there isn't one specific answer about the cost of sponsored ads, there is a method that can help you out. Several crucial factors influence cost. Based on them you figure out an average cost for what you are aiming for.
7 Factors that Impact the Cost of Influencers
Influencers don't publicly share their fees, but approximate costs have become generally known. However, you still have to combine influencing factors that affect the price. This is what the cost depends on:
1. Social Media Platform
It all starts with deciding on which social media platform you want to use. Every platform demands a different kind of content and has a different approach to marketing.
Most marketers opt for Instagram since it is the most popular platform for influencer marketing. According to BigCommerce, this is how platforms are rated based on their popularity:
Instagram
YouTube
Facebook
As expected, Instagram is in the first place. It is followed by YouTube and Facebook. Even though Facebook isn't the most common option for influencer marketing, it is a popular place for sponsored ads that include influencers.
Of course, the price for an Instagram post and a YouTube video can't be the same. Not to mention the difference in price range if you want to combine multiple platforms.
You can agree with the influencer to promote your product across different platforms. While this guarantees more attention, it is expectedly followed by higher expenses.
Up and coming platforms such as TikTok can be a good choice for those who want to reach the younger audience. The price for Instagram, an established platform in the influencer world and TikTok, a platform that is yet to be fully explored won't be the same.
2. Number of followers
The next thing you should focus on is the followers. It comes as no surprise that influencers with more followers charge more for the collaboration. With a larger followers base comes greater attention.
According to the number of followers, influencers are segmented in the following categories:
mega-influencers – 1+ million followers
macro-influencers – 500,000 - 1 million followers
mid-tier influencers – 50,000 - 500,000 followers
micro-influencers – 10,000 - 50,000 followers
nano-influencers – 1,000 - 10,000 followers
You can just imagine the cost for a sponsored ad by Selena Gomez who has 179 million people paying attention to her every Instagram post.

While celebrity influencers such as Selena Gomez or Kendall Jenner are completely out of reach for small businesses, they are also not always the best choice.
Followers respond better to ads that aren't obviously sponsored. Additionally, it is harder for the audience to relate to celebrities. That is why nano and micro-influencers grow in popularity among brands.
What you should be careful about are fake followers. It is well known that some influencers buy followers. Those followers aren't interested in that influencer and their posts won't affect them.
SocialBook provides data for brands to inspect fake followers on Instagram. You can tell the ratio of real followers of any Instagram influencers with SocialBook. Check this sample of Kim Kardashian Instagram.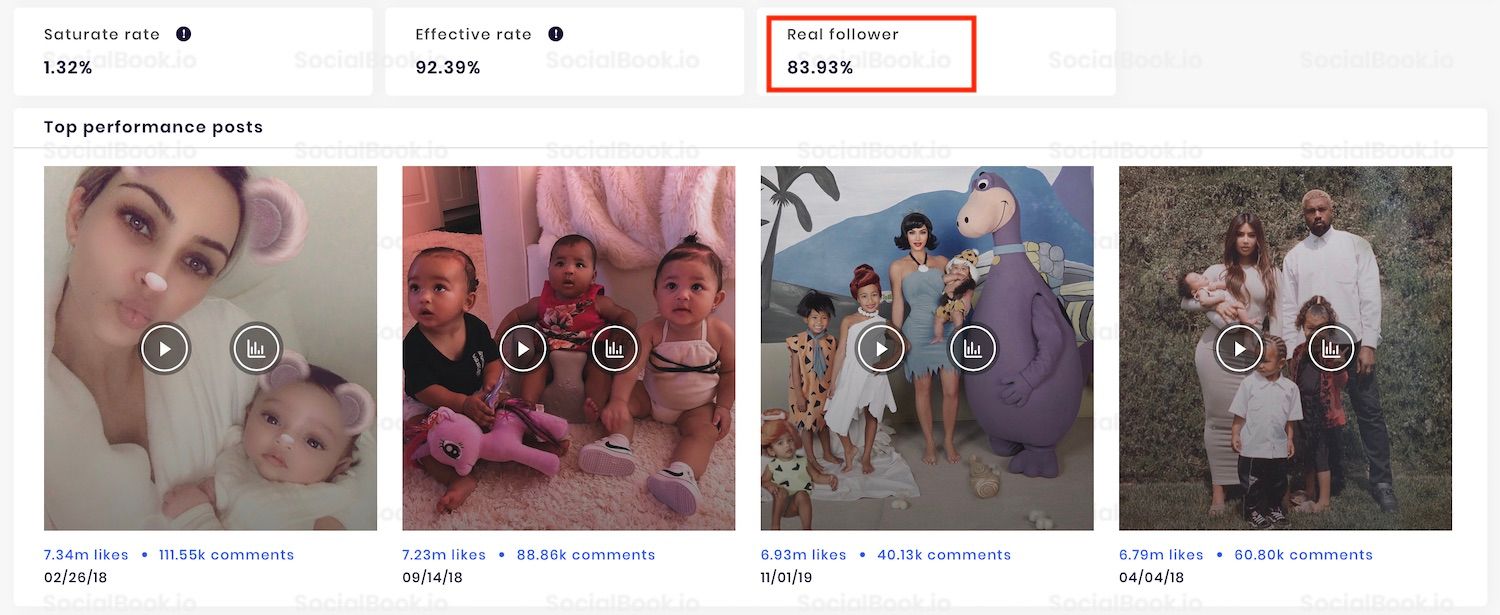 3. Influencer's niche
If your message doesn't align with the followers' interests, no number of followers can help you out. Therefore, you have to search for an influencer whose target audience matches your target audience.
For example, if you sell natural beauty products you should seek an influencer whose posts are mostly beauty related or healthy lifestyle-related.
You should always aim for an influencer who is relevant to your industry. Start by checking the demographics of their followers and the type of content that influencer posts. Consider the price of products they usually promote compared to your product's pricing.
Also, influencer's niche will influence the type of post. Some influencers pay special attention to the aesthetics of their profile. Even sponsored ads have to match with their style. This is especially common among artists, beauty gurus, and lifestyle influencers.
If you want to cooperate with an influencer who keeps a certain theme on their profile, you will have to adapt your ad to it.
4. Type of content
The effort that influencer has to put into your ad should be accounted for in the cost. The price can't be the same for an elaborate video and a quick Instagram Story.
The types of content you can opt for are:
Those who have a limited budget should aim for simpler forms of content such as images or Stories.
However, that doesn't mean that such posts are less effective. When it comes to the effectiveness of influencer content, this is how they rate:
As you can tell, simpler forms of content such as Instagram post and Instagram Story have proved to be the most effective. The reason behind it is that they seem more authentic and are less time-consuming for viewers.
The choice of content is also influenced by the product or service that will be promoted. You can't expect the pricing for promoting a car and a pen to be the same.
Besides that, the aim is to ensure that the content form is appropriate for what you have to offer.
5. Amount of work
Followed by the famous saying "time is money" influencers' pricing varies depending on the amount of work they need to put into.
Creating a video is more time-consuming that snapping a picture that will disappear in 24 hours. Even a regular post demands more time than a Story. Since influencers pay attention to the posts that will stay on their profile, they will put more effort into creating that content.
Mentions are always less pricey than full content. For starters, you can try out mentions to see whether the influencer's audience responds to your product.
What plays an important role in defining pricing is who makes the post. Brands can create the ad and simply ask the influencer to share the content. Such posts cost less.
Influencers who create the post on their own can get a concept that they have to follow or they can come up with their own concept.
The choices are many because each brand and each influencer adapt to the situation and expectations.
What costs the most is full video content on popular YouTube channels or video posts on Instagram. High-quality videos demand the most work. From good equipment over creating a scenario to editing, it takes a lot of time if you want to create high-quality video content. Consequently, it results in higher-paying terms.
6. Content Engagement Rate and Other Performance Metrics
Influencers who interact with their followers have a closer connection with them. That closer connection results in more trust.
Engagement is what drove larger brands to start cooperating with micro or nano-influencers. Influencers with hundreds of thousands or millions of followers are too busy to regularly interact with their followers. Which means that they can't establish a close connection.
Influencers with a smaller number of followers are more likely to respond to comments, like followers' posts, or share their posts on their channel. Devoting attention to followers means that followers look at them more like friends rather than celebrities.
Relatable personalities will have better success at selling a product than obvious celebrity endorsements. There lies the power of nano and micro-influencers.
Before you reach out to influencer check out their engagement rate. You don't want to end up with a nano-influencer with 0 engagement rate.
The engagement rate can be calculated in the following way:
Add up engagement (likes, comments, etc.) and divide it by the total number of influencer's followers.
Tony Tran, CEO and co-founder of the influencer marketing platform, Lumanu, shared on Quora that he suggests paying around $0.25 to $0.75 per average post engagement on Instagram.
A higher engagement rate signals better chances for convincing followers to buy the product.
Keep in mind that sponsored content always has a lower engagement than organic posts. Still, it is relevant that influencer engages with the audience on their regular posts and invests in building a relationship with them.
7. Add-ons: Travel, Giveaway, Offline Events
There is more to influencer marketing than social media posts. Influencers' power can be used in multiple ways. All you need is creativity and a good budget.
Brands like Revlon know how to take advantage of influencer marketing. Their efforts have gone to the point that they organize exclusive trips for influencers. They cover all the expenses but reap the attention of millions of followers.
Their extravagant travels are well-known and religiously followed by influencers' followers.
Big brands that can afford this type of advertisement will benefit greatly from such an investment.
More affordable add-ons to influencer campaigns are giveaways or offline events.
Instead of organizing a giveaway on your own you can team up with an influencer for spreading awareness. They can simply share your giveaway on their profile or be a part of it by hosting the giveaway.
A social influencer with around 30k followers (and a 7.3% engagement rate) shared that the pricing for IG giveaway is $350.
Offline events are also popular among brands. The influencers' habit to keep their followers posted about their life provide hosts of the events with desired attention.
An Average Cost
There might not be a specific pricing list, but just to give you an idea of general pricing, this the estimated average cost for the two most popular platforms:
Instagram
10,000 followers – the price could be $100 per post
100,000 followers – the price could be $1000 per post
1,000,000 followers – the price could be $10,000 per post
YouTube
10,000 subscribers – the price could be $200 per video
100,000 subscribers – the price could be $2000 per video
1,000,000 subscribers – the price could be $20,000 per video
Again, this is just an average pricing list shared by WebFx. The pricing can deviate from the average influenced by the above-mentioned factors.
How to Check the Influencer's Market Price and Channel Analytics
This digital era has blessed us with tools for all kinds of actions. The influencer marketing strategy is no different.
Getting some insight into the market price based on analytics will help you to have a better understanding of what you can expect. It will also prepare you so that you don't agree on a higher price than it should be.
A complete influencer marketing tool like SocialBook can solve all the key problems when run your influencer marketing campaigns. SocialBook offers many useful features:
bulk email outreach
performance reporting for all influencer campaigns
KPI (key performance indicator) tracking
And one of the most valuable features of SocialBook is that it provides an suggested price range for all influencers, which is calculated by AI on influencer's follower demographics, channel engagement rate, content quality and performance metrics. With this suggested price range, brands can be more comfortable when send an offer to a desired influencer.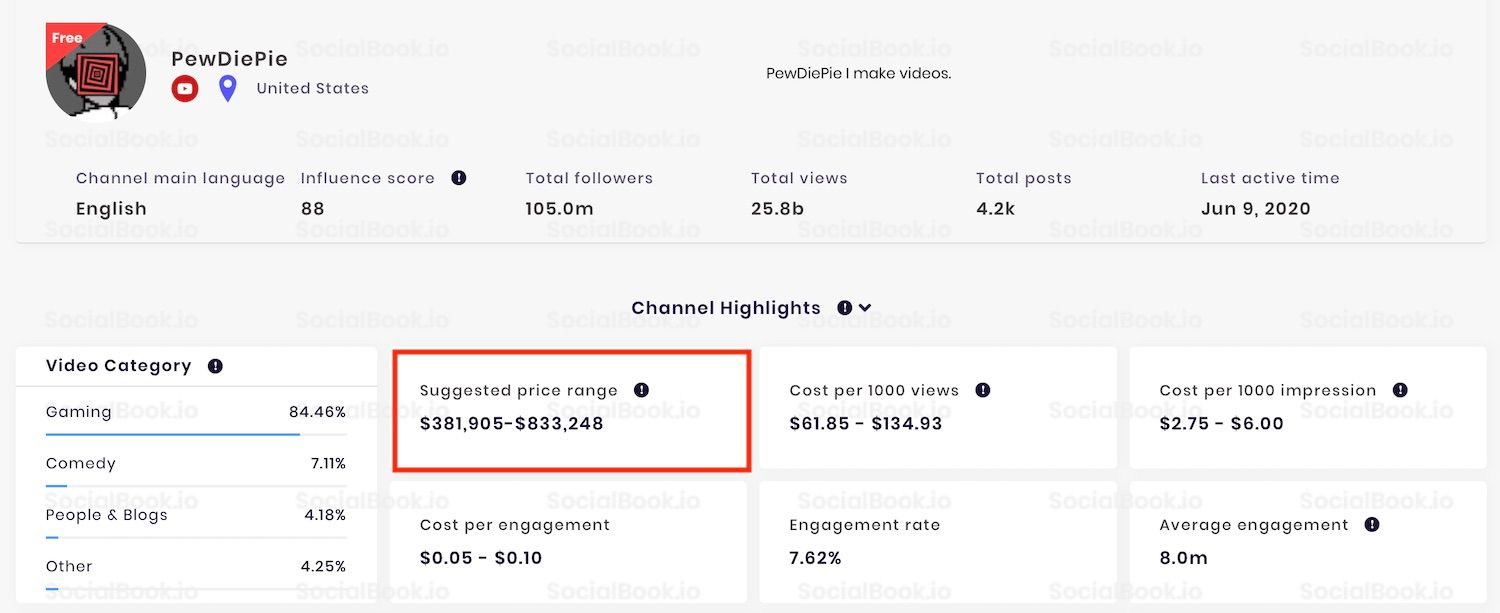 If you haven't already heard of SocialBook it is an influencer marketing software used by both brands and influencers. They have worked with prominent brands such as Amazon, Kabam, and Mobvoi to name a few.
Their connection with influencers allows them to collect valuable data that can provide you with desired answers. Therefore, you can base your initiatives on analytics, not on assumptions.
Once you have established the cooperation with an influencer, SocialBook gives you an insight into the influencer you've chosen to work with, shows you data about their performance, and gives you a breakdown of the costs.
Some Final Thoughts
Figuring out the pricing for social media influencer marketing is more complex than it seems. It would be easier if there were general pricing applicable for all, but the variety of campaigns make that impossible. Numerous factors from engagement to the amount of work affect the price of influencer's post.
Those who are determined to give influencer marketing a try should do thorough research and have direct conversations with multiple influencers before they make a final decision. It is crucial that you contact more influencers and expand your options if you want to end up with a fair price.
---
---