Inspired by the success of Instagram influencers, Amazon found a way how to take advantage of the current influencer marketing trend. Amazon started its own influencer program and influencer's success with it gained our attention.
The questions that started arising are can you really make money with this program? How does it work? Has Amazon truly found a way to make their company even more successful? Every year more than one million new sellers join Amazon and know influencers are becoming a member of this community as well. Here is all you need to know about Amazon Influencer Program.
What is Amazon Influencer Program?
Amazon has been running an Affiliate Program for some time. The way it works is that people (affiliates) post about an Amazon product on their post. It can be a blog post, video, or any type of platform that connects them with the audience. When someone clicks on that link it takes them to the product. Amazon can track how many individuals purchased the product through that link and according to that the affiliate gets a commission.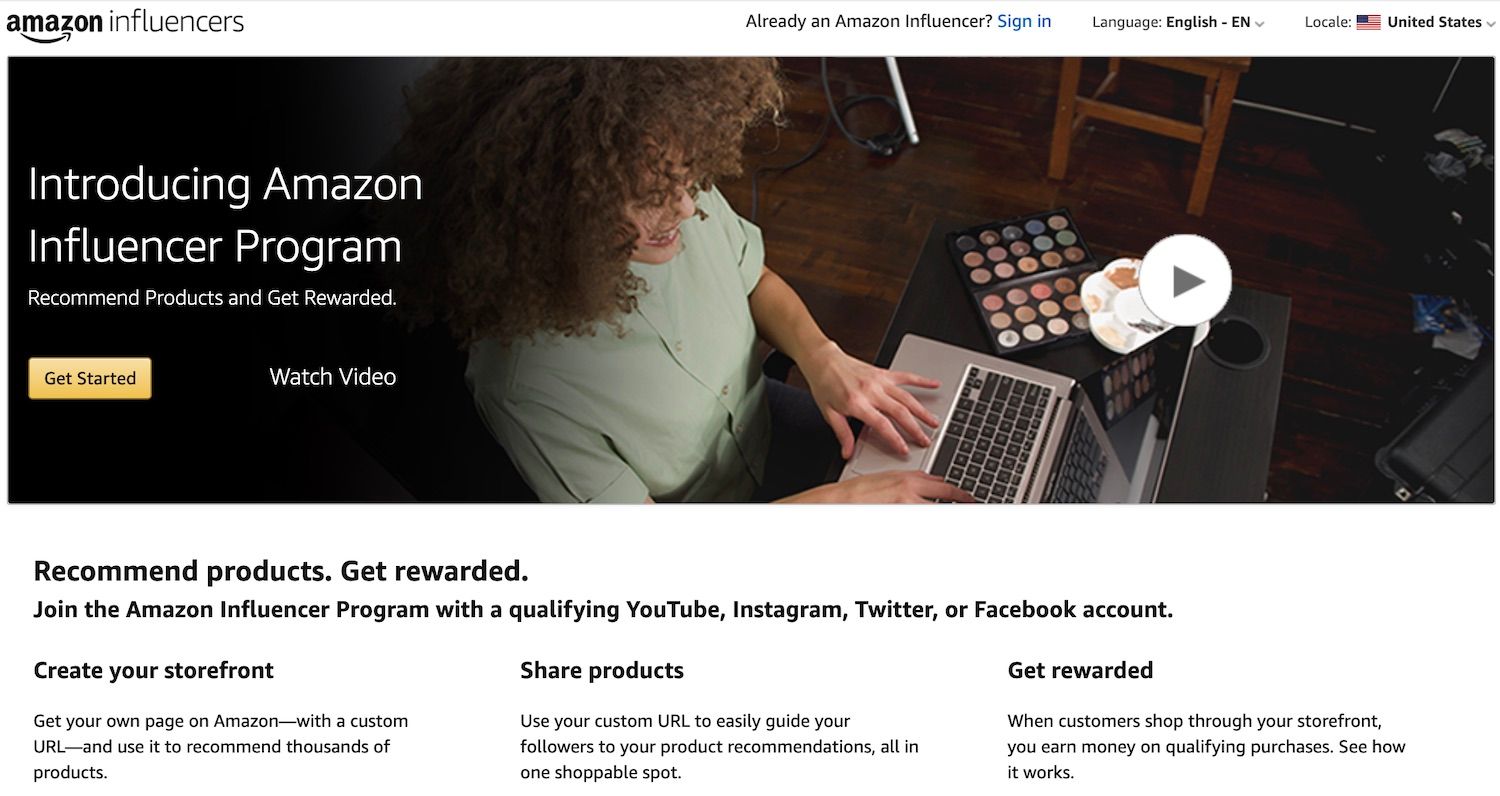 Motivated by the success of the Affiliate Program. Amazon created the Amazon Influencer Program. What happened is that influencers started posting about Amazon products and Amazon realized that this drives more customers to their website. In order to motivate more people to promote their products through social media, Amazon ensures that influencers whose promotion brings them new customers to receive a commission for their effort.
An influencer who decides to become a part of this program gets its own storefront on the Amazon website. Within the storefront, influencers can curate products, categorize them, and refer their followers to their storefront, category page, or product.
You can see how influencer's Amazon page looks from the example of Alexandra Beuter. She is Instagram and YouTube influencer with 59.9k followers on Instagram and 272k subscribers on YouTube.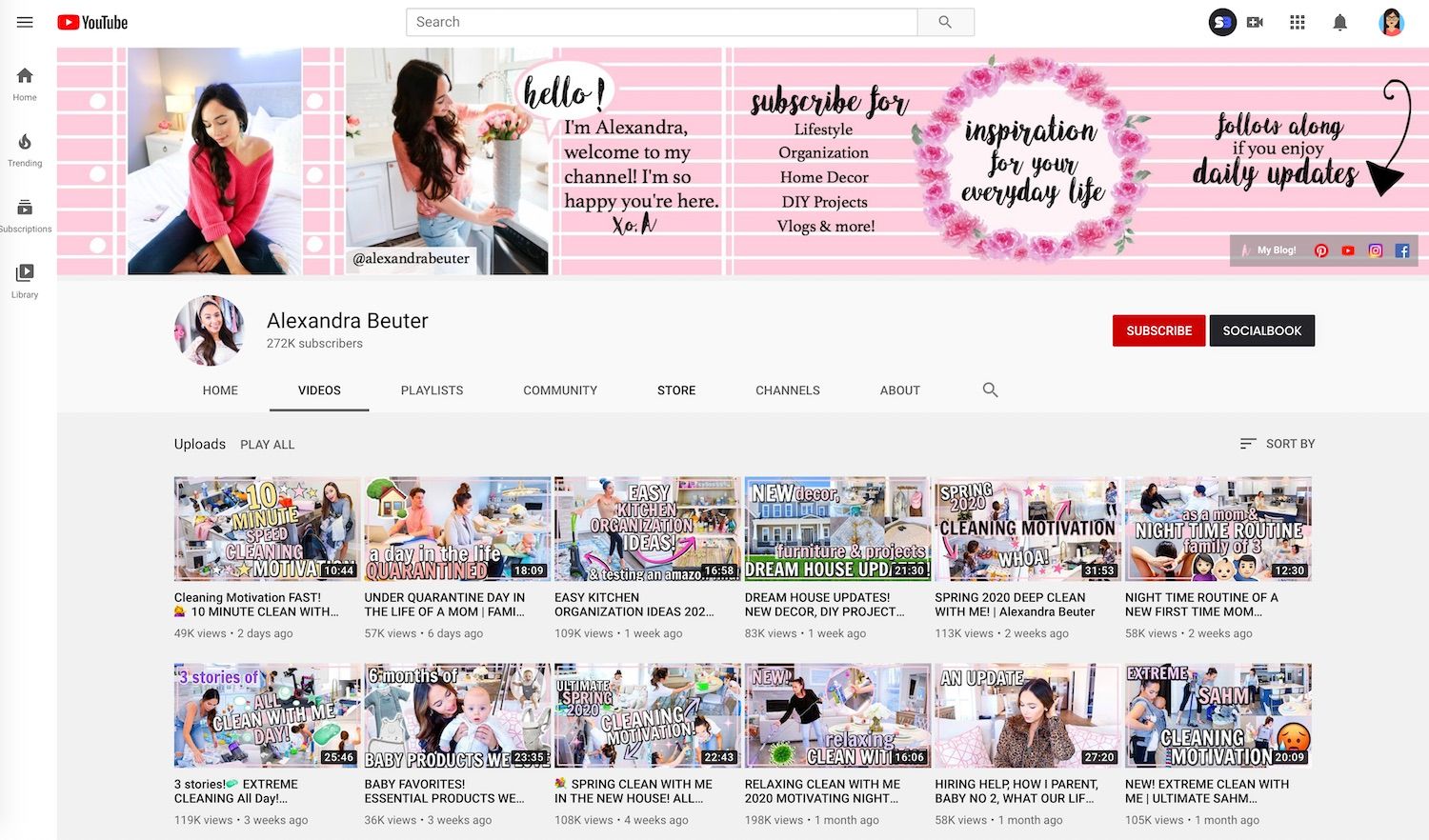 Alexandra's videos mostly involve lifestyle, organization, and home decor tips. Consequently, Alexandra's Amazon page has categories such as home organization, home décor, beauty, tech, and similar.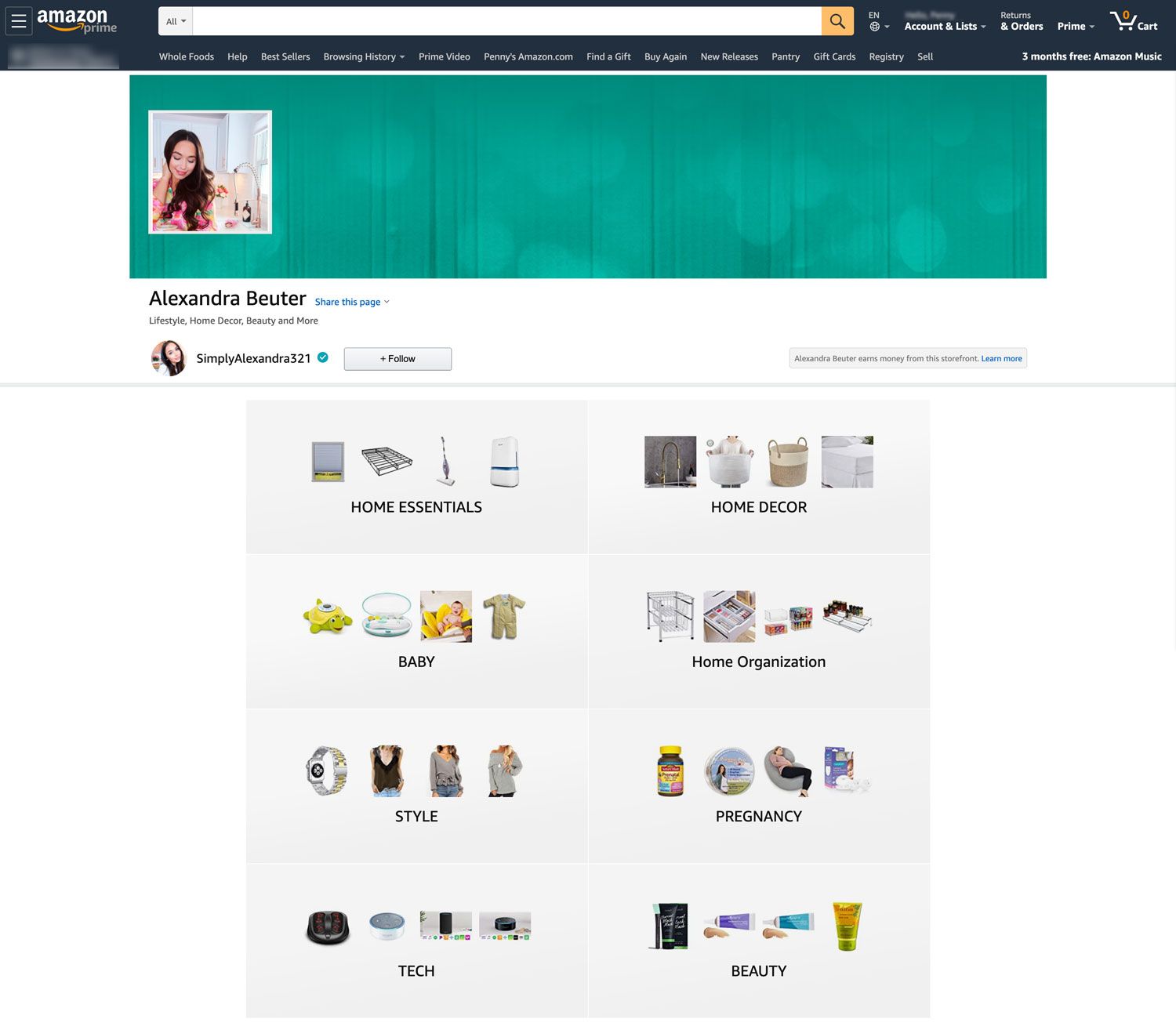 Influencers also get to name their store and they have exclusive vanity URL. The URL allows them to make it easier for people to purchase their recommendations and to qualify the purchases along the way.
The use of a vanity URL is quite smart. This allows influencers to promote their Amazon page in places where hyperlinking isn't allowed such as video content or Instagram. They have thought about it all.
By having their own store and URL, influencers can drive more traffic to Amazon, increase the number of purchases on the Amazon website, and earn a commission. It is a classic win-win situation.
While there are similarities between Amazon affiliates and Amazon influencers, there is one big difference. The members of the Amazon Affiliate Program can only share on their website. Affiliates who don't follow this rule get banned from the program. On the other hand, Amazon Influencer Program allows influencers to share the storefront link anywhere they like. They can even include it in their mailing list.
Can You Really Make Money with the Amazon Influencer Program?
You might already know the answer by now, and the answer is yes, you can. Amazon Influencer Program can be very profitable for influencers who know how to sell. With a well-organized storefront, good product recommendations, and a great relationship with the audience, this program can bring you a consistent income.
What will work in your favor is if you have a trustworthy relationship with the followers. People always rely on truthful suggestions when it comes to shopping. If you recommend Amazon products that you really like and use, the followers will appreciate it.
Commission rates can vary. They can be anywhere from 1% to 10% for sold items. On a monthly level, influencers can earn from a few dollars to around $1,500.
The commission also depends on the type of product. Here are some examples of the commission rate based on product category:
Amazon's private-label fashion line – 10% commission
Furniture – 8% commission
Headphones – 6% commission
Beauty products – 6% commission
Video games and physical video consoles – 1% commission
Another way to earn money on Amazon as an influencer is from bounties. Bounties are services and programs on Amazon that influencers can promote on their store. By promoting these services they can earn a certain amount of money.
For example, if you promote the Amazon Business account, you can earn $15 for every person you get to sign up. If you generate trial sign-ups for Amazon Prime and Twitch Prime you will earn $3 for each sign-up.
As influencers can make money in different ways within the program, Amazon made it easy for them to track their income. Every influencer within Amazon Influencer Program can keep track of how much they've earned from selling products and bounties in the reporting section. The reporting tab also shows fee schedules, payment history, and reports.
How to Become a Part of Amazon Influencer Program?
Another difference between Affiliate and Influencer Programs is in the sign-up process. While anyone can sign up and get started with Affiliate Program, Amazon's Influencer Program is more exclusive.
If you want to become a member of the Amazon Influencer Program you first have to apply. Whether you'll get into the program depends solely on Amazon's decision. It can happen that you don't qualify at the very first try. If that happens, Amazon will encourage you to try again in the future since their eligibility requirements can change.
You can either request to join or Amazon can send you an invitation. Some influencers who manage to attract Amazon's attention receive an email in which Amazon asks them to join their Influencer Program.
When you request to join, you'll be asked to fill in your account details and number of followers before submitting the application. The evaluation process can take a few hours or days. You can fill in the application here.
There are several requirements that are necessary for the application.
The most basic requirement is that you have a social media profile. You don't need to have your own website, but you do need to have an account on at least one of the following social media networks:
YouTube
Facebook
Twitter
Instagram
Besides having a social media account, you also need to fall under the influencer category. That is, Amazon takes into consideration the number of followers and engagement metrics. The more active you are on your social media account the better. It is also recommendable that you interact with your followers as that boosts your engagement rate. Unfortunately, Amazon didn't state a precise engagement rate or number of followers that influencer needs to have to be eligible for the program.
The number of followers and engagement isn't the only thing that counts. The content you post also plays a role. What Amazon stated on their website concerning the qualifications is: "While we look at the number of followers and other engagement metrics of your social media presence, we also look at the type of content you post and the relevancy it has for Amazon customers."
Amazon clearly prefers influencers who have high-quality content. High-quality content refers to informative, engaging, or relevant material that holds followers' attention. Influencers who aim at getting a reaction with trolling comments won't have a good chance of entering a program. Neither will influencers with fake followers and no relevant content.
Ultimately, Amazon wants to see that influencer can benefit their company.
Lastly, they also want to see that there's relevance for themselves. Amazon needs to see that the influencer chosen will also benefit themselves.
When your account gets verified you'll be asked to fill out your contact information, name your store, and create your list of recommended products. The store can be customized with photos and bio. You'll also need to specify the payment and tax information. The payment can be made as a check, direct deposit, or an Amazon gift card. However, before you can access the funds, you have to make $10.
After you get everything set all that is left is to promote your products on social media and collect the profit.
Platforms That Can Help Influencers Make Money
Amazon's Influencer Program can be an inspirational example of how online platforms can help influencers make money. As the influencer marketing is expanding and becoming more popular, influencer are gaining more chances to increase their profits.
There are different programs and platforms that can help influencers to cash in their social media engagement. Here are a few of the best platforms for making money as social media influencer:
Patreon – Patreon is a platform that allows followers to pay for the influencers' work. Through this platform, users show their appreciation and support to their favorite influencers. Influencers in return give them exclusive content and a place where they can establish a closer relationship. The purpose of Patreon is to show support to all artists and creators and give them a chance to earn some extra money for their effort. Patreon especially comes in handy for influencers who host free podcasts (on YouTube, for example). In that case, they can invite the viewers to join the Patreon program and support their work.

Amazon Affiliate Program – Affiliate Program has been mentioned a few times but if it hadn't gotten your attention, it should. Becoming an affiliate will help you earn a commission by sharing an affiliate link on your website. Influencers who have an established website or blog should take advantage of this opportunity.

SocialBook – Acting as a connection between brands and influencers, SocialBook helps both to establish profitable relationships. Join SocialBook and you'll be recommended to many businesses who are searching for influencers to contribute to their campaigns. You don't have to worry about finding brands that match your interests, as SocialBook will bring companies to you. SocialBook also offers many other benefits such as video SEO, competitors' comparison, help with increasing views, trends alert, profile analysis, and so on. With the help of this platform, your social media influence can become more powerful.

Wix – Blogging can help you spread your influencer and turn you into a brand. Share inspiring thoughts, valuable tips, and relevant information and you'll attract more loyal followers. If you don't have a blogging platform, use Wix to create one. Wix helps you to create, design, and develop your website with ease. There will be no need to hire any web designers or programmers to get your blog up and running. Use some of their beautiful templates to make your blog as attractive as it will be interesting. Once you have your blog up and running, use it also for product promotions, affiliate linking, etc.
Final Thoughts
Amazon Influencer Program is enabling Amazon to build an army of influencers who will help the company to sell products. The program is driving more traffic to Amazon which means that besides generating sales from influencers' pages, the customers will be motivated to browse for other products on Amazon.
Influencers are also loving the program since they have a new way of turning their influence into money. They have nothing to lose and so much to gain. With their already established followers base, influencers simply have to turn their attention towards Amazon. Considering the variety of products on this website, influencers won't have a hard time picking out a few of their favorite items.
If you are already an active member of the influencer community, Amazon Influencer Program can be your chance to spread your business. There might not be a guarantee that you'll become a part of the program right away but it is worth a shot. Give Amazon a try and take one more step toward success.
---
---