Who is Jeffree Star?
Do you love makeup and are obsessed with drag queens? Then the name 'Jeffree Star' is a must highlight on your top Makeup influencers list. This dramatic American makeup artist was born on 15th November 1985 in Los Angeles, California. His real name is Jeffrey Lynn Steininger Jr., but he's more commonly known as Jeffree Star. Not only is he a wondrous makeup artist, but he is also an entrepreneur, a DJ, a singer, a songwriter, a beauty YouTuber, and a model.
Jeffree Star also has his very own line of exceptional makeup known as 'Jeffree Star Cosmetics.' According to our stats at SocialBook, Jeff is ranked at number 3 worldwide as the most influential makeup artist and beauty vlogger.
Before Jeffree Star Become Famous
Jeffree Star is not among those who were born with a silver spoon in their mouths. Jeffree lived a life of struggles and hardships and put his blood, sweat, and tears in earning his current status. He always had a sweet spot for makeup and kept experimenting with his mom's makeup throughout his childhood, and even in high school.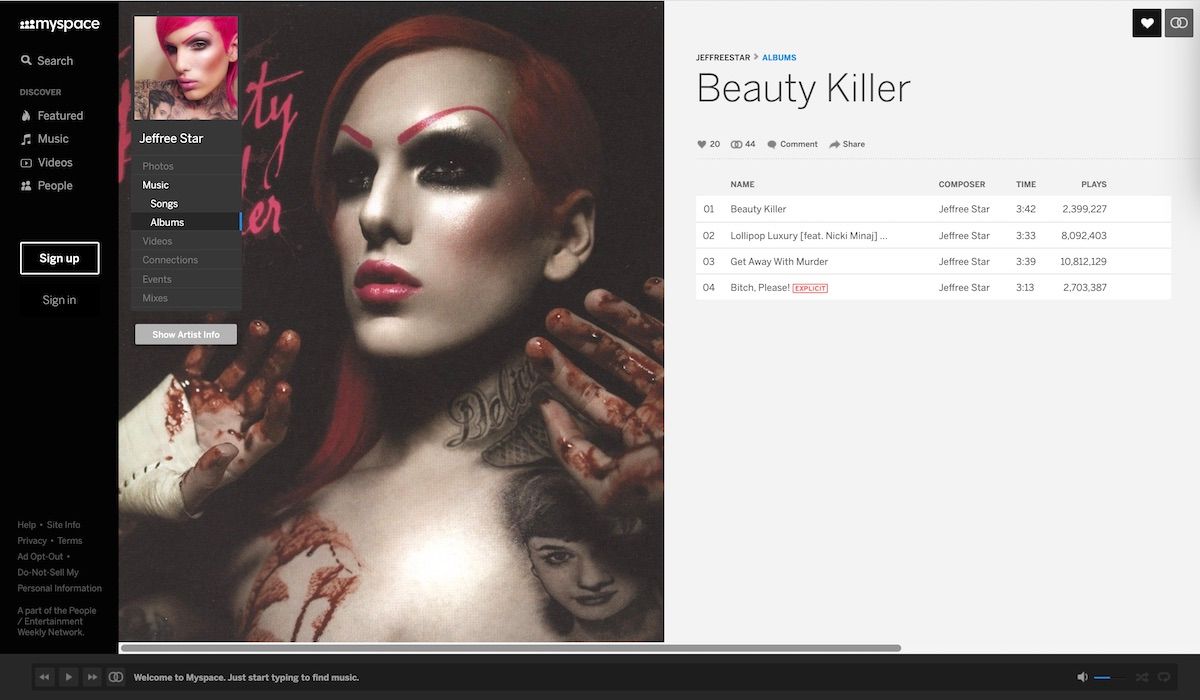 After he graduated, Jeffree moved to LA to try his luck in music, makeup, and fashion designing. The popular social networking website, MySpace helped Star initiate his music career. In 2009, he released his first and last studio album 'Beauty Killer' which even featured Nicki Minaj in some songs and attained the 7th position in Billboard Top Electronics Album charts. He then partnered with Akon in 2010 and embarked on several tours to promote his music. Akon even entitled him as 'The Next Lady Gaga.' But unfortunately, due to some legal issues that Akon was facing, Star had to abruptly end his music career in 2013.
Jeffree Star's music career, though brief, was very exhilarating, featuring in Kesha's music video in 2010 for 'Take it Off' proved to be the cherry on top. The trip to the music industry gave Star a head start he required to pursue his passion, and in November 2014, he invested all his time and money in establishing his very own cosmetics company 'Jeffree Star Cosmetics,' and promoted it through his YouTube channel.
Jeffree Star: an Icon of Beauty Inspiration
Jeffree Star's story surely is inspiring as his makeup company turned him from rags to riches. Never had he dreamed that the cosmetics company founded by a bankrupt uncertain entrepreneur could turn out to be the largest multi-million dollar company in the world. From lipsticks, to highlight and eye shadow palettes, Star's cosmetics are a must have and are always successful in setting all records on fire.
The journey of this 34 years old style icon is truly inspiring and that can be witnessed through the web series documentary 'The Secret World of Jeffree Star'. The web series is directed and edited by the YouTuber Shane Dawson and in the documentary, we get a closer look on the life and career of the sensational fashion diva as Dawson tries to understand it in both humorous and serious ways.
Jeffree Star's Boyfriends Mayhem
The makeup guru Jeffree Star is an iconic sensation who is definitely Hollywood's top pick. It's no secret that Star is gay and renders no effort in attracting men of all shapes and sizes. But the few lucky ones who were honored to have the title of being Jeffree Star's boyfriend include Nathan Schwandt, Tyler Carter and Chris Crocker.
Jeffree Star and Nathan Schwandt:
Nathan Schwandt is an average American skateboarder and the co-owner of the marijuana business. The young man (aged 26) slid into Star's DMs back in 2015 and the two have dated ever since. Star and his boyfriend even moved in together and Star helped him to establish a marijuana business as well. Jeffree even gifted Nathan his dream car, an Aston Martin, pricing up to $150,000. Jeffree uploaded a YouTube video 'Surprising my boyfriend with his dream car' on his channel revealing the car. Unfortunately, the two broke up after 5 years of dating in the beginning of January 2020. Jeffree spilled the sad tea in one of his YouTube videos that he was devastated over his break up with Nathan. The internet got curious and were intrigued by the question 'what happened to the $150,000 car?' Jeffree later on renamed his car reveal surprise video to 'Pretending to Surprise my Ex-Boyfriend' leaving viewers baffled over the drama between Nathan and Star.
Jeffree Star and Tyler Carter
Tyler Carter is a singer and the lead vocalist of the American boy band 'Issues'. Tyler also has the privilege to be a part of Jeffree Star's love life. Although not much is known about the relationship between the two and many report it as just a fling, but the Instagram proof about the two does depict the intimacy between them.
Jeffree Star and Chris Crocker
Chris Crocker is an internet celebrity and famous YouTuber. He and Jeffree Star were good friends long before Star's invasion on YouTube. The two have had a strong dating relation of 4 years from 2005 to 2009. Since it was an early relation, long before Star's fame, so much of it is not known, but the intimacy and density between them portrayed through their images and videos is a solid evidence of what a strong relationship the two had.
Jeffree Star's Tattoo Obsession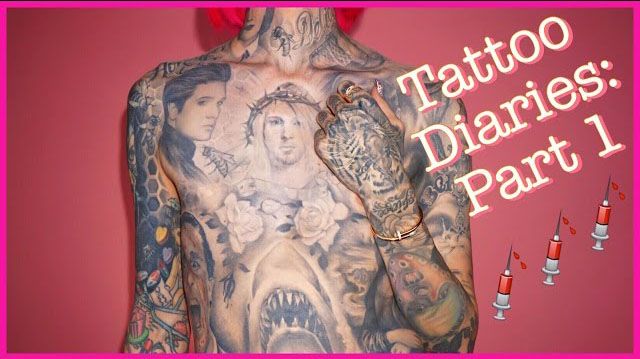 Jeffree Star is one of those unique YouTubers who have their bodies covered with ink from head to toe. Star has almost every inch of his body tattooed and has hidden meaning behind his every tattoo. The major reason why Star has his body tattooed was to cover the self-harm marks from his childhood. Star has had an undoubtedly rough childhood bombed with his father's suicide, so some of the stories behind his tattoos are guaranteed to bring in the tears.
Chest Tattoos
Star shows his inspiration icons and childhood survival packages through his tattoos. The portrait of Audrey Hepburn, Kurt Cobain and Elvis Presley right across his chest are a tribute to these personalities as their work really helped Star to cope with his childhood trauma.
Neck Tattoos
Star also depicts his love for sugar and ice cream on the left side of his neck which has scoops of ice cream inked on it. From his childhood, Star had a great fond for his Great Grandmother's picture, so he got it tattooed on the right side of his neck as a reminder of how much he has evolved through his problematic childhood.
Mona Lisa Tattoo
Star got the portrait of Mona Lisa inked on his ribcage as this great masterpiece by DaVinci really fascinated Star since his childhood.
Patrick Bateman Tattoo
On the other side of his ribcage, Star has the movie character from American Psycho inked because of his love for the movie and the character.
Apart from these signature tattoos, Star has quite a lot of other tats as well, exhibiting his love for makeup and roses and his fear of bees. Star often records and posts videos on his channel explaining his tattoo diaries to his multi million followers and inspiring them.
Jeffree Star's Social Profiles
Jeffree Star has surely managed to establish himself as the top trending influencer on the social profiles bagging millions of followers from across the world, attracting them with his extravagant makeup looks, unique style and unmatchable dramatic personality. His extraordinary lifestyle has made him the king of social media.
Jeffree Star YouTube Channel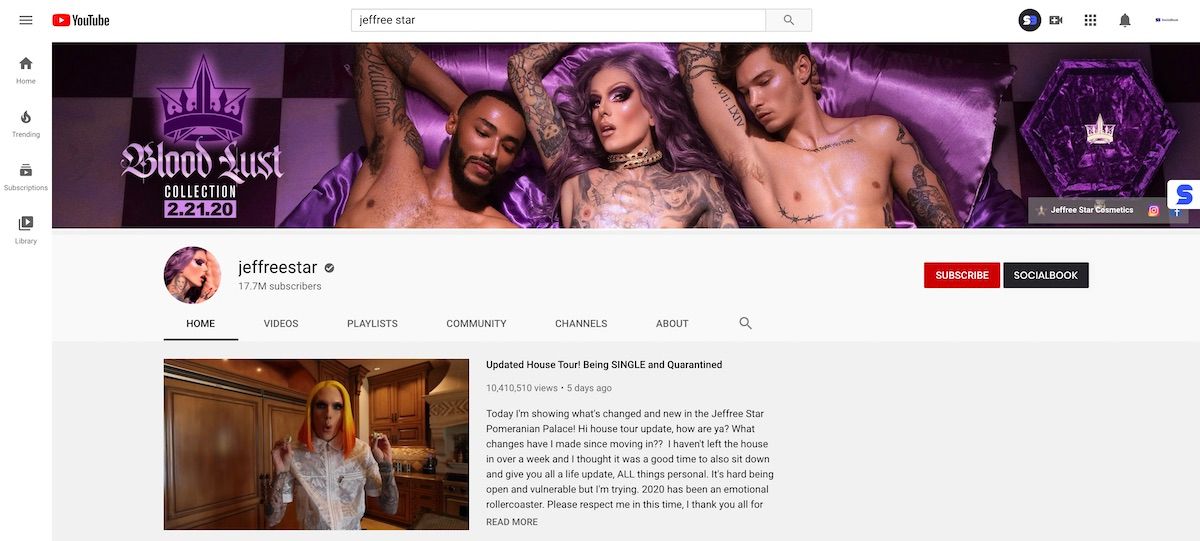 Jeffree Star created his YouTube channel back in 2006 but the channel gained wide recognition around 2013, when Star introduced his makeup line. Star's YouTube channel is all about makeup, product reviews and exhibiting his passionate lifestyle. His bewildering makeup looks is the reason for his channel's snowballing fame.
Jeffree Star not only uses his channel as a medium to reach out to his target audience about makeup, but also utilizes it as a personal diary, sharing his life experiences and struggles with his massive fan following. As of today, Jeffree Star has more than 17.7 million subscribers on his YouTube channel and has around 370 videos posted.
Jeffree Star Instagram Channel
Star's alluring Instagram feed is a testimonial of his vibrant lifestyle and his love for makeup. His beautiful Pomeranian dogs also star on his Instagram feed. Star also posts about his YouTube videos and his new makeup collections on his Instagram. He has around 16.1 million followers on Instagram, and the average post engagement rate is 3.6%, higher than the platform average.
Jeffree Star Twitter Account
Not only is Jeffree Star famous on YouTube and Instagram, but he is also crowned on twitter with more than 7.4 million followers. Star passionately posts about his drag makeup looks, amazing his fan following and inspiring millions of young makeup artists all across the globe.
Jeffree Star YouTube Channel Detailed Analytics
Jeffree Star is unquestionably one of the top YouTubers and is crowned with more than 17.7 million subscribers on his channel. Due to such mountainous fan following, Star is definitely a target for beauty brands and organizations to pitch their promotional campaigns featuring Jeffree Star. SocialBook provides detailed analytics on Jeffree Star's YouTube channel, and it's FREE for all! Here are the highlighted metrics of Jeffree Star's YouTube channel analytics.

According to the stats on SocialBook, Jeffree Star is one of the top beauty influencers with an influence score of 71 and with more than 2.2 billion views on average on his videos. Star earns around $88 to $150 per 1000 views on his videos. The engagement rate on his posts amounts up to 43.06% and the average views he receives per video is 7.6 million.
Jeffree Star's top 4 most watched YouTube videos are the following:
1. Full Face of Brands that Hate me:
Jeffree Star posted this video on 17th July 2018, and it bagged him more  than 38.7 million views. In this bold video, Star openly calls out the brands that had him blacklisted from their PR packages or the brands who are not willing to collaborate with him. So in this video, Star reviews their product and gives us detailed insights about these brands.
2. We Broke Up:
Star posted this video full of emotions and tears on 11th January, 2020 in which he opened up about his break up with his boyfriend Nathan, who Star dated for 5 years. The video is a mix of his healing journey, apologies to his fans and lots of tears. This personal video wasn't easy for him to film but he got enormous love and support from his followers and more than 31.8 million views on his video.
3. Kylie Skin Review with Shane Dawson:
Jeffree posted this video on 2nd June, 2019 reviewing the very popular skin care products collection by Kylie Jenner 'Kylie Skin'. Star puts shades on Kylie in this video that although he isn't on the PR list of her cosmetics line, but he still reviewed her product and gave his honest opinion about it. The video earned more than 29.4 million views.
4. Shane Dawson Controls My Life:
In this hilarious video, Star lets his editor and director Shane Dawson control his life for a day where he takes Star to Walmart and gives him a  complete makeover. The video also includes some funny clips like Shane  getting kicked out of Walmart. Star posted this video on 20th July, 2018 and the video is among the top 4 most viewed videos on his channel, earning more than 30.7 million views.
SocialBook also gives us a detailed list of the famous brands and organizations that have collaborated with Jeffree Star for promotional campaigns. A list of some of them is given below:
Rolls Royce
Sephora
Chanel
ULTA Beauty
Urban Decay
Dollar Tree
Taco Bell
Dior
Moreover, SocialBook also provides us with detailed analysis on his subscription rate and engaged audience. Here is the free full analytics of Jeffree Star's YouTube channel provided by SocialBook.
Jeffree Star's Drama and Feuds
With rising fame, comes some distress. Jeffree Star has no doubt made a mark on the internet, gaining fame from his flawless makeup looks. But during his journey, Star has made some friends and foe via his YouTube channel. Some related controversies are follows:
Jeffree Star vs. Shane Dawson
In multiple videos, we see the close relation between Star and Dawson that many people assumed that the two might be dating. However, all these claims are false. Shane Dawson is one of Star's closest friends and helps Star in recording videos and also directs his documentary 'The Secret World of Jeffree Star'.
Jeffree Star vs. James Charles
The drama between these two makeup artists has us all puzzled and absorbed. When James started his YouTube channel, Jeffree welcomed him with open arms to the YouTube community and even made a makeover collaboration with James in May 2018.
However, things got ugly between the two after the Tati James feud. Jeffree got into the mess and posted a video accusing James and bashing him, taking Tati's side. James further swirled up the tension between the two and posted that he has cancelled all business deals with Star. But when the feud settled, Star posted an apology video to James claiming his accusations were based on rumors. The two seem to be doing fine now since James also tweeted showing his excitement to try Jeffree's new makeup line.
Jeffree Star vs. KAT VON D
The two makeup entrepreneurs, and former BFFs, have some unsettling drama between them. The two had a very close friendship until it all broke off in 2016 due to a public feud. Although the tension seemed rested, some tides do spike up occasionally between the two.
Jeffree Star vs. Tati
Star and Tati have always had a trusted bond between them. From making collab videos to taking sides in feuds, Star has certainly proved his loyalty to Tati on several occasions. But in the makeup hype season of 2019, when Star, Tati and James all launched their respective palette Star posted a heartbroken video confessing that Tati did not include him in the PR list for her palette.
The Success of Jeffree Star Cosmetics
Jeffree Star has made some good fortune from his cosmetics line. He had invested all of his life savings into this project and it brought him loads of fortune and luck. From concealers to lipsticks and eye shadows, Star's makeup collections are of the finest qualities.
Jeffree Star's recent makeup line 'Blood Lust' occupied the front rack of every beauty store and completely sold out after its launch. Star is  working on bringing new innovations in his makeup line, be it brushes or contour. Not only does he develop premium makeup, he also records makeup tutorials and shares his  makeup secrets with his fans.  
Jeffree Star is not the only successful beauty influencers who established their own brands. Many top celebrities, beauty influencers and makeup artists have entered the makeup industry and built their own brand: Rihanna, Kylie Jenner, Kim Kardashian, Wayne Goss, and many more.
How Much Money Does Jeffree Star Earn?
The story of Jeffree Star's success is very inspiring and stirring. He is the literal manifestation of hard work, determination and strength. All these factors combined are the reason for his enormous net worth, amounting up to $75 million. From sneaking into clubs with fake IDs to hosting Hollywood's most posh parties, Star has proven himself as one of the most successful fashion diva, impressing us all with his incredible makeup looks and his resilient steadfastness. Star promises to bring new innovations and improvements in his cosmetic line and swears to establish himself as an inspirational icon for all.
---
---