It's time to check out Instagram again. As summer is coming your way, the Instagram community also starts to heat up!
No wonder the amount of posts in summer is actually significantly higher than those in winter according to statistics from relevant agencies on Instagram.
This June is still ruled by celebrities from the beauty and sports industry. The popular kings and queens on Instagram have rushed to attract the public's attention
So who were the popular queens and kings of Instagram in June 2019? Let's take a look at Instagram's Top 10 most liked posts in June and see if there are any that you liked.
Top 1 🏆:Kylie Jenner: 11 million likes
Congratulations to Kylie!!! The June Instagram champion is Slaying Back!!!
Kylie, who unfortunately missed the May champion, appears to be a productive blogger in June who mainly focused on promotion for her new product, KylieSkin. Other than those promotions and endorsements, Kylie also released beauty photos one after another. If you want to see European style summer dresses or makeup, all you need to do is just check out Kylie's Instagram and you will never want to leave~
Our champion post in June is a photo of Kylie holding her daughter, Stormi, with the caption of "mamas gotchu forever baby ♥️".
In the photo, Stormi is just adorable! The traits of Davis Travis Scott and Kylie Jenner combine perfectly on her. It is said that all kids in the Kardashian family are cute. Ah~ Of course, don't forget to mention that Kay is always as sexy as ever. Even though she already went into motherhood, she still works to be fit and keeps the title of the hottest mother! !
However, even though the mother and daughter are lovely together, my attention still caught by the golden bathtub in the background, just like the one in the comments — — "The bathtub just called me poor"
Kylie, who currently has about 139.5 million followers, is the second most popular Instagramer in the Kardashian family. The first is Kim Kardashian but the follower engagement rate of Kim is far lower from that of Kylie.
Top 2🥈: Cristiano Ronaldo: 9.9 million likes
Without a doubt, Cristiano Ronaldo successfully appears on our leaderboard and wins the runner-up.
Ronaldo's recent Instagram page is just blissful~ Winning competition, Ronaldo started his vacation looks filled with joy in June. Not only performing his proficient swimming skills, but Ronaldo also shows us his well-fit figure. The eight packs on the post made me decide to be a self-disciplined person and doing work out. For how long? 1h.
At present, Cristiano Ronaldo, who has more than 170 million followers, can be said to be true winner and king of Instagram. Based on his current follower tendency, it is very likely that we will witness the first Instagrammer that has 200 million followers in a few months.
Top 3🥉: Lionel Messi: 9.8 million likes
In June, the first three places of our leaderboard have been dominated by the three fashion and sports traffic celebrities. Interestingly, it seems that the contest between Cristiano Ronaldo and Lionel Messi extended from the soccer field to social media. On June 25th, Messi posted a photo of his 32nd birthday with his friends and family. In the past few years, Messi, except for the beard, seems didn't age at all.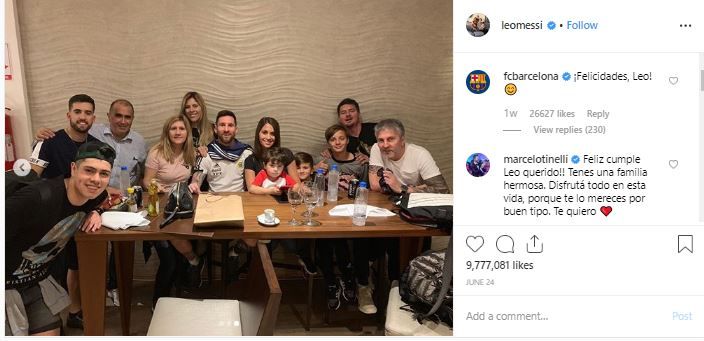 Messi, who has 123.8 million followers, has an average of 4.2 million like in the past 60 days. In addition, 5.86% engagement rate is the highest among all the celebrities on the list today. It seems that everyone is very active on the birthday of the superstar.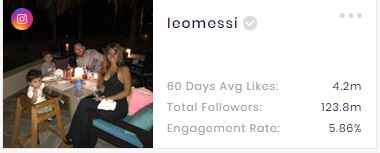 Top 4: Cristiano Ronaldo: 9.4 million likes
Amore mio (my love) is just so sweet that your heart would be melting when you first opened the post~ sunshine, beaches, sea, yacht, lover, Cristiano Ronaldo is just having a wonderful vacation~
It's also worth mentioning that Georgina got nearly 12 million followers due to her relationship with Ronaldo. With an average like over a million in the last 60 days and a follower engagement rate of as high as 48.82%, Georgina is definitely the backbone of the influencer community ~
Top 5: Cristiano Ronaldo: 9 million likes
Take a guess, how many seats will Ronaldo occupy in our ranking?
A luxurious private yacht, mini Ronaldo follows his father behind, Georgina watches from the deck. You can feel Cristiano Ronaldo's happy mood across the screen. Have a wonderful vacation.
Top 6: Kylie Jenner: 8.9 million likes
Look, here is another wonderful family!
Kylie's posting on Father's Day for Travis Scott takes over the sixth place on our leaderboard. Kylie not only thanked for his support these years, but also the love shared between them.
Stormi in Travis's arms is just so cute!!! Fashion influencer Chiara Ferragni also gives her blessing to this couple in the comment area. Such a lovely post, do you like it?
Top 7: Cristiano Ronaldo: 8.9 million likes
To be honest, many people think that Ronaldo is definitely the celebrity with the highest number of female followers in the world.
— why?
— — Please take a look at this face, then look at this figure~ He is the player with the highest commercial value! They're just enormous amount of advertisements that includes Cristiano Ronaldo in them. Last question, how many photos were taken for this trip at the end. There are already so many posts about it on his Instagram.
Top8: Kylie Jenner: 8.7 million likes
The first comment is exactly how most people feel: OMG!
Want to get a Kylie-style post? Simple — bikini + show the curve of the figure + feeling of captured by others incautiously.
Top9: Kylie Jenner: 8.6 million likes
Kylie's selfie class starts again!
— — How is the bathroom photo taken both sexy and high level?
— — Kylie: keep it simple.
In every selfie posted by Kylie, her sister Khloe always appears ~ comment and like combos keep ongoing.
Top10: Kylie Jenner: 8.6 million likes
Congratulations to Kylie for successfully monopolizing the head and tail of this leaderboard. Overall, Kylie is undoubtedly one of the biggest traffic celebrities on Instagram that almost every post she has can get millions, or even tens of millions, of likes. It is no wonder that she has so many followers — youth, appearance, family, and career, Kylie seems to have gotten everything that people desires. However, will she stop here? I don't think do.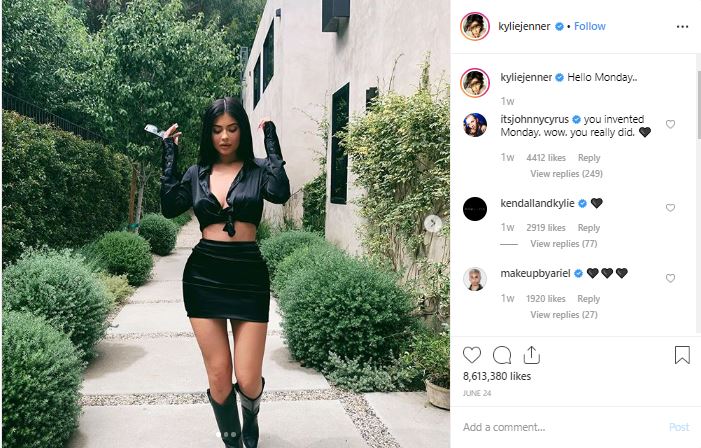 How do you feel after all? Are you one of the likes in any of the post we have in out Top 10 most-liked an Instagram post in June? Try SocialBook to find the right influencers and collaborate with them!
---
---