TikTok is a fast-growing online platform who has joined other social media networks in the influencer marketing craze. Instagram is not the only one who is attracting the attention of brands for influencer marketing campaigns and promotions. TikTok is becoming a serious competition to the well-known image-based platform Instagram. The app has surged in popularity and surpassed Instagram, Facebook, and YouTube in monthly app installations.
As the spotlight moves from other social media networks to TikTok, it is clear that this platform is worthy of our interest. Before it explodes and the costs start growing, you can take advantage of its newcomer status. But first of all, let's get to know TikTok and its role in influencer marketing.  
What is TikTok?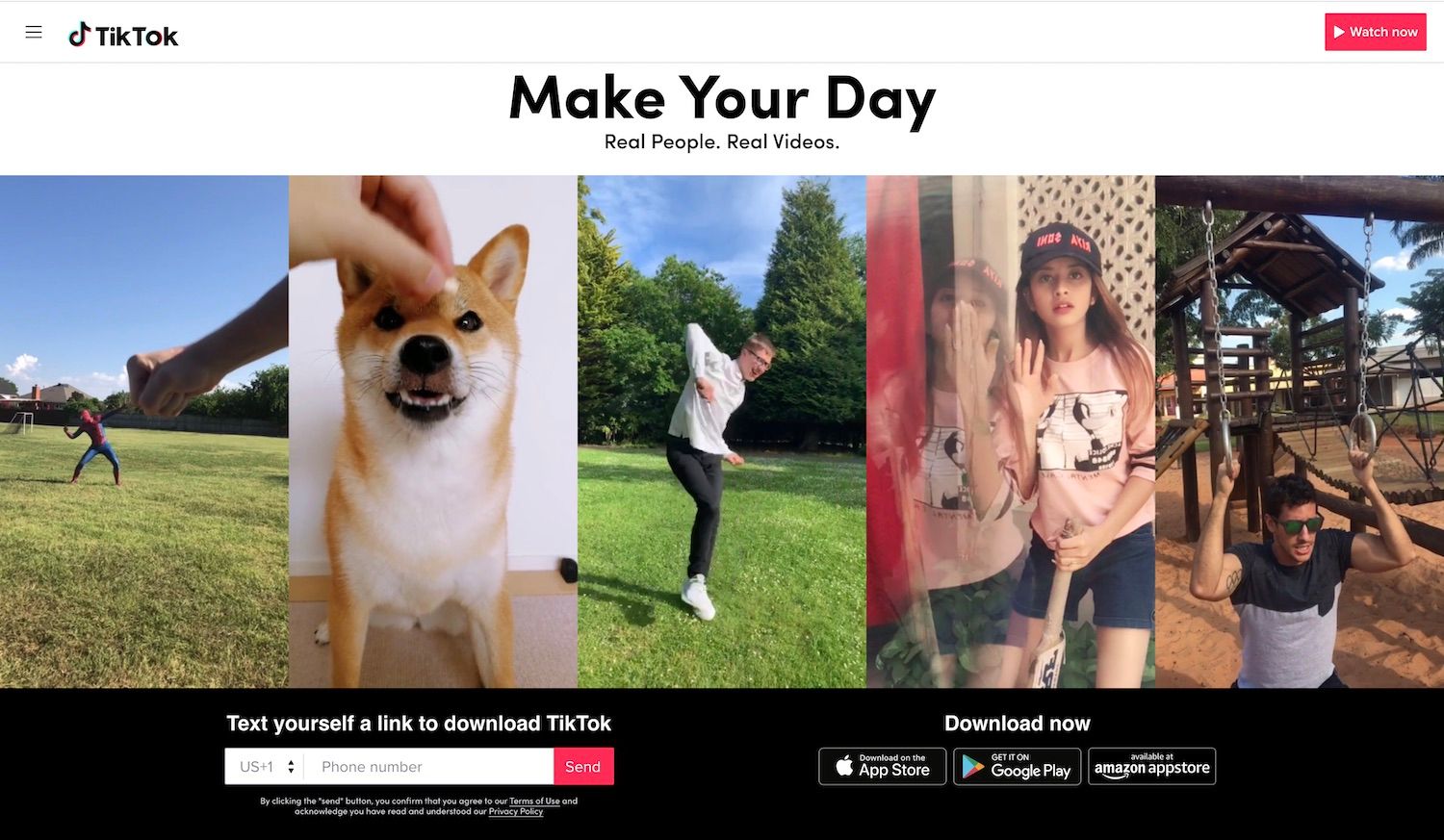 TikTok is an iOS and Android social media app used for sharing short videos.
Before it became TikTok, this platform used to be known as Musical.ly. In 2018, ByteDance took over Musical.ly and its users were passed on to TikTok.
TikTok's parent company ByteDance also owns Duyin, the app with the same form that is mainly for the Chinese market. The logo of TikTok is actually a combination of Duyin's and Musical.ly's logos.
What TikTok allows the users is to create and share with their followers 15-second videos. The videos can feature music, filters, and other fun amenities. The content that you will come across most often is lip-syncing, singing, dancing, and comedy videos. The former Vine supporters were especially happy to receive a platform that will be suitable for all of that.
TikTok clearly stated their goal on the website, "Our mission is to capture and present the world's creativity, knowledge, and precious life moments, directly from the mobile phone. TikTok enables everyone to be a creator, and encourages users to share their passion and creative expression through their videos."
Unlike other social media networks that mostly orient towards lifestyle, TikTok is gearing towards entertainment.
The fact that it is a platform for sharing videos is what makes it so attractive. Video is the favorite type of content on social media. According to research, 93% of marketers say they've landed a new customer because of a video on social media only which only supports that claim.
Not to mention the growing popularity of video content. In 2019, users on average spent 6 hours and 48 minutes weekly watching online videos. That number presents a 59% increase compared to the results in 2016.
This clarifies TikTok's popularity and why more and more marketers are turning to this platform. Actually, in 2019, TikTok was the second most downloaded app in the whole world.
TikTok User Demographics
TikTok was claimed to have 500 million monthly active users. This number dates back from the announcement in 2018 because there weren't any other official reports since then. However, it has 1.5 billion downloads on the Apple and Google Play Store combined, which means that the number of users is definitely higher.
TikTok is available in 155 countries worldwide and 75 languages.
The app is most popular among the younger generation. 41% of TikTok users are aged between 16 and 24. Additionally, 66% of users are under the age of 30.
Brands who are targeting Gen Z and Millennials will find their target audience on this platform. Since the app is dominated by younger users, brands won't have to worry about segmentation as much as they need when using Facebook or Instagram.
TikTok made it simple. Is your target audience approximately under 30 years old? Then head onto TikTok and start with your marketing campaign.
Even though the format of TikTok is neutral gender-bias, the app is slightly more popular among male users. To be more precise, 55.6 % of users are male and 44.4 % of users are female. Interestingly, male users are more present in every age group.
The video-sharing app has definitely made an impact on its users as 90% of all TikTok users access the app on a daily basis. Typically, users spend around 52 minutes per day on this app.
When it comes to TikTok's popularity around the world, here are the countries with the largest database:
India – 119.3 million users
USA – 39.6 million users
Turkey – 28.4 million users
Russia – 24.3 million users
Mexico – 19.7 million users
Brazil – 18.4 million users
Pakistan – 11.8 million users
Saudi Arabia – 9.7 million users
France – 9.1 million users
Germany – 8.8 million users
As you can tell, TikTok has taken the whole world by storm. It comes as no surprise that marketers and business owners have decided to include TikTok in their influencer marketing efforts.
In-App Shopping Feature

What all e-commerce owners would be happy to know is that TikTok has an in-app shopping feature. The feature is called "Hashtag Challenge Plus".
What it does is that it gives users a chance to browse products related to a sponsored Hashtag Challenge. They don't have to leave the TikTok's platform while doing it.
The users are encouraged to share videos of them using the product. This gives brands a chance to include their influencers. Influencers can promote the product within a certain hashtag or start a new trend and therefore, turn the attention to of their followers towards that brand.
Users who want to browse the product from the campaign will have a separate tab opened and can purchase anything they like within TikTok itself. The experience resembles a smaller, mobile-friendly version of an e-commerce website
The first brand to try out this in-app shopping experience was Kroger. They started a #TransformUrDorm influencer marketing campaign.
Kroger teamed up with several influencers like Joey Klaasen, Cosette Rinab, Mia Finney, and Victoria Bachlet. They prompted the users to share their dorm makeover videos using the hashtag #TransformUrDorm. Videos shared by influencers are labeled with "Official."
The brand also included a dedicated page where users can purchase products, like many brands are doing in their Instagram Story Highlights.
The campaign ended to be a huge success reaching around 477 million views spread across hundreds of videos.
The "Hashtag Challenge Plus" is great for spreading product awareness and quickly providing users with online store presence. This strategy is well-conducted because the users can browse and purchase the product while their interest level is at the highest point.
Influencer Marketing with TikTok – Success Cases
More brands are opting for TikTok as their influencer marketing platform. Numerous collaborations with influencers have already been established on this platform. Let's take a look at some of the most notable ones.
Gymshark
Gymshark is known for collaborating with influencers on their marketing campaigns. Their ambitious spirit inspired them to give TikTok a try and it turned out to be the right move.
At the beginning of the past year, Gymshark started a "66 Days, Change Your Life" challenge. They prompted the users to share a personal goal along with an initial photo. 66 days later they were to share another photo, contrasting the initial one. The winner of the "Change Your Life" challenge was to win a year's supply of Gymshark products.
The campaign transferred to TikTok where influencers started sharing choreographed dances, lip-syncing videos, acrobatic, and other activities set to music. To connect the TikTok videos to the "Change Your Life" challenge influencers used #gymshark66.
Gymshark decided on this move because some TikTok influencers have more followers than influencers on Instagram. Meaning, that their content on TikTok will be viewed and shared with more people.
Some of the influencers they worked with are
Wilking Sisters – 1.1 million fans
Rybka Twins – 5.2 million fans
Laurie Elle – 2.5 million fans
Twin Melody – 6.3 million fans
Lesotwins – 1.2 million fans
Antonie Lokhorst – 3.5 million fans
Walmart
When the world's biggest company by revenue joined the TikTok community, it was clear as a day that brands should turn to this social media platform. The franchise showed how you can add some entertainment to your marketing campaign.
They turned to TikTok for promoting their Black Friday sale. The celebrity influencers started the challenge with #DealDropDance. The users were to share how Walmart's Black Friday deals make them feel.
TikTok proved to be a serious marketing tool as it brought them 3.6 billion views on videos with #DealDropDance hashtag.
The influencers they worked with are:
Montana Tucker –  2.1 million followers
Drea Knowsbest –  4.4 million followers
BDash –  1.2 million followers
Rodney Lee –  4 million followers
Camo dancer –  2.8 million followers
OurFire – 5.6 million followers
Just the OurFire's video that showed the pair dancing in a store has generated over 488 comments, 57K likes, and 739 shares.
TooFaced
Another brand that showed us how TikTok can be used for influencer marketing is TooFaced. There is no doubt that cosmetic brands can also make a successful TikTok campaign.
Their campaign consists of influencers sharing videos of them doing makeup including the before and after shots of their transformations. The hashtag they used is #toofacedpartner.
Since influencers show the TooFaced make up products they used, it helps the brand to introduce their products and spread brand awareness.
The influencer that made the biggest impact on users was Kristen Hancher. Uncommonly for her, Kristen started the video makeup-free. This attracted the attention of the users who are used to seeing her with the on-point makeup look. Her video earned an incredible 1.8 million views, 1816 comments, 167K likes, and 2219 shares.
Other influencers who were included in this campaign were:
Victoria Lyn – 1.8 million fans
Ewa Zawada – 3.2 million fans
Laurie Elle – 3.6 million fans
Chloe Rose – 3.9 million fans
Brands are using techniques such as TikTok challenges or contests to motivate users to create brand-related content. Influencers' role is to help the brand to start a trend and encourage their followers to join the challenge.
How Much Does It Cost?
As with any other platform, the cost of the TikTok ad depends on your ambitions and cooperation.
There are several ways of advertising on TikTok:
In-feed ads ($10 cost-per-impression, $6,000 minimum spend per campaign)
Brand takeover ads ($50,000 per day)
TikTok hashtag challenge (150,000 minimum)
The cost of an ad starts at $10 per CPM. CPM stands for cost per 1000 views. There is a minimum that you have to meet and that is $500 per campaign.
When it comes to hashtag challenges, there a $150,000 flat fee for the first six days. The additional cost of promoting the challenge will be around $100,000 to $200,000. This clarifies why mostly big brands are using the challenge feature.
Influencer marketing is less definite, as it depends on influencers' view count and their popularity among users. Their fee can be anywhere from $200 to $20,000 per post. Of course, this number can vary depending on the influencer and its audience reach.
The brands and influencers haven't yet come up with a standard price structure for sponsored content since the platform is still relatively new.
Smaller brands who find TikTok sponsored ads too pricey can opt for collaboration with nano or micro-influencers.
How to Find TikTok Influencers?
To start a TikTok influencer marketing campaign, you need to identify TikTok creators that can benefit your brand.
Here are the steps you need to take to find TikTok influencers for your marketing campaign:
Identify your target audience (demographics and personal interests)
Do an organic Google search within your niche (e.g. TikTok fitness influencers)
Search relevant hashtags on TikTok in your niche
Identify current influencer sponsored content (try using the #ad along with the hashtags from your niche)
Check whether the influencers you already know have a TikTok account
In addition, you can find influencers from other social media platforms who have TikTok accounts on SocialBook, by enter TikTok as a keyword.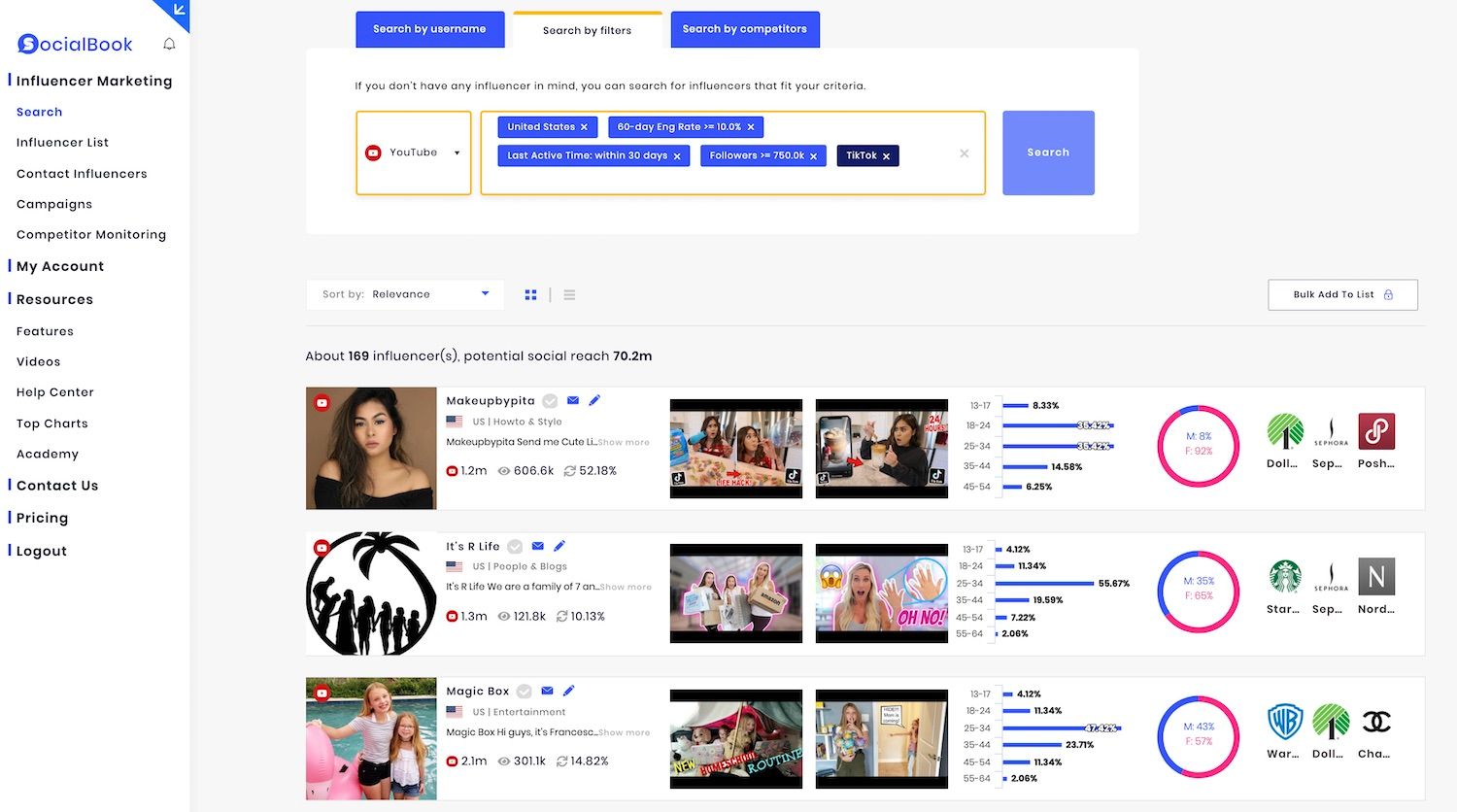 Some Final Thoughts
TikTok has become a serious influencer marketing tool. The influencers' power over their users can start the rapid sharing of brand-related content. The short video content has proven to be entertaining for the users and useful for the brands.
What made TikTok stand out among other platforms is that it shifts the spotlight from lifestyle to fun. Unlike Instagram and Facebook where followers keep track of lavish life habits of influencers, TikTok provides them with a place where they can enjoy music and dance videos, and have a laugh.
Brands have recognized this potential which is why we are seeing more TikTok campaigns with each month. What is certain is that TikTok is yet to grow as an influencer marketing platform.
---
---