Whether you are a marketing manager for your product or you are branding for yourself, Instagram Stories Highlights feature is an incredibly valuable tool that should be in your social media marketing arsenal.
In this post, you will learn how to use Instagram Stories Highlights, resources you can use to beautify Instagram Stories Highlights and additional tips on how you can use it to elevate your brand on Instagram.
What Are Instagram Story Highlights?
Instagram Highlights, launched in 2017, allows you to archive your Instagram Stories so that they do not disappear into the ether after 24 hours.
This means that brands can now create Stories content without losing the fruits of their creative efforts the following day. The content can even be resurrected again at a later date.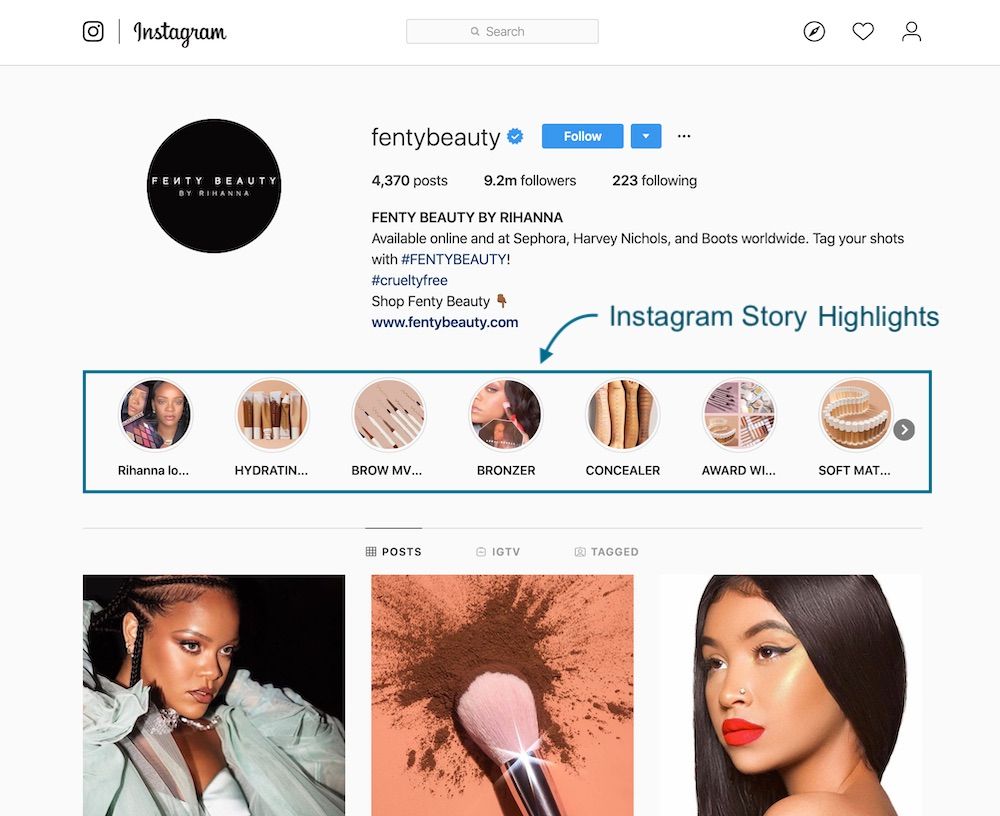 Instagram Story Highlights are the first thing you see when you look at an Instagram profile—they are the little circles right below the bio and right above the feed. It enables you to curate a 'tour' of your brand and its features, giving potential customers a quick and engagingly packaged set of virtual bullet points that introduce your product.
If your brand is not yet making use of the Stories Highlights feature in Instagram, it's time to start! Regroup, reconsider and take a good look at how this innovative tool can elevate your brand presence. And create an Instagram experience that puts your products center stage, drives traffic and sales.
How to Create Instagram Stories Highlights Step by Step
The Instagram Stories Highlights feature is easy to implement, so don't pass up the opportunity it presents to showcase your brand.
Before your start, make sure you have turn on the auto archive feature. It will prevent any future loss of valuable content. The auto archive feature saves your stories to the cloud automatically—there's no further action that you need to take in order to archive your stories and keep them for as long as you like.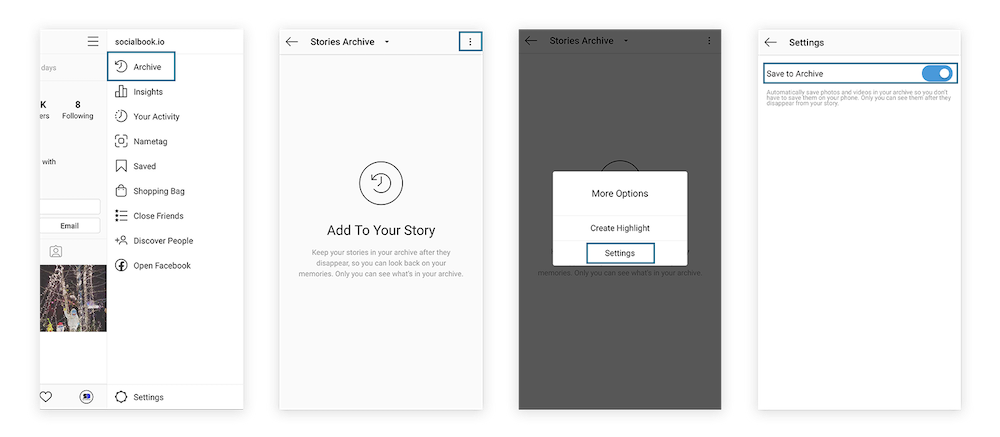 Create an Instagram Stories Highlight and Add Stories
Go to your Instagram profile page and tap the "+" button to add a new Instagram stories highlight.
Note: To create stories highlights You will have to post Instagram stories first.
2. Choose the Instagram stories to add to this highlight.
3. Name the highlight and select a cover for it. After Highlights are created, they are easy to edit any time you want to make changes.
Create an Instagram Stories Highlight from any  Instagram Story
If you don't see a "+" or "New" highlight button on your Instagram profile page, no worries, here are the basic steps to create your first Instagram Stories Highlight.
Share an Instagram story from your account, by simply swipe right on your main Instagram feed page.
Got to the active story you just shared, tap the "Highlight" button on the right bottom, create a new Instagram Stories Highlight, give it a name and tap "Add" to add the story on the back screen.
Go to your profile page, long press the stories highlight, select "Edit Highlight" to rename and change the cover photo for this Instagram highlight.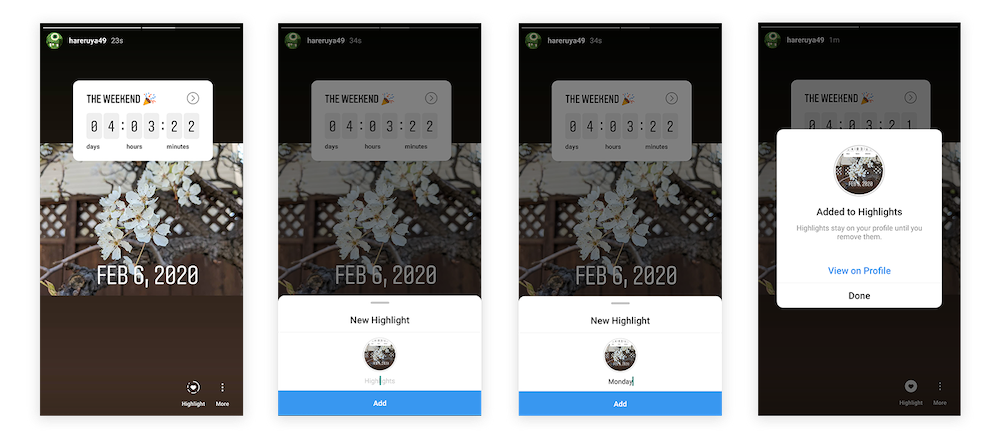 How to Categorize Your Instagram Stories Highlights
Grouping Stories by topic is a great way to make specific content easily accessible to niche demographics within your brand audience. It's an introduction to your brand, but also a way to deepen the connection with potential customers, drawing them in, engaging them further and letting them know what you have to offer that's of specific interest to them.
Let's take a look at the popular brands on Instagram, to see their best practices.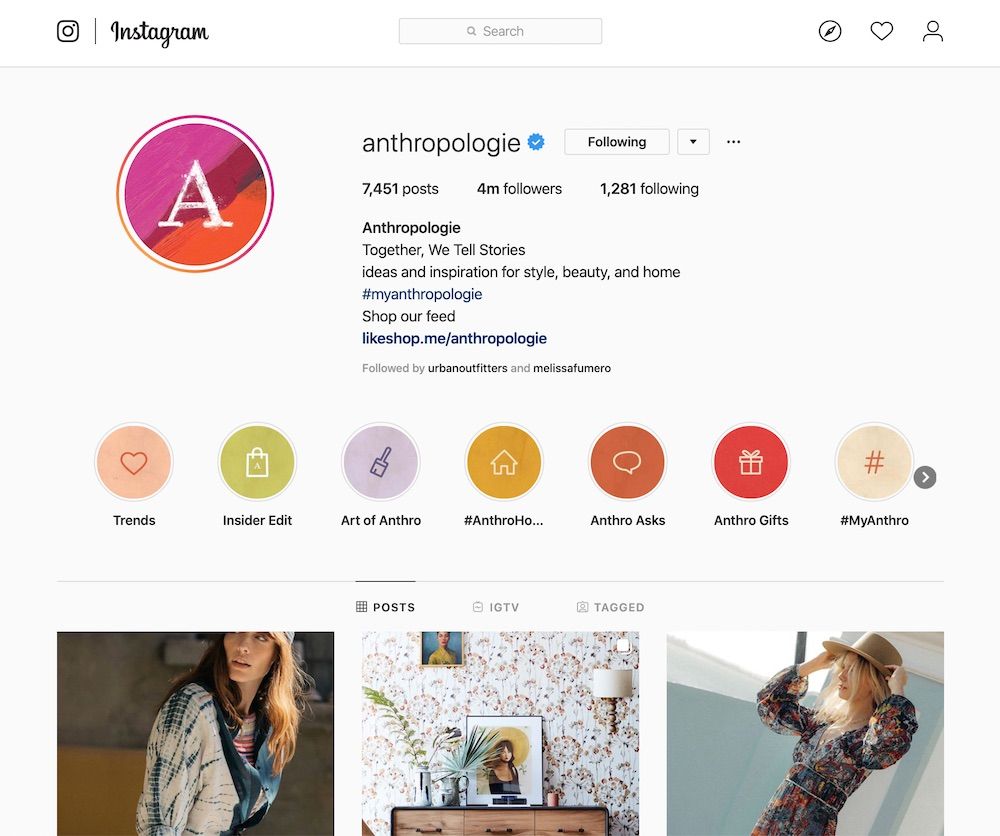 You can group your Highlights into categories of your choice, highlighting different topics like one of my favorite brands, Anthropologie. Anthropologie's Highlights are currently arranged into 10 categories, ranging from "Trends," which include the trending styles, to categories like "Art of Anthro" and "Anthro Gifts".
Categories can include groupings to promote items for holidays, different seasons and specific brands, among other options. There are all kinds of possibilities for brands from highlighting sales and promotions to showcasing special events in their Highlights, like wellness activist Kris Karr did when she promoted a Cancer Summit in her Highlights.
Another favorite, second-hand clothing brand ThredUp has categories for "THIS WEEK," "QUIZ," AND "FAQ."
Home décor magazine Domino Mag is yet another great example of how you can use appealingly curated groups of Stories to engage your customers. Their Instagram has Highlights that include "Color." "Trends" and "Home Tours."
Highlights are also a terrific way to drive traffic to your website. Users can swipe up on a Story Highlight to "See More" and go right to your website within Instagram.
Highlights can contain links to websites or to Instagram accounts of featured Influencer partners, like this link in the "Home Tours" Highlight of Domino Magazine's Instagram, which leads us to the topic of how Highlights can inspire some wonderful, mutually beneficial brand-influencer partnerships.
Instagram Highlights For Influencers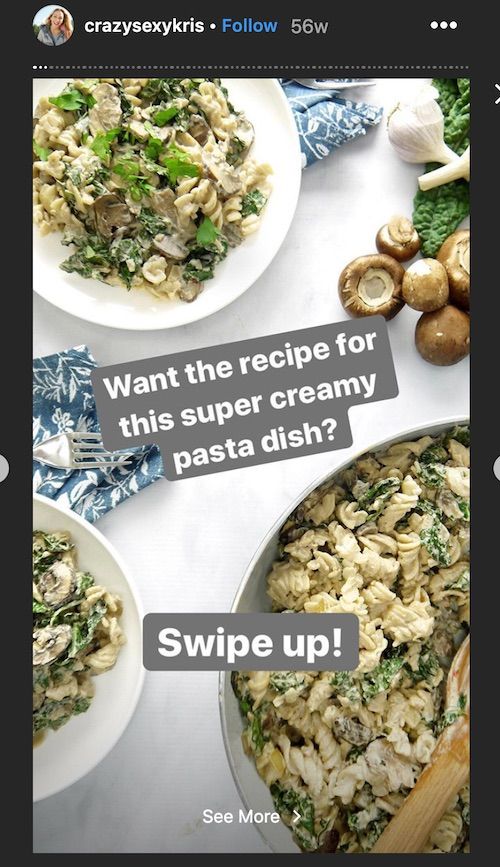 Influencers can make wonderful use of Highlights on their Instagram feeds, like Kris Karr who has tabs that cover topics like recipes, wellness, beauty and another that takes you straight to some of her blog posts, like this fun post with a video on "How to Make Meditation Super Easy."
Brands Like Anthropologie and ThredUp can create thriving partnerships with influencers that will make engaging Highlights. For clothing brands like these, it makes sense to partner with stylists and fashion bloggers who they can they feature in Highlights giving customers inspiration on how to style their own wardrobes.
ThredUp's "Style Inspiration" Highlight has links to the Instagram feeds of influencers like Tracy-Ann Frazier, Bethany Everett and body positive fashion blogger Kristina Zias.
Home décor brands like West Elm, Domino Mag and Article can partner with interior decorators and design bloggers.
Article has a Highlight on their Instagram about a recent shoot on Pender Island in British Columbia that has a link to the Instagram feed of Sea Star Farm and Vineyard, a vineyard where some of the shoot took place.
The Article shoot was a win for Pender Island tourism, since the entire island was featured in the shoot. You can swipe up on one of the Stories about the shoot to go to the Article website and read "The Article Guide to Pender Island."
Additional Tips to Instagram Marketing
Not only is Instagram Highlights fun to implement, but the possibilities for engaging cross-promotions using this feature are innumerable for both brands and influencers.
Highlights are ridiculously easy-to-use and so appealing that just a cursory exploration of how brands are integrating this wonderful Instagram tool into their marketing plans will likely inspire you to follow a number of new brands in short order—this feature is that good at engaging customers.
If you are a marketer promoting a brand, it's simple to find influencer-partners who will appeal to your audience using a handy vetting tool like SocialBook. Just select your preferred channel (in this case, Instagram), and you can then narrow down your influencer choices by different categories like type of content, language, audience and reach after that. You will also be able to see their top performed posts and get an idea of what posts can generate the most likes or comments.
Link to your chosen influencers in Highlights on your brand Instagram and they can link back to you in Highlights on their Instagram feeds, creating wonderful win-win cross-promotions for their brand and yours.
---
Want to work with the best social media influencers of your industry? Check how SocialBook can help your business.
---
---