Running a blog, having an army of followers, or getting paid for sponsored ads is enough for some influencers. They focus solely on their influencer career which brings a fair amount of income. But why stop there? The popularity that comes with being a fashion influencer can change (not to say disappear) which is why some influencers start their own brands. For fashion influencers, the ultimate goal is clear – design a clothing line and earn millions. These fashionistas are the ones who dictate trends so why not create and sell the clothing that depicts their style.
Starting a clothing brand is a challenging business adventure but not as risky when you have an army of followers who want to copy your style. The popularity that the title of influencer brings ensures them that the clothing line won't pass unnoticed. Now, whether it will turn into a multimillion-dollar brand or fall into oblivion after some time that depends on them. Running a fashion brand is the final step towards taking the crown among fashion influencers. Are you ready to see which influencers managed to rise from bloggers and influencers to a career in fashion?
Danielle Bernstein & We Wore What
Here's a name that you have probably heard of. Danielle Bernstein's name must come up when you talk about influencers and successful fashion brands. In 2017, she even earned a place on Forbes 30 under 30 list. So, who is Danielle and how did she manage to launch a fashion brand?
The Long Island native started her career with a blog. We Wore What is a fashion blog that she created with an intention to share her style with the world. Who would have guessed that this blogger from New York would become a world-famous entrepreneur?
Unlike some fashion influencers, Danielle has an educational background in fashion. She studied retail at the University of Wisconsin-Madison and then she transferred to the Fashion Institute of Technology in New York City.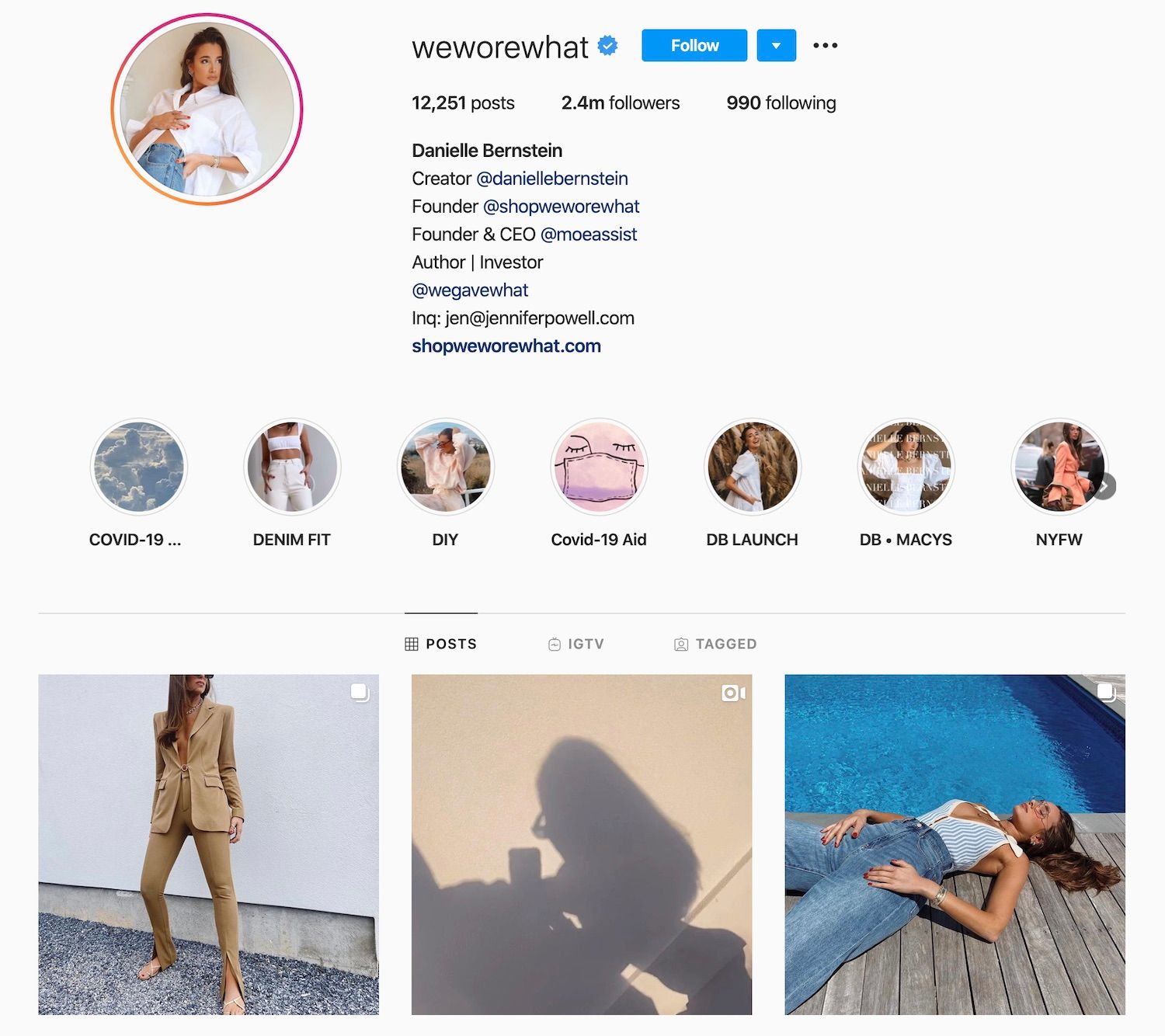 In 2016, Danielle launched the Second Skin Overalls line. What's fascinating is that when the overall line first launched in 2016 it brought in $70,000 in three hours. Her second fashion line was Archive Shoes. Both of her brands were brought into one fashion brand that is Shop We Wore What. All the pieces she designs can be found on this website.
Danielle's newest project is her collection for Macy's. She shared what made her accept this collaboration despite the fact that she has a successful fashion brand.
"Much of my childhood was spent shopping at Macy's in Manhasset. I would speed down Community Drive after leaving high school and scour Macy's for the newest items and outfits for everything from a high school dance to homecoming football game. Danielle Bernstein for Macy's is my ode to my childhood self, it's a way to bring my brand to the masses and pay tribute to the girl I was before We Wore What," said Bernstein for Business Wire.
It's clear that there are no limits for Danielle. Besides her fashion brand, she continues with collaborations and uses her good taste in fashion to build an empire.
Aimee Song & Song of Style
Aimee Song's success story also started with a blog. Song of Style is a blog that embodies fashion, self-care, beauty, travels, and everything that Millennials care for. The wildly popular blog was her path towards the fashion brand that carries the same name as the blog.
Song has been an active participant in the world of fashion since 2008. Based on that you won't be surprised that she is a fashion ambassador for well-known brands like Chloé, Giorgio Armani Beauty, Dior, and Revolve. She has also worked with Laura Mercier. Working with A-list brands combined with her own fashion brand secured her a place on Forbes 30 under 30 list back in 2016.
Fashion isn't the only field that Song is successful in. Her book Capture Your Style was on The New York Times best-seller list. She published another book in 2018 – Aimee Song: World of Style.
As if running a blog with several million views a month, a fashion brand, and brand collaborations aren't enough, Song also runs an interior design business. That's one multi-talented woman right there.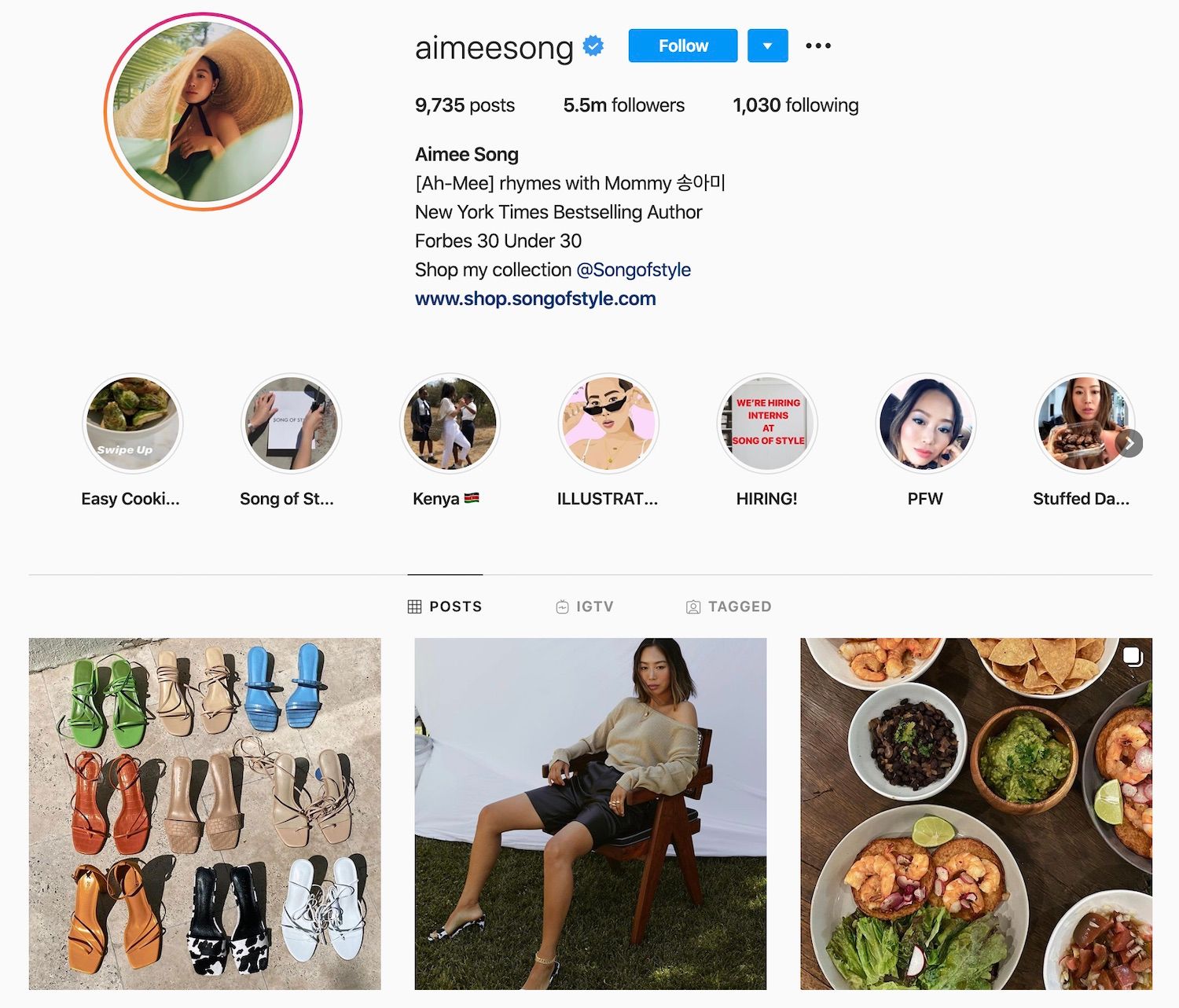 Aimee's own Instagram account has reached 5.5 million followers.
Rumi Dowson & Are You Ami
Rumi Dowson or as some may know her as Rumi Neely (her pre-married name) is one of the founders when it comes to fashion influencers who jumped into the design. The blog that jump-started her career was Fashion Toast. Her label Are You Ami was launched in 2014.
The "casual luxury" brand sells clothing that is solely designed by Rumi and manufactured in Los Angeles. Combining quality clothing with a stylish look proved to be the winning combination since the brand is highly popular for 6 years now.
The way she describes her brand is "Easy to wear. Easy to style. Easy to combine. Perfect for any occasion and every casual moment in between." The simplicity of her collections and the fashion style that her followers love is what makes her clothing loved by many.
The collaborations that she was a part of include design collaborations with The Reformation and Dannijo, a collection with sunglasses company Sunday Somewhere, and partnerships with retailers like Revolve and Shopbop.
Rumi also has experience in modeling. Represented by Next Modeling Management in the U.S. and Les Pros Entertainment in Japan she was in modeling campaigns for Free People, Bulgari's Save the Children campaign, RVCA, Forever 21, and Rebecca Minkoff's Lincoln Center Fashion Presentation for Mercedes-Benz Fashion Week to name a few.
She also won a few awards. That is, Rumi was named the "Blogger of The Year" and "Best Personal Style Blog" at the Bloglovin' Awards and she also took home the Industry Choice Award at the Socialyte Awards. On Instagram, Rumi Dowson has over 670k followers, and half a million fans follow her fashion brand Instagram @AREYOUAMI.
Being a fashion influencer, designer, and business owner means that you'll attract the attention of mass media. Rumi was profiled by prominent magazines and media channels that are Harper's Bazaar, Women's Wear Daily, CNN Money, The Wall Street Journal, New York Magazine, The Daily Mail, and Teen Vogue.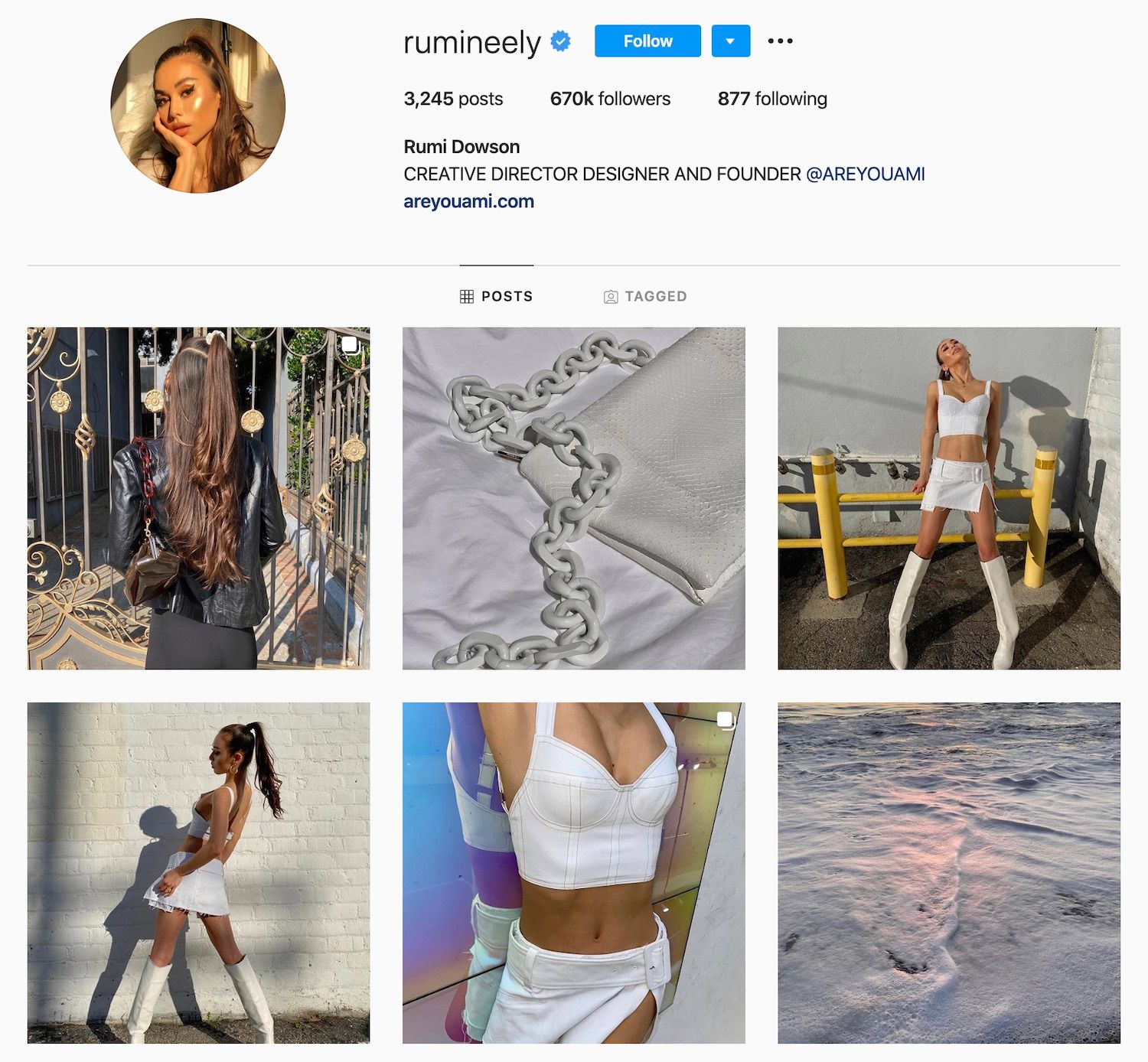 Chiara Ferragni & Chiara Ferragni Collection
Chiara Ferragni's beginnings were humble as she started with a modest website called The Blonde Salad. What had begun as a simple blog led up to her own Chiara Ferragni Collection brand. The Chiara Ferragni clothing collection includes hoodies, sweaters, t-shirt, tops, skirts, swimwear trousers, shorts, jackets, and underwear. The versatility is on point.
Besides the success of her blog and fashion brand, a notable moment in her life was when she became the first fashion blogger to appear on any Vogue cover (she was selected for the cover of the April 2015 Vogue España). Since then her face was on 50 fashion magazine covers.
On April 19, Chiara Ferragni Collection announced their collaboration with Champion Europe. Chiara Ferragni and her brand also collaborated with Oreo in a COVID-19 related campaign.
Chiara has a lavish lifestyle with her famous musician husband. It is no wonder that the number of her Instagram followers reached 19.8 million. Recently, her life was documented and shared in Chiara Ferragni Unposted documentary.
Chiara Ferragni is one of the top 100 fashion & beauty Instagram influencers, with almost 20 million followers.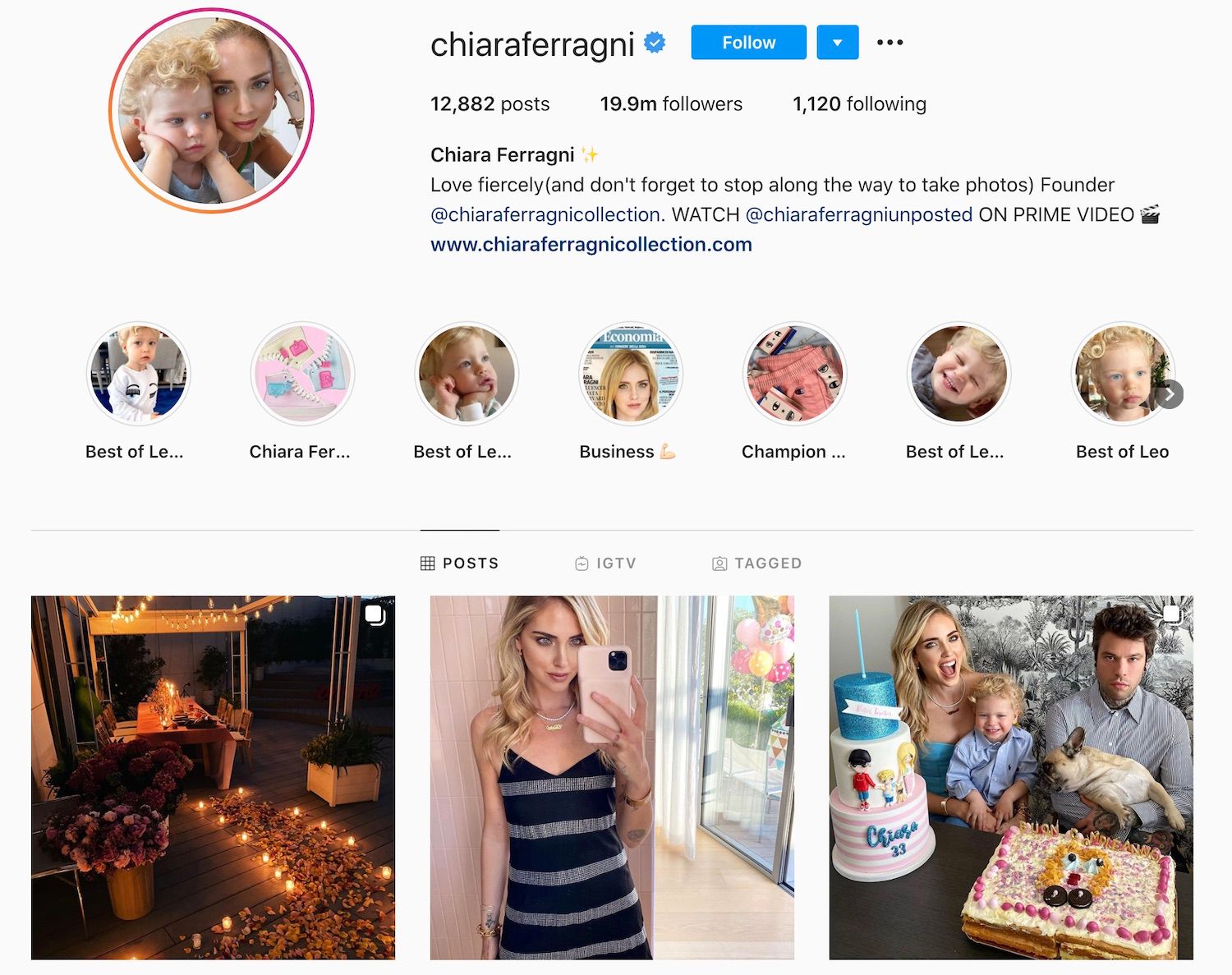 The success of her blog and her footwear line gained the interest of Harvard Business School and they used it for their case study in 2017. The case study focused on how to monetize the dual streams of a blog and a personal brand as a business. Additionally, she was ranked first on the Forbes "Top Fashion Influencers" list in 2017. What more is there to say?
Alexa Chung & Alexa Chung Brand
British born fashion influencer Alexa Chung started her career as a model. She was only 16 when she modeled for teen magazines line Elle Girl and Cosmo Girl. Some of the companies she worked for are Fanta, Sony Ericsson, Sunsilk, Urban Outfitters, and Tampax. During her modeling days, she appeared in music videos for the Streets, Westlife, Delta Goodrem, Reuben, and Holly Valance.
Wanting to pursue entrepreneurship and get away from the career that negatively affected her self-esteem, Chung quit modeling. In 2017, she launched a fashion brand that carries her name.
Her distinctive style is what caught the attention of many and helped her establish a name in the fashion industry. Alexa's name often appears on best-dressed lists and she is a regular model for Vogue, Elle, and Harper's Bazaar.
Alexa explained the vision of her brand. Her aim is "to create clothes that people want to wear. Combining Parisian chic with a New York edge, as well as the very British sense of humour, it is inspired by everything from Jane Birkin's insouciance to David Hockney's stripy sweater." The brand produces four in-season collections per year internationally and has stockists in more than fifteen countries.
In addition to being a talented fashion designer, Alexa is also a writer. Her writing career includes a monthly column for British women's magazine Company and a weekly newspaper column for Britain's The Independent. She was a contributing editor of British Vogue and interviewed designers such as Karl Lagerfeld and Christopher Kane- In 2013, she finally released her own book titled It.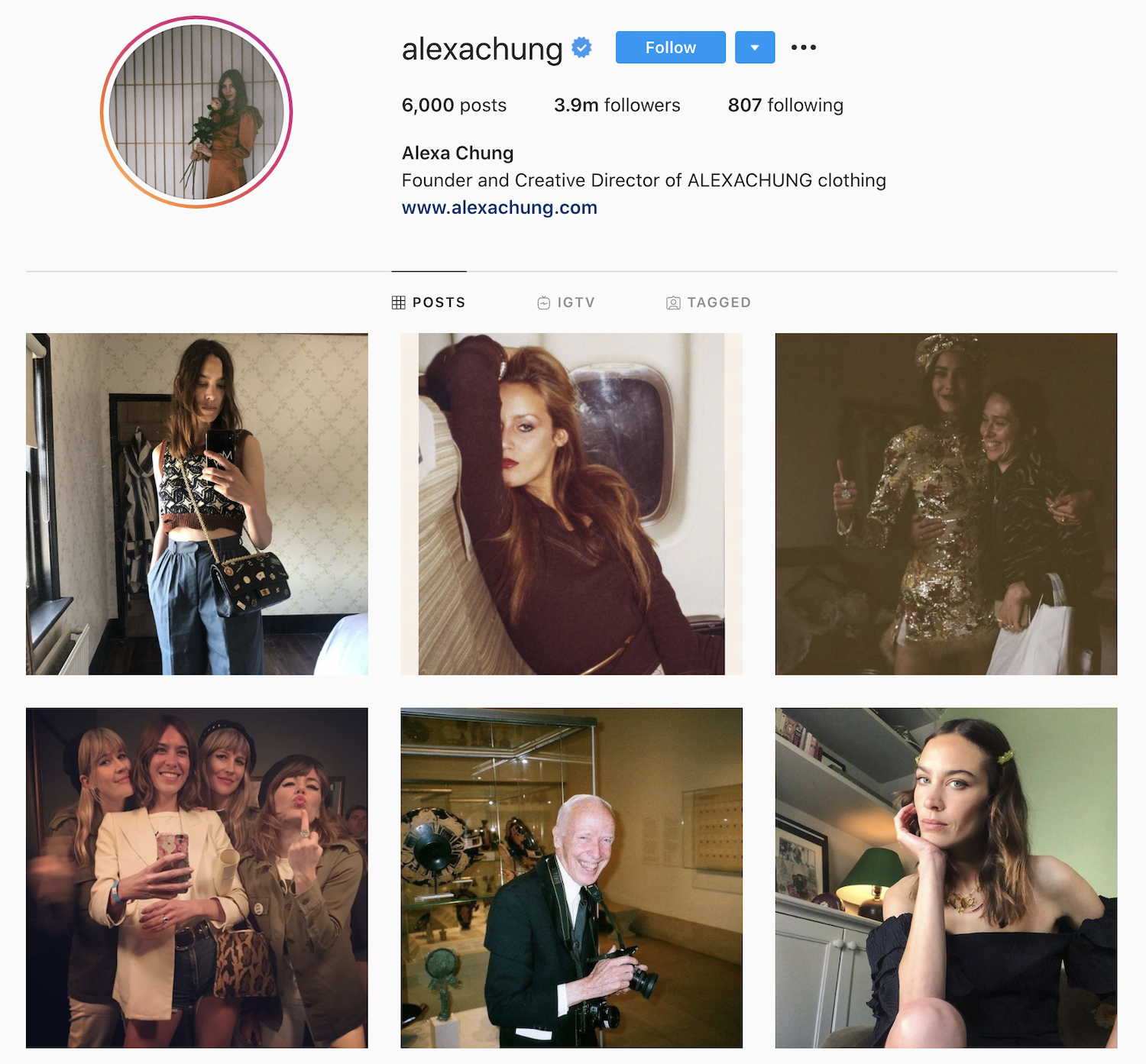 On Instagram, Alexa Chung has 3.9 million followers, including fashion & lifestyle brands H&M, Madewell, Urban Outfitters, and Shopbop.
Jeanne Damas & Rouje Paris
You know those too-good-to-be-true success stories? Well, Jeanne Damas has the main role in one of them. Her career began when she opened a Tumblr profile where she shared the most ordinary life moments like pictures of her friends, parties, and her personal style. This photo diary got the attention of fashion enthusiasts and her popularity started to grow rapidly.
Jeanne's journey might have started from the Tumblr blog and has grown into a well-known brand that is Rouje. The brand was launched in 2016. Rouje doesn't just offer clothing, but beauty, footwear, and accessories as well.
This French it girl translates her impeccable style into clothing and accessories. The brand perfectly embodies Parisian style, retro-charm, and timeless pieces.
Jeanne described her brand beautifully by saying that "Rouje is a brand for girls who apply lipstick with their fingers, who end up barefoot at midnight for having danced too much, who ride up their skirt to let the sun kiss their legs en terrasse, who eat French fries and drink red wine, who are not afraid of low necklines and oversized jackets, who wear dress on bicycles and jeans at parties, who cherish beautiful prints and rummage through their grandma's wardrobe."
In September 2019 Rouje's first flagship store opened in Paris along with the adjoining restaurant Chez Jeanne.
The title of fashion influencer opened many doors for her. Damas worked with some of the biggest names in the fashion industry like Gucci, Roger Vivier, Isabel Marant, Costume National, and Mango. Not to mention that she deservingly appeared on the pages of Vogue, Harper's Bazaar, Elle, Purple Magazine, Jalouse, L' Officiel, and many others.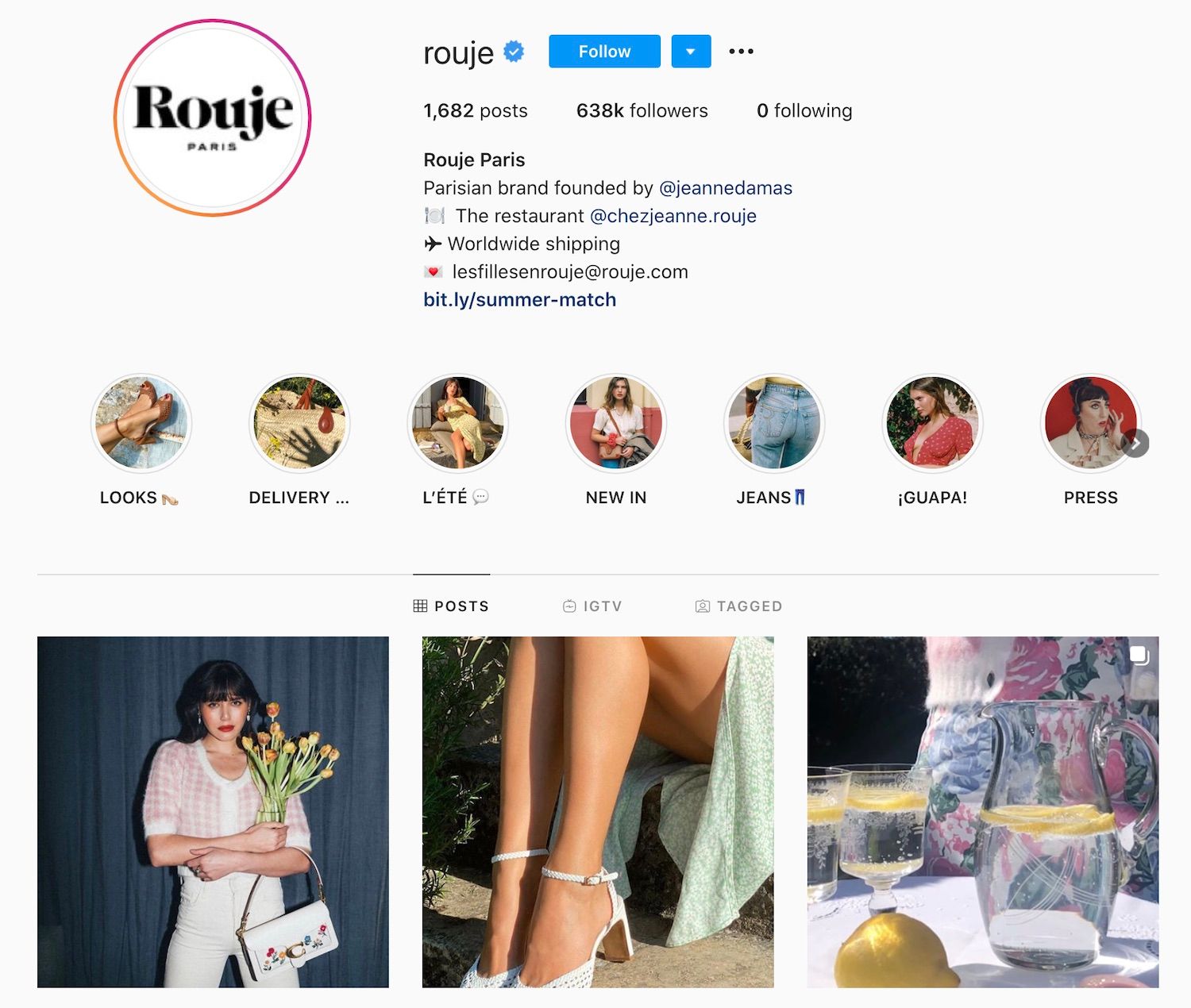 Final Thoughts
Fashion critics aren't the biggest fans of influencers' fashion careers but the millions of dollars that these ladies make say that they are wrong. Their fashion brands present the style that they showcase on their blog and social media. The style that brought them the attention of people in the first place.
The only constant in the digital media world is change. For that reason, having a fashion brand as a source of income is a smart way to use the current popularity. While they get consistent money flow, followers get to purchase clothes that their favorite fashion influencer wears. It seems like a win-win situation, don't you think?
---
We also have an article about the top beauty influencers, makeup artist and celebrities, along with the beauty brands they build, check out how Jeffree Star, Wayne Goss, and Rihanna started their own beauty brands.
---
---