What is a reaction influencer and reaction video?
Reaction influencers have become the new "thing" on the Internet. Reaction videos are trending and have become wildly popular amongst the masses in the past few years. In such clips, YouTubers are seen reacting –passing funny and sarcastic comments, exaggerating expressions, expressing their emotions, etc.– to different kinds of content; these can range from funny clips and pictures to different games, riddles, horror stuff, and much more.
As the teens put it, 'reaction videos are the rage right now,' so a lot of YouTubers formerly invested in categories like gaming, beauty, etc. have shifted towards the react genre instead. Many of these channels are running with diversified content, and there are only a handful of channels that produce reaction content solely. Several of them have been a YouTuber for quite a few years before they branched out; this led to a massive increase in their subscriber count. Therefore, as of today, there are countless reaction channels, which have become an integral part of the YouTube landscape.
Why are reaction influencers popular now?
To many people out there, reaction influencers, and their videos might seem like a preposterous idea. They may raise questions like, "What joy can people possibly derive from watching someone else react to different content?" To witness others genuinely react to stuff is satisfying, but if viewers were asked to pinpoint what actually stirred their interest, they would be at a loss. Nevertheless, scientists and psychologists have come up with theories as to why these reaction videos stimulate their brains.

One possible explanation can be through mirror neurons and how they contribute to an individual's emotions. Although controversial, this theory elucidates that we enjoy watching people do things. When we see someone pick up a book, the same neurons that would have been activated when we picked up a book, light up; however, mirror neurons are not just limited to actions but extend towards others' feelings as well. When we see someone anxious or sad or happy, we feel the same way, respectively. To explain the workings of mirror neurons simply, it is sufficing to state that these particular neurons stimulate other people's actions and feelings on our motor representations –although other brain regions may be involved– and therefore, contribute toward social understanding. In conclusion, when we watch someone stifling their laughter or playing a game for the first time in these reaction videos, our brains try to mirror them as well, consequently, grasping our attention.
Another theory proposed by a clinical psychologist takes human nature into account, with empathy playing a massive role in it. As humans, we form bonds based on recognizable emotions, as they help us to relate with other people –friends, family, or even strangers. Especially, when people get a "just like me" feeling from YouTubers on a virtual screen, they empathize. Maybe viewers realize that the influencers are people just like them, or maybe that they get the feeling they are participating in the video themselves.
It becomes so easy to forgo responsibilities and binge-watch reaction videos all night long because of the two-fold experience the reaction influencers deliver; firstly, viewers recognize the emotions being conveyed in the videos, and secondly, they bond with the influencer as they can relate to the feelings (satisfying the "just like me" factor).
With this being said, YouTubers should react in a way that fires up the viewers' mirror neurons and make them think 'this person is just like me!' to get them hooked. With a few witty remarks here and there, the channel is going to be a booming success.
Reaction influencers are at war with each other, battling for the top-tier positions in this genre. In order for them to do that, all YouTubers must have a unique selling point –a quality or trait that sets their channel apart from all other influencers producing similar content. When they let their personalities shine through their videos, each video automatically distinguishes itself from other competitors'.
Furthermore, the YouTubers should cover relevant topics; whether it is the latest celebrity scandal or a viral video, it should be something that the people are talking about. When viewers search for these trending content, they are likely to stumble across others reacting to it as well, making these react videos sought-after. A few creative ideas for YouTube reaction videos, with which one can kick-start his channel (or create more diverse content if he already has one), include reacting to music videos, video games, movie trailers, scenes from horror shows, asking older people or kids to react to different material, and much more.
In addition to this, what the videos need is a good recorded intro and outro. While there may be many familiar with the video that is being reacted to, there will be others watching it for the first time. To alleviate confusion and bring clarity, the reactors should not only introduce themselves at the beginning of the segment but also add a short, exciting introduction of the content (that will be reacted to). Before ending the video, one should conclude with the final opinion and ask viewers some questions, which they can later answer in the comments below. The rest of the magic lies through timing, funny edits, and zooms to set reaction videos apart from other YouTubers'. Almost all reaction influencers make use of reaction video templates to merge edits and clips easily, therefore, the YouTuber must have real technical knowhow.
The top reaction influencers and how much they get paid?
In the midst of the influencer's war, a few prominent YouTubers have risen above than the rest with their dynamic videos, and their ability to secure audience engagement. Below are some influencers that have distinguished themselves, and you will see why-
REACTION TIME: 15.3 Million Subscribers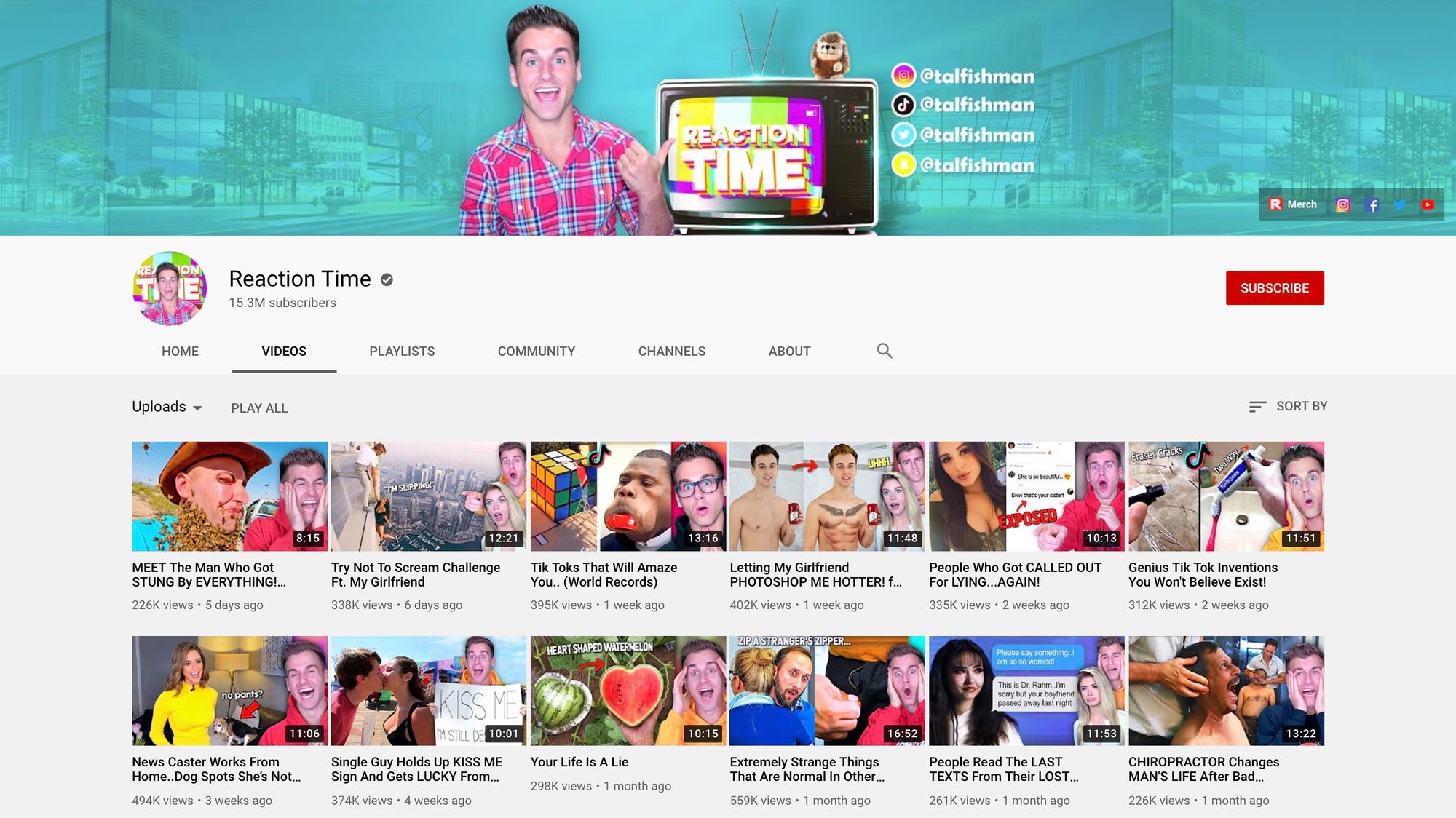 One of the top reaction influencers is Tal Fishman, known better through his alias "Reaction Time" on YouTube. He is an American YouTuber, ranking first amongst all reaction channels out there with his top-quality content and fancy editing. His videos assure entertainment through exaggerated reactions, although Tal is not solely responsible for attracting laughs and humor. A small component of his videos can be credited to Alfredo the Hedgehog, a savage accomplice, who roasts not only Tal but also his two other friends who are sometimes present on the show. Therefore, it is not a surprise that he has amassed over 15 million subscribers in 5 years, and a net worth of more than $10 million. On average, Tal earns around $5,000 every day.
NO LIFE SHAQ: 2.22 Million Subscribers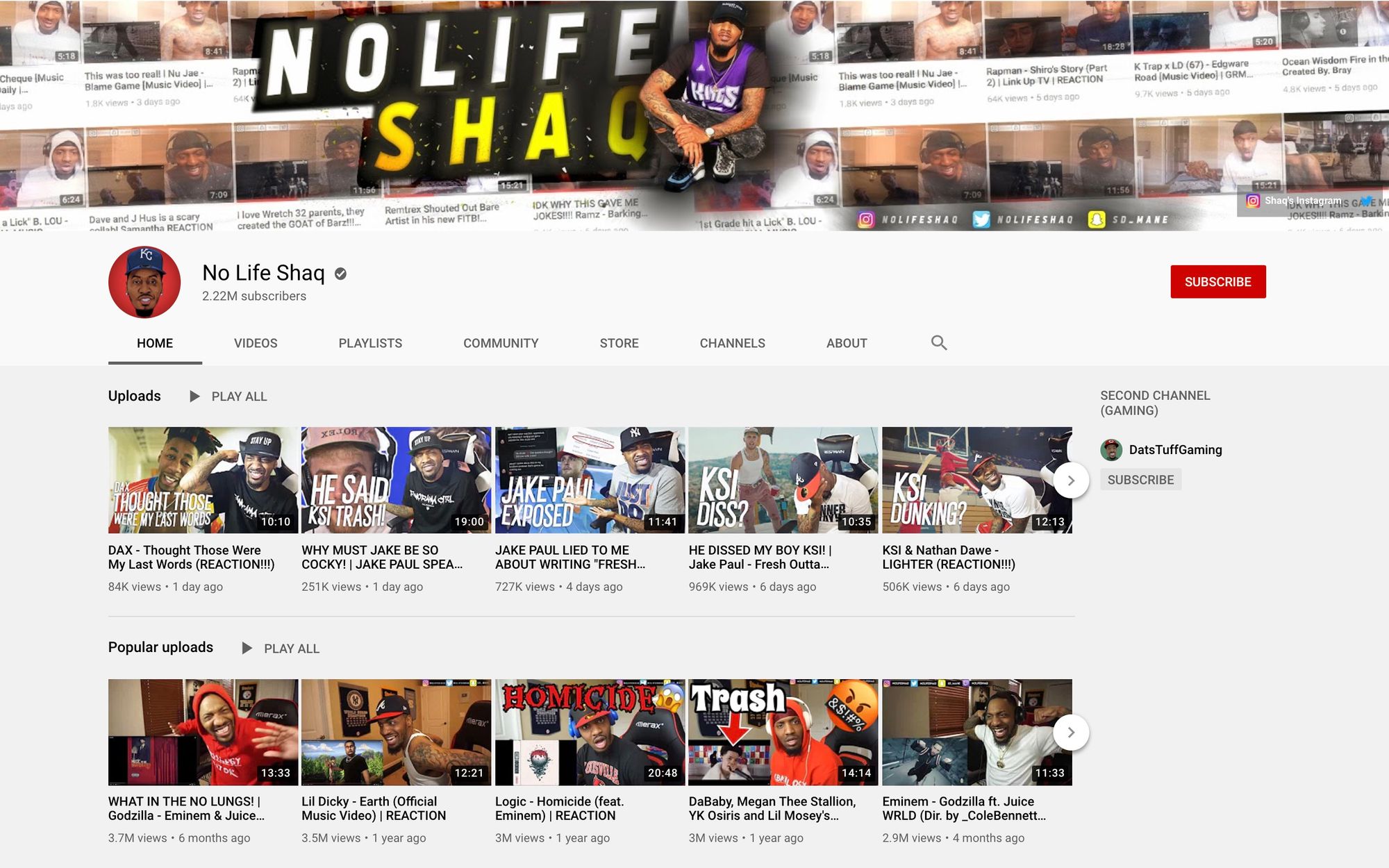 No Life Shaq, another popular YouTube channel, is run by a reaction influencer named Shaquille Davis. As a full-time YouTuber for three years, he has gathered a net worth of approximately $3 million and earns roughly a thousand bucks every day. Rather than reacting to random videos off the Internet, he is passionate about music and dedicates his videos to them. His enthusiasm is unmatched and his energy, all-consuming.
Davis' former videos used to be based on sports before he converted to music, particularly the hip-hop genre, and then branching out to country and rock as well. Davis faithfully listens to his fans, who decide which song he should make a reaction video on. Neither does he hold back on praises nor trash-talk. If a song swings below his expectations, one can expect him to roast it.  
dangmattsmith: 11.7 Million Subscribers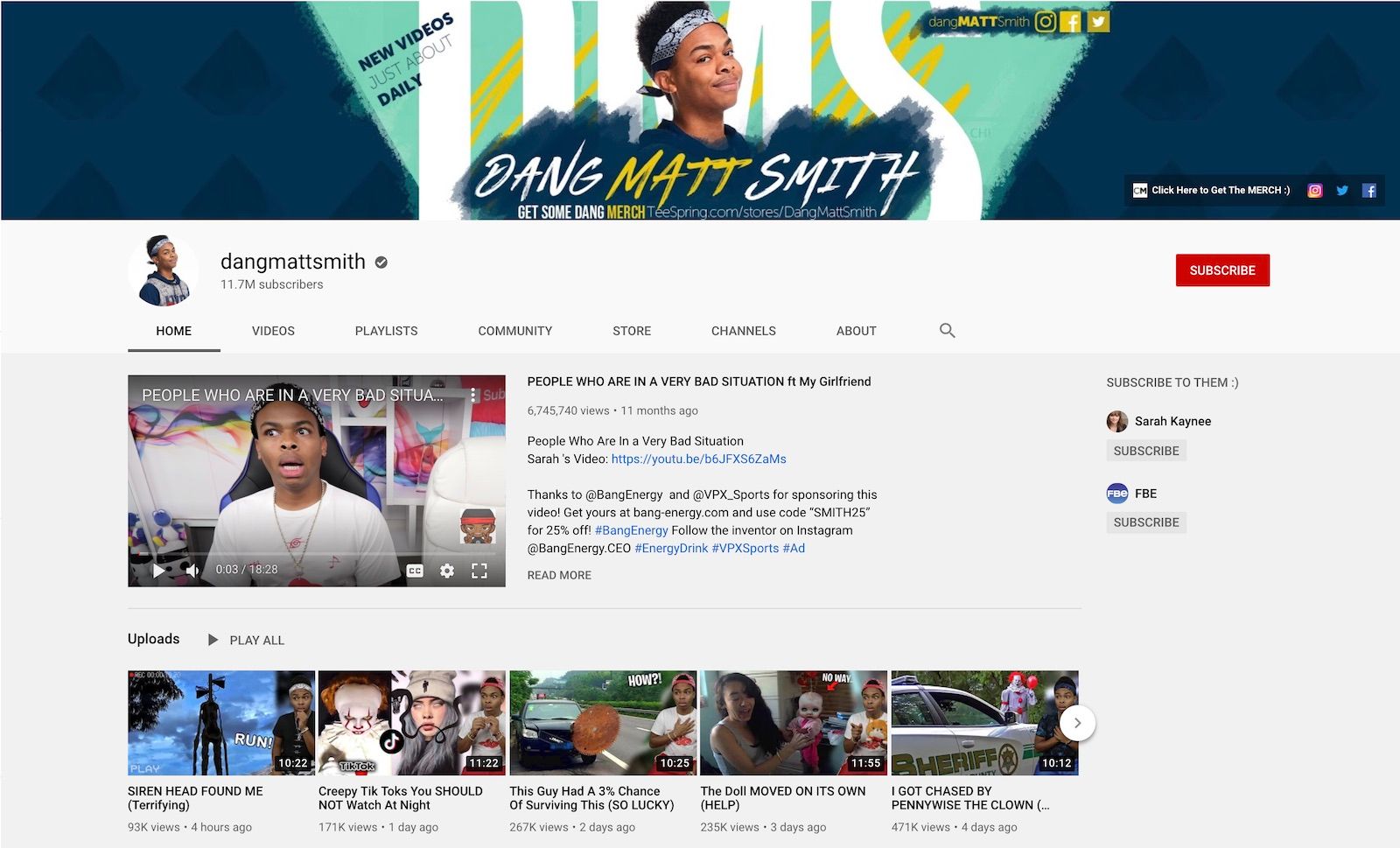 Matt James Smith, is a YouTube comedian and actor, running his reaction channel "dangmattsmith" since 2011. Known as the king of reaction videos amongst fans, he identifies himself as a boy trying to make his viewers laugh. For this, Smith has even received the 10th Shorty Award for "Best YouTube Comedian" back in 2018.
The content of his video ranges from him reacting to mystery riddles, hilarious family-friendly videos, kid test answers to scary animations. Truly dedicated to his channel, the reaction influencer releases a video every day, which generates $4,000 bucks, on average. His accumulated wealth, as of today, is a whopping $7.5 million.
SSSniperwolf: 21.2 Million Subscribers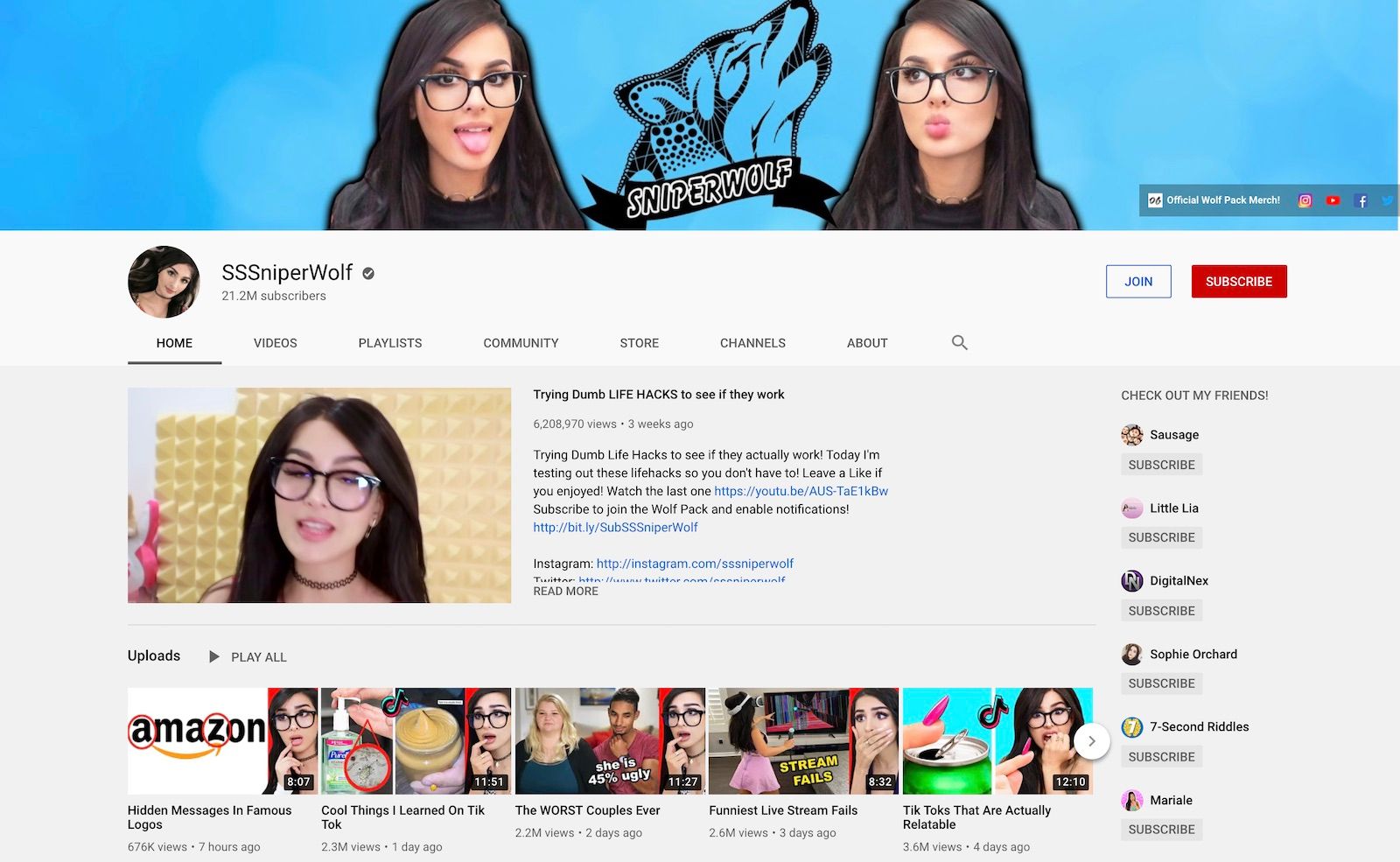 This famous reaction channel is run by Alia Shelesh, a 27-year-old British born YouTuber. Initially, SSSniperwolf started as a gaming YouTube channel where her fans witnessed Shelesh's pro-skills in the game Call of Duty; however, to expand her audience, she is now a reaction influencer as well as a gamer. It worked, and her ever-popular reaction videos have gathered her more than 18 million subscribers. Shelesh reacts to various videos, including different people's TikToks, weird hacks, and DIYS, etc. All in all, she is climbing the success ladder very fast, making her videos insanely popular and earning her around $20k daily.
INFINITE: 15.6 Million Subscribers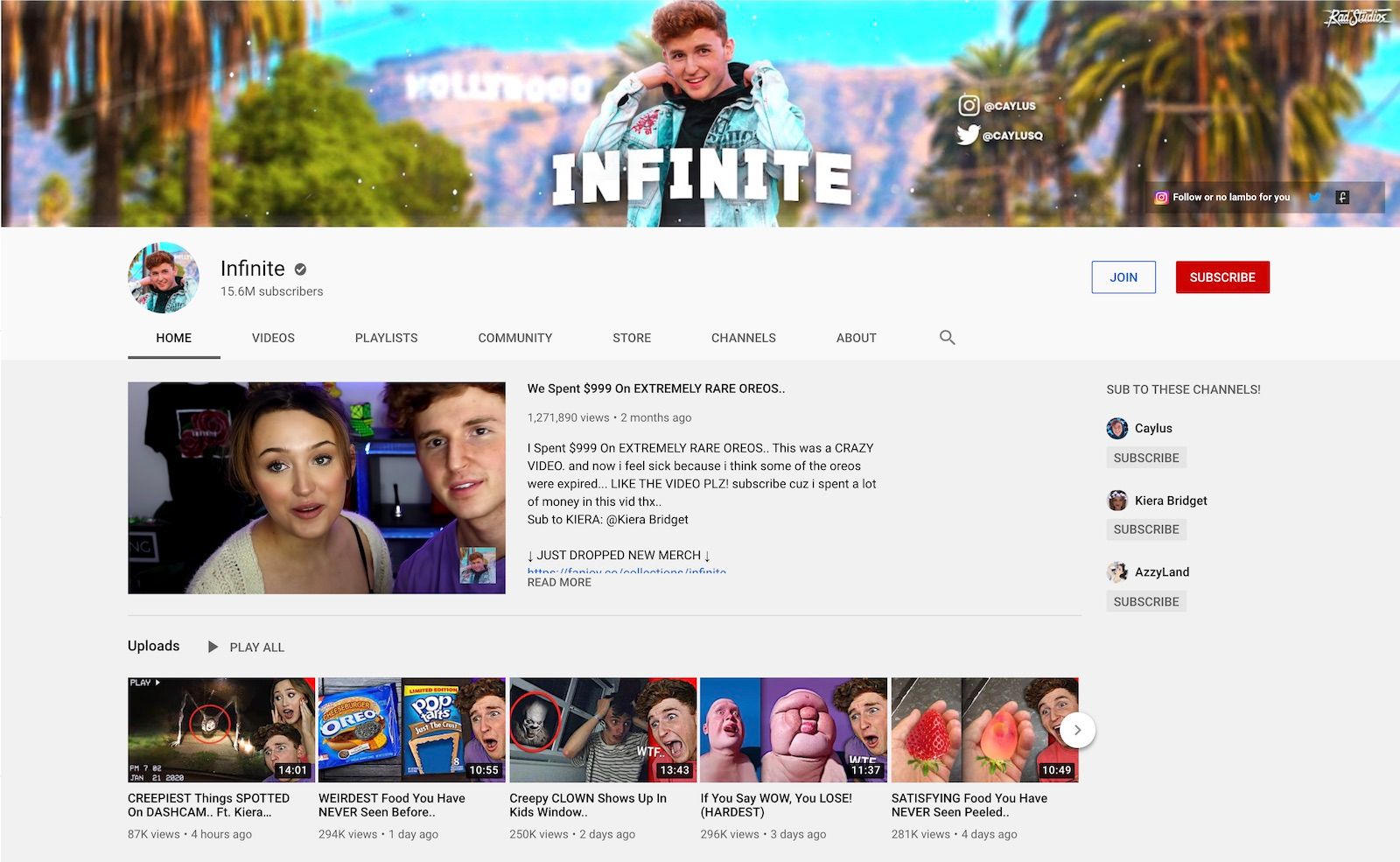 Caylus Cunningham is the reaction influencer behind the YouTube channel "Infinite." He is another YouTuber who is a gamer as well as a reaction influencer, with more than 15 and a half million subscribers following his channel. Cunningham can be seen reacting to different videos off YouTube or to varying pictures in news articles; what makes them epic is his expressions, how he raises and drops his voice a few decibels, and insane editing techniques that draw out laughter from the audience. He started doing reaction videos to not only keep up with the changing trend towards reacts, but also because it was an opportunity to express his opinions on thoughts on varying topics, and he surely has mastered them.
AZZYLAND: 12.7 Million Subscribers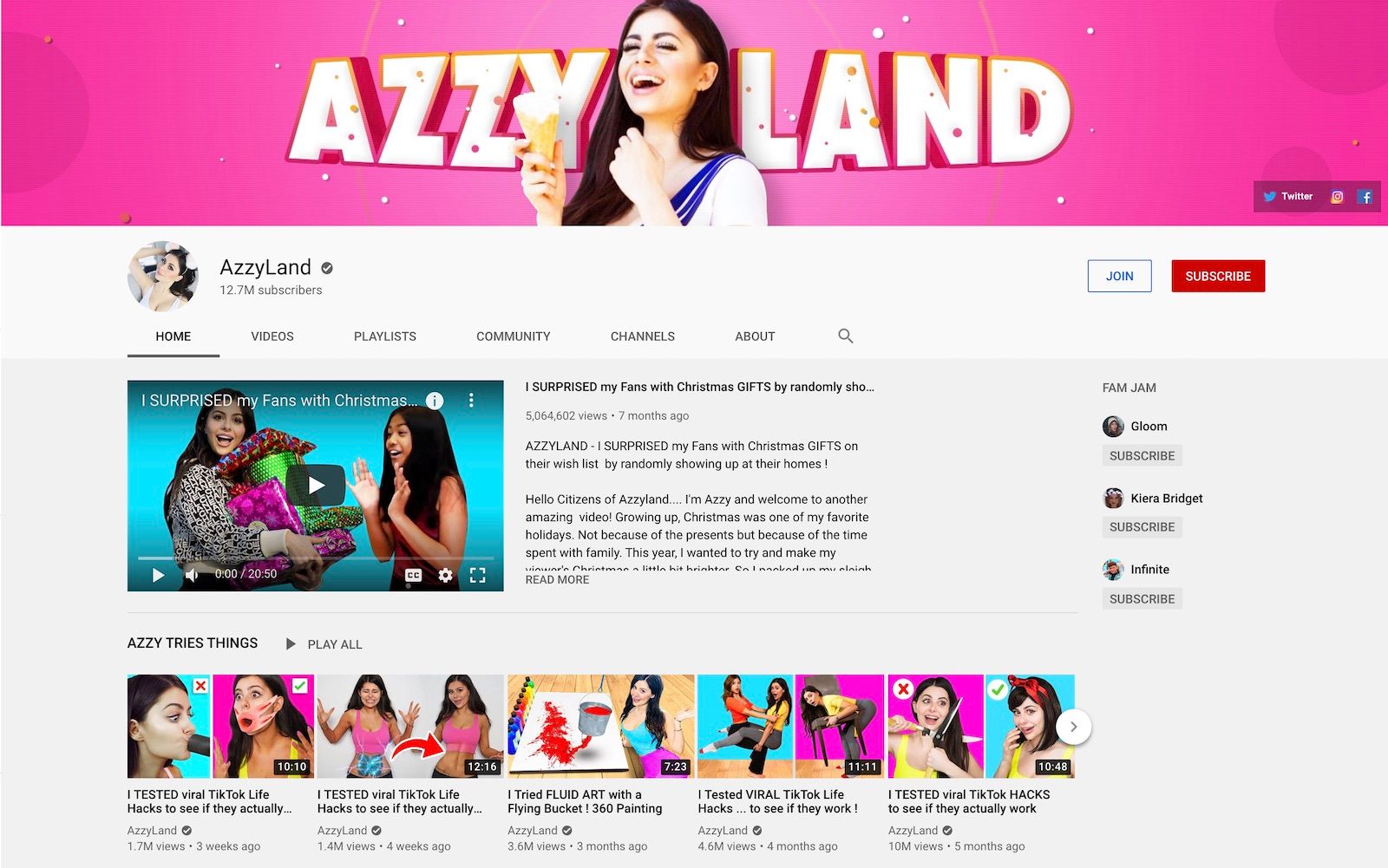 It is a well-known fact that most YouTubers joined this particular social media platform on a whim and uploaded videos as a hobby before unexpected success and popularity convinced them to switch their career paths. One prime example is of Azra Bajrami, the reaction influencer behind the channel AzzyLand. She dreamt of becoming a doctor, and from pursuing that as a profession to becoming a YouTuber was a massive jump, but she did it anyway. Starting off her channel with videos about cosplay, she quickly switched to gaming videos, where she bagged millions of views and subscribers. Now, her current primary fare is through reaction videos, where she reacts to compilations of trending videos. Azra has garnered a net worth of $23 million and earns around approximately $9-10k daily.
FINE BROTHERS ENTERTAINMENT: 20.1 Million Subscribers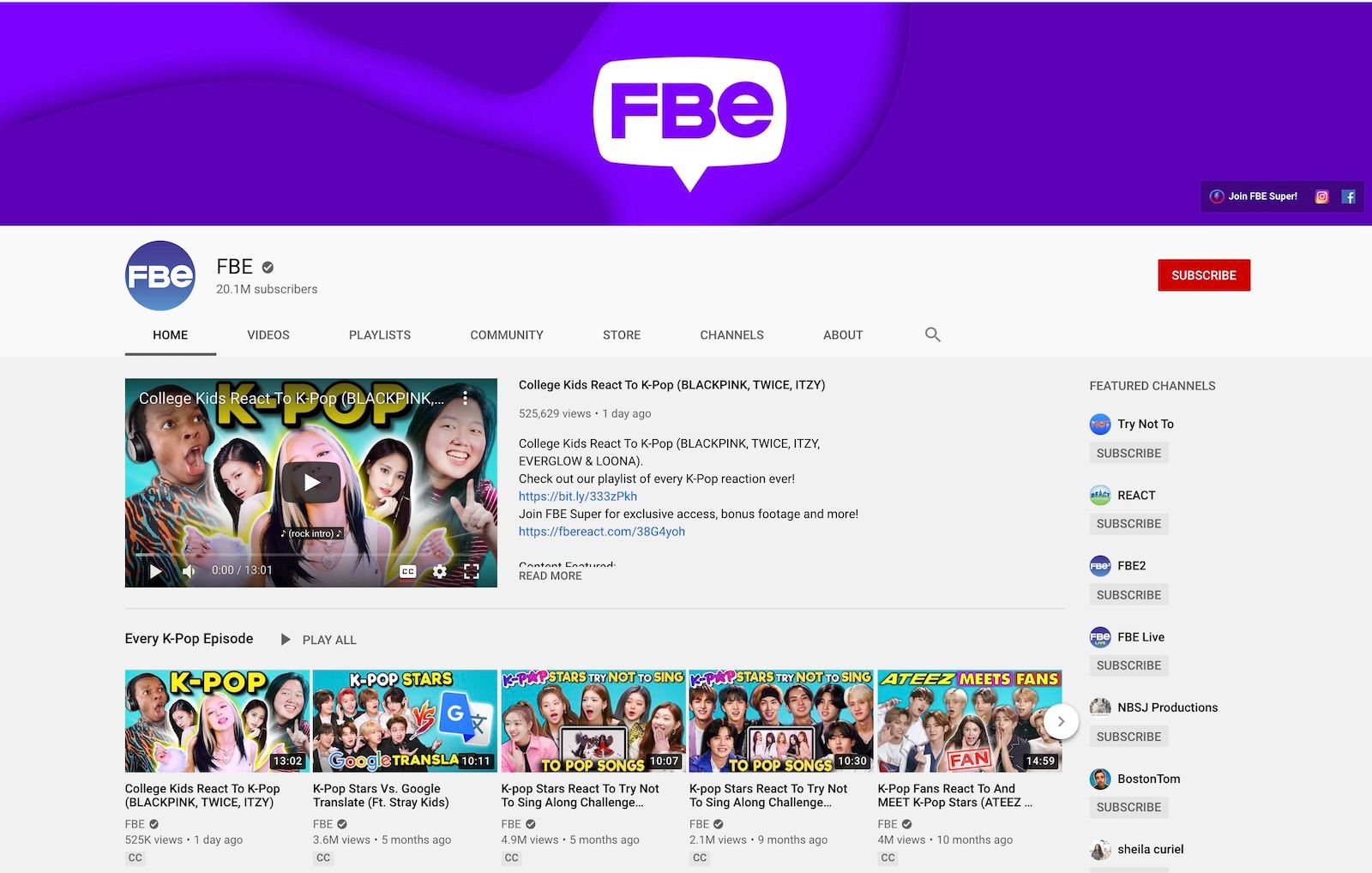 The Fine Brothers Entertainment's (FBE) success story comprises their sketches and comedic videos -their reaction videos being, by far, the most popular. Although their content is not mind-blowingly original, it is rich. They ask people from different age-groups (like adults, kids, teens, olds) to react to different things (funny or scary videos, food, movies, TV shows, celebrities, music, etc.). The results are shrieks of laughter, befuddlement, sadness, or whatever their natural reaction is. In 2016, however, Benny and Rafi Fine's (the founders) decision sparked a controversy, which led to their downfall. There was a significant drop in their subscribers when they announced their decision trademark "react" by branding a system called "React World." What they did not expect was a massive backlash and criticism, which led to them rescinding their attempt and apologizing to the enraged masses. Nevertheless, in a few months, FBE had recovered from its initial loss of fan following, and it continues to strive in the market of reaction influencers quite successfully. Now, they have accumulated a net worth of around $9.8 million and earn roughly $4000 bucks every day.
BLASTPHAMOUSHD TV 2: 1.64 Million Subscribers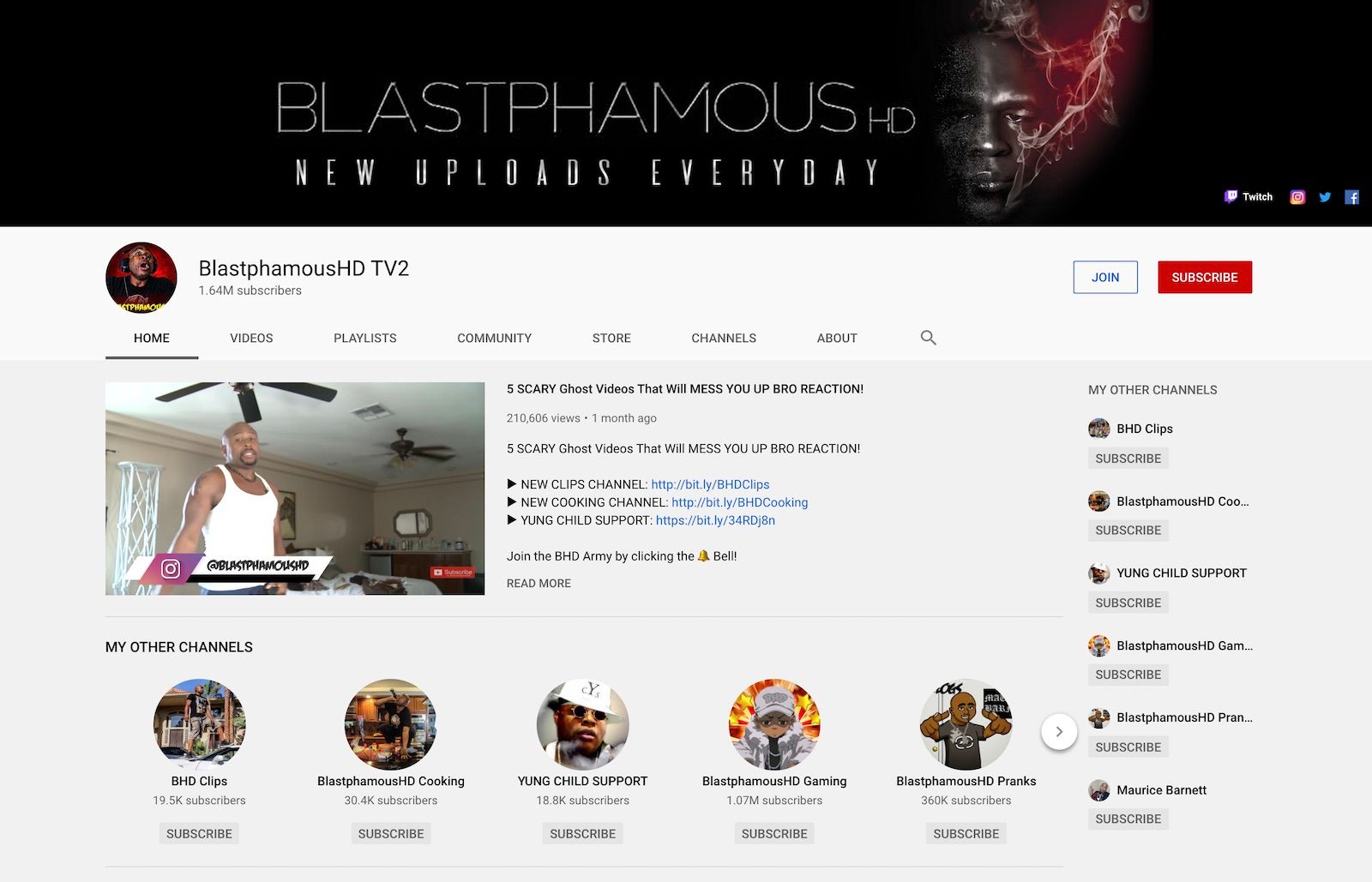 BlastphamousHD TV was primarily a reaction channel, founded by Richard Maurice Barnett. His viewers have praised him for his method of reactions, his bold commentary, and his consistent schedule of uploading seven videos daily. However, due to a violation of YouTube's terms of service and copyright issues, his account was terminated and replaced by his backup account "BlastphamousHD TV 2". The audience has been disappointed with this transition; they claim that Barnett's videos now lack genuineness and quality. His reactions are mediocre and just not the same. Perhaps, one factor is adhering to YouTube's family-friendly policy, which limits the way he talks and tones down his personality. Moreover, nothing political or offensive is tolerated, which goes against the original content he used to produce.
Regardless, even on his second channel, he has amassed around 1.64 million subscribers and earned a net worth of $1 million through it. Videos uploaded over there make him around 500 bucks every day.
---
---