YouTube recently hit the news because South Korean group BTS has broken YouTube's record for the most views in 24 hours. They are just the latest YouTube record holder, however. Since 2005, there have been numerous videos top a range of YouTube charts.
Now, many readers may never have heard of BTS. However, their new song, "Boy With Luv" smashed the latest record for the biggest 24-hour debut.
If you aren't up-to-date with the latest boy bands, BTS (aka the Bangtan Boys) is a seven-member South Korean boy band. They won several New Artist of the Year awards for the track "No More Dream" and gained prominence with their subsequent albums. Their second full Korean album, Wings (2016), sold more than 1.5 million copies. Their third album, Love Yourself: Tear, debuted at #1 on the Billboard 200 making them only Korean act to achieve this to date.
BTS has an active social media presence. They were the most retweeted celebrities in the world for 2017 and 2018. Guinness World Records gave them a spot in their 2018 edition for "having the world's most Twitter engagements for a music group."
YouTube's Biggest 24-Hour Release Record
While BTS currently holds the YouTube 24-Hour Release Record, they may not keep it for long. This record changes more often than many others. Only a week previously, BLACKPINK's "Kill This Love" took the title, overtaking Ariana Grande for the biggest 24-hour debut.
However, Korean pop dominates this chart currently. Korean acts can claim seven of the top spots, with BTS holding three of the top ten slots.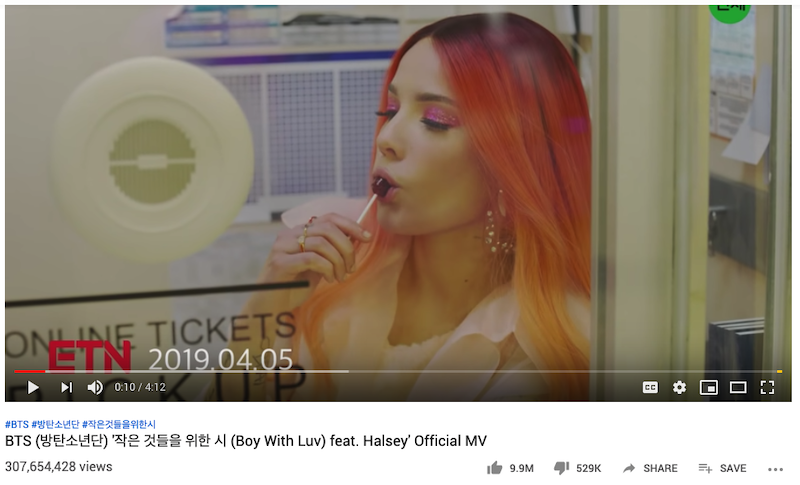 Their record-breaking track is "Boy with Luv," which received 74.6 million views on its first day, and has now more than doubled that to 154.5 million views and still rated "#1 on Trending".
Of course, while brands targeting young Korean females may love to make a deal with BTS to promote their products, BTS is unlikely to use their official music video channels for such a purpose. However, it is notable that "Boy with Luv" does include YouTube advertising on its front-end. Brands still have an opportunity to "attach themselves" to any musicians on YouTube who permit ads on their YouTube videos.
Other YouTube Music Charts
YouTube includes an official page of Music Charts & Insights, tailored for your country. The front page of this includes charts for Trending, Top Songs, Top Music Videos, and Top Artists.
Again, because these charts focus on official music videos uploaded onto official artists' YouTube channels, they give few direct opportunities for YouTube influencer marketing. However, brands can benefit from any ads attached to music videos. Technically, the types of artists appearing in these records are full-blown celebrities (mega- influencers if you were able to make a deal with them). They have vast numbers of people watching these videos, but probably few people returning to the channel daily. They have high follower numbers and reach, but generally only one-way engagement.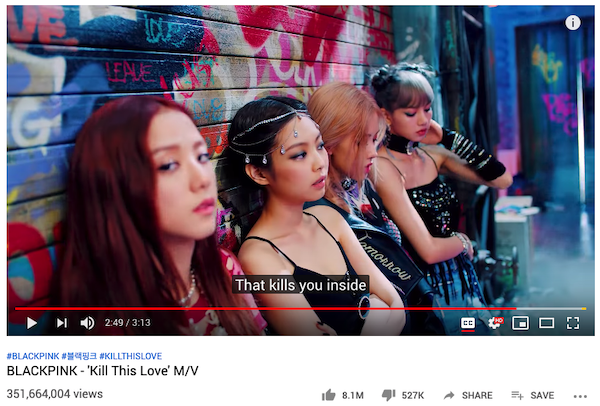 For example, the top music video at the time of writing was BLACKPINK's 'Kill This Love' M/V. It too, includes a YouTube ad at the start of the video, giving some opportunity for brands to connect with the channel. The song has been online for two weeks at the time of writing. In that time, it had received 211 million views, with 1.1 million comments, 6.6 million thumbs-up, and 426,000 thumbs down.
YouTube also lists Top 40 music charts each week and assembles playlists of the appropriate tracks to go with them.
Most Viewed YouTube Videos of all Time
While the list of YouTube's most viewed videos of all time isn't exclusively music video based, most of the top videos are in that genre.
In 2016, Pexesco discovered that music videos only accounted for 4.3% of YouTube traffic. However, they account for 11% of all YouTube videos. It shows that a lot of people devote their YouTube time to watching a relatively limited number of music videos.
If we look at the record for most viewed YouTube videos of all time, it is notable just how many people have watched these videos – far more than most other video types. 14 of the top 15 videos (in terms of views) are music videos, 95 out of the top 100. Indeed, the sole exception in the top 10 is a bootleg copy of an episode of a Russian children's program called Masha and the Bear.
Again, these offer few opportunities for direct influencer marketing, although they do give the potential for having your YouTube ads placed on these frequently watched videos.
Despacito, by Luis Fonsi ft. Daddy Yankee still tops this chart, now up to 6.1 billion views (with 2.9 million comments, 32 million "thumbs up," and 3.9 million "thumbs down.")
Most Viewed YouTube Channels
Of course, if you wish to work with influencers, it is far better to take notice of the types of channels more suited to the practice. You are going to want to work with channels who have viewers and subscribers like your target market.
Inevitably this list includes official VEVO music channels – which again are fine if you intend to buy YouTube advertising, but not particularly viable for more traditional influencer marketing activities.
The list of most viewed YouTube channels differs substantially from the most subscribed channels. There are many channels that people view occasionally or as a one-off, but which they don't subscribe for. The list also recognizes the international nature of YouTube. As at April 2018, the Top 10 YouTube channels, in terms of views, include channels from the USA, India, Turkey, Brazil, and the Philippines.
We wrote a while back about the battle between PewDiePie and T-Series to be the channel with the highest number of subscribers. That battle is still relatively close, although T-Series has now drawn ahead.
When it comes to most viewed YouTube channels, however, the story is very different. T-Series holds that record by a considerable margin. The top five channels (by video views) as of April 2019 are: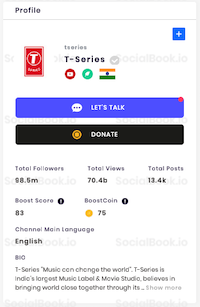 T-Series – 67.7 billion views
SET India (Sony Entertainment Television) – 32.0 billion views
WWE – 31.4 billion views
Ryan Toy Reviews – 28.7 billion views
netd müzik – 28.5 billion views
PewDiePie can only make 11th position when measured by video views – 21.1 billion.
In many ways, the most notable of these record-holding most viewed channels is Ryan Toy Reviews. All the other channels are corporate goliaths, releasing videos created by multiple people (or teams of people). None of the other channels could be considered ripe for influencer marketing. However, Ryan Toy Reviews focusses on a young boy reviewing his toys – ideal for influencer marketing, if that is your target market and you can afford the undoubtedly high fees that Ryan (or more probably his parents) know they can realistically charge.
Most Subscribed YouTube Channels
We recently looked at this list in more detail, but there have been a couple of changes in this list in the last month. Currently, the most subscribed channels are:
To any Beliebers reading this, worrying that their hero has disappeared from the charts, don't worry. He has dropped just one place to 6th place with 44.3 million subscribers.
From an influencer marketing point of view, the number of subscribers is an important metric. Subscribers are generally people who take a real interest in a channel and want to return to watch other videos there later. In comparison, millions of people may watch a clip on a channel but never return there again. This gives high views, but not necessarily a high interest in other content on the channel. This is particularly the case for music videos, where people may just search for a track, or listen to an individual song they like.
In many ways, T-Series breaks the usual pattern for music channels. They have both many subscribers and viewers. However, PewDiePie's viewers are arguably more fervent channel supporters. Likewise, there will undoubtedly be many subscribers who keenly await each 5-minute-Crafts video.
The Problem with Recordholders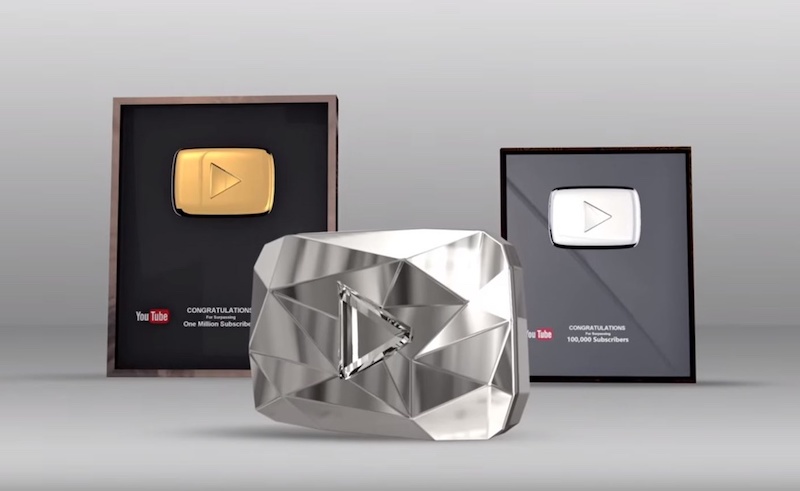 Over the last few years we have seen a trend away from brands working with celebrities and mega- influencers, towards them building partnerships with micro- and even nano-influencers. These record-holders have followings that make them more celebrities or mega- influencers.
If you have a SocialBook account, you have the chance to look at influencer marketing key statistics relating to each YouTube account. In most cases, you will notice that smaller influencers have better engagement than the record-holders. You will see a considerable difference in the Cost per 1000 Views statistic.
It is far better to work with an active YouTuber whose audience matches the types of people you want to sell your products to. It may sound good to know you've worked with a YouTube record holder, but you are more likely to gain better results partnering with a series of smaller influencers.
Sure, BTS may have just achieved another YouTube record. And with deep enough pockets you could probably advertise on their music videos. But unless you represent a large brand which sells high volumes of products to Korean teenagers, they are probably not the best channel to target for influencer marketing.
---
---
---