Talking about influencer marketing, the Kardashian family, and the beauty influencer on Instagram might be the first impression jumping into your mind.
However, the influencer network is far more complicated than that.
Other than beauty influencers we've seen all the time, there are a lot of influencers from various categories. Instagram influencer Leighton, like many micro-influencers, only has a few thousand followers but can sway the consumers' decision due to their expertise in specific niche segments of the market. The engagement rate of her Instagram channel is as high as 9.9%, according to the stats collected by SocialBook.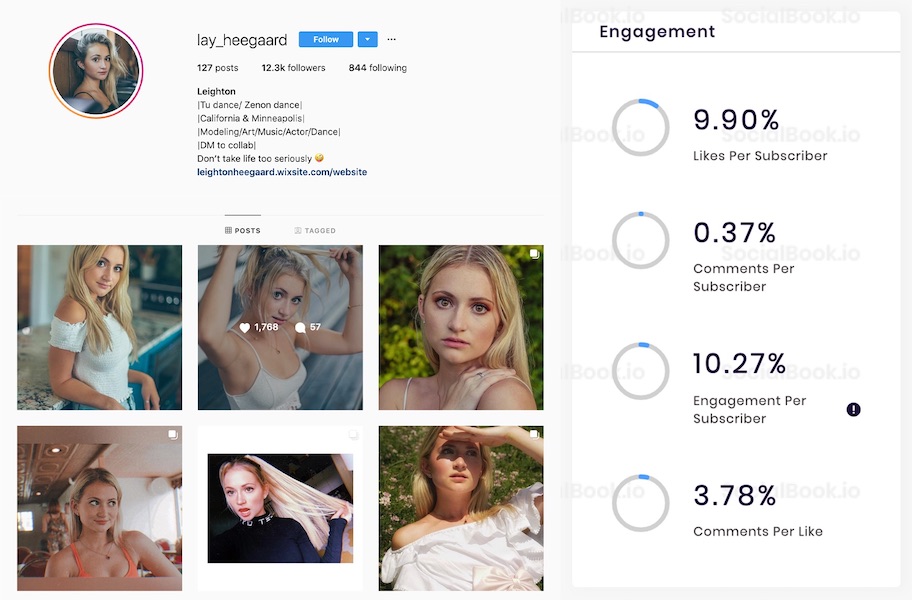 More and more audience are neglecting the traditional ads they are exposed to, so how to show your product to them? Is there a more effective way of advertising?
Influencer marketing might be the key solution for your product marketing. And a lot of marketers have put influencer marketing into their agenda. We have come up with the following five tips for you if you are new with influencer marketing.
1. Turn to Micro or Mid-tier Influencers
First of all, let's forget about all those big names of Kardashian and other celebrity influencers on social media. Instead, I would like to talk about the benefits of micro-influencer.
● High Engagement rate
After all, high popularity does not equal to the high conversion rate of an advertisement.
According to a survey done by Collective Bias that fielded to 14,000 adults, only 3% of American consumers are willing to buy in-store products endorsed by celebrities. However, nearly 30% of consumers surveyed are more likely to purchase a product recommended by a non-celebrity blogger.
This data might appear to be strange at first. Why are people more willing to listen to a blogger rather than celebrities?
The difference in engagement rate is the answer to that.
According to various researches, the engagement rate of medium and micro Instagram influencers (1k-500k followers) often appears to be higher than that of macro Instagram influencers.
For instance, although she has 139 million followers on Instagram, Kylie Jenner has an engagement rate of 4.67% as of June 27. On the other hand, with only a few thousand followers, micro-influencer Leighton, as I mentioned above, has an engagement rate of nearly 10%, which is much higher than Kylie Jenner.
Engagement rate is one of the most important factors that marketers need to consider when they're deciding between different influencers. Almost 90% of marketers use this metric to measure the performance of a campaign since users' engagement is the key to turn a viewer to a buyer.
Compared with celebrities such as the Kardashian family, micro-influencers usually interact more often with their followers daily. Their smaller community of followers allows them to have more time to reply to comments and prepare for activities that attract their followers to participate. In this way, their followers will feel more closely related to these micro-influencers and pay more attention to these influencer's daily postings. Unlike those celebrities who are far from the reach of the ordinary public, those micro-influencers are more accessible to their followers. When making purchase decisions, the followers of micro-influencers become more likely to be influenced, because the trust has been built up through daily interaction with their influencer.
● Lower Cost
When trying to choose the right influencer to promote your brand, the cost is also one of the main factors that need to be considered by many marketers. After all, the more followers that an influencer has, the higher the cost to advertise for your products.
For instance, you may have to pay Kylie Jenner up to $1 million to post a sponsored Instagram photo, which is unaffordable by many small or mid-size brands.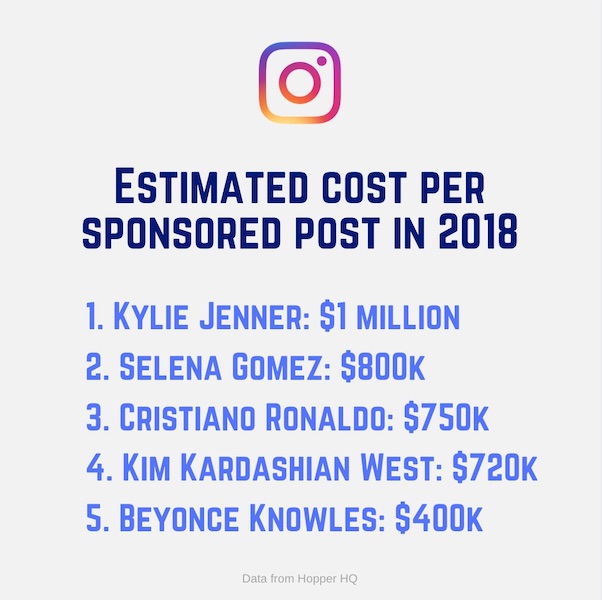 To avoid the risk of wasting both time and resources, micro-influencer appears to be a better option here.
Unlike those macro-influencers, micro and mid-tier influencer are usually more efficient due to fewer followers and higher engagement rate.
The cost to recruit micro-influencers is much more affordable. Micro-influencers are in their early stages of building their online presence. They would be more open to opportunities from small brands.
To get the best ROI, advertisers can devise their marketing plan by hiring massive micro-influencers to promote the product. This model allows marketers to achieve similar influence as the macro-influencers while benefiting from the high engagement rate and lower cost of the micro-influencer.
2. Develop an Influencer Cooperation Plan that Suits Your Brand
"How to find the most suitable influencer for your brand" often appears as one of the most significant pain points in Influencer Marketing. To solve this problem, marketers need to have deep insight into their brand and target audience first, then find out what kind of influencers are right for them.
Generally, the so-called "the right influencers" should have followers who are highly coincident with the brand's target consumers to maximize the conversion rate. Their content and promotion styles should also align with the brand positioning and ethos to maintain its online presence among the public while showing the consumers an authentic endorsement.
Therefore, brands not only need to research about the demographic characteristics of the audience but also take a look at the online personality of the influencers.
Here are some questions you may want to keep in mind.
What kind of culture have they been living with? Which generation do they belong to? Anything they agree with or against to?
Relevant information like these will be helpful for brands in the process of finding the RIGHT influencer. Here is where SocialBook plays a role. In the Advanced Search function of SocialBook, you can filter out potential influencers from the database by content, language, country, recent activity, or even the preferences of audiences if you want. By narrow the pool of potential candidates quickly, you can save more time to talk with these right influencers.
Of course, if you want to be more efficient, there is a shortcut to take. By looking at the influencers used by competitors, marketers can not only learn from others' marketing strategies and get inspirations. For instance, if you have a makeup product to promote, you can search "Anastasia," one of the trending beauty brands, on SocialBook, to check which Instagram influencers they've been working with, how's their performance, and what kind content have higher engagement.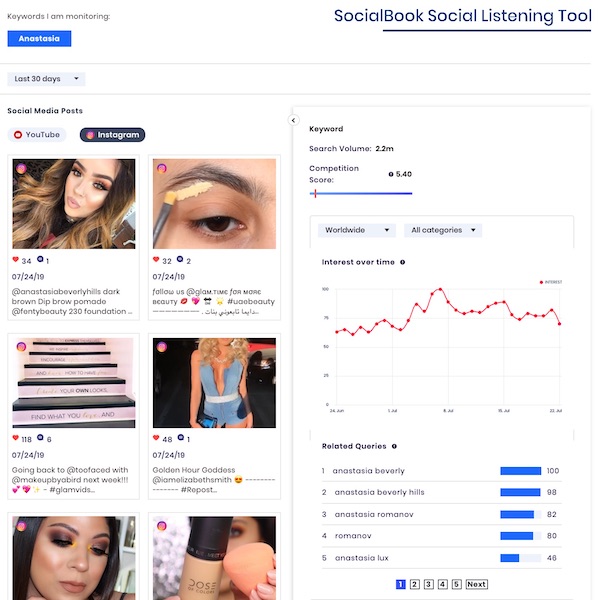 Remember, cooperation with influencers is not the same as traditional media launch or traditional PR. It is not easy for a brand to maintain long term cooperative relationships with various influencers at the same time. Moreover, problems such as geographical, time difference, cultural differences are difficult to solve by domestic brands when they are trying to reach for influencer resources overseas.
A robust influencer marketing tool will help you a lot in the process of maintaining continuous communication, inviting influencers to participate in activities, offering products or giveaways, and more.
3. Choose the RIGHT Social Platform and the RIGHT Influencer Marketing Metrics
● Which Social Platform?
According to research, Instagram, YouTube, and Facebook are still the most popular social media among the public, with the highest number of active daily users compared to others. As a result, these social platforms also become where most influencers gather for their fans, and the competitions are intense.
We know that many influencers have accounts allover different social platforms. However, influencers should not be forced to talk about the brand on one designated platform. Instead, brands should take the initiative to understand the platforms that the influencers are using and interact with them naturally. Compared with brands, influencers have more experience and knowledge about their audiences and the platforms they are using. By allowing the influencers to use their own chosen platform and contents, the target consumers will be more willing to accept the endorsement. Long story short, trust your influencers on what platform to go with and what content to post.
● What to Measure?
One of the vital measures of influencer marketing is direct sales. But what about other KPIs (Key Performance Indicators)? It is often difficult to determine and track the KPI in influencer marketing. It is also hard to track campaign ROI after the finish. According to a survey by Influencer Marketing Hub, more than ⅔ of marketers claim their need for measuring ROI; and 76% suggest that tracking ROI is the most significant influencer marketing challenge.
With SocialBook in-depth influencer profile data, marketers can make decisions in the early stage, on which influencer to collaborate with, and what strategy to apply. When a campaign is on-going, SocialBook campaign management tool can help the marketers to monitor the ROI and generate a campaign report.
As I previously mentioned in this article, one of the primary measurement metrics used by the brands is the engagement rate. Other metrics include the quantity and quality of the audience reached, website traffic, sales conversion, and the number of increased brand mentions on social media.
Choose to use different measurement metrics for various marketing purposes is the key to track ROI and have reliable information for future marketing decision.
For instance, if your promotion goal is to get more exposure on YouTube, then view count could be the primary measurement for your campaign results.
4. Do Not Limit to Short-term Marketing Campaigns
Only thought about using influencer marketing for a seasonal campaign is short-sighted. After all, establishing trust and continuous cooperation with influencers is not a one-off, and influencer marketing strategy takes time to show its effects and potential. Besides, as with any marketing campaign, influencer marketing can be time-sensitive. Proper use of influencer marketing strategies can help the brands to deliver the right message to the right audience at the right time.
Short-term, one-time marketing campaigns may be suitable for holiday or a single event. However, brands still need to maintain consistency in brand communication through continuous online marketing campaigns. When the consumer's time is fragmented, and attention easily distracted, constant marketing interaction will help the brand reach more new potential customers.
Monitoring social media about the discussion over your brand, and actively interacting with your influencers can help you strengthen the relationship with the influencer and their audience. And the audience of influencers may become the "influencer" for your brand in their offline community. For all of these to happen, it requires continuous support from influencer marketing strategies. So don't think of influencers just during certain activities.
5. Investment in Influencers = Investment in the Relationship between Brand & Consumer
Authenticity is the primary prerequisite for the success of influencer marketing. We have all seen a lot of celebrity influencer marketing campaigns that end up with dissatisfied results. Scott Disick, who published a product recommendation of BooTea on social media, is an example of it. The brand provides the content of the post. However, he accidentally copied the caption of the script and posted it directly.
Remember, consumers are not fools. They can tell a sponsored post and will immediately point out in the comments. Even when you cooperate with micro or mid-tier influencers, if you do not clarify a sponsored post, you may face the risk to be questioned. Not clarifying sponsored posts is not helpful to your campaign performance, but may even damage your brand's online image.
Consumers always pursue the truth. No one wants to be the only object of marketing but to establish a genuine relationship. To achieve success in influencer marketing, you have to tell the truth about your product and brands! And build a healthy relationship between your brands and influencers with their follower community. Then consumers will not only be a digit on paper but might become a loyal fan of your brand.
Want to avoid finding the wrong influencers for your influencer marketing campaign? Check SocialBook, the complete influencer marketing tool to start your next successful influencer marketing campaign.
---
---