Are social media influencers endorse controversial goods or services, like tobacco, drugs, and gambling? Let's take a look how do they create the endorsement posts and if it is allowed by regulations.
What are Controversial Goods and Services?
Of course, there will never be total agreement on what people consider controversial; background and culture affect their views on the topic. If you are somebody who enjoys a glass of wine or two a day, you probably have no problem with relevant influencers suggesting new bottles of bubbly you could try. You might even look forward to their suggestions. On the other hand, if you're a health professional, or perhaps somebody who's cleaned up after road accidents caused by drunk drivers, you are probably horrified by increased "under the radar" influencer advertising of alcohol products.
Other types of goods that can be controversial include tobacco, drugs, health and pharmaceutical products, diet pills, gambling, and financial services.
Then there is the issue of perfectly ordinary products that can be dangerous if misused. Is it ethical for influencers to promote these products if their followers turn around and use the product in the wrong way? These include obvious things like lighters, knives, pesticides, and spray paint canisters. However, some people would add even more everyday products to this list, including cars, razors, toys, and even athletic equipment.
Views of Controversy Differ Depending on Your Location
Every country or region has its own area of sensitivity. Many Western nations permit the restricted sale of products such as alcohol and tobacco. However, they usually place strict controls on advertising. For example, although it is permitted to sell tobacco products New Zealand and Australia, there can be no advertising in any form. Indeed, all tobacco products come in the same olive green packaging, with the product name in a set font size, no logos, and over half the pack showing graphic images of damaged body parts caused by smoking. Governments in these countries would frown very strongly on any local influencers trying to promote tobacco products.
Alcohol is a part of the everyday culture in many countries. Champagne, for instance, is named after the region of France most famous for growing the grape variety used to make the bubbly. However, alcohol prohibition is enforced in many parts of the world, particularly in Muslim-majority countries, such as Brunei, Iran, Malaysia, and even parts of India. Technically, prohibition generally refers to banning manufacturing, storage, (transportation, sale, possession, and consumption of alcoholic beverages. These places presumably ban advertising alcohol, too, which makes global promotion by influencers somewhat problematic when viewed by followers in banned areas.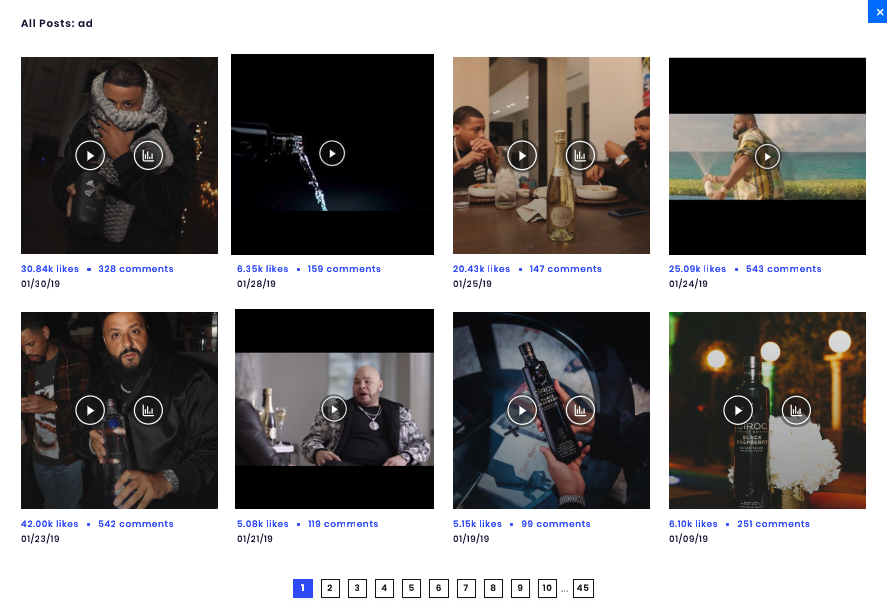 On the surface, toys may seem like an innocuous enough product. But regulators in many countries have strict rules relating to the promotion of products to children. All advertising targeting children is banned in Sweden and Norway. France has a rule that prohibits children from appearing in an advertisement. I wonder how they feel about YouTube channels such as KidToyTesters, run by five siblings, Yumiko (16), Sachiko (13), Kimiko (10), Kenzo (7), and Raiden (4), who test out different toys every week.
Influencers Promoting Drugs on Their Channels

Drugs, legal and otherwise, are another area of controversy. Most countries have imposed an outright ban on certain drugs, and promotion of them in any form is considered illegal. In some cases, users resort to using the Dark Web to having conversations on such topics. Other drugs, such as cannabis, are in various stages of legality/decriminalization in different state and nations. Prescription pills may be legal, but most areas have strong rules regarding their promotion.
England's NHS has taken particular exception to celebrity influencers, such as Kim Kardashian and Katie Price promoting what the NHS call "health products of dubious value." NHS Medical Director, Prof Steve Powis, has called upon Instagram, Facebook, and Twitter to stop running celebrity promotions for such products. He made his views very clear: "Highly influential celebrities are letting down the very people who look up to them by peddling products which are at best ineffective and at worst harmful."
On example involves Vicky Pattison from Geordie Shore (Britain's' equivalent to Jersey Shore). She has used Instagram to advertise Boombod weight-loss products to her 4.2 million followers. The product claims to give a "simple, quick, and tasty way to lose weight without feeling hungry. Each 10-calorie shot contains a unique vitamin blend and a natural fiber that works to reduce your appetite and is clinically proven to aid weight loss."
Kim Kardashian has used her Instagram account to promote Diclegis. Yet, FDA is not satisfied with this promotion.
Cannabis Brands are Trying to use Influencer Marketing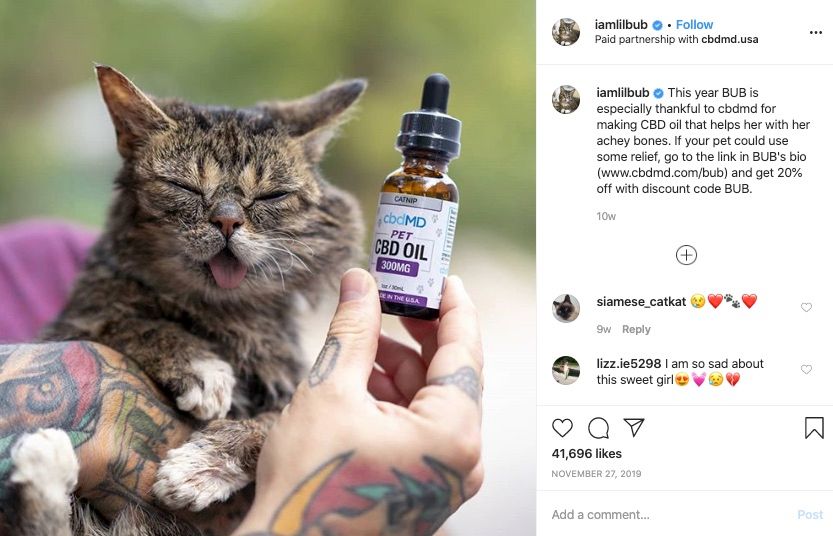 One of the top most-subscribed pet influencers, Lil Bub has been collaborating with pet CBD brand cbdMD for months on Instagram.
Of all drugs at present, probably the most complex for marketing must be cannabis. A while back cannabis was illegal in most of the Western world. There is no way that influencers could openly promote it on traditional social channels, without some regulatory body becoming upset.
In recent years, public opinion towards the drug has changed, initially for medical purposes, but also to some extent for recreational use. Various states and countries have decriminalized and legalized marijuana, making the legal position particularly complicated.
The major social networks have yet to change their policies on cannabis, however. Facebook, for example, won't accept ads for cannabis on any of the platforms it owns (including WhatsApp and Instagram). As a result, cannabis firms are trying a more subtle approach using influencers to spread their message about their topicals, edibles, and other weed products. Edibles producers like Incredibles and Wana increased their use of influencers by 32 percent over 2018.
This has led to something of a cat and mouse game between the social networks and the cannabis companies and influencers. The social networks regularly shut down accounts promoting cannabis, meaning that the cannabis companies and influencers have to start with new accounts. Cannabis company Kiva Confections had to create eight new Instagram pages between 2015 and 2018.
The companies have found that social networks are happier with educational material about cannabis, rather than blatant publicity. Nevada-based cannabis company Caviar Gold collaborated with 🍃 cannabis news site, Herb, to make a video that demonstrates its range of flavored product. They were able to post this to Herb's Facebook account (with 10 million followers) without issue.
Influencers Can Promote Pharmaceuticals if they obey the Rules
One highly regulated sector is the weight loss industry. This is particularly so if you produce supplements or pills, purporting to help people lose weight. There are strict advertising rules that apply, to ensure that advertisers don't make exaggerated and unproven claims. While these may sometimes be hard to enforce in influencer marketing, thee are industry and government bodies in many countries that keep a close eye on social channels for improper influencer posts.
Even when brands obey the rules, they may find it trickier to fins suitable influencers for their campaigns. One company that produces a dietary supplement wanted to work with a group of overweight female adults, aged over 40, who don't like exercise and had a BMI over 25 – certainly more specific than most influencer descriptions. When influencers are demonstrating the benefits, they have received from diet supplements they need to document their life both before and after taking the supplement.
One of the Food and Drug Administration requirements is that influencers have to discuss both the benefits and side effects of diet supplements. They also need to disclose "specific uses of a product throughout the post, including about how often to take the pill, the most significant risks of taking the supplement and mandatory call-outs to studies on the product."
BBC Panorama Investigates Influencers, Focuses on Controversial Products
UK current affairs program, BBC Panorama, aired a controversial episode, "Million Pound Selfie Sell Off" on February 11. The program emphasized how easy it is to promote dieting supplements, gambling-related products, and alcohol on social media.
Many have criticized the program for being one-sided because it placed an "unfair focus on the darkness of this industry." One viewer observed, "I don't deny that #Panorama tonight was very one-sided and grouping all influencers as the same, but I think it did emphasize even more the importance of thinking SO carefully about all the content you put online."
One problem is that influencers often don't think through everything they upload. Some happily make posts with questionable claims that would never meet advertising standards if they were formal ads.
It doesn't help that some people blame social media for tragic events. "There's no doubt that Instagram played a part in Molly's death," said a grieving father after his daughter's suicide – mercifully not because of influencers, but because reportedly because she viewed pictures of people committing self-harm on Instagram.
Influencer Marketing and Gambling
Another potentially divisive topic is gambling. Many areas have strongly regulated gambling, although the internet has taken away much of the power of local rules.
Casinos market extensively online, despite their biggest customers (in the USA at least) being Baby Boomers. Until now, the most successful online marketing tool for casinos has been emailed, allied with loyalty and reward card programs. However, email is not a particularly effective way to market to Millennials. Millennials don't even go to Facebook pages very often.
As with many industries, casinos and gambling have found influencer marketing a more effective way to reach Millennials. The UK has stepped in and regulated in their market, however. From April 2019, gambling companies will not be permitted to promote to under 25 with influencer marketing. Pundits predict the main impact of this, ironically, will be to bar many well-known footballers from promoting gambling, because they will suddenly be under-age.
It should be no surprise to see influencer marketing used in the more controversial industries. Influencer marketing sells. And controversy will always follow the money.
---
Want to work with the best social media influencers of your industry? Check how SocialBook can help your business.
---
---