Table of Content
What is DTC E-commerce?
Direct-to-consumer (DTC) is a business model where a brand or manufacturer sells its products or services directly to consumers, without relying on intermediaries such as retailers, wholesalers, or distributors. In a DTC approach, the brand or manufacturer takes control of the entire value chain, from production to marketing, sales, and fulfillment, and establishes a direct relationship with consumers. This allows for a closer connection with customers, more control over the brand experience, and the ability to gather and leverage customer data for marketing and product development. DTC has gained popularity with the advent of e-commerce and digital technologies, enabling brands to sell their products online, ship directly to consumers, and bypass traditional retail channels. DTC brands often focus on building a strong online presence, leveraging social media, digital marketing, and customer engagement strategies to drive sales and brand loyalty.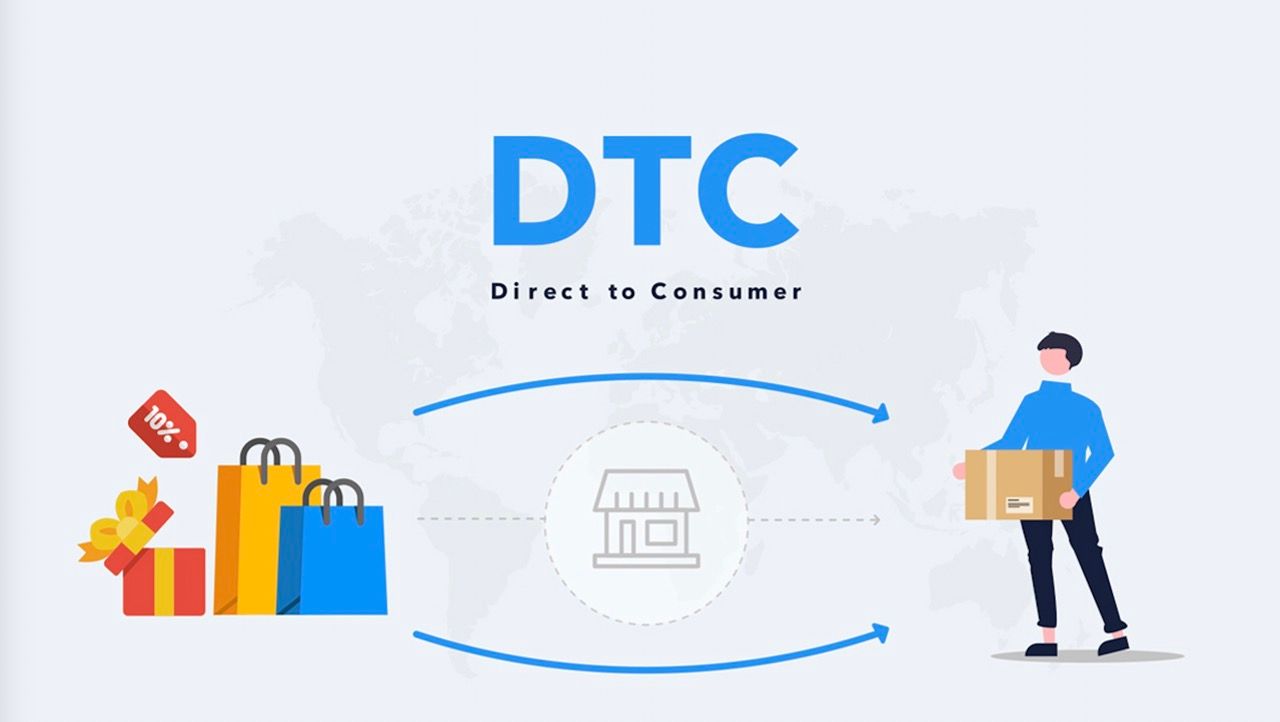 How DTC Connects with Marketing?
In recent years, DTC has become a new growth engine for many cross-border and new consumer brands. As a business model that sells products directly to consumers without relying on traditional intermediaries or retailers, through omnichannel marketing, DTC enables complete control over the value chain and utilization of data.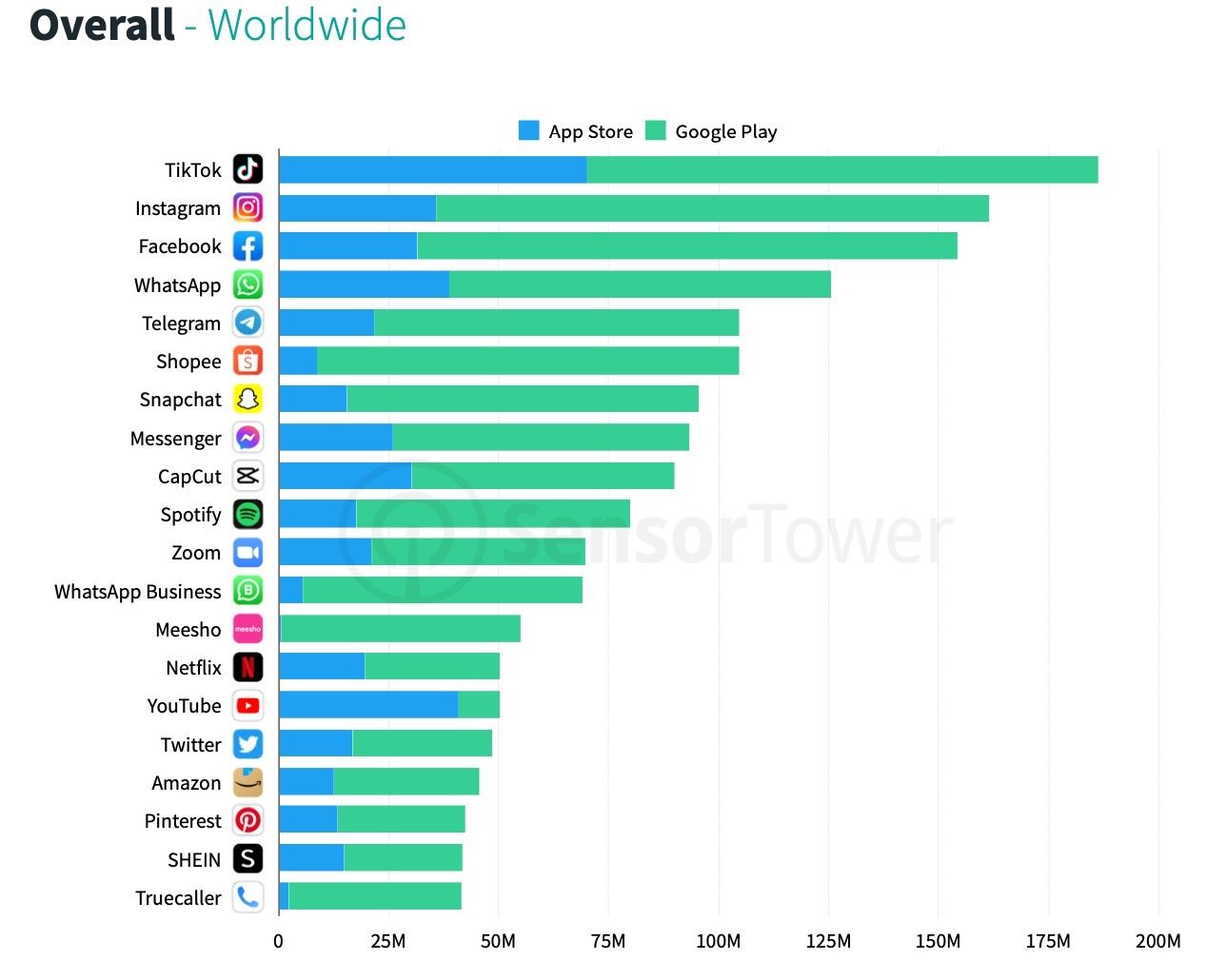 As the fastest-growing application in the United States, TikTok has finally realized advertising opportunities. In fact, audiences who engage with branded videos through sharing, liking, or commenting are 150% more likely to purchase their products or services. Even more compellingly, participants are 350% more likely to visit the brand's physical stores and 40% more likely to visit the brand's website!
Best Practices of DTC Brand Campaigns on TikTok
Last Crumb
Last Crumb, founded by Jaeger and Alana Arnold, was launched in August 2020. Despite being a relatively new brand, it has already gained over 200,000 followers on TikTok and is hailed as one of the most luxurious cookies in the world! They have leveraged user-generated content (UGC), unboxing videos, and studio-produced content to attract a large following, showcasing their product features and advantages, and actively engaging with users through comments and incorporating user-generated content into their next videos.

These promotional efforts have brought the brand closer to its users, increasing its visibility and conversion rates. Coupled with the delicious taste of their cookies, they have gained a significant number of paying customers. Last Crumb's success on TikTok perfectly validates that creating short videos with interesting, valuable, and story-driven content, showcasing brand uniqueness, values, and product advantages, and building emotional connections and trust with the target audience, is one of the channels for rapid brand growth.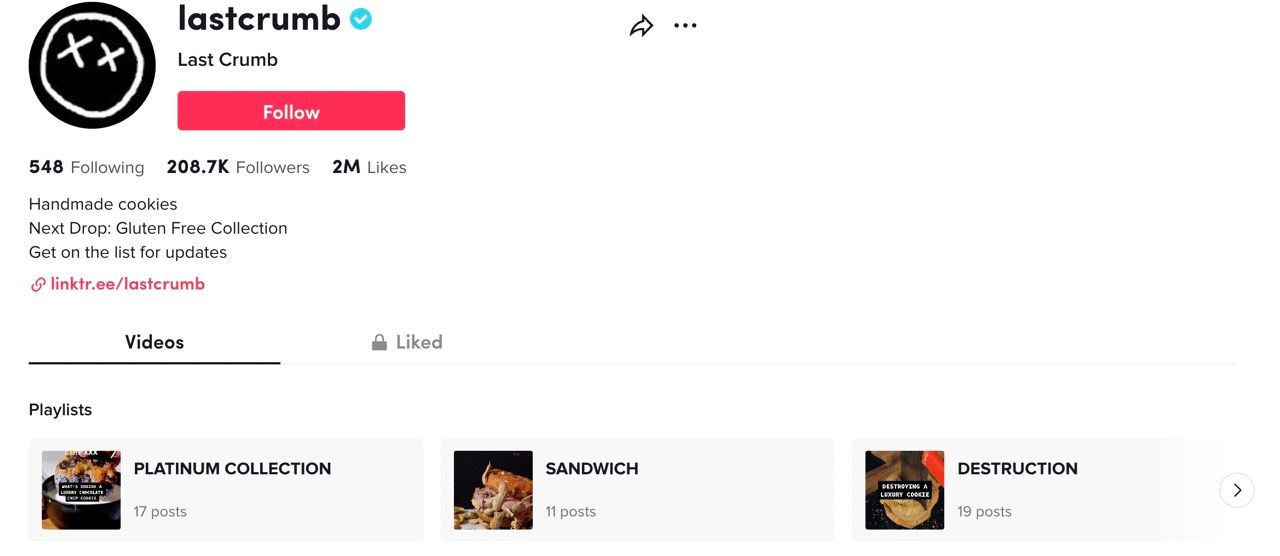 Guess
Though some brands may take time and practice to figure out how to create content and drive engagement on a new platform, Guess nailed it from the beginning. Starting with their first post promoting their #InMyDenim campaign, creators quickly transformed from old, worn-out clothes into fashionable Guess outfits in their videos.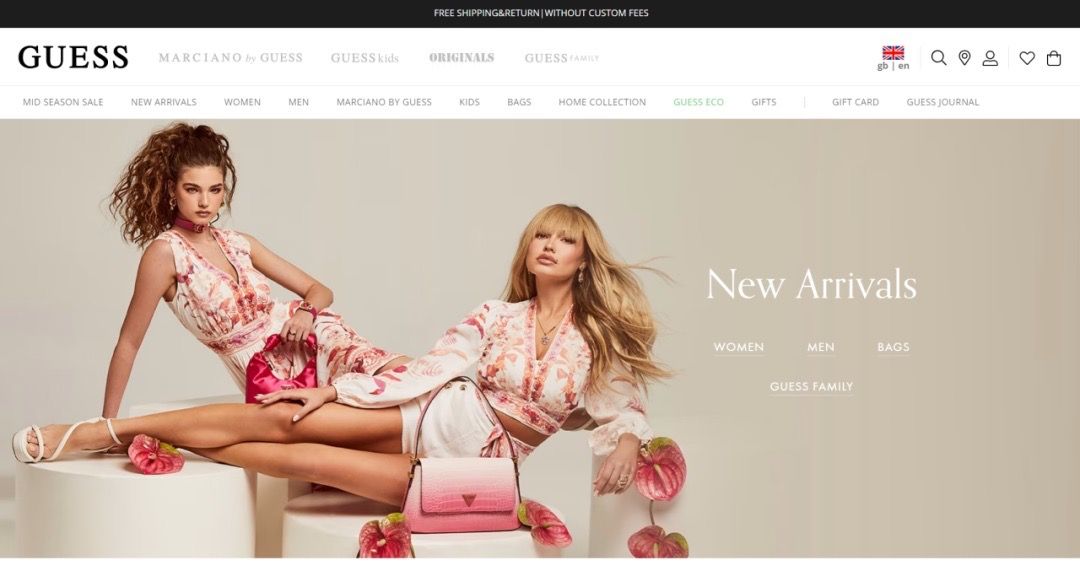 To further boost the challenge, Guess collaborated with Bebe Rexha and her song "I'm a Mess," which was used as the soundtrack for most of the user-generated content (UGC), creating deeper interaction with the audience. With the support of influencers like @ourfire and @jackjerry, videos using the hashtag have been viewed 53.5 million times. They later followed up with #LoveGUESS, which garnered an additional 24.1 million views.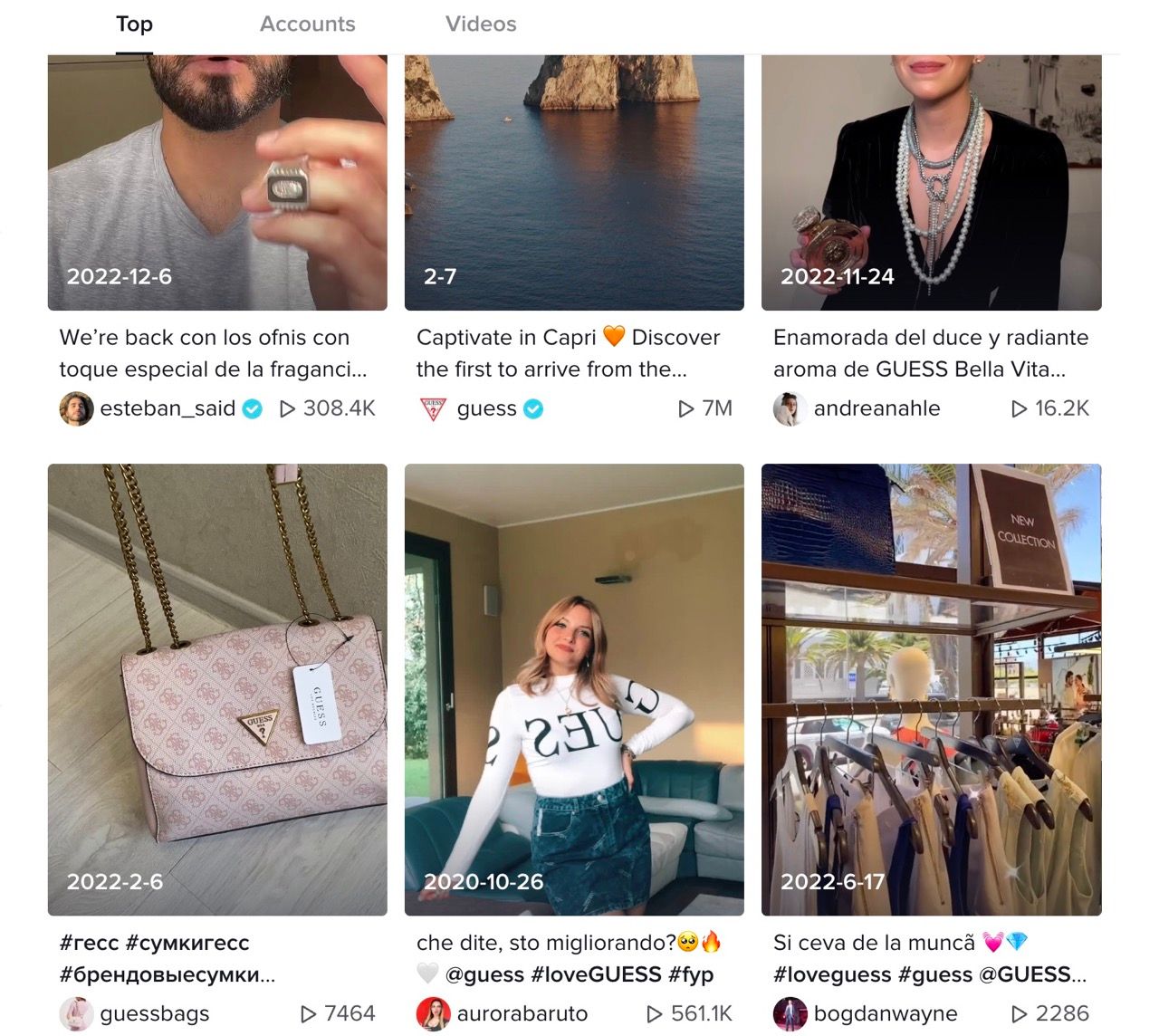 Guess seems to be adept at finding the right influencers for their campaigns on TikTok, just like any other brand on the platform. Their #LoveGUESS posts on their own channel featured popular creators such as @brentrivera and @mylifeaseva. Just this one video has been viewed over a million times, with many comments expressing admiration for the creators and their content. This serves as an inspiration for international brands to launch marketing campaigns with hashtags and collaborate with TikTok influencers or content creators to leverage their influence and fan base, which can help enhance brand reputation and credibility.
NBA
The NBA is well-known, and it's no surprise that it's a popular brand on social media. With over 117 million fans on Facebook, Instagram, and Twitter combined, it's also not surprising that it's one of the most popular brand accounts on TikTok. Currently, the NBA has over 19 million fans on TikTok, ranking among the top 5 most followed brand accounts on the platform. What sets the NBA's social media strategy apart is its ability to create specialized content for each platform. They focus on NBA news and updates on Twitter while highlighting game highlights on Instagram.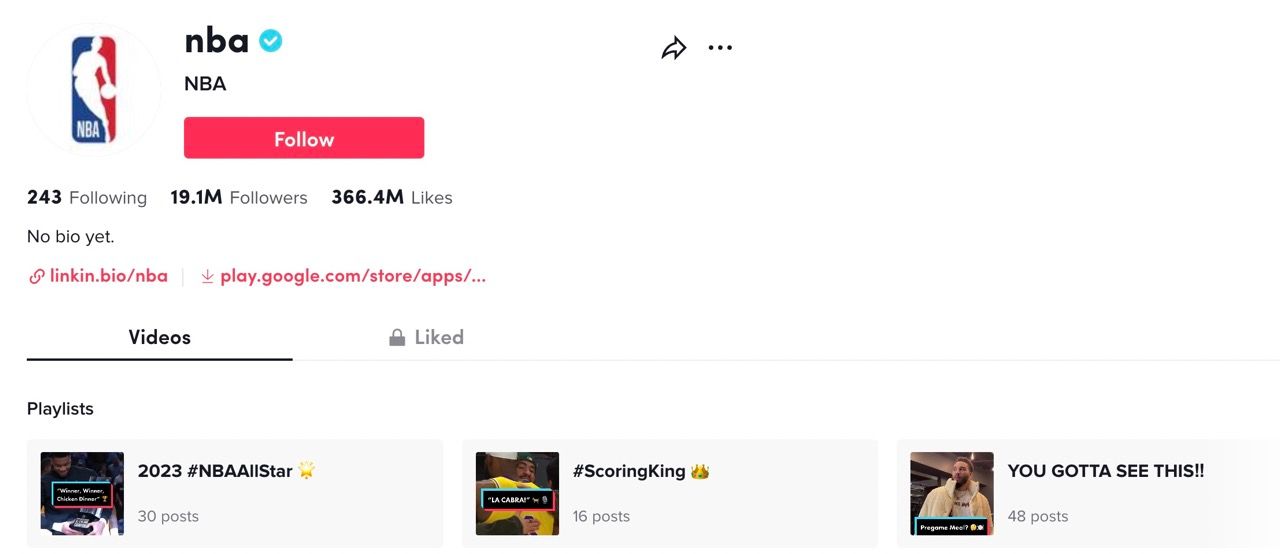 However, the NBA doesn't simply replicate this content on TikTok. Instead, they cater to what people are looking for on TikTok, which is short-form content that can quickly grab their attention. As a result, the NBA primarily shares funny content and memes on TikTok. This also indicates that TikTok accounts for branded social media should prioritize entertaining content to attract viewers.
Redbull
Over the years, Red Bull has been a pioneer in creating viral digital content, and their TikTok account has over 80 million fans, making it one of the most followed brand accounts on the platform. Videos with the hashtag #givesyouwings have been viewed over 1 billion times.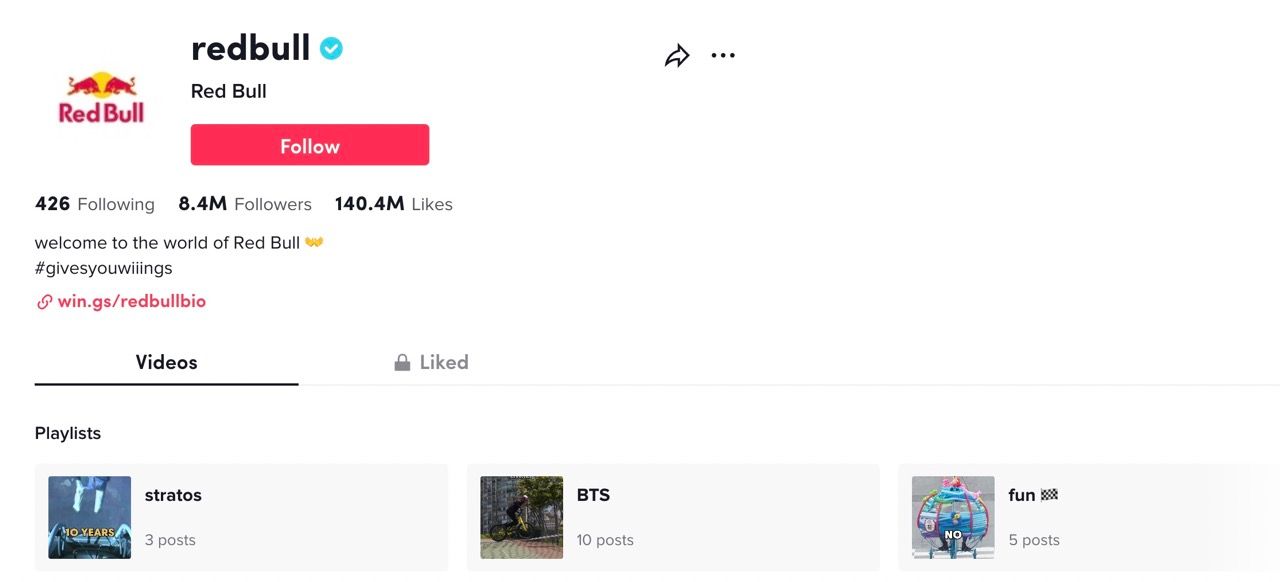 While they have done an excellent job of participating in popular hashtags and challenges, a significant portion of their content is not explicitly created for TikTok. While this is something most brands should avoid, Red Bull has found success on TikTok in another key aspect - quickly capturing people's attention with intriguing and curiosity-driven content. Whether it's extreme stunts or individuals with exceptional skills, Red Bull's videos are undoubtedly jaw-dropping and attention-grabbing. Brands can learn from this approach, as not all account content needs to have a strong association with the product, but rather attracting and engaging the audience should be the foundation.
Elfyeah
Beauty and fashion are one of the biggest content categories on TikTok, and beauty and skincare brands should definitely not miss out on them. E.l.f. is no exception. E.l.f.'s TikTok page @elfyeah currently has over 800,000 followers, and they have established successful collaborations with other brands on the platform.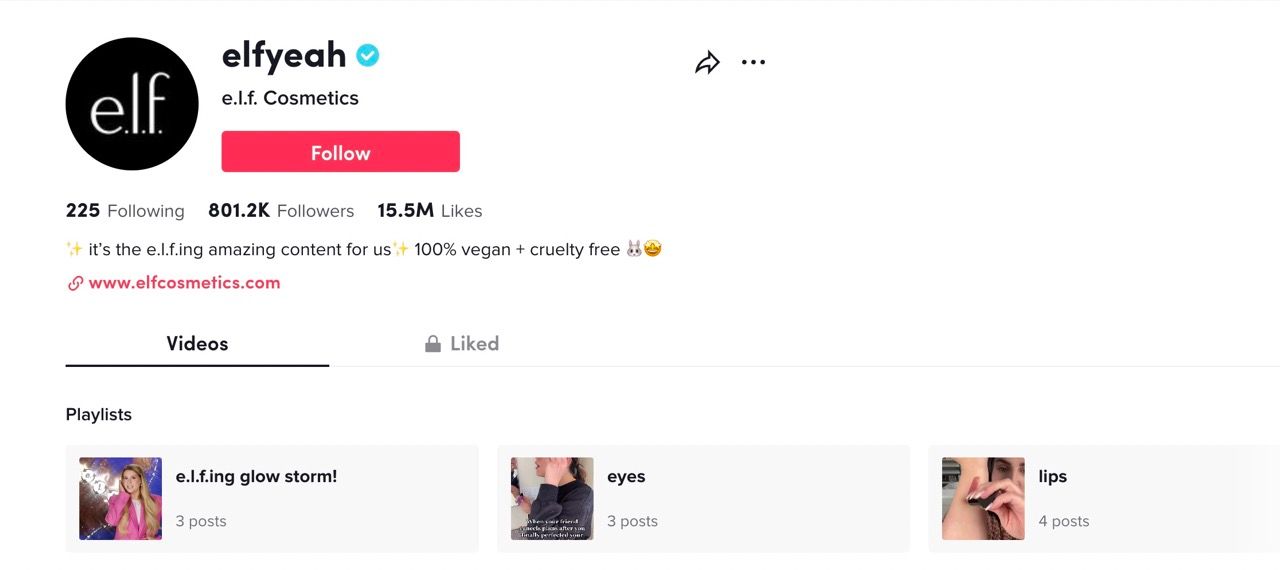 E.l.f. partnered with Dunkin' to create a series of new coffee and donut-inspired products, allowing them to share iconic user-generated content (UGC) on both platforms. This collaboration was initiated by beauty influencer Mikayla Nogueira on TikTok and garnered over 6 million views.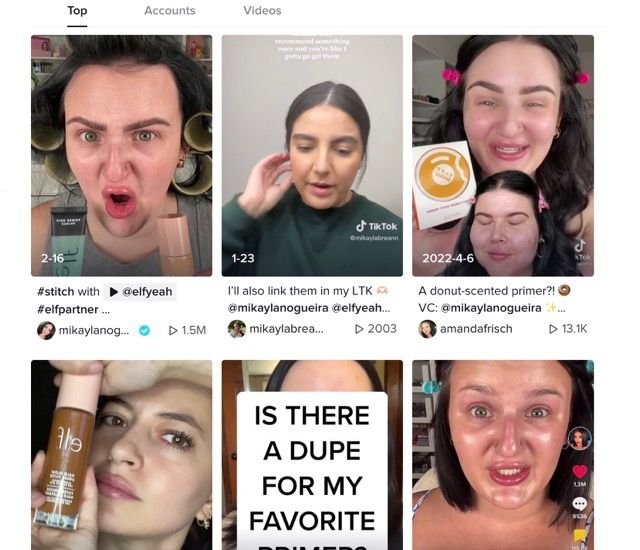 In addition, they also created a song called "Eyes Lips Face" (abbreviated from the brand name). Following that, E.l.f. recruited a creator team to launch the #EyesLipsFace dance challenge, where creators showcased their eyes, lips, and face movements to the melody of the song.
The catchy song and its lyrics ensure that viewers know (and will never forget) what "e.l.f." stands for in the brand name. The challenge itself is fun and doesn't necessarily require the use of cosmetics. This has led to the viral spread of the brand on TikTok, with over 9.2 billion views, and is still increasing.
What are the Advantages of DTC E-commerce?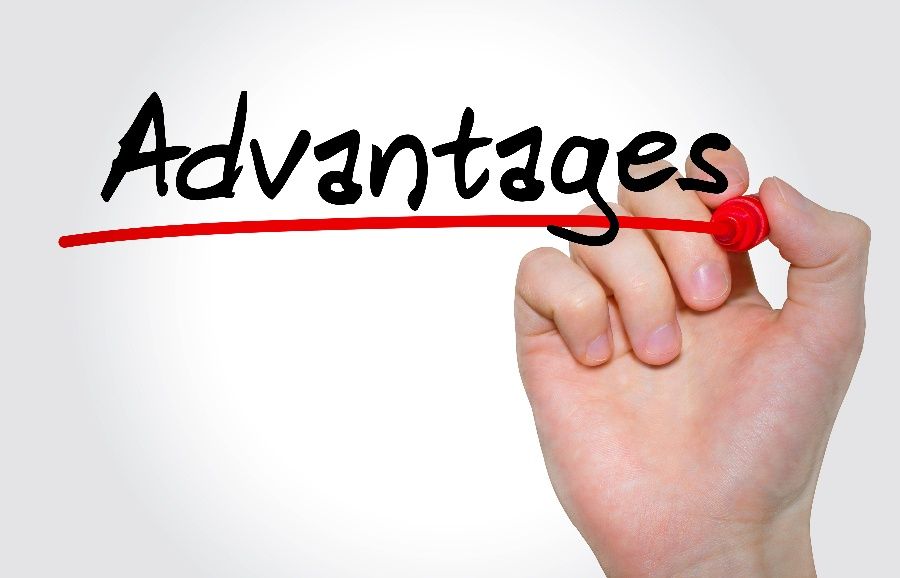 Control over brand and customer experience
With DTC, businesses have full control over their brand image, messaging, and customer experience. This allows them to create a consistent and personalized brand experience for their customers from the moment they interact with the brand's website or online store.
Direct relationship with customers
DTC enables businesses to establish a direct relationship with their customers, without intermediaries such as retailers or distributors. This allows for direct communication, feedback, and insights from customers, which can be valuable for product development, marketing strategies, and building customer loyalty.
Higher margins and pricing flexibility
DTC allows businesses to cut out middlemen, which can result in higher profit margins compared to traditional retail models. Additionally, DTC businesses have more flexibility in pricing, promotions, and discounts, as they have direct control over their pricing strategies.
Greater data and customer insights
DTC provides businesses with access to valuable data and customer insights, including purchasing behavior, preferences, and demographics. This data can be used to inform marketing strategies, product development, and customer retention efforts.
Brand differentiation and storytelling
DTC allows businesses to differentiate their brand by telling their unique story, values, and mission directly to customers. This can create a strong emotional connection and loyalty among customers, leading to repeat purchases and advocacy.
E-commerce and digital capabilities
DTC inherently leverages e-commerce and digital capabilities, which are increasingly important in today's digital-driven world. This includes online sales, digital marketing, social media, and data-driven analytics, which can help businesses reach and engage with customers in a more targeted and efficient manner.
Agility and flexibility
DTC businesses can quickly adapt and respond to changing market trends, consumer demands, and competitive pressures. This agility and flexibility allow for faster decision-making, product iterations, and go-to-market strategies.
5 Tips on How to Create an Effective Marketing Strategy on Social Media

Know Your Audience: Understanding your target audience is a critical factor in effectively marketing your DTC brand on social media. Knowing your customer segment makes it easier to create content that will genuinely interest them. To identify your audience, consider the demographics of your product buyers. What age group do they belong to? What are their interests? What content do they prefer? How do they engage on social media? Answering these questions will enable you to effortlessly create DTC content that resonates with your target audience.
Conduct Competitor Research: Your marketing strategy does not exist in isolation - your competitors are also present on social media. It's important to research and analyze what your competitors are doing and what strategies are working for them, as you are targeting the same audience. Identify your direct competitors who are actively marketing on social media and examine the following: What video formats do they use? Which formats tend to drive more engagement? How frequently do they post on social media? What messaging do they use to promote their products? Do they only post promotional content, or do they also have non-branded content? Once you understand what's working for your competitors, you can focus on improving your own strategy. For example, if they post three videos a week, can you achieve better results by posting a video every day?
Pay attention to Social Media Trends: Leveraging current trends is a highly effective way to expand your reach on social media. It also allows you to showcase the fun and entertaining aspects of your DTC brand, which can help you connect with potential customers. One approach to ride on trends is to research and incorporate trending audio into your videos. When you use a popular sound in your video, it will be featured alongside other videos that also use the same audio, increasing your visibility to users searching for that trend. Another strategy is to keep an eye on trending hashtags and create videos that are relevant to those hashtags, capitalizing on the increased views and engagement that trending hashtags attract. It's important to note that social media trends change rapidly, with new trends emerging and fading away within days. As a DTC brand, it's crucial to stay vigilant and adapt your content strategy to align with the latest trends in order to maximize your impact on the platform.
Collaborate with Influencers: Collaborating with influencers can be a powerful strategy to generate buzz and increase brand exposure. When influencers share your content with their large audiences, it can give your brand the potential to go viral through the platform's algorithm. The notable examples mentioned above drive the success of their TikTok campaigns, resulting in viral engagement and increased brand visibility. Partnering with influencers can amplify your DTC brand's reach and impact on social media, allowing you to tap into their established audience and benefit from their influential presence on the platform.
Foster a Community and Engage with Your Followers: Remember that social media is ultimately a social network, so it's important to embrace the social aspect of it. Engage with your followers by replying to their comments on your videos, commenting on other users' videos, and more. This helps you build a community around your DTC brand and initiate conversations with potential customers. It also adds a human touch to your brand, making it more relatable and approachable for potential buyers. By actively engaging with your audience, you can cultivate customer loyalty and foster meaningful connections, which can lead to long-term success on social media
---
---