Most of you might be aware of how much the AI art is at craze at the moment! It has taken the entire social media at storm be it Instagram, Facebook, TikTok, or any other social networking apps. This feature is helping the apps reach the general public at an even quicker rate than before. AI drawing is artwork developed by the computer after analyzing multiple pictures with the same aesthetic or any other similarity. The final image generated always has a link to the images that were given as samples. AI-Generated Art is currently governing a part of the lives of many people especially those who belong to the field of IT or are business owners. AI Art is now also a part of the engineering field and is growing continuously. People are inclined to go towards such areas as the future is going to depend on them.
Not just this, we can see how the most used social media apps have now availed the option to create your avatar. Talk about how it's been taking social media by storm, and the advent of AI apps and websites are becoming more and more popular to the general public these days. Looking at the growing usage and love avatar-making receives SocialBook has now also added the feature 'Pandora AI avatar'. Yes, it helps you generate avatars of your choice and offers full customization. The following tool was added recently amongst the hundreds of tools it already has and we believe it will prove to be extremely helpful and fun to use!
You must be curious about how the AI drawing tool works, how can you use it if you have never experienced making such artwork, and how can you benefit from this tool. You are going to read answers to all these questions in-depth in the following article so you too can develop such a unique skill. Let's wait no more and get started!
Pandora AI Avatar Generator Created by SocialBook
Pandora AI Avatar is a tool recently added to the toolbar of SocialBook. The main purpose of this tool is to help you create beautiful avatars of your own choice and mold the images you put in be it of yourself, or any other image to different aesthetics, crop you out, and automatically edit the picture in a place you want, and also change how you have styled yourself! It can put you in hundreds of different magical places, and can style you in different characters or even cultures. Impressive, isnt it?
It gives you a free hand to become a magician who edits pictures distinctively Is it now exciting to be an astronaut or your child's favorite superhero that is just seen in movies? What about transforming yourself into an anime character or having a beautiful flower crown that elves wear? Dreamy, isn't it? If you are a business owner who needs logos, or similar work… there is no need to pay huge amounts of money to artists. Thus, in just a few easy steps you can transform yourself into the character you have always dreamed of. The generated picture will also be a high-quality picture of you, so there is no need to worry. Whatever you have always dreamed of, AI avatar can make beautifully transform you in unbelievable ways in a glimpse of an eye!
How does the AI Avatar Generator Work? A Step-by-Step Guide
Pandora AI Avatar works by you putting in various pictures and processing them by determining your facial structures and details, and working on them. After gathering enough information and data about the inputted images, it can then process the avatar that has to be generated. It is made in a way that it can process your image and transform them into various art styles, characters, and situations flawlessly. The job that would take a traditional artist a few days or many hours to draw, the Pandora AI avatar generator can generate in minutes!
Use the steps mentioned below to generate your artwork:
Step#1: Log on to SocialBook.io
To start using any tool the very first step required is to log on to the website. If you already have an account, you can move on to the next step but if you are not a part of the social book family already, what are you waiting for? It is not at all a complicated process, will take less than 5 mins! Fill up your basic information required e.g. your email address, and you're all set to go!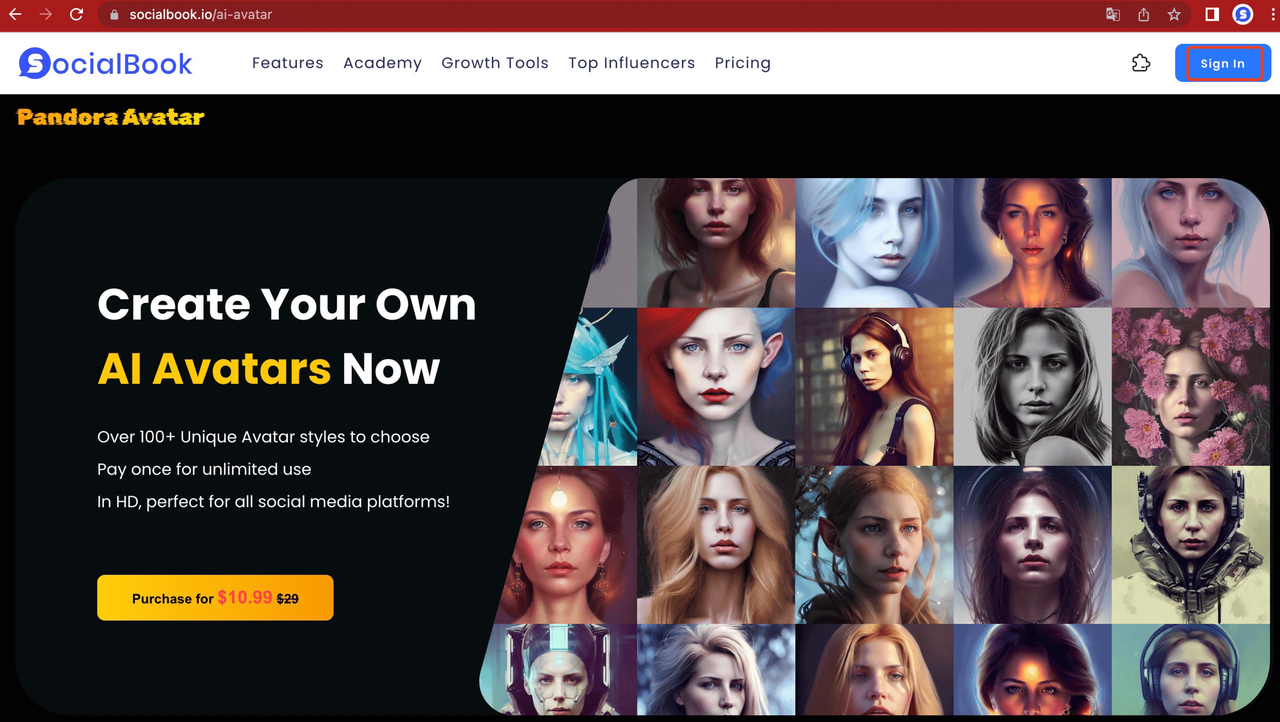 Step#2: Get the Pandora AI Avatar Generator
Once you are done logging in to the website you then have to select the option of growth tools from the menu that can be seen on the top left-hand-side of the website and then go to 'Pandora AI avatar'. You can use the tool permanently just for $10.99 on sale however, the actual price is $29 on the website. Though, you can also download the Pandora AI app to your phone.
Step#3: Insert Pictures
The very next you have to do is upload 15 to 30 pictures of yourself, your family, or even your pet in the 'insert image' option. Try adding pictures with different facial expressions, poses, and different times of the day when the pictures were clicked. Also, try the pictures you are uploading should be in different backgrounds. Try uploading at least 10 face portraits, 3 full body pictures, and a minimum of 3 pictures from your chest and up. Input a name and select the style then.
Step#4: Set Generation
Once you have selected all the pictures and uploaded them, a set of AI-generated avatar images will show up in front of you in just a few minutes. You can select the avatar that looks the most alluring or, catches your eye in an instant. The tool is worth buying as the priority of the Social book is to protect your privacy, so you are the only person who will be able to download or keep the generated avatar with you. The images created will also be in HD quality so can be used as your profile pictures, or you can upload them on your social media profiles to awestruck people. You are now all set to start creating your avatars!
You can get access to the Pandora AI Avatar instantly by clicking on the following website or downloading the Pandora AI App from iOS and Android app stores:
We hope the article proved to be helpful and that you will have a great time using the 'Pandora AI avatar' tool! For more information or any queries log on to socialbook.io.
---
---