For Brands Working with Influencers

Finding the perfect influencer for an upcoming campaign can dry up valuable resources. There's also no guarantee a campaign will prove to be successful. But when you work with SocialBook's influencer platform, your gamble disappears and is replaced with marketing strategy and in-depth analytics that can help take a campaign from an idea to a success story. SocialBook's influencer marketing tools make the difference.

Influencer Research
It's a bit difficult to run an influencer campaign without an influencer. At the same time, just any old influencer won't do. You need one with a following that matches your target audience and an understanding of your product and brand. They also need to be affordable and communicative. SocialBook's influencer platform has detailed analytics for finding influencers and developing marketing strategy. With our influencer search feature, you can find the perfect freelancer for your campaign, no matter your budget, target audience, or experience with running influencer campaigns.
Investing in a YouTube or Instagram or Twitch influencer marketing platform is all it takes to catapult your company to unforeseen levels of success. But there's a catch. A social media influencer must be truthful. They must be authentic. They need to share your brand's business ethics and perceptions. Working with the wrong influencer can leave your company running damage control instead of an influencer campaign.
SocialBook is an influencer marketing platform that puts you in the same arena as thousands of influencers. You can discover the perfect influencer for your marketing platform in minutes, not months. Either browse through our database or narrow down your options through our filters, such as the influencer's rates. Once you find a potential influencer match, add them to a list that can be shared with team members as you continue your search.
Once you have a strong list, you can narrow down your options even more by arranging your candidates by influencer rates, views, or number of followers. Depending on what's most important to the success of your campaign, you'll know which influencers match your needs on a deeper level than the rest.
With SocialBook, you'll never have to worry about hiring an unqualified influencer. Our filters will help you narrow down the thousands of available freelancers to a select few candidates. Your company can go from talking about a social media influencer marketing platform in the morning meeting to having the perfect influencer in your business pockets by the afternoon.
Search by influencers name

Search by filters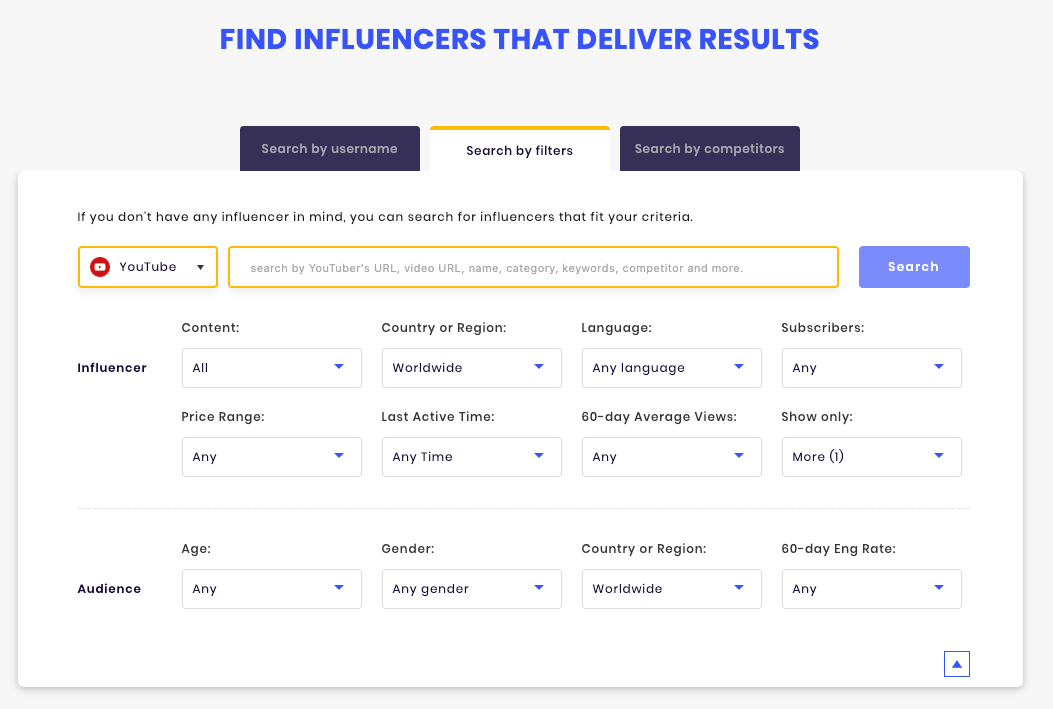 Search by your competitors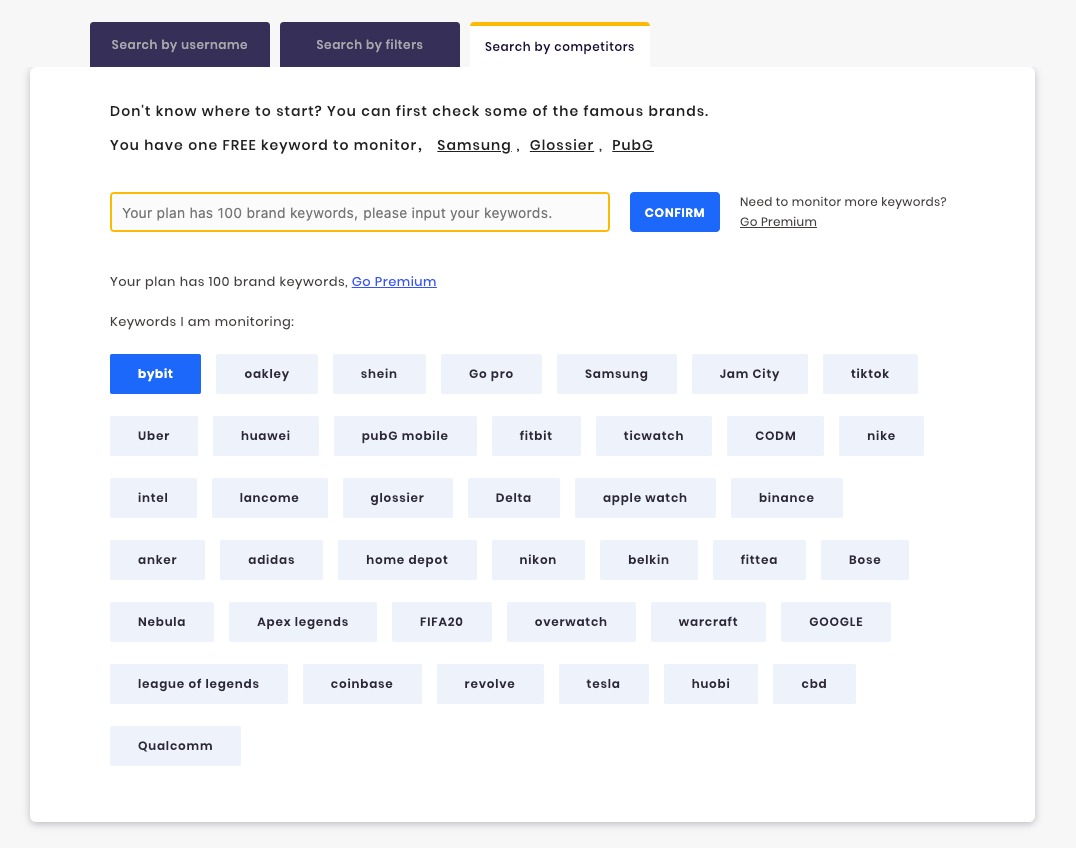 Influencer Profile Reports
Once you've found a short-list of influencer contenders, you can vet them through our filtering process. Any influencer can market themselves. We'll help you find out if they can deliver.
Find out if an influencer pays for likes, utilizes bot followers or puts out shady content. Protect yourself from overpaying an influencer by knowing exactly how engaged their audience is. By having the data you need to make an informed decision, you'll minimize your chances of a poor campaign performance.
If you've been burned by YouTube or Instagram influencer and social media marketing in the past, you know how quickly the damage can add up. Spending large quantities of time and money to find an influencer, collaborate on content, and put out information meant to develop your brand, only to have it all come crashing down in front of you, can be devastating.
Our social media marketing and influencer management platform's sophisticated data feature allows you to explore influencer profiles before reaching out. See the type of content an influencer has produced related to specific keywords, view average sponsored content pricing, top performing content topics, overall channel performance, audience gross trends, fan demographics, and similar channels or influencers. If things look good, you can add this influencer to your list and continue your search.
With information this detailed, you can rest easy knowing you'll only be working with verified influencers on social media marketing. You don't have to worry about bots, spammed content, fake profiles, or bought comments.
You can make sure your social media marketing campaigns have a higher chance of success by working with not just the best influencers, but the best influencers in your industry. You'll save hours of research time, stay within budget, and put out campaigns that rock every time.
At SocialBook, we believe finding influencers should be simple, and making sure you've found the perfect match for your brand, should be effortless. Our data feature was designed around this belief.
Click to view sample Influencer Profile Reports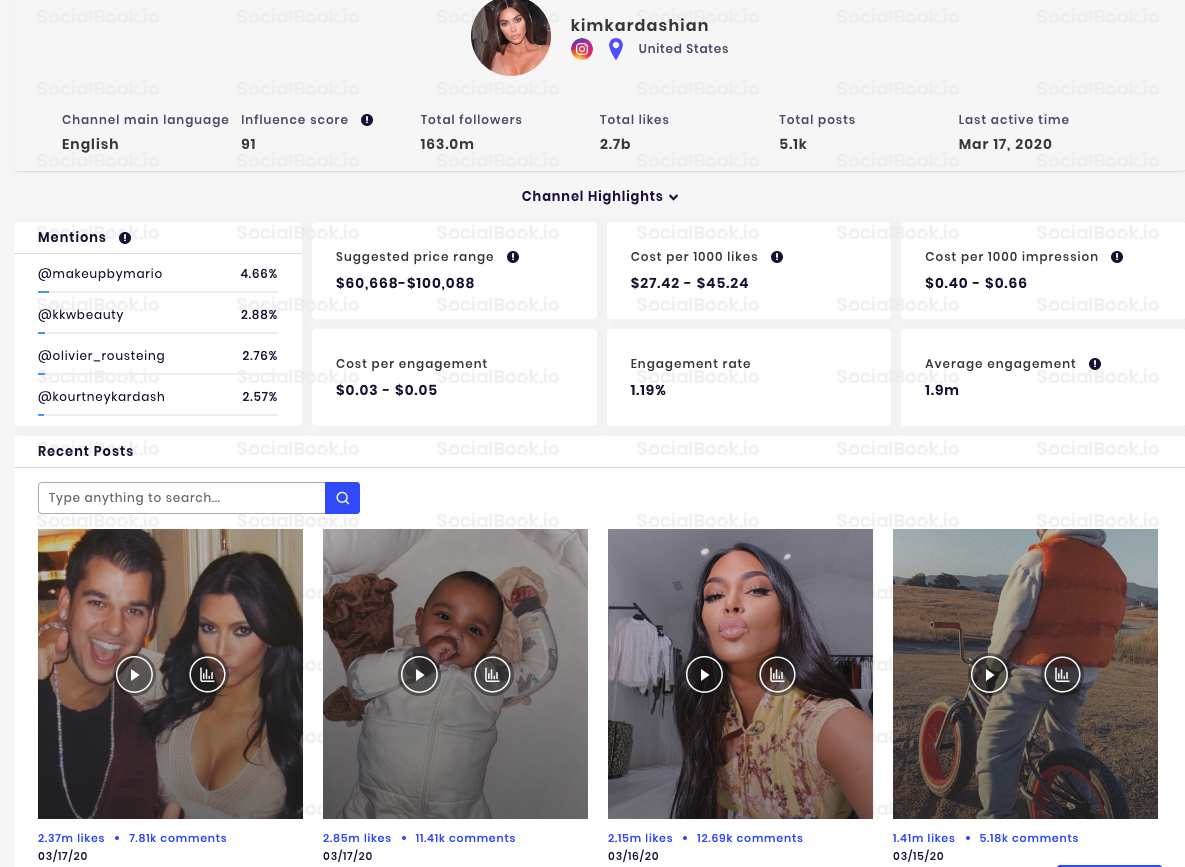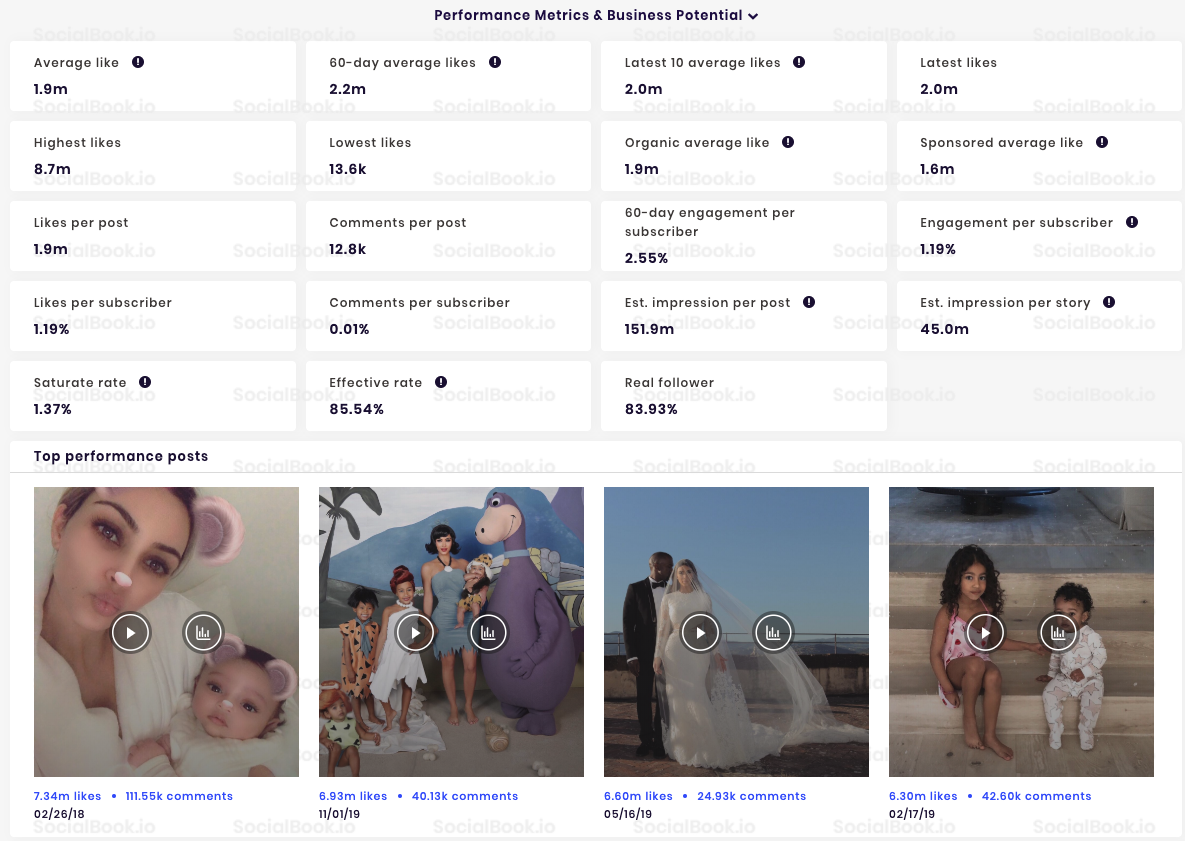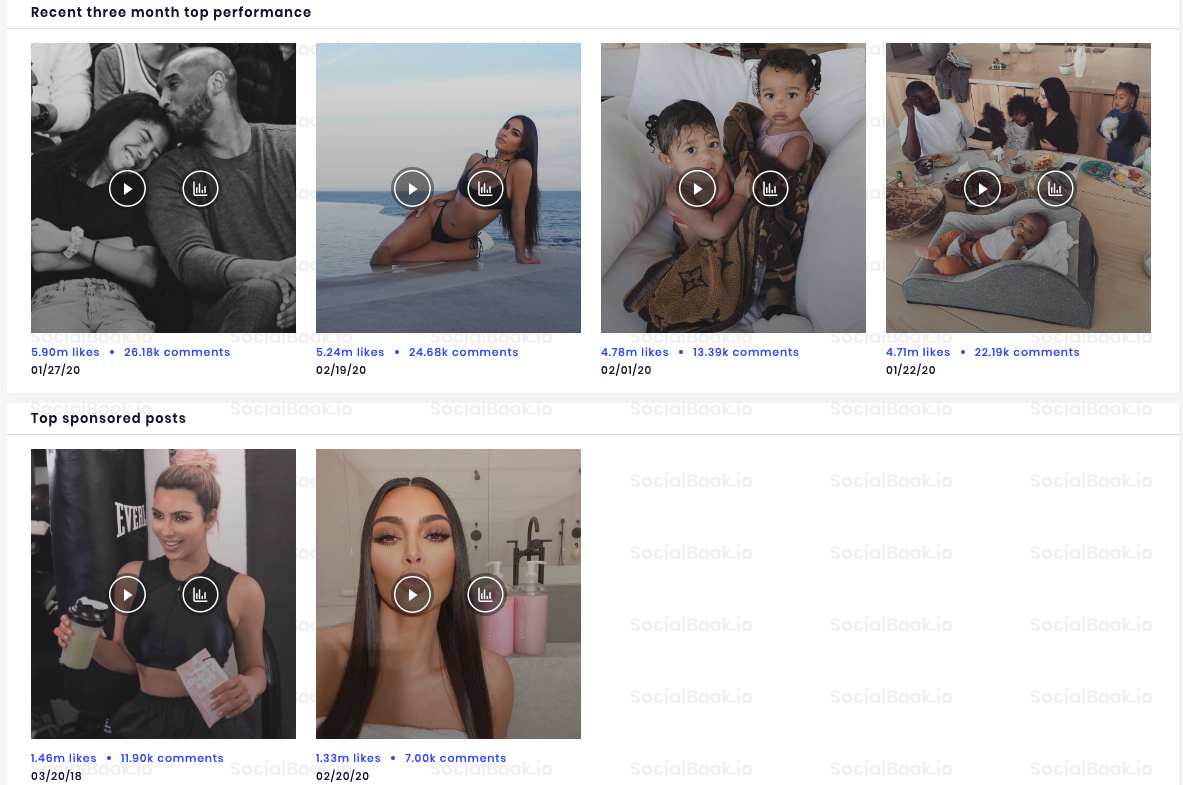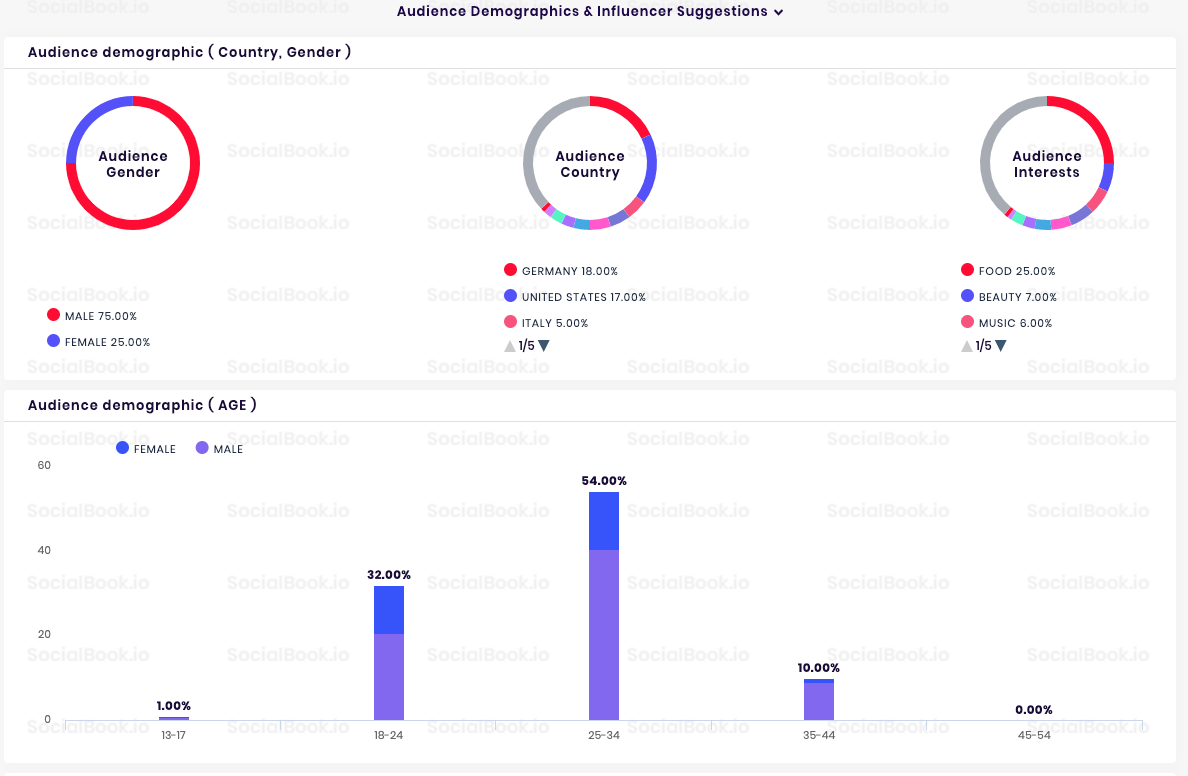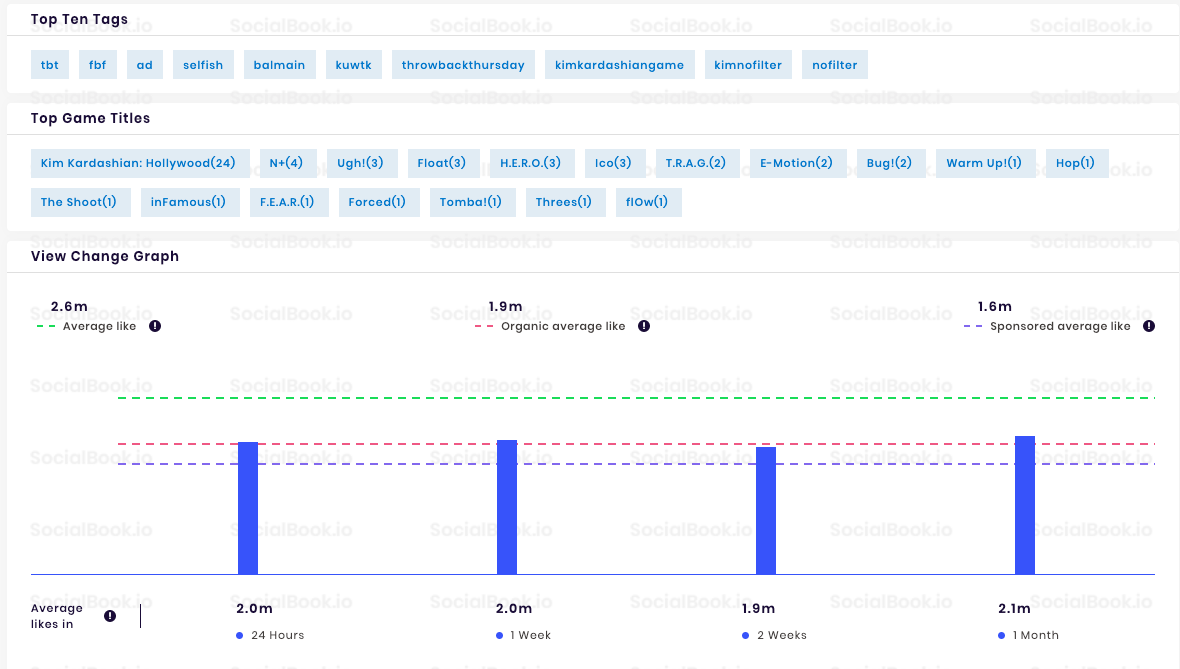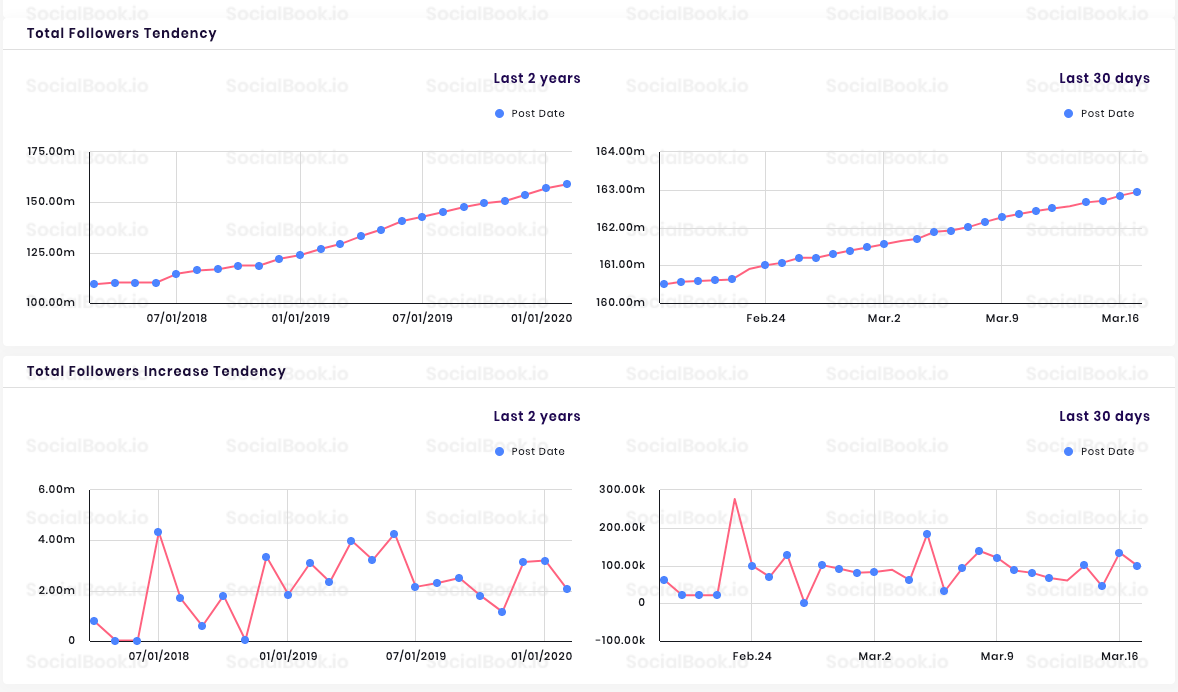 Bulk Email/IGDM Outreach
Influencer advertising and marketing campaigns haven't always been easy. To get a marketing campaign started in the past, you would have to search every corner of the internet to find a candidate's contact information. Then you would have to come up with the perfect message so you would stick out from other vendors trying to gain the influencer's attention.
If you didn't hear back, you might have worried your influencer never got the message. Many businesses were burnt out by the process and abandoned the idea of ever working with a Youtube influencer for advertising or marketing campaigns.
But with SocialBook's influencer advertising and marketing campaign tools, you can send potential influencers direct emails using one of our ready-to-use templates. You'll get the perfect message across without having to fumble for words. And we'll track email open and click through rates, so you know who has read your email and if they seem interested. You also don't have to repeat this process over and over. Whether you want to reach out to one influencer, or you have a thousand on your list of candidates, you'll be able to send a personalized email to every influencer in just a few minutes, no secretary or virtual assistant needed.
You'll be able to quickly scan results, so you'll know who to follow up with as you take the first step to developing relationships with influencers who can change your company for the better. SocialBook makes communicating a breeze.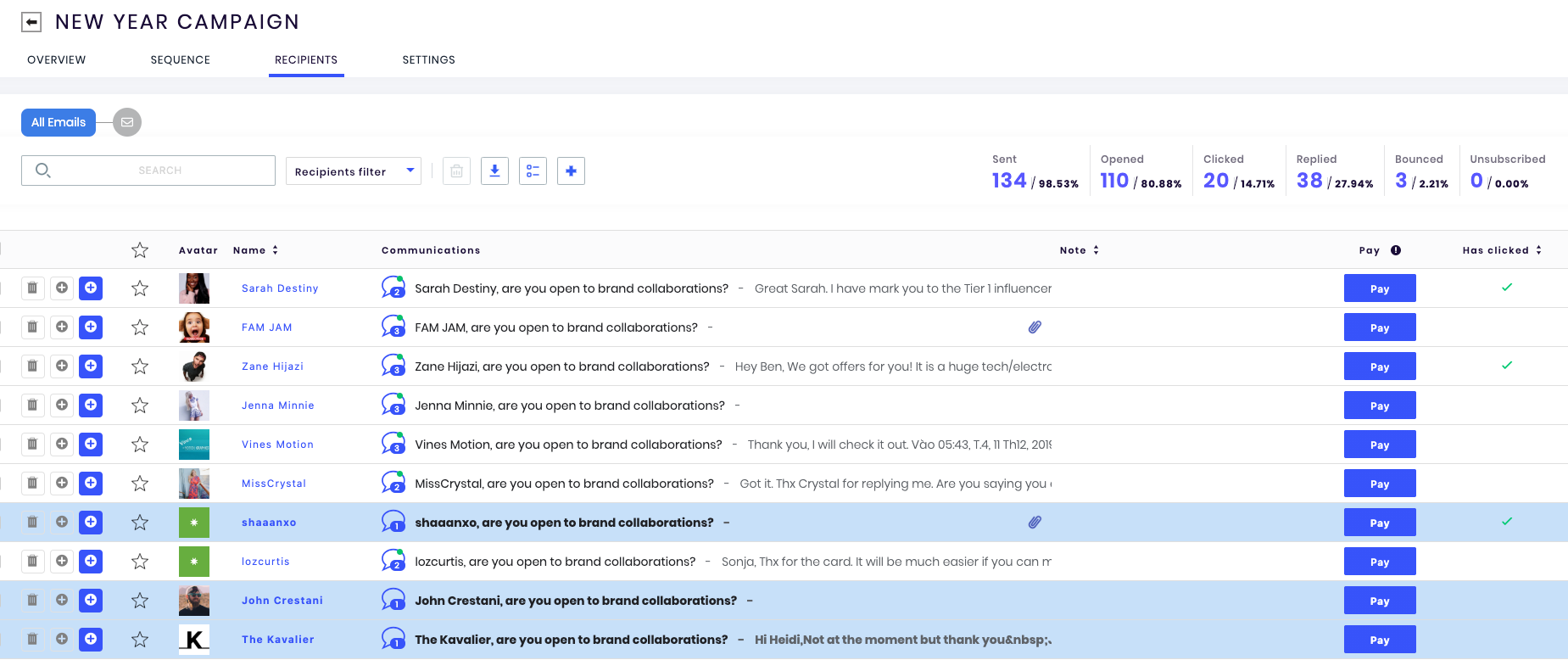 Performance Reporting
Once your campaign is up and running, we'll help you track it every step of the way. Find out what's bringing you new leads and what's falling on deaf ears through our graphs and charts that track everything from clicks to views to overall costs. Our advanced influencer platform will help you evolve your marketing strategy through detailed reports and quality analytics.
SocialBook's in-depth influencer and social media analytics reporting software allows those who are ready to start campaigning to track what's important to their marketing plan and easily measure performance and analytics.
What's your campaign style? If you decide to set up a flat rate campaign, you'll be able to know exactly how much remains in your budget. If you're working on a performance-based campaign, you can track clicks, sign-ups, or overall engagement to determine if a campaign is on the track to success.
Run multiple campaigns with different creators and select from over 30 unique data points to customize your report. Browse through graphs and charts that let you know in one easy visual what's going on with your campaign and each influencer.
You can quickly share reports and data with team members, so campaigns continue to grow and evolve. No matter how many campaigns or influencers you're working with, you'll know the exact ROI of your efforts based on our accurate stats and social media analytics reporting software.
Our influencer and social media analytics reporting software will also help you make data-driven decisions that help improve your campaigns, boost revenue, and get more out of every marketing dollar. And even though this sounds complicated, you'll be tracking everything from a single dashboard for simplicity and transparency.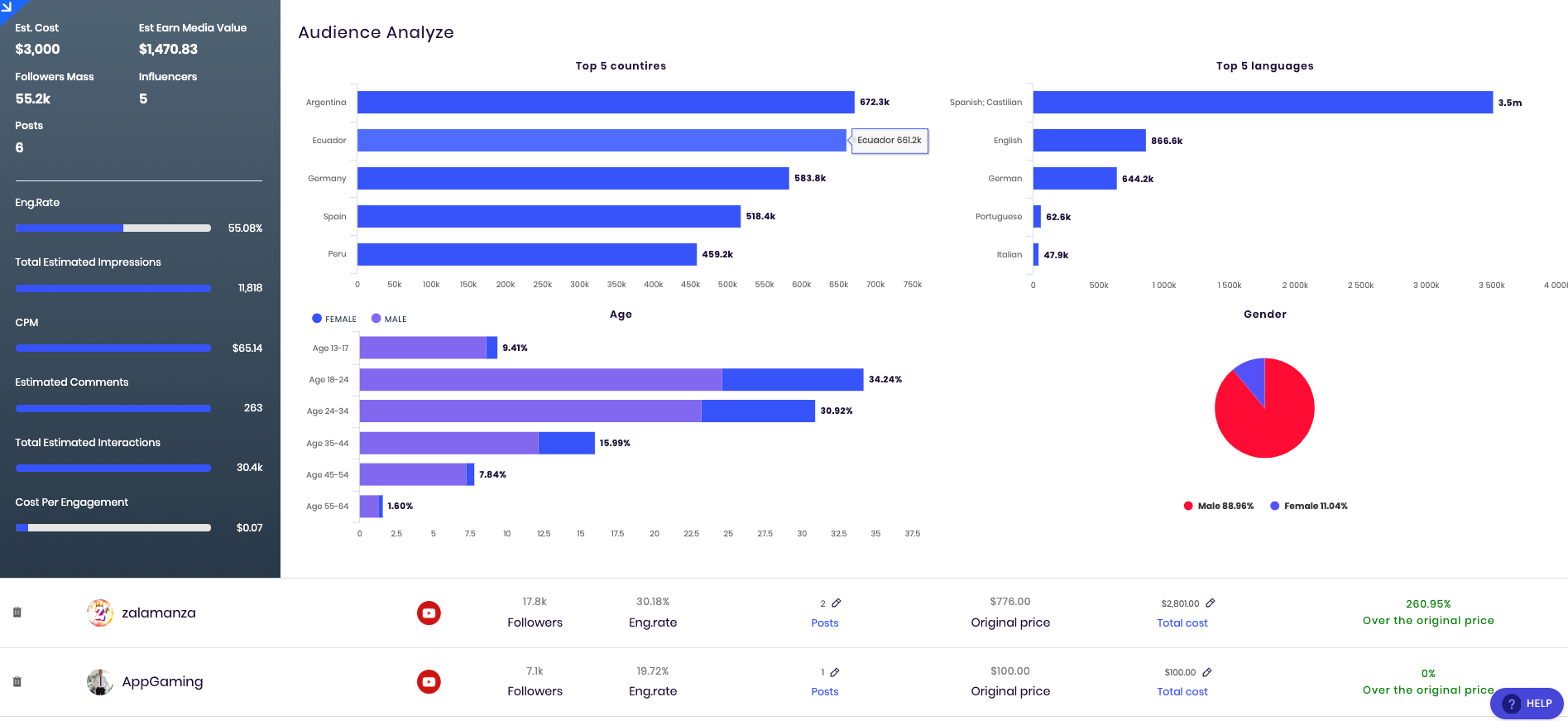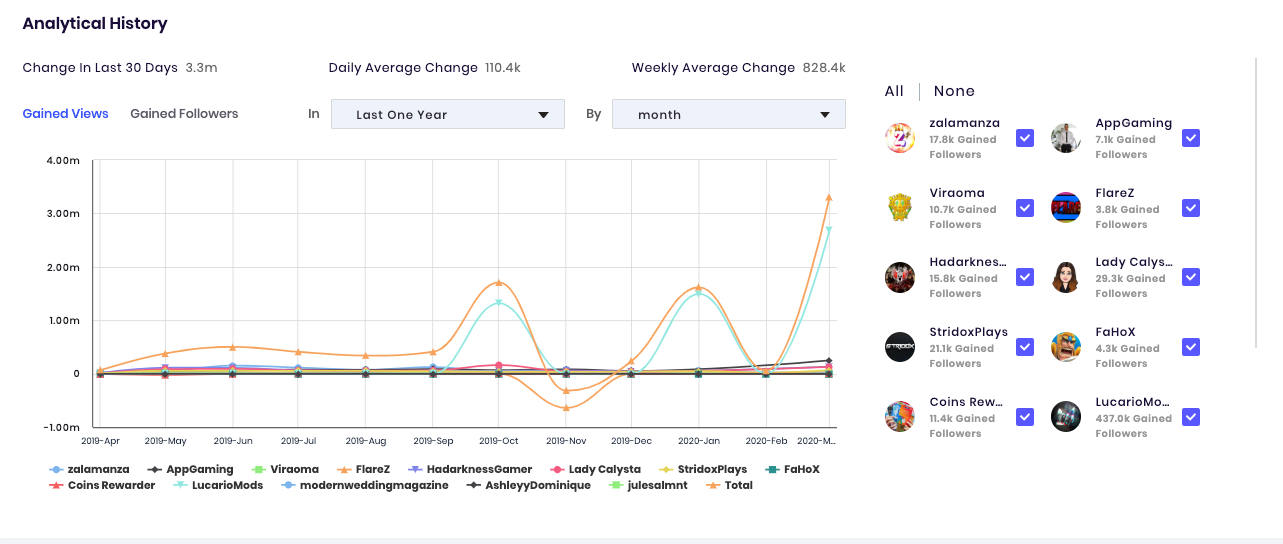 KPI Tracking
Need more than the average business to make an influencer campaign work? We're the influencer marketing platform for you. We support businesses of all sizes, including those that need more data and support than most. With an open API, third party integration, and detailed analytics, our influencer platform is ideal for developing your marketing strategy.
We love working with small and medium sized businesses on influencer marketing campaigns. We've watched our customized tracking and analytics help them experience exponential growth. But that doesn't mean we don't have the data and technology needed to work with enterprise companies.
Application programming interfaces (APIs) are the digital framework that make the internet go round. Investing in an API strategy is smart, but not all influencer marketing platforms allow for API access. SocialBook gives you API access to integrate with your processes as you develop and implement influencer marketing campaigns. Our API access enables you to communicate, translate, interact, and protect on enterprise levels.
What about integration? We know you rely on plenty of other platforms, software, and applications to make your business successful. We want to make working through SocialBook as seamless as possible which is why we're working every day to become more integrable.
Chances are, we're already ready for integration with your most functional and necessary software. But if there's something we've missed, don't be afraid to let us know. We'll get started on developing the custom integrations necessary to improve your data analytics and influencer marketing campaign tracking.
And if you're worried about data limitations, we understand why. Your data needs are intense, and if you've tried using an influencer marketing platform in the past, only to be disappointed, giving another platform a shot can be nerve-wracking. Afterall, data is what drives your business, not physicality. When it comes to Big Data, we can provide the volume and velocity you need to disrupt your industry and come out on top.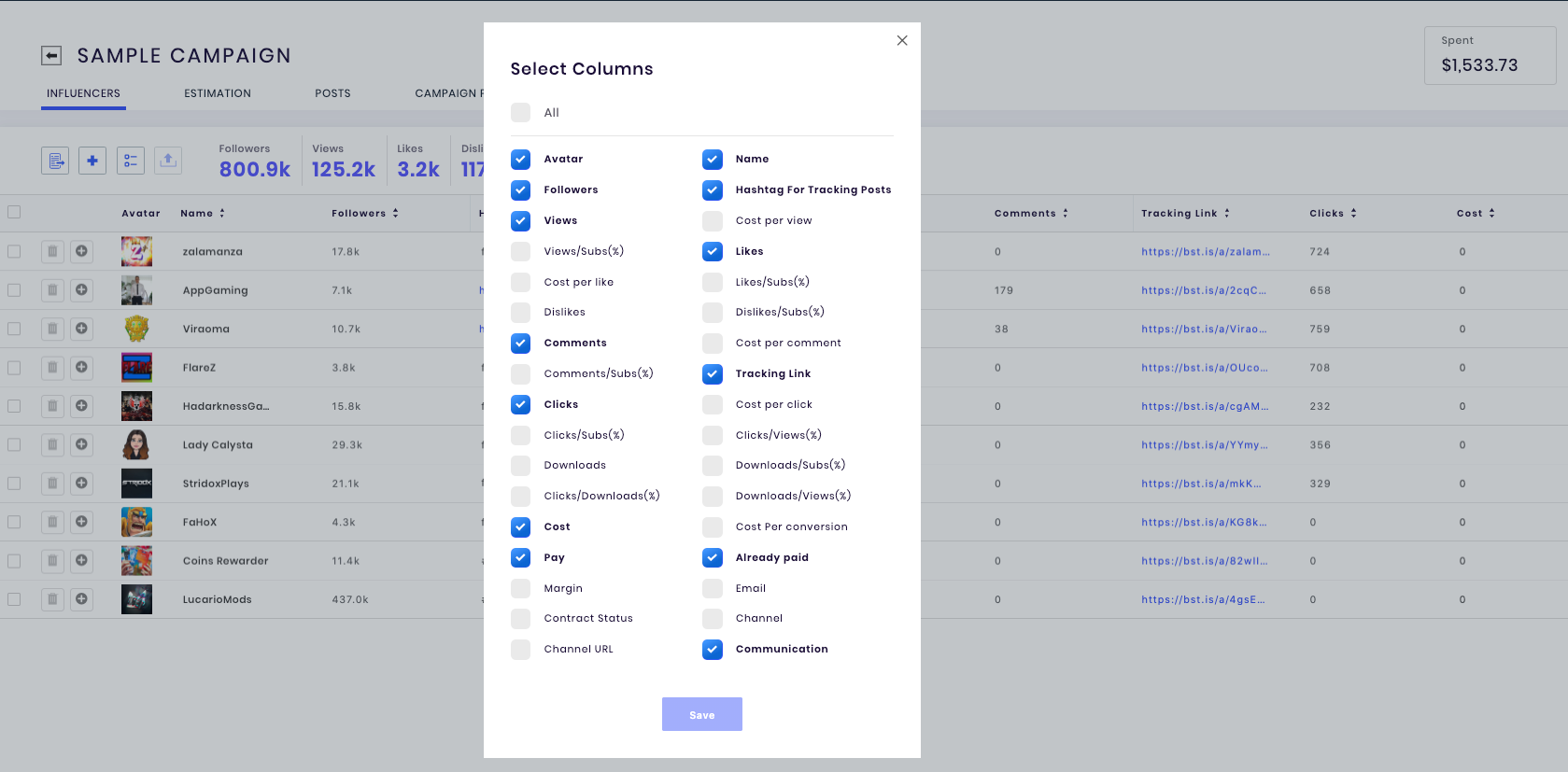 For Influencers
Know My Influence ( Get My Channel Reports)
After you connect your YouTube channel or Instagram channel, SocialBook will start calculating your post worth, channel performance, channel highlights, business potentials, top posts, brands mentioned in posts, follower demographics, and channel growth history. You can see what type of posts can help you to gain more followers and what type of posts caused you to lose followers.

Check out the YouTube Channel reports here
And Instagram accounts reports here
Grow YouTube Channel

If you own a YouTube channel, the best way is to use SocialBook YouTube Builder. It helps you with
Tag management
Making the best thumbnail that people are likely to click to watch.
Setting up trend alerts to make popular content in time.
Monitoring your competitor's channel on how they are doing and why they are growing faster than yours.
Using the link shortener to understand what links your fans are clicking.
Video SEO: Top Tag Suggestions
Help you to find the right tags for your video and rank higher. Generate different keyword tag lists at the click of a button and also auto-recommend additional tags that may help boost your video's organic search performance.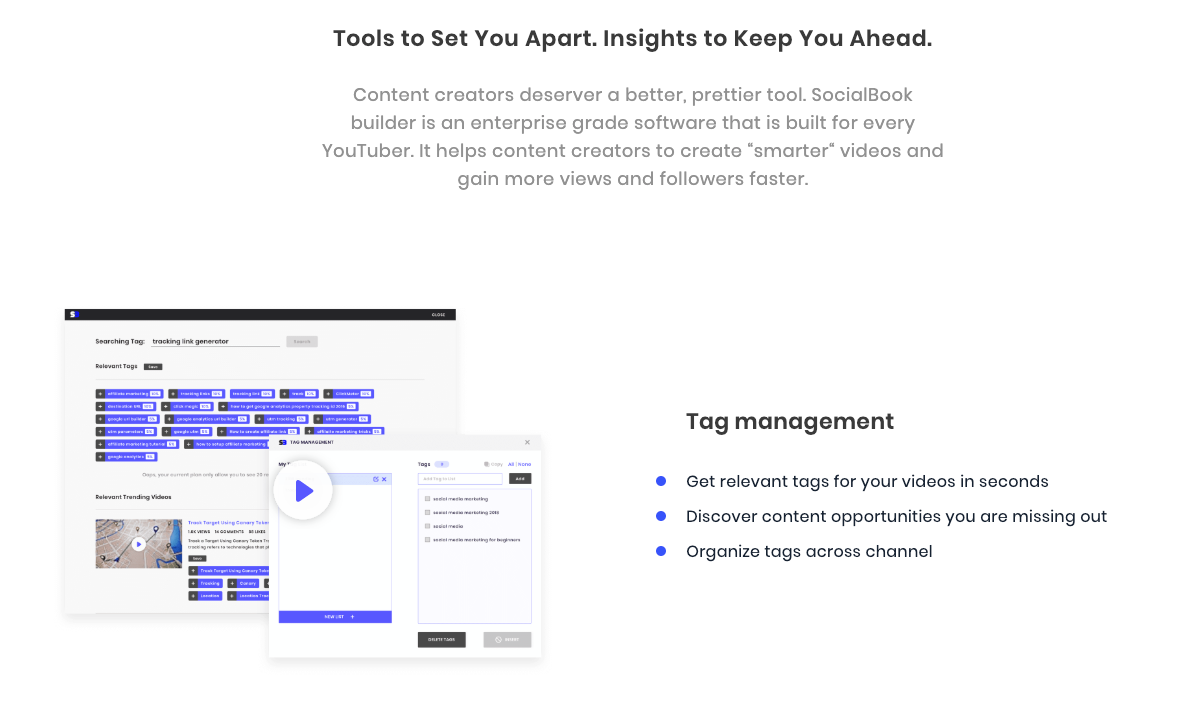 Increase Views: In-video Thumbnail Maker
SocialBook provides all the materials you will need to create your personalized thumbnail image to outperform your competitors: numerous fonts, free stock images, and templates for you create powerful thumbnail images fast.

Get Popular: Trend Alerts
Help you to get the most organic traffic. SocialBook Builder notifies you via email when your competitors' videos pass a certain view per hour threshold. This customizable feature can help you catch every trending topic without much active effort.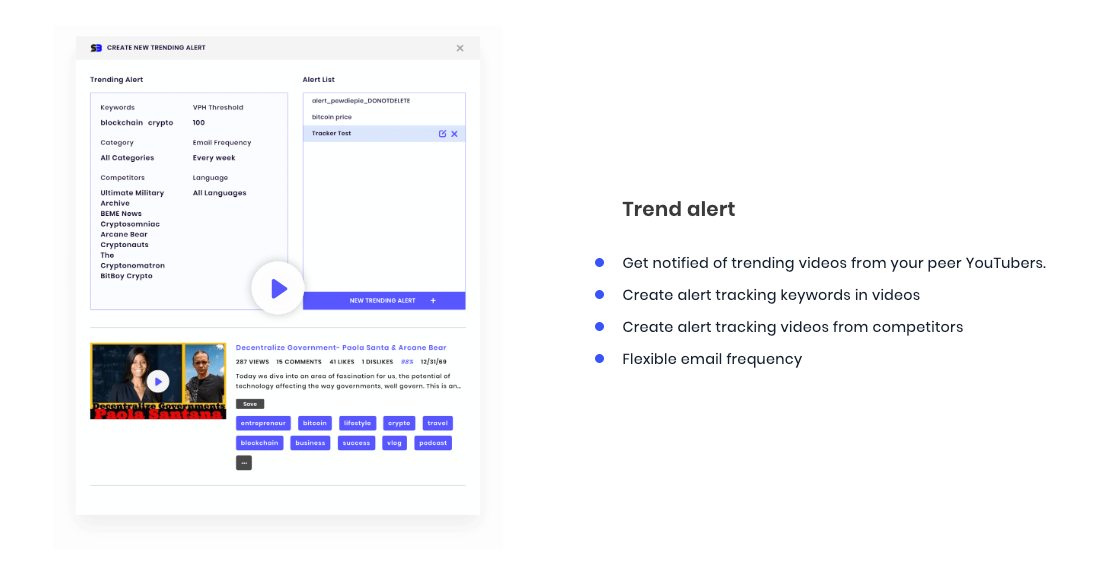 Competitor Comparison: Competitor Channels Tracking
Allow you to learn from the best. SocialBook Builder makes it easy to track you and your top competitor's channels with a variety of metrics. You can use the tool to find similar channels and also utilize the Compare feature to dive into different per-video and per-channel stats.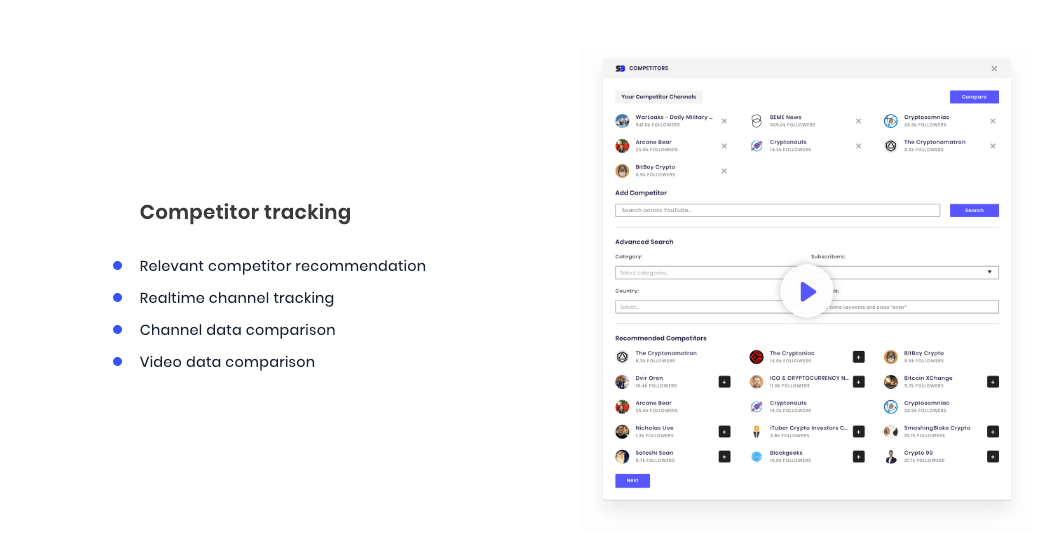 Track Clicks: Powerful Link Shortener
To ensure you grab all the insights from links placed in the video description. SocialBook Builder auto-generates shortened tracking links for all the URLs added to the description. After the video is published, you will get in-depth stats about each link, the demographics of the clickers, the performance of those links over time, and much more.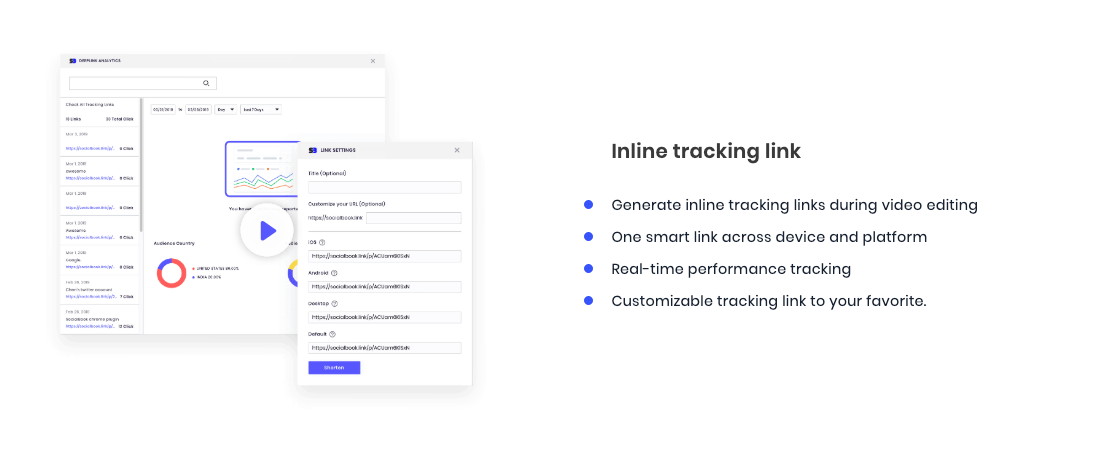 Check Other Influencers' Reports
It is easy. You can simply type in any influencer' channel name or URL, SocialBook will generate the report for you in real-time.

Get Brand Offers
Simple! Fill in your brand collaboration form; SocialBook matches the right brands for you. Pay attention to the emails that you are receiving from brands. They are using SocialBook to find you, with a "powered by SocialBook" signature at their email endings.

Free Tools
We build the best Background Remover for you to remove picture background within a click.
You can also use Photo Cartoonizer to make a nice cartoon of your photo.
Use Tag Research to follow the most trending topics and get content inspirations.
Right, read! We have a whole section of how to become an influencer here for you. Enjoy! If you have any thoughts you like to share with other influencers, write to us!