When you're in the planning stages of an influencer marketing campaign, choosing your social partners may be the first thing on your mind. And with good reason. Influencers are definitely the most exciting and engaging part of any influencer marketing campaign, however, to give yourself the highest possibility of success with your campaign, there are many other things that you should be considering long before you come to the point of selecting partners.
To ensure that you hit all the campaign goals, you have to get clear about certain important preliminary factors—details that absolutely must be locked down to best guide your influencer vetting process.
First, Create a Bomb A** Influencer Marketing Brief
The first step in planning any campaign is to create an influencer- marketing brief. Your brief should clarify the critical intentions of your campaign, with a focus on the following points:
1. Nail down key dates:
Decide on some pre-launch dates. Pre-launch is the time when you build buzz about your product before the actual launch of your campaign.
A tried and true method for building buzz is to use teaser ads in which common grievances are identified for several ads before finally revealing how your product resolves these pain points.
The first dates on which you should settle are the dates for this ultra-important, pre-launch, buzz-building part of your campaign. That part where you wake people up and make them realize that your product or service is what they have been missing all along.
It's all about providing our fellow humans with what they need to make their lives more comfortable and more joyous, and your product or service can be one of those little things that bring happiness.
Next, you can focus on other important dates like your official launch date and the dates of any events central to the campaign—for example, you may have a campaign that is focused around a particular holiday or season.
2. Budget:
Give yourself a leg up when making decisions about the budget by checking out your competitors' influencer marketing strategies.
Naturally, you won't be able to get super specific details, but you can check out what campaigns they are running on which platforms, and the types of influencers that they are working with—whether they be nano-influencers, micro-influencers or Kendall Jenner-like mega influencers.
Getting a general idea of what similar brands are doing with their campaigns is a great starting point for making decisions about your own campaign and gives you a good idea of what you need to do to compete.
Using an influencer-vetting platform like SocialBook can be a big help in researching what your competitors are up to. It lets you search for brands and find out which influencers they are working with so that you can get an excellent sense of what strategy your rivals are pursuing.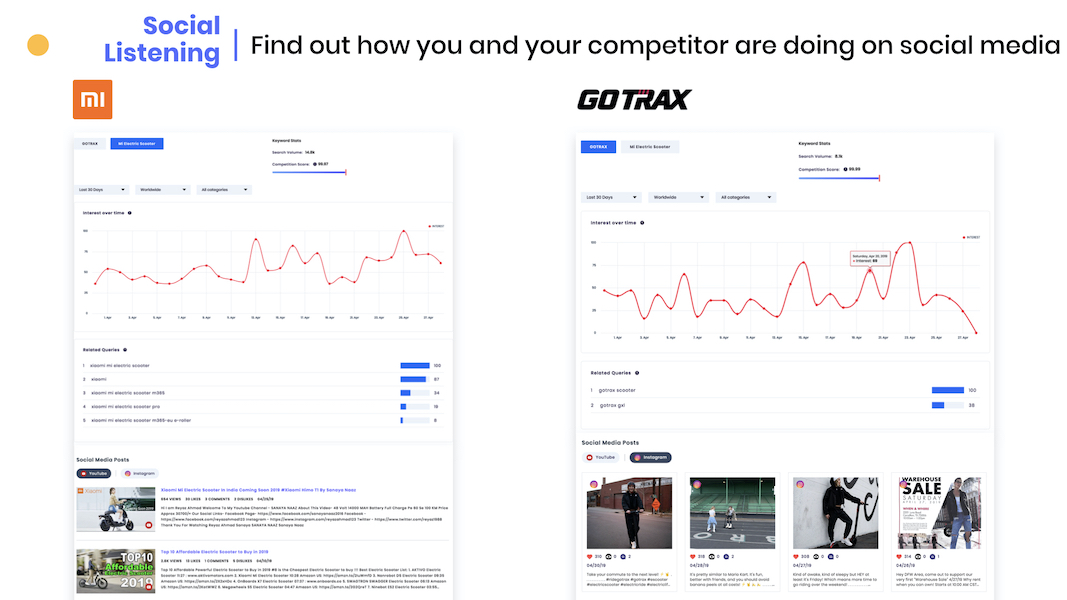 When it comes time to select influencers for your own campaign, a vetting platform can also take the guesswork out of choosing influencers, no matter their level of influence. If you need to stretch your budget, you can search for micro- or nano-influencers who will sometimes even partner with your brand for free.
3. Audience:
Get to know your target audience intimately by creating specific buyer personas which will include demographic info like age, income, and location; preferred platforms and types of content; pain points and other key purchase drivers.
The information gathered about buyer personas—there will likely be several of these personas—will drive other campaign choices down the line like decisions about tone, content, and messaging. Try using online surveys and SEO data or even get involved in conversations on social media to gather the facts you need to create specific buyer personas for your campaign.
4. Content:
Decide which platforms you prefer and choose the kind of content that works best for your brand and your campaign.
The platform you choose will be primarily determined by what demographic groups you are targeting, and the content (videos and images, for example) will be driven by your targeted platform.
If your ideal audience is young—say, in their teens to early twenties—you might decide to go with Snapchat. For that perfect beach umbrella, some gorgeous shots on various beaches would work well on Instagram—along with IG and YouTube videos of the umbrella holding up under a strong wind.
A trick here is to check the top performance influencers your competitors are using, then use SocialBook to view the audience demographics of those influencers. SocialBook provides an in-depth audience demographics report of each social media influencer, including country/district, interest, gender, and age.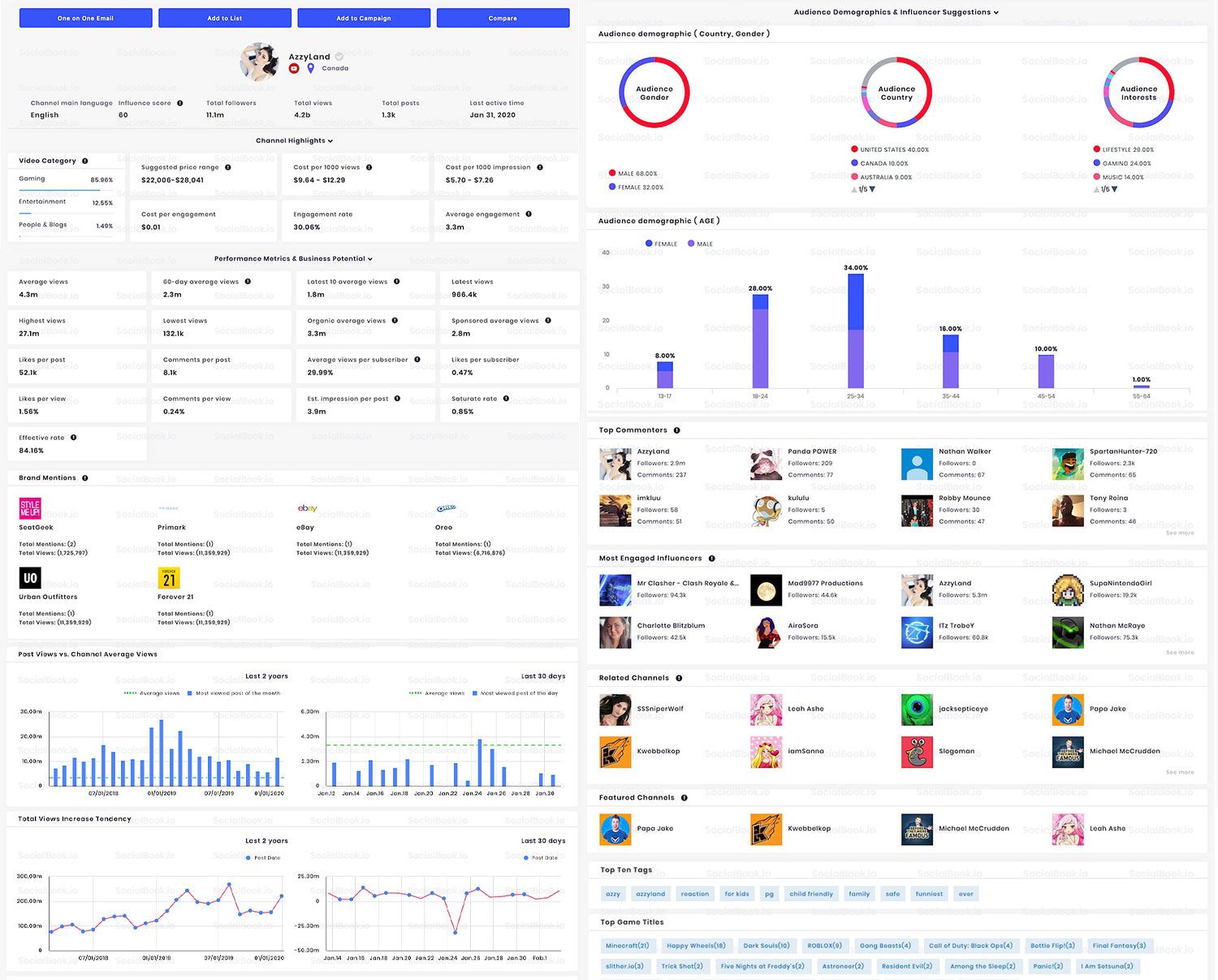 5. Messaging:
Define the key messages and language of your campaign. Be sure to include topics and style that you would like to avoid, as well as those you'd like to focus on. Also, decide on the tone of your campaign—is it somewhat humorous, is it dead severe or somewhere in between? Get specific about precisely what value you are offering to your potential customers with your product.
Having Your Influencer Marketing Brief Ready, Define Campaign KPIs and Goals
To ensure that your campaign ends up being a total triumph, you'll want to set definitive goals and specifically determine how you will measure its success. Once you know your goals—these could be raising brand awareness, building brand identity or lead generation, to name just a few—you can come up with milestones to shoot for so that you can periodically check and see how your campaign is doing.
6: Know Your Goals
Get specific about what key performance indicators (KPIs) you'd like to track to make sure that your campaign is on target to meet your goals. These can be KPIs like traffic, which lets you know how many people are visiting your website, social media KPIs, or conversions, which tell you how many people are making actual purchases. Whichever KPIs you choose to track, just be specific about what numbers you need to see to meet your goals.
And Now for the Fun Part
Congrats! Now you're all ready for the fun part, which is vetting and selecting your influencers. You can see how all of the above decisions will lead you to be able to make organic, on-point choices when selecting your influencer partners.
Once all of these details have been decided upon, you will quickly know which influencers' vibes will resonate best with your audience and align perfectly with your own brand message.
Finding influencers who deliver results should be simple! Don't hire influencers that have no influence, use SocialBook.
---
---