So, you are an influencer with a huge fan following on Instagram? Great job! You must be using the Instagram bio link feature for online branding and promotion.
Bio link is a great feature that allows social media influencers and marketers to link their Instagram profiles to their website, blog, or any other social media account. At the same time, this feature creates a headache for content creators because it gives users on one link in their Instagram bio. This means you can add only one link, which can be your Facebook profile, personal website, or YouTube link. This is quite embarrassing!
Are you also facing a similar challenge and tired of swapping the bio link in your Instagram each time you start a new campaign? Do you want to leverage the full potential of your social media accounts to expand your outreach? Here's the solution!
Don't worry if Instagram limits you to a single bio link. Try the link in bio tools like LinkOne to optimize that one link and get the most out of your marketing campaigns.
In this article, we'll explore a little bit more about links in bio tools and look into the key features of LinkOne that make it one of the best link-in bio tools for 2022.
So, let's get started!
What is Bio Link?
If you ever opened your social media profile, you will see there is an option to add a clickable URL to your profile. Once a link is added, your followers can click that link to visit your intended webpage.
This clickable link is called Bio-Link, which is a common feature offered by leading social media platforms like Facebook, Instagram, Twitter, and TikTok. As a social media influencer, you can use your bio link to drive traffic to your website and showcase your latest content, creative arts, or anything that can inspire your target audience.
A bio link actually works as a call to action and urges your potential customer to visit your page. This amazing feature makes your social media profile a great source of marketing and allows you to convert visitors into loyal customers.
Why do we Need Link in Bio Tools?
Although the link in bio feature is very useful for marketers, it also has some limitations. For instance, popular social networking sites like Instagram and TikTok allow their users to add only one bio link to their profiles. That link can be their Facebook profile, YouTube channel, blog, or personal website.
However, you cannot achieve your desired goals by limiting yourself to a single social platform only. Most celebrities and social media influencers have multiple social media accounts that help them engage with their followers and further expand their fan base. Additionally, they also have their own websites and blogs where they showcase their creativity to inspire visitors and generate leads.
Hence, the limitation to adding only one bio link to your Instagram or TikTok profile may restrict you from fully leveraging all your links for marketing purposes. For instance, if you are working with a brand, you can link only one page with sponsored content.
Consequently, business owners and social media agencies cannot engage with your followers involved in diverse content across your social media profiles.
To address this issue, link-in bio tools have been introduced that gives you so much freedom to optimize that one link in your Instagram bio. These tools help you promote multiple links and link your social media profiles to more content and pages.
LinkOne – The Most Reliable Instagram Link in Bio Tool
Introducing LinkOne, the world's most reliable Instagram Link in Bio tool with powerful features. This comprehensive tool allows its users to make the most out of their Instagram profiles by creating a single powerful link.
With LinkOne, you can link your content to your Instagram bio, grow your fan base across the globe, and sell your products and services. Besides, you can even collect payments from buyers via a safe and secure transactions platform.
Hence, LinkOne does more than just a link in bio tool; it works as an all-inclusive growth suite that fits into your specific marketing needs. You can promote your brand, increase your recognition, connect with potential buyers, and achieve your sales targets with this amazing tool.
Similarly, LinkOne enables social media influencers and marketers to change the way their creation is valued. It is a platform where you can showcase your creativity to inspire your audience and generate a passive income stream powered by secure financial transactions.
Unique Features of LinkOne
LinkOne comes with powerful features to optimize your Instagram bio link like a pro. Explore some of the exclusive features below to learn more about this amazing tool:
1. Showcase Your Creativity
As a social media influencer or content creator, the best way to inspire your target audience is to showcase your creativity. For example, you can display the most creative artwork that you are proud of on the LinkOne page and connect it with your Instagram profile via a bio link.
This feature allows you to build a media deck for yourself by using LinkOne and stand out among your competitors. The page works like your portfolio that can be shared with different brands and sponsors for long-term collaboration.
Bonus Tip: Use the featured post option in LinkOne to bring the best content to the top.
2. Expand Your Outreach
Social media is all about maximizing your outreach and expanding your fan base. You try every possible method that can increase your online reputation and help you get more followers.
Hence, LinkOne serves as your growth tool and allows you to bring more traffic to your intended pages. The powerful bio link created by LinkOne serves as an amplifier where your target audience can access your creativity and your important links. Hence, a new world of endless opportunities awaits you!
3. Optimize Your Campaigns
No Instagram marketing campaign delivers the desired results unless it is fully optimized and closely monitored. You have to target the right products to the right customers at the right time and place to generate leads. For all this to happen, you have to observe users' behaviors and collect data-driven insights.
LinkOne enables marketers to optimize their links and brands like never before. The tool has different options to help you better understand your traffic. Besides, you can collect data about your client's location and device to pitch the right people. Moreover, you can also identify which links are getting the most clicks and optimize those pages for higher growth.
Social media and eCommerce are two different platforms. Each one has its own strengths and weaknesses according to the target audience. What if you get an AI-powered tool to better optimize your social media profile and generate sales like an eCommerce store?
This is what LinkOne can do for you!
LinkOne leverages the most advanced AI technology to match similar products or services from any post or video. The system automatically adds affiliate links to the post and urges potential buyers to make a purchase. Each time a sale is generated, the user earns a percentage of the sale as a commission. The more sales generated from your Instagram account, the more you will earn. Sounds amazing!
5. Collect Digital Payments
Last but not the least, LinkOne works as a reliable platform to earn a passive income. Social media influencers, marketers, or experts in any field can make money by engaging with their Instagram followers and sharing valuable tips.
You can even use LinkOne to sell digital or physical products to your target audience and collect digital payments securely. Moreover, if you are working for some noble cause or need support from your fan base, you can also accept donations without any hassle.
What Value Can LinkOne Add to Your Instagram?
Here's how LinkOne can help become a successful social media influencer or marketer:
1. Add a powerful bio link to your Instagram profile and drive more traffic to your desired pages
2. Get your followers involved more on your social media accounts, website, or blog
3. No need to swap the Instagram link in the bio for new campaigns; keep optimizing your LinkOne profile by frequently updating links, products, or services
4. Expand your consumer base across the globe and sell your products or services to a wide range of target audiences
5. Run an advanced Instagram marketing campaign by using multiple task links
6. Drive your Instagram traffic directly to your intended page; your followers need not search your website or blog on Google
7. Showcase your creativity by inspiring your target audience and convert visitors into loyal customers
8. Highlight the most important feed, updates, and promotional offers for your Instagram followers
9. Earn extra income through affiliate marketing; auto-match similar products or services to your post and earn health commissions on the sales generated through your bio link
10. Collect online payments by selling your products or services and accept donations from your followers
How to Create Your Link in Bio with LinkOne?
Have you decided to optimize your social media bio links with LinkOne? Check out these simple and easy steps to learn how to use this powerful link-sharing tool to achieve higher growth:
1. To start with, open SocialBook.io in your web browser
2. Enter your login credentials (email address and password) to sign in to your SocialBook account. You can also use your Gmail, YouTube, Facebook, Instagram, or TikTok account for login. If you don't have any account, tap SIGN UP at the bottom to create a new account.
3. Once you have logged into the SocialBook, open your dashboard and tap Free Bio Link: LinkOne from the left column
4. After opening LinkOne, click on the My Page option from the left column. From the drop-down options, tap About Me. From that screen, tap Create your new website option. You can see the projected interface of your website in real-time on the right side as shown in the figure below:
5. Add a profile title to show your site reflection. For instance, you can use your own name or brand name.
6. Enter a short bio description that shows the reflection of your brand or personality. You can keep its tone casual or descriptive, but I'd recommend making your bio friendly and professional.
7. Tap the Pick an image button to upload the background image. You can select an image from the LinkOne library or your own device. Besides, you can also design a custom image via Photo Studio.
8. Tap Social Media from the left column and add links to your social media profiles
9. Tap Links from the left column and add links to your website or blog
10. Tap Feature Post from the left column and add a feature post to bring the most important content to the top
11. Tap Affiliate Link from the left column and add the affiliate link of your brand partner
12. Tap Style from the left column and click on Background from the dropdown option. Customize your website background by choosing an appropriate image or video.
13. From the same Style menu, tap Buttons and choose your favorite button color, button font color and height, shadow type, shadow color, and hover button font and background color.
14. Now, tap Text and choose your favorite font style
15. Finally, tap Theme and select from a wide variety of online theme designs available
16. Once the website is complete, copy your bio link and paste it into your Instagram or TikTok profile
How to Add Bio Link to Instagram?
Since you have created a powerful link bio, now it's time to add this link to your Instagram profile. Here's how you can do this:
1. Open your Instagram profile on desktop or smartphone
2. Click on the "Profile Edit" button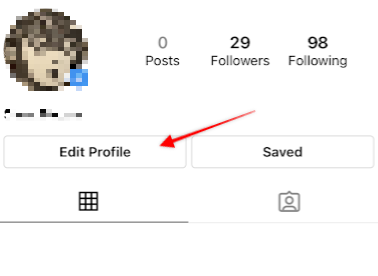 3. Enter your bio link in the "Website" field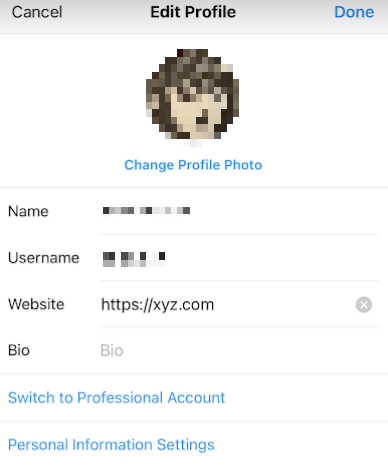 4. Tap "Done" to save the changes. Your Instagram bio link is ready!
Comparison with LinkTree
Check out the pricing comparison between LinkOne and LinkTree below:
LinkOne

LinkTree

$5

Per month billed monthly

$5

Per month billed monthly

1. Auto-match similar products/services with affiliate links and earn commissions from online sales

2. Earn money automatically from your bio link

3. Show featured posts

4. Add unlimited links

5. Track views and clicks generated

6. Page customization options

1. Page customization options

2. Schedule and animate links

3. Impeccable customer support

4. No transaction fees
Final Words
Social media is a great tool for online marketing and promotion. Famous social networking sites like Instagram and TikTok offer bio link feature to allow their users to drive traffic to their desired website, blog, or webpage. However, the limit of only one bio link makes it impossible to link multiple accounts to a social media profile.
Try LinkOne, the best link in bio tool to better optimize your social media profiles for promotion and lead generation. With this amazing tool, you can:
· Showcase your creativity
· Expand your outreach
· Optimize your marketing campaigns
· Generate online sales
· Collect digital payments
Check out amazing pricing plans offered by LinkOne and start using your Instagram account like a pro.
---
More tutorial of LinkOne, please check here:
Use LinkOne : How to set a featured post in LinkOne step by step
Understand LinkOne Data: The analytics of LinkOne
We proudly recommend more FREE tools for you:
---
---