Photos reflect your personality and leave a positive impression on your followers. You can impress your friends, family members, and colleagues by uploading pictures with unique looks and creative visual illustrations. This way, photos can help you strengthen your social media profile and get more likes.
One of the best ways to stand out on social media is by uploading pictures with an illustrated look. Hence, the trend of cartoonizing photos is getting popular as it allows people to give their portraits a fun, fresh twist. While there are several online tools to cartoonize a picture, no one can beat the SocialBook Cartoonizer in terms of features, ease of use, and reliability.
In this article, we will explain the process to cartoonize your picture in five simple and easy steps. Let's dive in!
What is SocialBook Cartoonizer?
SocialBook Cartoonizer is a free and open-source platform that allows users to cartoonize a picture in minutes. This AI-powered platform has a simple and interactive user interface with minimal distractions. Even beginners with no or very limited knowledge of photo editors can use SocialBook Cartoonizer to give their photos an illustrated look and improve their online reputation.
The best aspect of SocialBook Cartoonizer is that it offers cross-platform functionality and enables people to access this platform on the web or smartphone. You can download the SocialBook Cartoonizer mobile app named ProfilePicMaker from Google Play or App Store.
Cartoonize a Picture with SocialBook Cartoonizer
Turning your beautiful pictures into gorgeous-looking cartoons and illustrations is as easy as you like. Thanks to SocialBook Cartoonizer, a free online tool that gives you the freedom to cartoonize a picture of any type with a few clicks. You can choose your preferred style, filter, sticker, or color effect and turn yourself into a cartoon character.
Let's find out how to use SocialBook Cartoonizer and get amazing results:
Step 1: Open SocialBook Cartoonizer
To start with, go to the official website of SocialBook Cartoonizer in your web browser. The site can be accessed from any device including a PC, laptop, tablet, or smartphone.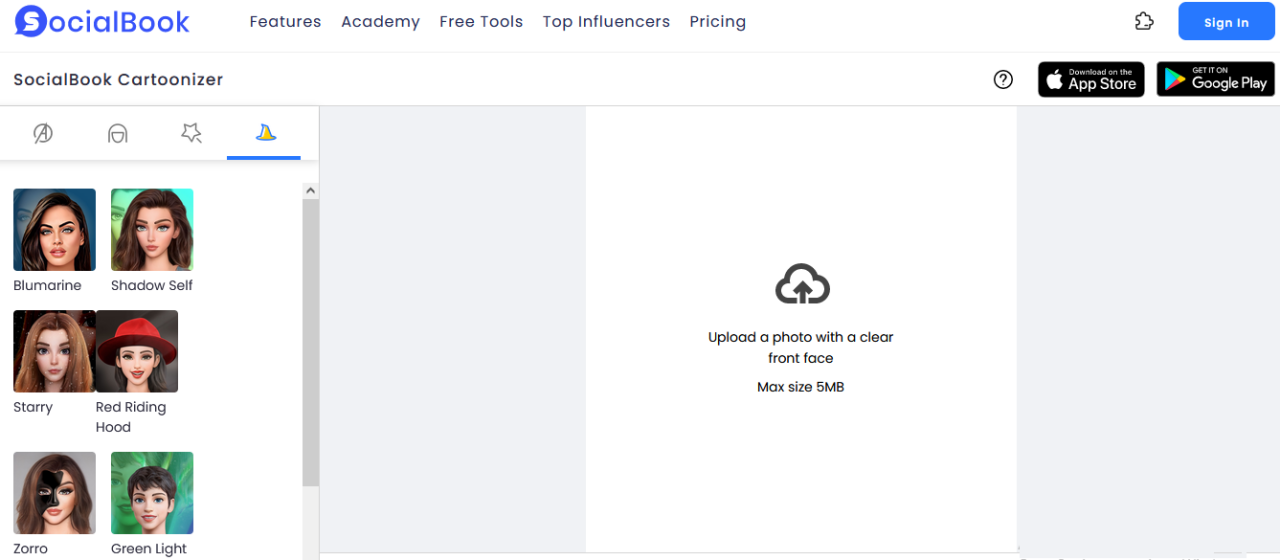 Step 2: Account Sign In
Once you have accessed the SocialBook Cartoonizer website on your device, the next step is to enter your credentials and sign in to your account. However, if you don't have an account, tap the SIGNUP button, provide relevant information, and create a new profile. Alternatively, you can also use your Google, Facebook, Instagram, or TikTok account to access the SocialBook Cartoonizer.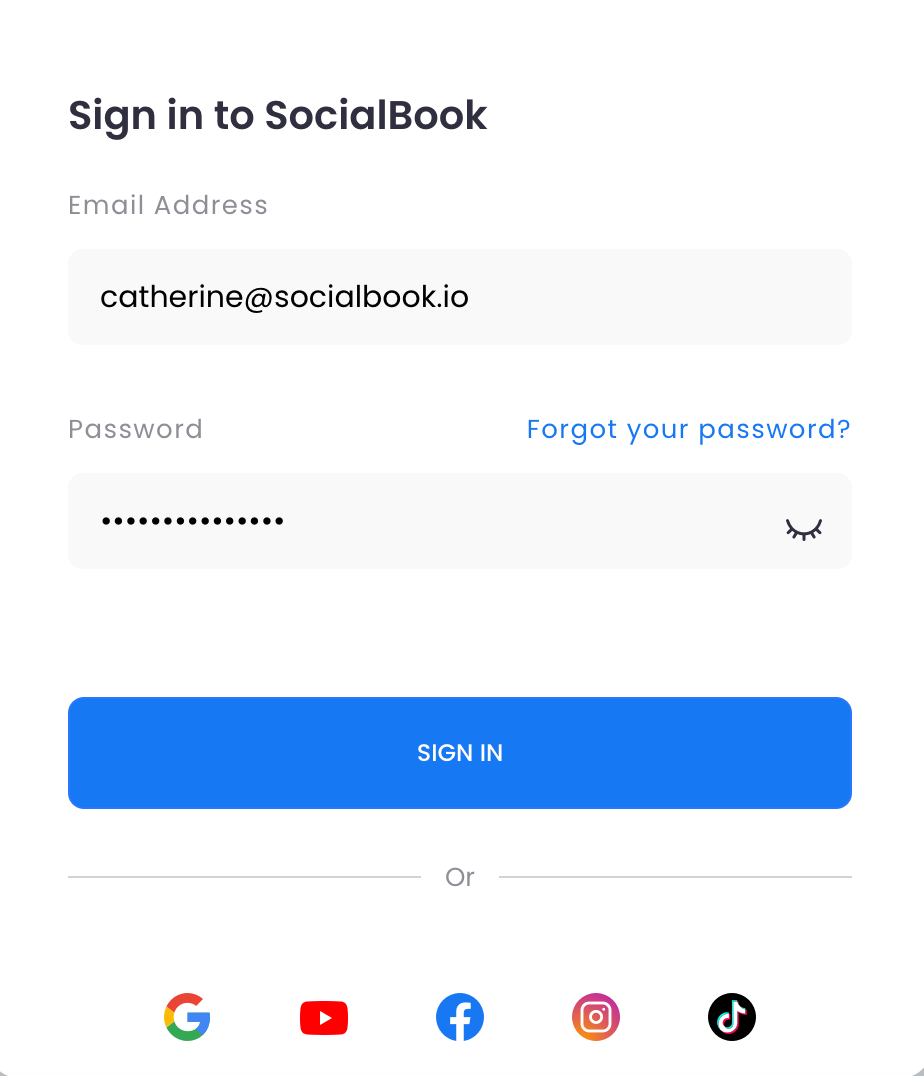 Step 3: Open SocialBook Cartoonizer Tool
After logging in to your account, open the SocialBook cartoonizer tool. You can see multiple options in the left column below your profile picture. From these options, tap the Growth Tool, then open Profile Cartoonizer from the submenus. These steps will take you to the SocialBook Cartooizer tool as shown in the figure below:
Step 4: Upload Your Picture
Now, it's time to upload the picture you want to cartoonize with SocialBook Cartoonizer. Make sure the picture is of good quality and clearly shows your face. For even better results, choose a photo with a face front or a headshot only without anybody. Moreover, keep the picture size below 5MB because SocialBook Cartoonizer doesn't accept images exceeding this limit. However, you have the choice to either upload a photo from your device or paste a URL. Refer to the below figure for a better understanding:
Step 5: Begin the Process to Cartoonize a Picture
We are all set to launch the SocialBook Cartoonizer tool and begin the process to cartoonize a picture. As the last step, enter the captcha to verify you're not a robot. However, if you hate the captcha, buy the premium version and get rid of entering a new captcha every time.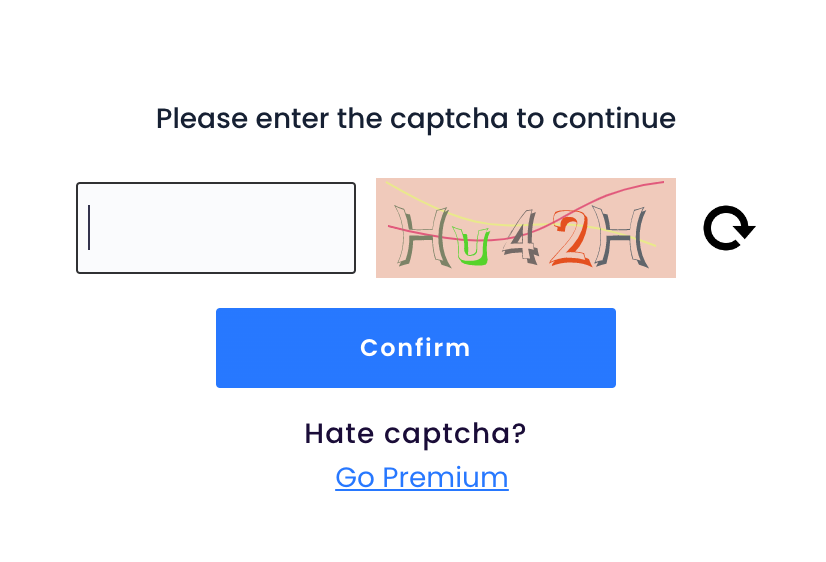 Similarly, select any filter or effect of your choice and wait for a few minutes until the tool cartoonizes your picture. Once the process is complete, review the cartoonized picture and share it with your friends or family members on Facebook, Instagram, or Twitter.
To download high-resolution images without watermark and faster results, select any of the three pricing plans that better suits your needs.
Benefits of SocialBook Cartoonizer Tool
SocialBook Cartoonizer tool gives more than simple cartoonizng, it gives you a range of choices and flexibility. You can make your own superhero pictures by using popular game characters including Ironman, Spiderman, Hulk, Thor, Captain Marvel, Ant-Man, Wolverine, Black Panther, and Doctor Strange. Just pick up your favorite sticker after uploading your picture and get the desired results in a few seconds.
Additionally, the SocialBook Cartoonizer has a wide range of photo effects and filters that allow users to cartoonize their landscape and pet images. For excessive editing, choose an online cartoonizer tool that offers features to change or remove the picture background and improve the image quality.
To access more templates, download and install the ProfilePicMaker app on your Android or iPhone and start customizing and sharing your pictures in discovery.
Final Words
Pictures with an illustrated look and creative visuals are always magnetic and eye-catching. You can gain more followers and strengthen your social media reputation by uploading your cartoonized pictures.
SocialBook Cartoonizer is the best free online tool to cartoonize a picture and add creative illustrations to your photos. You can choose from a wide range of filters, effects, and stickers to turn your selfies into cartoons.
Try SocialBook Cartoonizer for free today!
---
We are proudly to recommend more handy tool for you:
---
---