Do you know the secret used by leading marketers to attract potential customers with advertising boards and banners? It's the image background that makes specific characters more prominent and catches viewers' attention.
The same rule applies to our lives where the quality of images is judged by their backgrounds. I'm sure you don't like blurred, distorted, irrelevant, and unwanted backgrounds in your Facebook cover or profile picture. Fortunately, plenty of photo background remover tools are available online to edit photos and make images look more attractive and engaging.
In this article, we'll present the 6 best tools to remove background from image online to help you make the better choice. Let's dive in!
1. SocialBook Photo Background Remover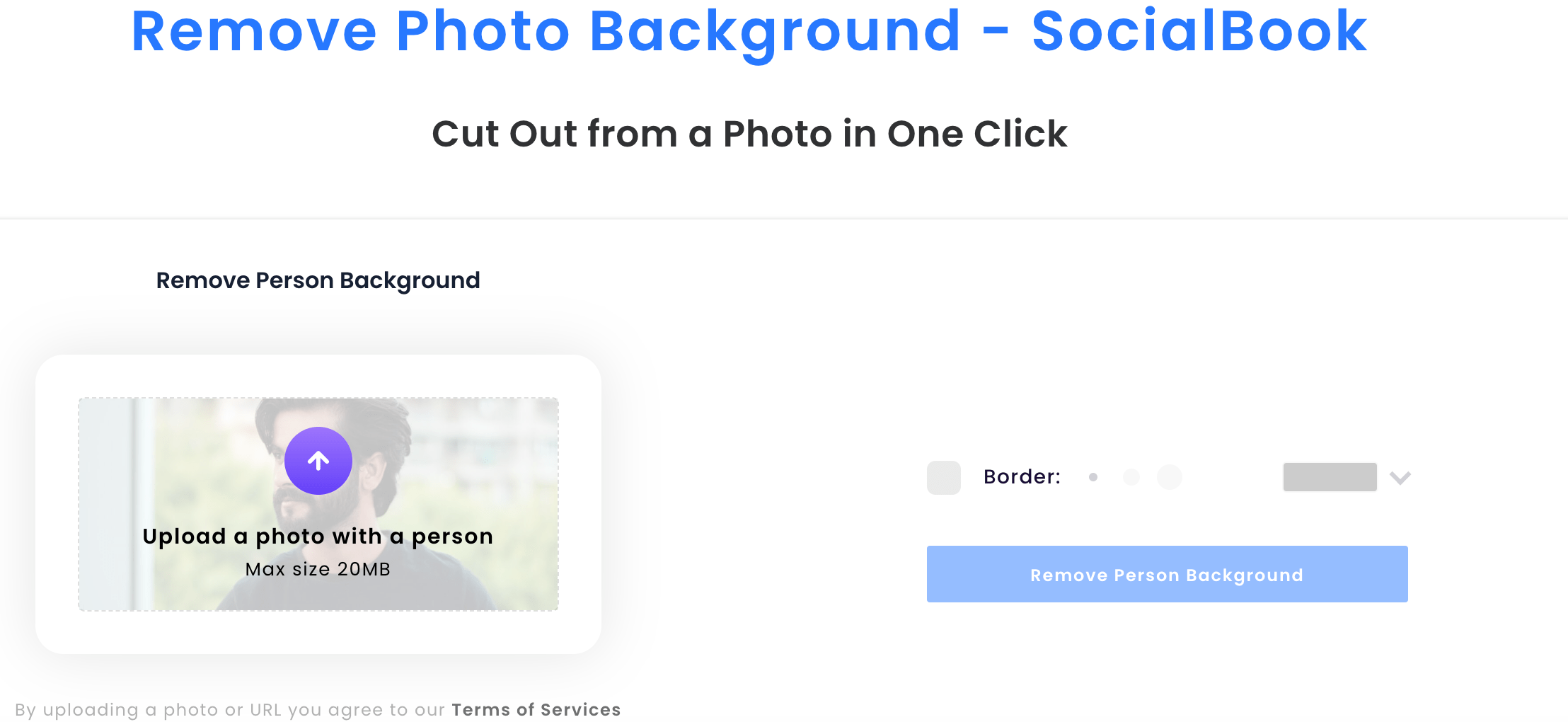 The leading tool in our list is SocialBook Photo Background Remover, which is currently the best online tool in terms of features, ease of use, and reliability. SocialBook Photo Background Remover simplifies the background removal process and gives premium-quality output with just one click.
Features
Given below are a few features that make SocialBook Photo Background Remover the best tool to remove background from image online:
1. A web-based application that removes the image background online. There is no need to download or install the application on your device.
2. Its cutting-edge features automatically detect the human or objects from an image and remove the background in seconds with just one click.
3. With a user-friendly and intuitive interface, even beginners can become experts in removing background from images
4. SocialBook is powered with advanced AI technology that allows users to perfectly handle even hair and other difficult conditions like curved edges or minor details.
5. With this 100% free tool, you can change or remove background from image without paying anything and download the output file with no watermark.
How to Use?
1. Open socialbook.io in your web browser and select "Photo Background Remover" under the "Free Tools" section.
2. Upload your image with a human or object of no more than 20MB in size
3. Once the image has been uploaded successfully, tap "Remover Person/Object Background," enter the captcha, and click "Confirm"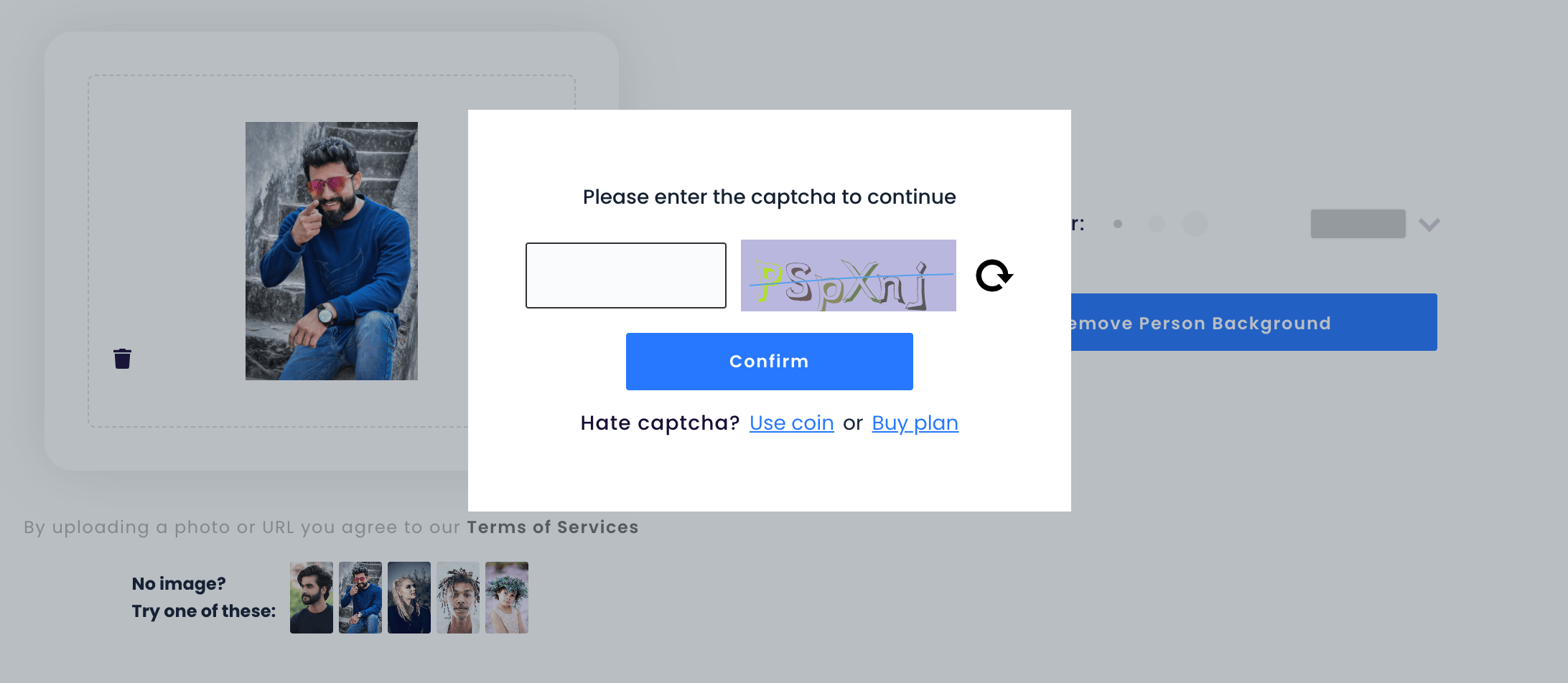 4. Wait for a few seconds until the tool removes the background from your image
5. Lastly, download the beautiful image without a background or click "Quick Edit" to erase the photo or change the background.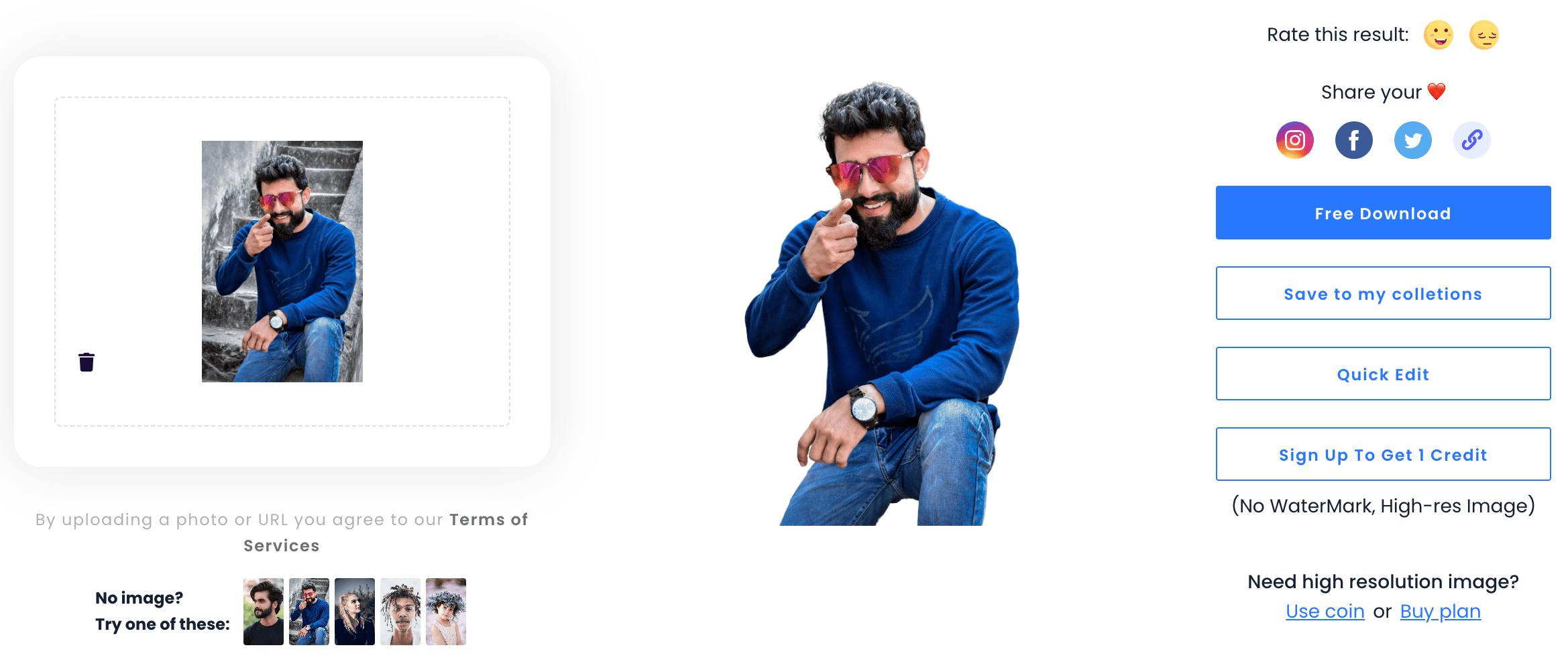 2. Adobe Express Background Remover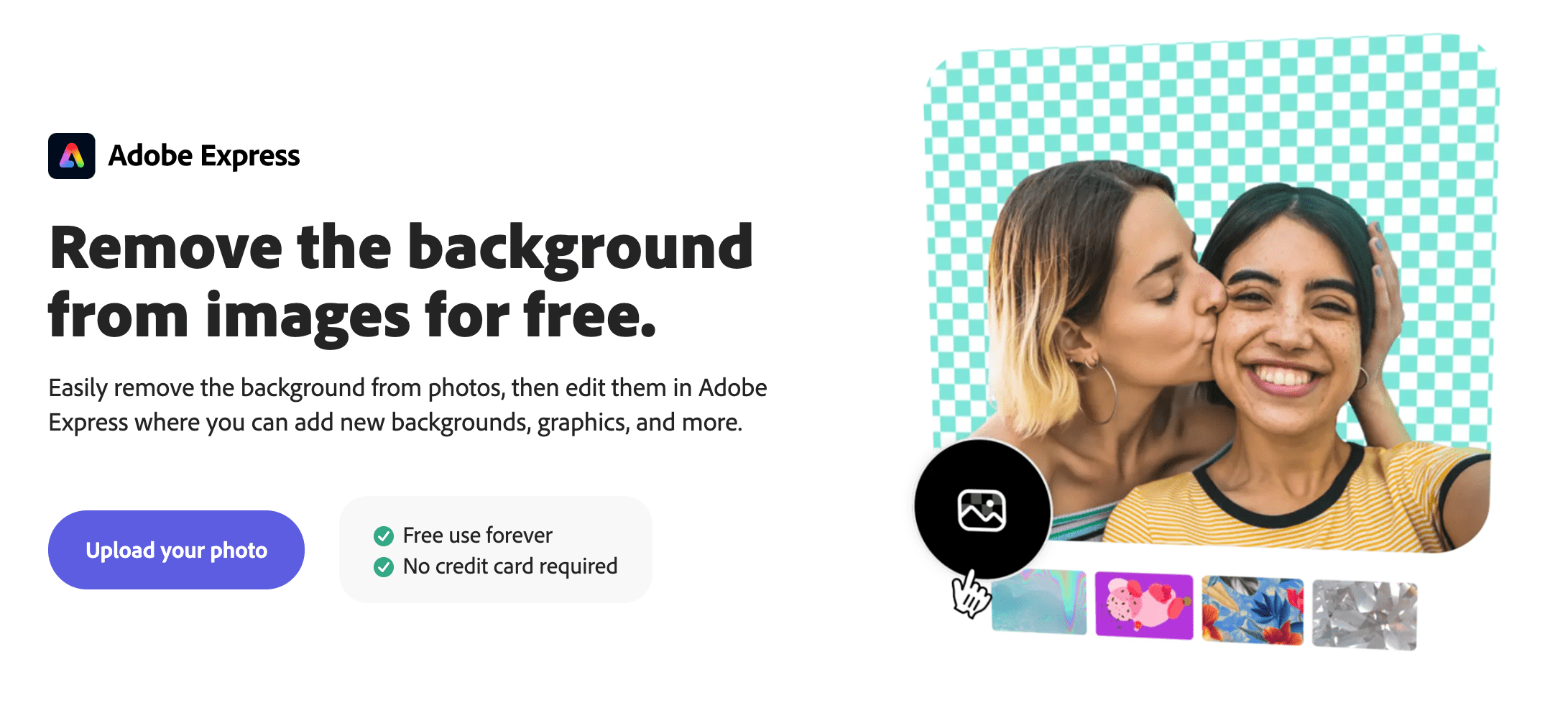 Adobe Express Background Remover is another free tool to remove background from image online. You can also add new backgrounds, visual elements, illustrations, or graphics to your photos with Adobe Express.
Features
Adobe Express allows its users to:
1. Create a transparent background and place new images with different designs and destinations
2. Remove background from image instantly in three simple and easy steps
3. Access advanced design tools and photo editing capabilities to apply filters, add a shape crop or add a GIF to create a compelling image
4. Share their images across different social networking platforms
5. Use over 100,000 templates and assets
Pros:
· A powerful image editor with more than 20,000 font styles
· Highly versatile and offers a forever free basic plan
Cons:
· The free plan has limited features
· Poor image rendering quality
3. HitPaw Online Background Remover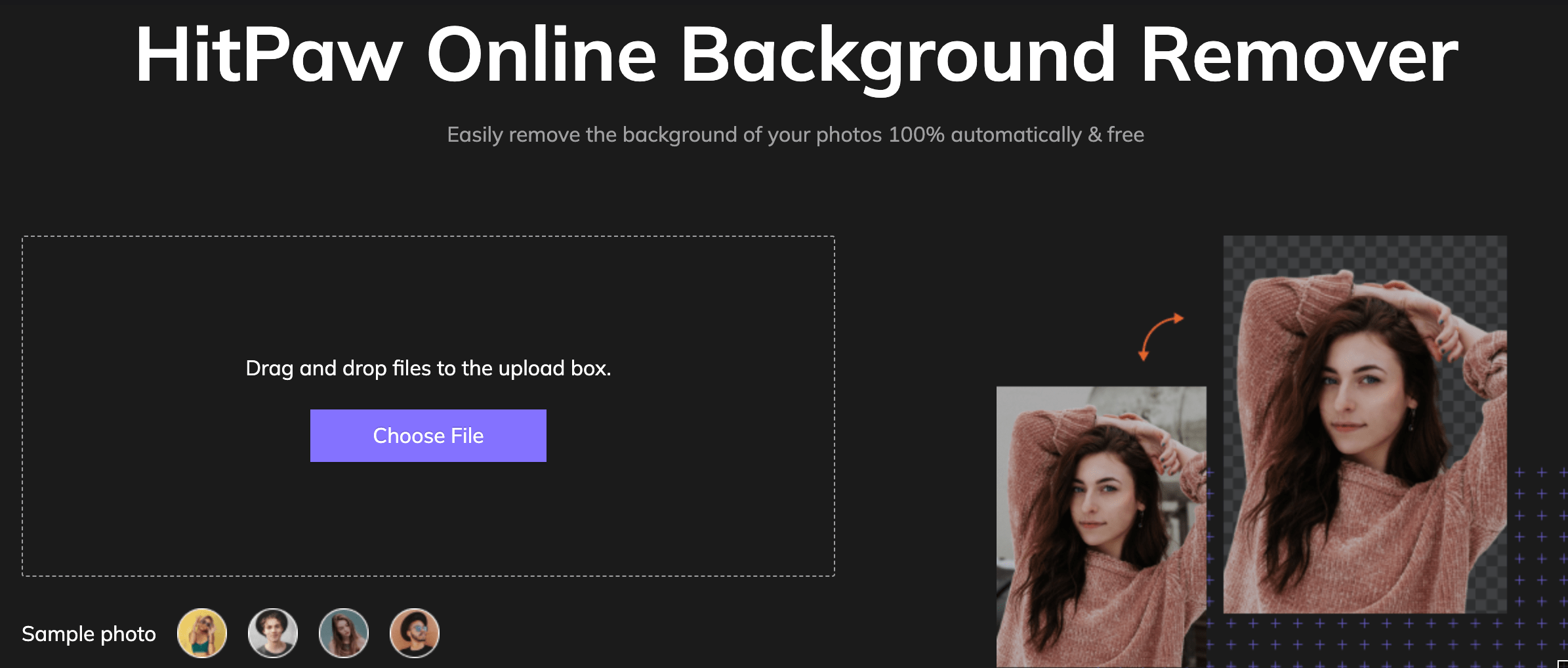 Like Adobe Express, HitPaw is also a 100% free web-based image background remover with advanced features. You can remove background from image or change the image background while keeping the original quality intact with this free tool.
Features:
HitPaw has the following features:
1. Multiple options to remove background images such as color filling, matte filling, Gaussian blur mode, or smooth filling
2. Instantly retouch images by removing unwanted elements
3. Improve the image quality with texture repair or edge filling
Pros:
· 100% free, no registration or credit card requires
· Easy to use, ideal for beginners
Cons:
· Doesn't support batch image processing
· The free plan doesn't offer advanced functionalities.
4. Removal.ai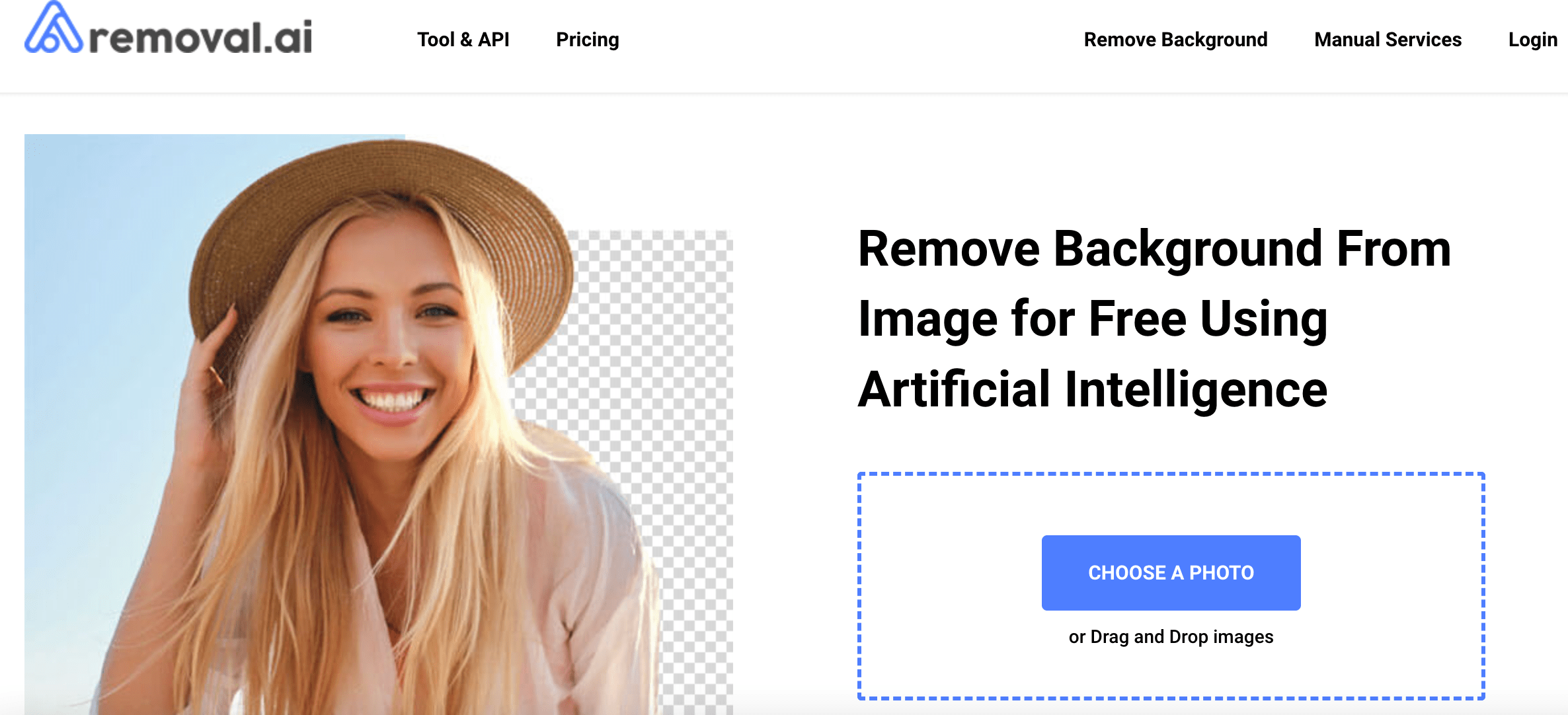 If you are looking for more than just an image background remover, Removal.ai is for you. This AI-powered and fully customizable tool allows users to create transparent image backgrounds instantly in minutes.
Features
Removal.ai comes with the following features:
1. Creates high-quality images with transparent backgrounds and smooth cutout edges in 3 seconds
2. Advanced AI technology to perfect handle hair or any other fur edges
3. Can process more than 1,000 images and apply different actions in a single upload
4. Automatically detects humans or subjects
5. GDPR-compliant file storage and API integration
Pros:
· Gives smooth and accurate cut-out edges
· API integration and bulk edit
Cons:
· Not suitable for beginners
· Limited image adjustment options in the free plan
5. Remove.bg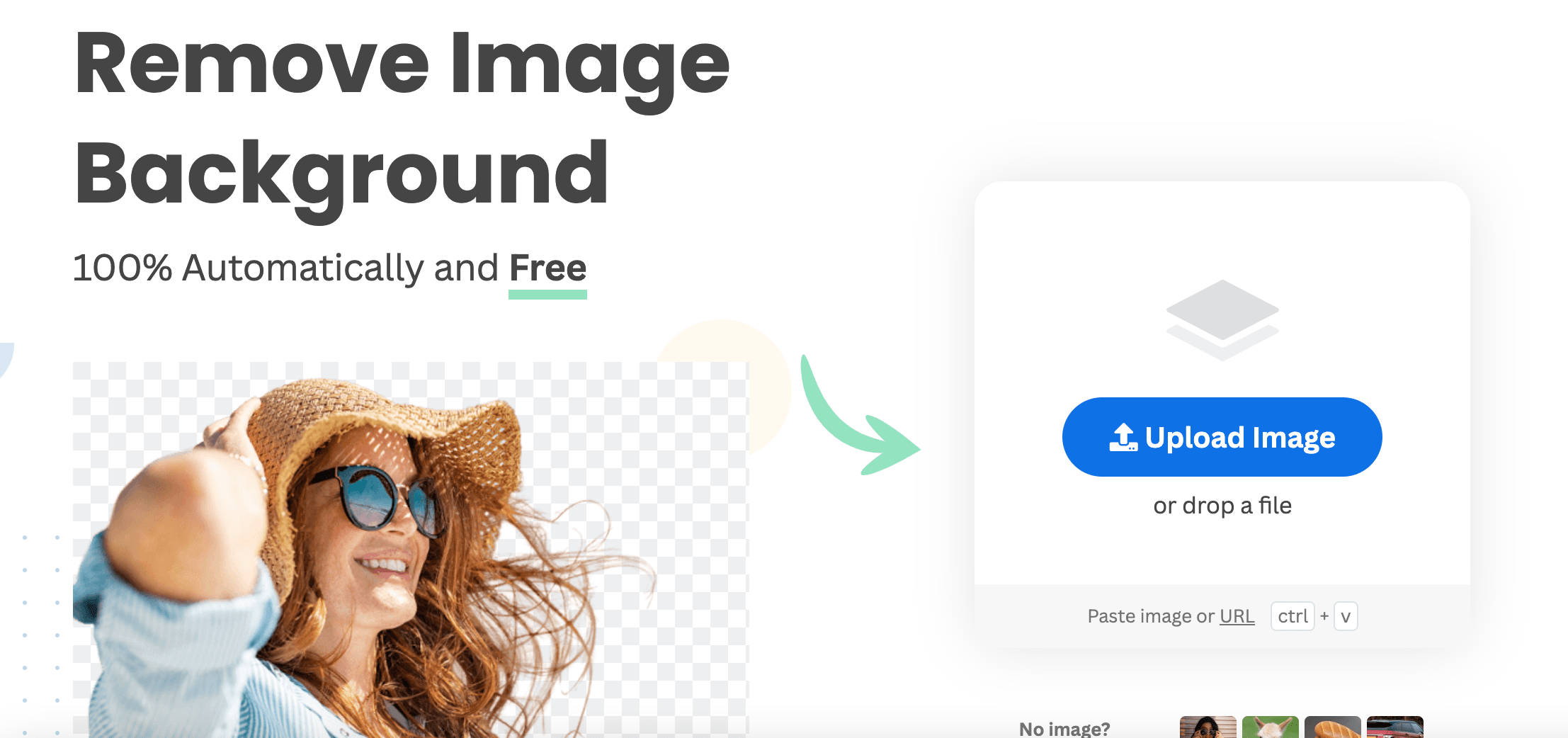 Remove.bg is a fully automated, 100% free, and easy-to-use tool to remove background from image online. Its advanced AI technology allows users to slash their editing time and make transparent image backgrounds in just 5 seconds.
Features
Given below are a few features of Remove.bg:
1. A range of APIs, tools, and plugins to ensure digital efficiency in the workflow
2. Removes the image background without manually separating the background and foreground layers
3. AI-powered photo editing tools with fully customizable capabilities
Pros:
· Accurately detects the primary subject in the picture
· Very fast, efficient, and reliable
Cons:
· Can process small-sized files only
· Limitations in color adjustment
6. Fotor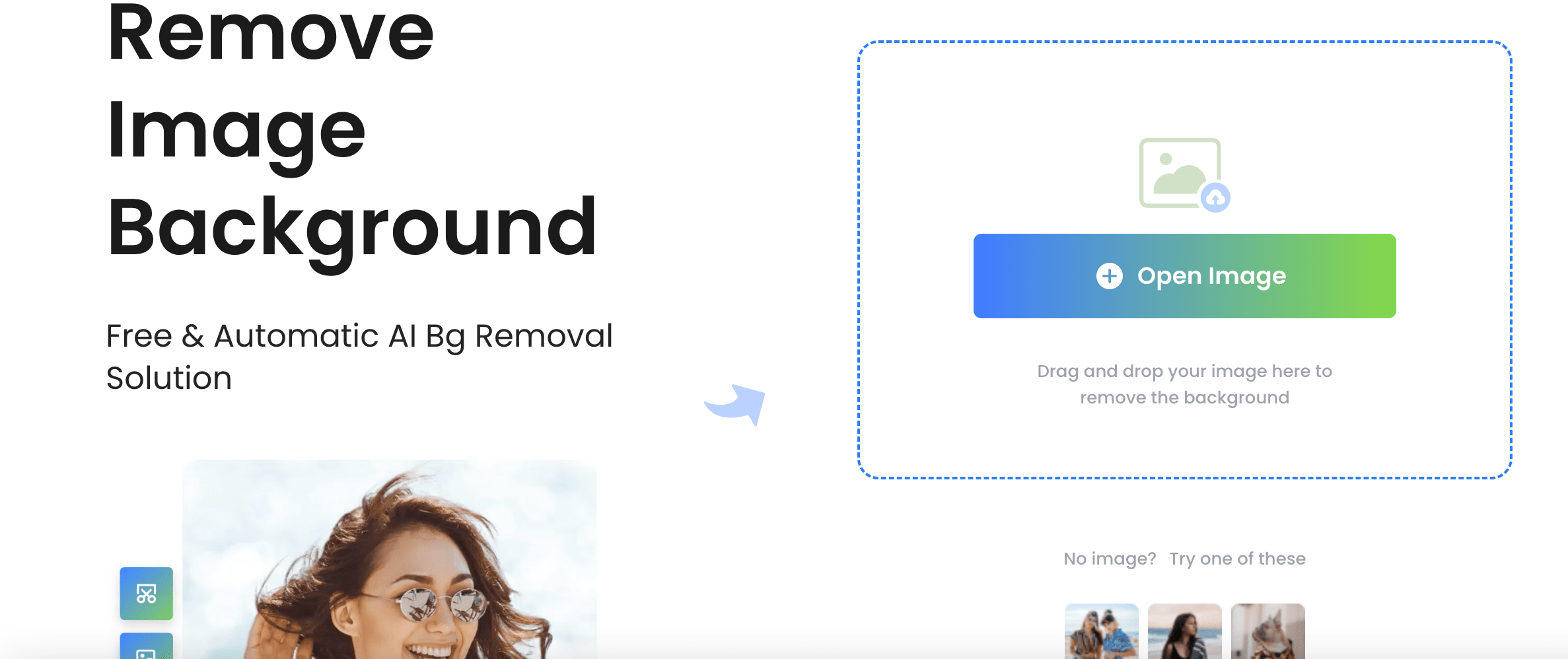 Fotor is a free & automatic AI-powered background removal solution for any image. Doesn't matter whether you are a professional photographer or a beginner, Fotor has a wide range of tools that can help you create perfect pictures with impressive backgrounds. From photo editing to NFT creation and collage making to background removal, Fotor can meet all your needs.
Features:
Fotor offers powerful features such as:
1. Detects objects automatically and removes background in a smooth cutout way
Can handle minor details like animal fur, human hair, or complex edges with ease
Cross-platform functionality works across multiple operating systems and devices
Pros:
· Easy to use and great design and collage tools
· Fast and efficient, offers numerous filters
Cons:
· Not suitable for drawings
· Lacks the autosave functionality
Conclusion
When it comes to photo editing, the first thing that comes to a professional photographer's mind is to adjust the image background. While there are multiple free tools available to remove background from image online, SocialBook Photo Background Remover beats them all.
SocialBook Photo Background Remover is powered by cutting-edge AI technology that makes photo editing as simple and convenient as you like.
Try SocialBook Photo Background Remover today and become a professional photo editing expert!
---
If you are looking for more online video background remover tools, please check the Top 5 Online Video Background Remover Tools for 2022
We are proudly to recommend more handy tool for you:
LinkOne: Best link in bio tool for Instagram and TikTok
Cartoonizer Tool: turn your photo into a cartoon avatar with one simple click.
---
---